The Panthers season is looking a lot brighter than a couple of weeks ago – they now sit at just a game back in the playoff picture (yes I'm aware that it is very early) and have a chance over the next couple of weeks to make themselves a genuine part of that conversation as the NFL season begins to near the midway mark.
While the 0-4 Falcons are, on paper, a team that the Panthers should beat, with Head Coach Dan Quinn likely facing a situation where he either needs to start winning or start looking for employment elsewhere, the Falcons have enough in common with the 2013 Panthers that they shouldn't be taken lightly.
So then, what do the Panthers need to do to move above .500 for the first time in the Matt Rhule era?
Throw The Ball, A Lot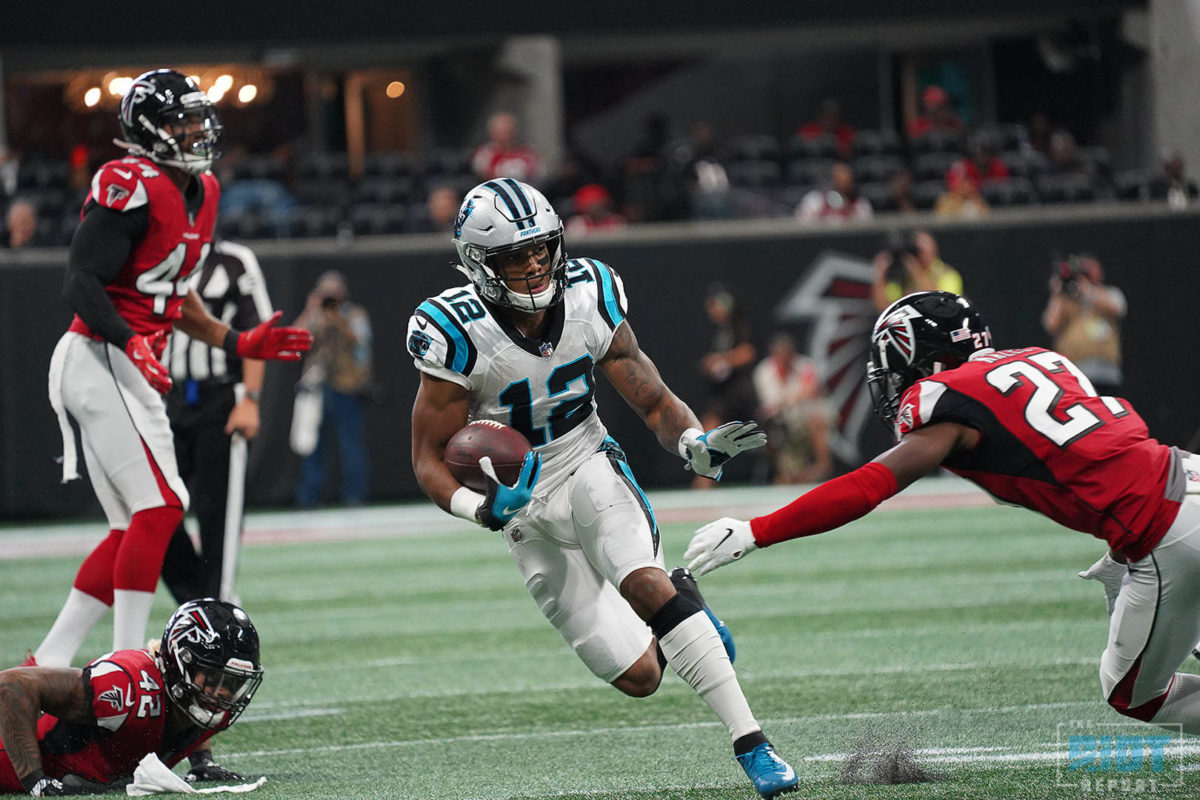 The Falcons have the worst-rated pass defense in the NFL.
Even if you don't dig any deeper than that, you should come away with a game plan that involves throwing the ball quite a bit. To get a little more detailed, they rank 29th in completion percentage allowed, 28th in interception percentage, 25th in sack percentage and 24th in yards-per-completion. They do rank towards the middle of the pack when it comes to pressure percentage – this is going to be part of what the Panthers have to look out for – but if the Panthers can get the ball out on a consistent basis, there are going to be yards to be had. Some of this is due to injuries – the Falcons' defense has once again been one of the less fortunate groups in the NFL in this regard, but that shouldn't detract from what the Panthers should be trying to do.
"I don't think statistics always paint the picture, especially early in the season," said Joe Brady. "All it takes is one games to completely change statistics in those categories….you can't look at the numbers, you can't look at the record, we know they've got a great defense that's going to be ready to rock this weekend."
This would also be a good game for DJ Moore to take a step forward in terms of his production.
He has had a couple of frustrating drops so far this season, and while a reasonable amount of his targets have come on more speculative deep ball attempts – he leads the team in air yards by a comfortable margin – the Panthers would ideally have hoped that his production would have been more similar to Robby Anderson to this point. Though it is worth pointing out that Anderson has been extremely productive, so that isn't really a major knock on Moore.
However, with there hopefully being plenty of targets to go around this weekend, the Panthers would hope that they are able to get their passing game as a whole into gear, rather than being quite so reliant on Anderson – who has been the recipient of about 30% of the Panthers total passing yardage so far this season.
Run Defense Needs To Continue To Develop
The Panthers run defense seems to have improved as the season has gone on so far, to the point where they now have a fairly average run defense in terms of the NFL rankings through the first month of the season. But they are still allowing just over five yards per carry, and while the run gains for the Cardinals at the weekend were limited outside of one long run by Kyler Murray, the Panthers should be looking to continue to limit opponents in this regard going forward.
The Falcons rushing attack is towards the middle of the pack and are managing just under four yards-per-carry so far this season, but the Panthers should see this as an opportunity to continue to improve their standing to improve their unit rather than an easier day at the office.
Some of this will be helped by having more time to get used to the nuances of Phil Snow's defense; having KK Short now back after a couple of weeks of injury, and with Derrick Brown, Yetur Gross-Matos and Jeremy Chinn all adjusting to the speed of the NFL game, this unit should continue to make strides as the season goes on. While the Falcons' rushing attack hasn't been stellar so far this season, it will be important for the Panthers not to allow them to use the run game to create breathing space for Matt Ryan and the Falcons' offensive line, who will not fancy having to repeatedly drop back into pass protection against a Panthers' unit that has really come on the past couple of weeks.
Don't Let Grady Jarrett Wreck The Game
Through the first four weeks, Jarrett has 2.5 sacks, five TFLs and five QB hits. Now that might not be the kind of pace that is going to win him Defensive Player of the Year – but those are still very good numbers and could pose a real problem for the Panthers on the interior. While the Panthers' offensive line has been fairly solid so far this season, and was really impressive after a few wobbles during the first couple of drives on Sunday, they have looked a little bit vulnerable on the interior at times. While Chris Reed's return from the COVID/Reserve list has made a significant improvement in this regard, Jarrett is still likely to be a real focus during the Panthers' offensive meetings this week – if they can block him out of the passing game in particular, that will be huge.
"Every time Grady Jarrett's on the football field, you have to know where he is," said Brady.
As mentioned earlier, the Falcons do actually rank towards the middle of the pack in pressure percentage despite their abysmal secondary; if the Panthers aren't able to hold Jarrett in particular at bay then that will make it hard for the likes of Samuel, Moore and Anderson to take advantage of what should be a good day at the office. The onus for stopping Jarrett is likely to fall on Reed and Miller, with Paradis also playing a role – while this group certainly haven't been bad so far this season, this isn't exactly a unit that has a huge amount of experience playing together. Given that the Falcons will likely do whatever they can to isolate Jarrett one-on-one on the interior, how the Panthers are able to communicate up front is going to be key.
Secondary Uncertainty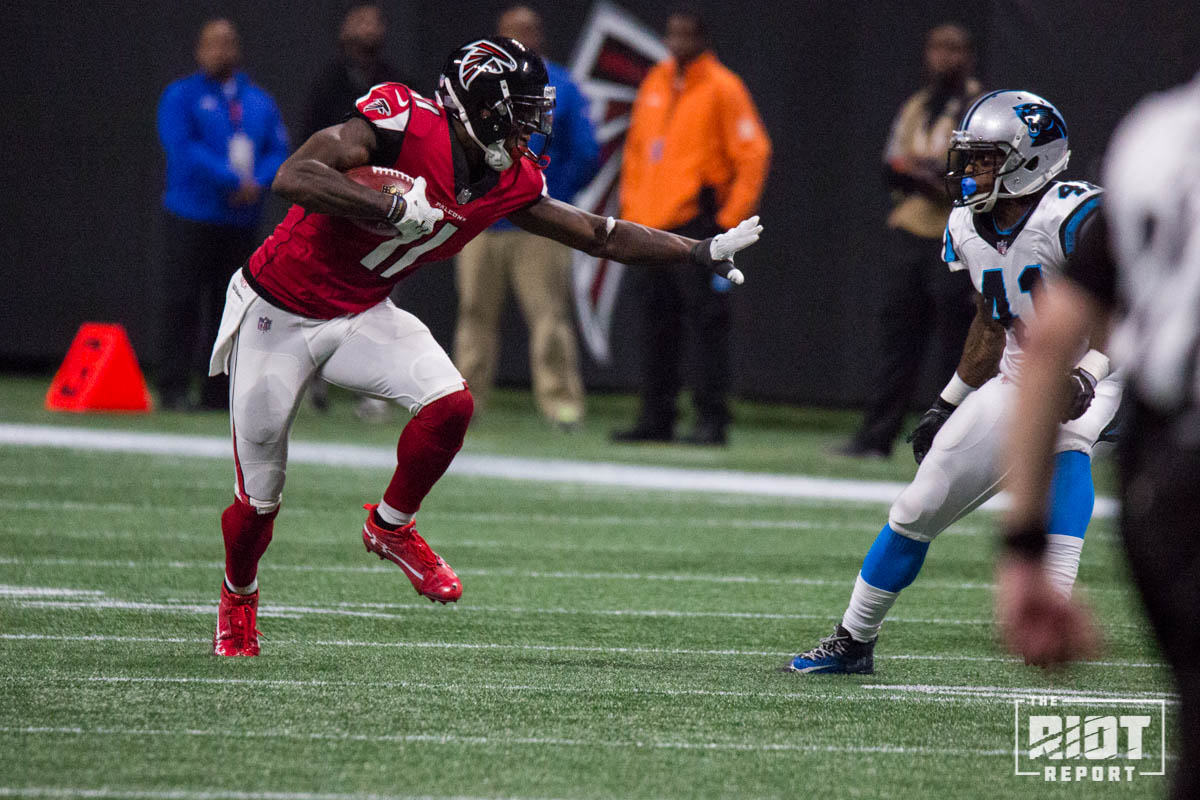 The Panthers secondary hasn't been the disaster some expected so far this season, but they also are still only growing into what they can become. They have seen a lot of chopping and changing with a series of injuries. They may have Eli Apple actually healthy enough to play some defensive snaps this week, and while who exactly out there and in what combinations is still very much to be seen, the Panthers could well get something of a bonus with Julio Jones still very much a doubt for the game. If Julio does play, how they match up with him will be really interesting to see, with Apple probably be best suited to the job if healthy – but if he needs to be playing on some kind of snap count, whether they opt for the speed of Jackson or the size of Douglas will be a big question heading into the game.
"You've got to know where [Julio] is all the time," said defensive coordinator Phil Snow. "Really how it affects you is how you play the run, because you start stacking the box and you've got big #11 out there who they're just going to throw the football to one-on-one. He affects the whole football game."
Apple did not practice Thursday after being limited Wednesday with a hamstring injury.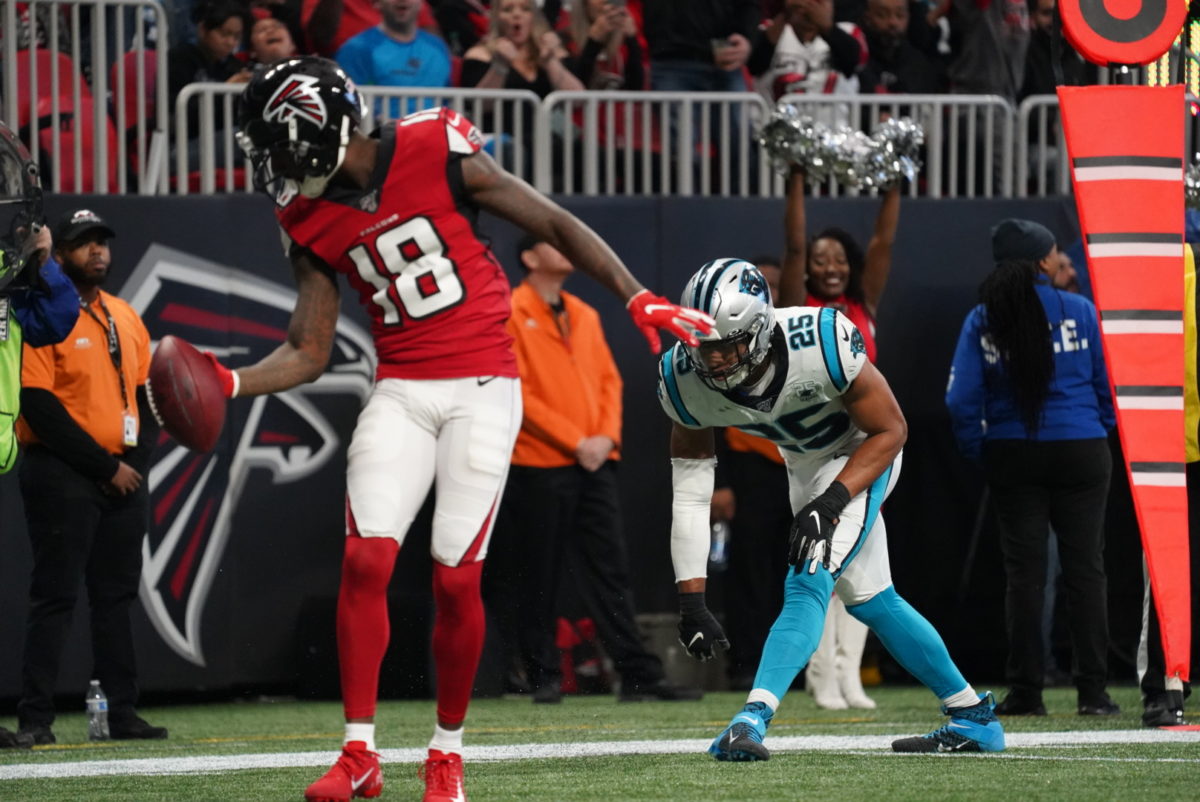 On the other side of the equation, the Panthers also need to be able to match up with Calvin Ridley, who is more than capable of doing some damage in his own right, and while he has certainly had some productive days against the Panthers over the past two years; as have the Falcons offensive players in general to be frank; the Panthers will hope that this is a challenge their somewhat make-shift secondary is up to.
If the Panthers can limit the big plays defensively and create pressure up front against a mediocre Falcons' offensive line then they have a real chance in this game, but they can't allow Matt Ryan to have nice open receivers to throw to and time to do that, and as much as the focus has been on the defensive line over the past two weeks especially, the secondary will also need to take another step forward on Sunday.
Tight End Time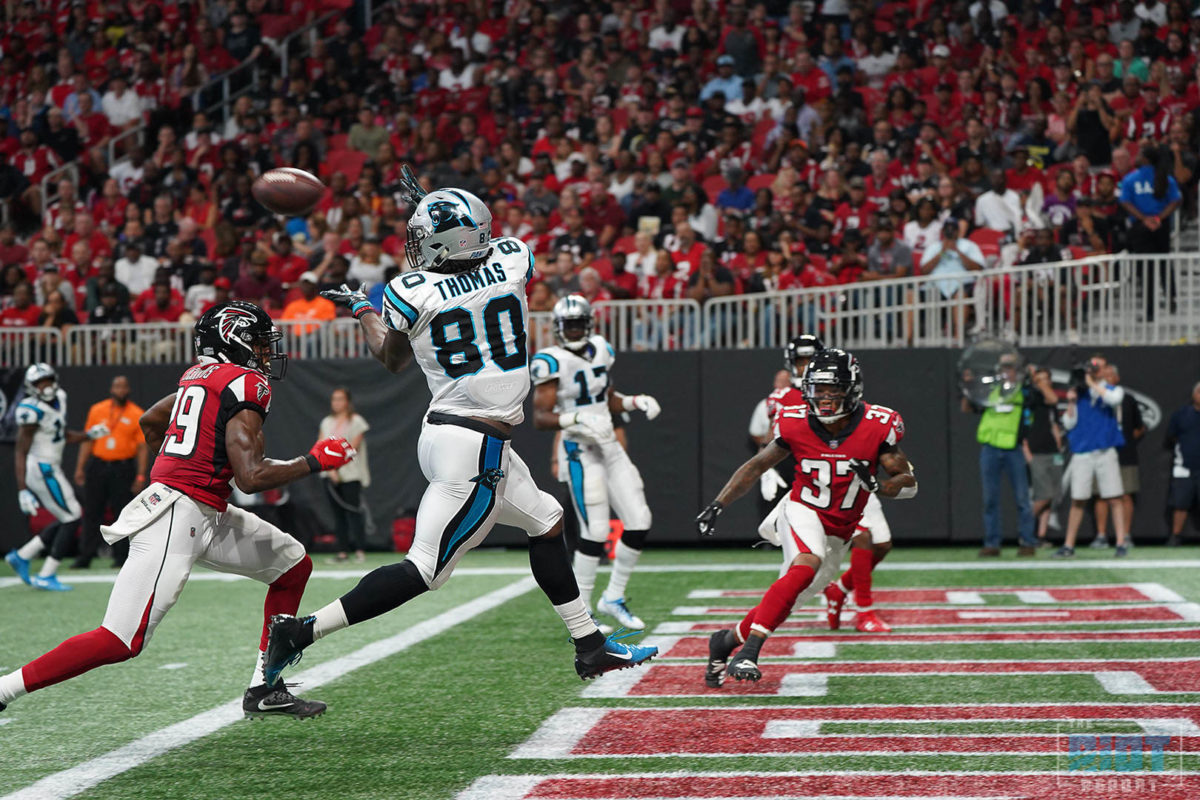 The Falcons have really, really struggled to stop tight ends in the passing game this season – and the Panthers really haven't got much out of their tight end position so far this season. One of these things is likely to change on Sunday and the Panthers will be hoping it is their tight end rotation that comes away with a big day at the office.
The Panthers have only thrown 13 passes to tight ends and fullbacks through four games, and those 13 targets have amounted to the grand sum of nine catches for 73 yards and a touchdown. It's not like the Panthers haven't been playing their tight ends either, with their four TEs/FBs accounting for just shy of 400 offensive snaps through four games, meaning that if there is a tight end on the field, there is about a 3% chance that they are getting the ball thrown to them.
That number really needs to go up.
The Falcons offer a perfect week to try and get these guys more involved in the passing game, as with a lot of injuries they are really thin in terms of players who can match up with more athletic tight ends. Ian Thomas in particular should be hoping for a big day, following up the 57 yard and a TD game he had against the Falcons in one of his starts towards the end of last season. The Panthers are probably not going to ever build their passing game around the TEs this season given the personnel they have elsewhere – but if they aren't able to have at least something of a big day against this Falcons team, it's hard to imagine when they are ever going to have such a game.
The Panthers may enter the game against the Falcons as the favorites for probably the first time this season, and that isn't something that should be taken lightly. They have shown a lot of growth over the past month and there is certainly room for them to continue to grow going forwards, but the offense and defense have started to come together in recent weeks and this is a great opportunity for the Panthers to continue to grow beyond the expectations that many had for them going into this season.