The Panthers have signed Joey Slye and Cole Luke to one-year deals this week, the team announced.
Slye, who was brought in during training camp as Graham Gano nursed a sore knee, took over as kicker when Gano was placed on injured reserve before the season – Slye impressed by going 7-for-8 in the preseason, including a 59-yarder. The rookie from Virginia Tech known as the 'Swole Kicker' made 25-of-32 field goal attempts (one blocked) along with 31-of-35 extra points (one blocked). He was 8-of-11 from 50+ with his longest field goal coming from 55 yards – his eight field goals of 50+ yards were a franchise record and led the NFL last season.
67 of Slye's 70 kickoffs resulted in a touchback.
The Panthers currently have three kickers under contract for 2020: kicker Elliott Fry signed a reserve/futures contract last month and Graham Gano, who signed a four-year, $17m contract in March of 2018 but has not kicked since Week 12 of that season after fracturing his femur during practice and suffering lingering soreness throughout training camp. Gano subsequently had surgery on his left knee in October and is expected to compete with Slye – and perhaps Fry – during training camp in August.
Gano made 96.7% of his field goal attempts in 2017 and is set to count for $4.3m against the salary cap in 2020 – releasing the veteran kicker would save the Panthers $1.26 in cap space and result in a $3.07m dead cap hit next season.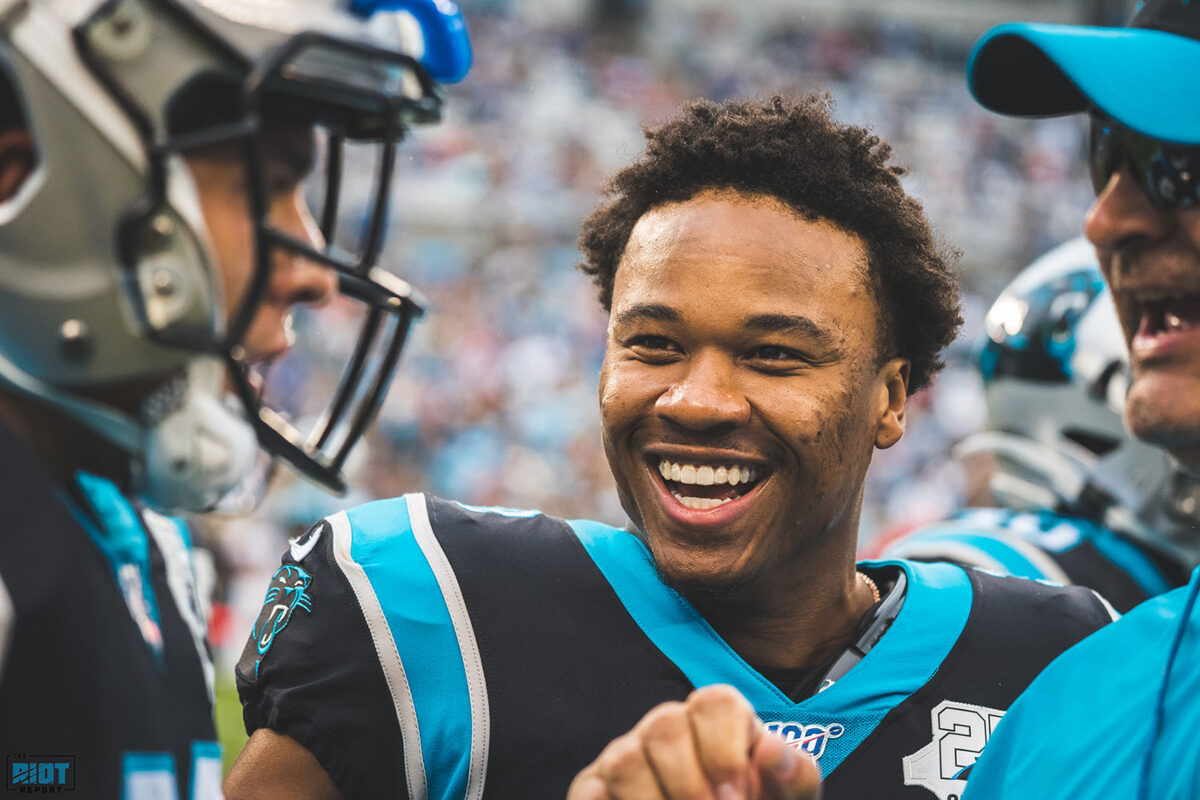 Cole Luke, who spent 2018 on the team's practice squad after sitting out all of his rookie season with an ankle injury, played in eight games last season and had two tackles; the 5-11, 200 pound defensive back can play both corner and safety.
In addition to Slye and Luke, the Panthers re-signed running back Reggie Bonnafon and defensive lineman Efe Obada earlier this offseason – all four players shared the 'exclusive rights free agent' designation. As free agents with two or fewer accrued seasons, the Panthers could tender them offers for the league minimum and they must accept them; any player who receives a team's exclusive rights minimum salary tender is not able to negotiate with another team.
Kyle Allen, who started 12 games at quarterback last season, is also an exclusive rights free agent.
Usually these contracts are not guaranteed, so Luke, Bonnafon, Obada and Slye will all have to earn their spots during training camp this upcoming season.