It's draft day everybody! While the next three days are likely to involve something of a rollercoaster of emotions for every fanbase around the NFL, and the hope that is sold enthusiastically throughout March and April every year does not always materialize, each team has a very real chance to find the player or players who will form the core of their franchise for the next decade.
Over the past few weeks, we have explored the strengths and weaknesses of the different position groups in the 2022 NFL Draft through our podcast series Scouting the Culture, with a particular focus on which prospects would fit with both the Panthers' needs and their draft capital. While there isn't time or space to recap the entire series here (though please do check out our discussion of the Panthers' options with the sixth pick), here is a recap of our top 32 prospects for the 2022 NFL Draft.
Please note, these ranking don't take into account off the field concerns (whether medical or otherwise) or detailed consideration of positional value. This is simply a ranking of who the best prospects are in our estimation, regardless of position.
1. Chad Muma, LB (Wyoming)
Chad Muma certainly isn't one of the biggest names in the 2022 NFL Draft and, given the devaluation of off-ball linebackers in recent years, it seems highly unlikely that he will go anywhere near the top of the draft, but it is hard not be hugely excited about the player he can become when watching him on tape. Like most of the players towards the top of this list, Muma is an excellent athlete with the straight-line speed to chase down outside runs and the movement skills to match up with most tight ends and running backs in man coverage.
Importantly, however, he is far more than just an athlete. He works off blocks well in the box with good hand usage and core strength, is a technically excellent tackler and shows fantastic anticipation and awareness both in the run game and zone coverage, where he is able to combine this with good ball skills to turn anticipation into interceptions. He does need to work on his footwork in man coverage to reach his full potential in man coverage and the increase in speed and complexity of NFL offenses shouldn't be ignored, but he is as good as any linebacker prospect from the past five years.
2. Alec Pierce, WR (Cincinnati)
In a receiver class that is both very deep and full of several top-tier receivers, Alec Pierce might not only be the most underrated prospect but also the best overall receiving prospect. As with Muma, he is an excellent athlete with the vertical speed to consistently threaten deep with the explosiveness, balance and body control to both make plays at the catch point and to add yards after the catch.
Most importantly, he is a technically excellent receiver both in how he creates leverage off the line against press coverage and how he uses the threat of his speed, his large frame and great footwork to create separation against man coverage at all three levels of the field on a variety of routes. While player comparisons can often be somewhat hand-wavy as a way of projecting players, but it is hard to watch Pierce for any length of time and not be reminded of Allen Robinson at Penn State, who also went somewhat under the radar before he broke-out in the NFL.
3. Travon Walker, EDGE (Georgia)
Another position group that is expected to be one of the strengths of this class is the edge rusher group, which is both extraordinarily deep and packed with top-tier talent, and there are several players who could justify being at the top of this group depending on what specific teams value most from the position. For me, however, the top prospect is Travon Walker due his combination of elite ceiling and dependable floor. As with Muma and Pierce, Walker is a freakish athlete with the size of a 3-tech and the speed and explosion of a linebacker, and the player he has a chance to become is one at the very top of the NFL game.
Beyond his athleticism, Walker also shows the mostly consistent core technique of any of the class's top prospects, with good knee bend, hand placement and arm extension to get under the pad level of blockers and keep his frame clean while also giving him to control to release as he sees fits. This not only allows him to be arguably the best run-defending edge rusher in the class but also opens the door to a whole new world of more developed pass rushing moves if he is able to continue to grow over time.
4. George Karlaftis, EDGE (Purdue)
While Karlaftis has been a consensus top-20 prospect almost since the end of the 2021 NFL Draft, the fact that he missed much of testing season due to injury has seen him slip down boards over the final month or so of the process. However, when you put on the tape, it is hard not to be reminded of exactly why he has been ranked so highly all along as he is able to combine size and power with remarkable quickness and explosion as well as flashes of high-end technique. He does need to be more consistent, and improving his pad level further will only help, but he should be an impactful and versatile player from day one.
5. Ikem Ekwonu, OT (NC State)
The conversation about who the top tackle in the draft is has broaden in recent weeks, with Charles Cross starting to get some serious love as a potential top-5 pick, but for me it's Ekwonu who gets the top spot. He has both the power to generate movement upfront in a power run scheme and the foot speed and balance to both hold his own against speed rushers and get out in space on screens. He needs to continue to work on his hand placement as he has a tendency to let his hands drop which creates issues locating his punch, but this should be coachable.
6. Aidan Hutchinson, EDGE (Michigan)
Though he is a little lower here than in some other big boards, Aidan Hutchinson is a very good prospect who has a chance to be an elite one with some further development. He has the speed and power that teams look for from the position and flashes some really quite advanced hand usage and pass rushing moves to get home but needs to continue to work on the consistency of his core technique as his pad level and hand placement can come and go at times which leads to a few too many plays where he doesn't feature as an impactful player.
7. Kaiir Elam, CB (Florida)
Kaiir Elam definitely needs to work on his footwork discipline both at the line and in off coverage as he has a tendency to stop his feet which allows receivers a chance to separate, but his ability to consistently recover the prevent receptions and generate turnovers indicates that, if he can work on this aspect of his game, he can be a truly elite cornerback in the NFL. He has great quickness, agility and length and that, combined with his ball skills and solid run defense, makes him a really exciting prospect to watch.
8. John Metchie III, WR (Alabama)
Alabama has become a factory for elite receiver prospects in recent years, but in all of that Metchie seems to have somehow got lost in the mix. While he doesn't have the elite deep speed of some of their other prospects, he has enough speed to win vertically and good hands, but where he really sets himself apart is as a route runner, where he is able to use subtle changes of speed and direction to create separation against man coverage. In the NFL, his best usage will likely come from the slot, but he could be a chain-moving machine from day one.
9. Tyler Linderbaum, C (Iowa)
Perhaps the best way to introduce Linderbaum is that he has the best three-cone time of any center since 1987, and that his tape reminds you of this at every available moment. He plays with remarkable quickness, balance and agility, both to cover laterally as a pass protector, to work to the second level on inside runs and to get out in space as a pulling blocker. Combine this with good core strength, hand placement and footwork and you have a player who could be very good in any scheme, but who could be great in a scheme that will make use of his ability to use his footwork to create rushing leverage.
10. Drake London, WR (USC)
Drake London is another prospect whose stock might be even higher if he hadn't missed the combine due to injury as men his size almost never move with the fluidity and quickness that he showcases on tape. Though he's not a burner he has the speed to win vertically as well as the explosion to make plays at the catch point and, while he needs to expand his route running prowess to a larger route tree, he offers a rare match-up of size and quickness that allows him to both make plays on a redzone fade and on an option route on 3rd-and-7.
11. Charles Cross, OT (Mississippi State)
Charles Cross has risen up draft boards in recent weeks and has been increasingly linked with both the Giants at the fifth pick and the Panthers with the sixth pick, and there is certainly a lot to like about him on tape. He has good foot speed to follow rushers around the edge and combines this with good footwork and hand usage to turn good positioning into effective protection. There are some questions arising from playing in a Mississippi State offense that looks to get the ball out quickly, but he is arguably the most pro-ready pass protector in the class with the potential to be a franchise tackle with some further development.
12. Nik Bonitto, EDGE (Oklahoma)
In this edge class, one player who has gone somewhat under the radar is Oklahoma's Nik Bonitto, in part because Oklahoma asked him to do so much more than just rush the passer. However, when he did rush the passer, he showed really good quickness and bend to win around the edge with flashes of developed inside counters to provide a balanced inside-outside rush. Add to this the fact that he is a consistently good run defender with the ability to both set the edge and penetrate into interior gaps, and he has a chance to make somebody very happy if they commit to him as a full-time rusher.
13. Desmond Ridder, QB (Cincinnati)
A lot has been made about the quality, or lack thereof, at quarterback in this draft class and, while it is true that there is no one elite prospect, there are at least a couple of prospects who do a lot of nice things on tape. Desmond Ridder is arguably the most pro-ready of these as, while his accuracy would benefit from some continued work on his footwork, he did a consistently good job of executing the offense with the arm to push the ball down the field and the athleticism to both add yards when the pocket breaks down and to contribute as a part of a diverse rushing attack. If he can adjust to the increased speed and complexity of the NFL game then he has a chance to be good for a long time.
14. Kayvon Thibodeaux, EDGE (Oregon)
It's certainly easy to see why Thibodeaux spent a long time as the consensus #1 overall pick, as his good plays are as good as anybody's. He has the quickness and bend to win around the edge and flashes the hand usage and pad level to both hold his own as a run defender and win inside and out when his speed alone isn't enough. He also has great movement skills with the potential to be a really useful coverage piece from time to time as well. What he needs to do, however, is improve the consistency of his core technique as there are too many plays where either his pad level or hand usage allow blockers to get hold of him early and knock him out of plays.
15. Nakobe Dean, LB (Georgia)
Nakobe Dean is the clear leader on defense that paved the way for Georgia to win its first national championship in more than forty years and, while that doesn't always translate to NFL production, his tape is very much that of a high quality linebacker. He has good speed to run sideline-to-sideline and, while he is unlikely to play a ton of man coverage, he shows great instincts and ball skills to make a consistent impact in zone. Add to that the fact that he is an excellent blitzer and, in the right defense, you have a potentially foundational piece. All he needs to do now is to work on the consistency of his run defense.
16. Travis Jones, DT (Connecticut)
Nose tackles aren't the highest valued players in the modern NFL, but Jones is very much the prototype of what the modern NFL looks for in the position, combining good power and quickness with consistently good technique to both anchor at the point of attack and to two-gap against outside run schemes. As a pass rusher, he isn't Aaron Donald, but he is able to use both an effective bull rush and a nice rip counter to win when isolated on blocker. If he can continue to add to his pass rushing repertoire, then he could be a really useful matchup piece on defense.
17. Jalen Tolbert, WR (South Alabama)
Tolbert is yet another name who has got somewhat lost in the discussion of the top receiver prospects, but his tape is every bit as good as many of the bigger names. He has good deep speed to make plays down the field and is able to combine this with good footwork to create leverage at the line of scrimmage and is then able to use the threat of his speed and an understanding of leverage to create separation at all levels of the field. He will need to continue to add to his route tree and eliminate the occasional concentration drop to reach his ceiling, but would likely be much more highly regarded coming out of a bigger school.
18. Malik Willis, QB (Liberty)
The odds of Malik Willis being the 18th best player in this draft are very small indeed, as either everything is going to come together and he will be the best player to come out of this draft class, or they won't, and he'll rank much lower down. He has an amazing arm with good touch and velocity at all levels, with the accuracy to fit the ball into tight windows down the field, and his ability to take off scrambling or to add yards on designed runs is as good as anybody in the NFL. However, he needs to show much more anticipation and demonstrate that he can adjust to the greater speed and complexity of the NFL game as, when teams did speed up his clock in college, he tended to fall back on his legs rather than getting the ball out quickly.
19. Nicholas Petit-Frere, OT (Ohio State)
Nicholas Petit-Frere probably didn't have the 2021 season he was hoping to, as he failed to establish himself as a consensus top pick in the draft, but it is hard to watch him on tape and not come away impressed by his potential. He shows really good foot speed and hip flexibility to cover speed rushers around the edge and combines this with promising hand usage to secure and control blocks. He needs to work on the discipline of his footwork and the consistency of his pad level, but he is one of the select few tackle prospects with the upside of being an elite pass protecting left tackle.
20. Evan Neal, OT (Alabama)
Evan Neal is almost the complete opposite as a prospect to Petit-Frere as probably the most pro-ready tackle in the class who should be able to come in and play at at least an average level right away. In a power run team, his strength, hand placement and arm extension will be especially valuable, and he is able to hold his own as a pass protector. However, his lower body flexibility isn't amazing, and he can struggle when faced with speed rushers who can get him bailing to cut off the speed and then beat him inside. He should be a good player from day one, but I'm not sold that he will every become a great one.
21. Chris Olave, WR (Ohio State)
Chris Olave is a very fluid athlete with the speed, agility and ball skills both to win deep, add yards after the catch and make spectacular catches down the field. He can get a little pushed around against press coverage, and adding to his functional strength would certainly help, but what he really needs to do is to add further nuance to his route runner, as he is currently very competent and, when combined with his athleticism, this allows him to get open often enough, but if he is able to improve in how he sets up his breaks then he has a chance to be really special.
22. Garrett Wilson, WR (Ohio State)
Garrett Wilson is very fast, but he lacks the fluidity of movement and agility that gives Olave his ceiling, but he is able to compensate for that with good route running footwork to create separation working back to the ball with some flashes of higher-level nuance that should fare him well in the NFL. Though he doesn't have the same ceiling as a route runner down the field as his college team-mate, if he can apply the flashes of nuance that he showed at times to a wider route tree then he could be a very useful part of an NFL passing game.
23. Drake Jackson, EDGE (USC)
Drake Jackson does an awful lot of things right, with pretty good speed to get around the edge and enough power to counter with an effective bull rush when tackles get back on their pads. He also has really good core technique with good hand placement and arm extension to keep his frame free. What he needs to do to take his game to the next level, however, is add some more bulk, work on his knee bend (as he can sometimes get driven off-balance) and continue to add more developed pass rushing counters for when he can't get home with athleticism alone.
24. Devonte Wyatt, DT (Georgia)
Devonte Wyatt might not be the biggest name of the various Georgia defensive players in the class, but whenever you put on Georgia tape from this past season it is hard not to notice his consistently high level of play. He needs to continue to work on the consistency of his pad level but he has the quickness to work into gaps, the power to anchor against the run and the hand usage to both create pass rushing leverage and to stack and shed offensive linemen at the point of attack. He might never become a star, but he should be a good starter from day one.
25. Jermaine Johnson II, EDGE (Florida State)
Similar to Jackson, Johnson is a player who does a lot of things well most of the time but who needs to continue to both improve his consistency of technique and to continue to add to it. He's a really good athlete with a nice combination of burst, bend and power but needs to make sure his pad level doesn't get away from him at times. He shows good core technique with nice hand placement and arm extension, but there is room to add further nuance, especially in the form of inside counters when he is able to use his speed to get tackles to commit outside.
26. Roger McCreary, CB (Auburn)
Roger McCreay isn't the athletic phenom that teams tend to look for in first round cornerbacks, though he is still an above-average athlete for the position, but his movement skills are very fluid, and he does an excellent job of using his hands to redirect receivers both at the line and through routes in man coverage (though not going so far as to risk drawing flags). In zone, he shows nice footwork to allow him to break on the ball and his reading of the game is as good as anybody in the class, with the ball production to back it up.
27. Kenyon Green, OG (Texas A&M)
As a converted tackle, Green shows really good foot speed to both cover laterally in pass protection and to create rushing lanes laterally, and one would hope that with less pressure to cover speed rushers inside he will be able to show a more consistently balanced base. Add to this his good hand usage in both aspects of the game and his ability to move defenders off the ball in the run game and he has a chance to be a really high-quality player if he can adjust his footwork and stance effectively for his new position.
28. Tyler Smith, OT (Tulsa)
Tyler Smith is very unlikely to be somebody who starts at left tackle week one as he is in need of significant technical refinement, but if he puts it all together then he might just be the best tackle to come out of this class. He has the foot speed to cover speed rushers around the edge and remarkable power to both move defenders off the ball and to counter bull rushers effectively. He needs to be more consistent in his stance, and his hand usage needs quite a lot of work as he tends to let his arms drop post-snap, but there are enough flashes of good technique to think this is coachable with time.
29. Kyle Hamilton, S (Notre Dame)
There are definitely flashes on tape that remind you why Kyle Hamilton was once viewed as a top-5 prospect, with the instincts and ball skills to make plays in coverage and the size to play down in the box against the run, but there are a few too many question marks to have him ranked that highly here. Though he is a very fluid athlete with man coverage potential, his straight-line speed probably isn't sufficient for him to play as a centerfield safety on a permanent basis, and as a run defender he needs to take better angles to the ball. He should be a good safety, but it would take quite a specialised role for him to be a great one.
30. David Ojabo, EDGE (Michigan)
An injury during his pro day has meant that Ojabo has slipped down boards in recent weeks, but even before that his tape wasn't quite as good as the very top tier of pass rushers in this class. He has good speed to win outside and flashes some really nice hand usage to create leverage inside and out but his bend to turn leverage into pressure is a concern and he needs to play with much more consistent pad level as this can allow blockers to crowd him out as a run defender and leads to too many plays where blockers can get their hands on him early. If he can work on these then he can be very good, but his game is more about flashes than consistent play.
31. Trevor Penning, OT (Northern Iowa)
Similar to Tyler Smith, Penning is an excellent athlete who will likely require some time before he is ready to see the field. He has really good length and good foot speed to cover speed rushes around the edge, but he needs to work on his stance to improve his balance and his knee bend could also stand to be better, but he uses his hands well both in terms of location and extension and has enough power to both hold his own in the run game and anchor against bull rushers in the passing game. He also needs to balance being aggressive with being reckless as he risks getting flagged if he doesn't eliminate the occasional post-play cheap shot form his game.
32. Andrew Booth Jr., CB (Clemson)
Clemson's 2021 season didn't exactly go to plan, but the defense largely upheld their end of the bargain with Andrew Booth Jr, being a particular bright spot. He is an excellent athlete with the speed to run vertically with receivers and the movement skills to play a high level of man coverage. He does need to work on his footwork to eliminate some wasted motion and, while he has good ball skills, his zone coverage has room for greater anticipation, but all the core traits are there for him to be both a very good and very versatile coverage player.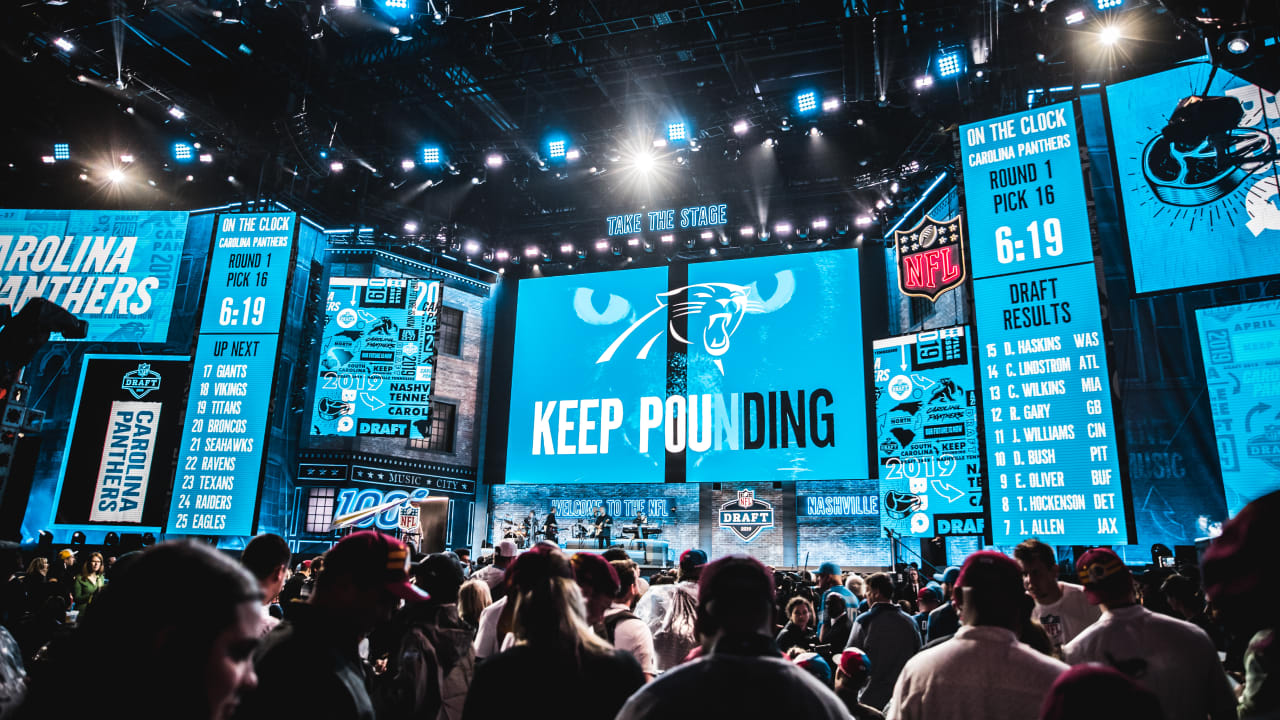 Evaluating draft prospects is always a matter of trying to balance risk and reward, and there are some players on this list who will never realize their potential (and some outside this list who will make good on theirs) but these are the prospects who we think have the best chances of being the best pros. There are some players who have been talked about as top prospects who have not made this list, either because we simply don't rate them as much or because we think their significant potential is matched with a large bust potential.
Top photo via Nathan Ray Seebeck-USA TODAY Sports