Teddy Bridgewater doesn't have to pretend – he knows the situation.
He knows that come 2020, he'll be the starting quarterback of a team that is entering a new phase, a team with a brand new coaching staff, a team that has said goodbye to three players that will likely have their numbers inscribed on the top of Bank of America Stadium in the past three months, a team that has an owner who says he is willing to have some short-term failure if it leads to long-term success.
He's aware that there is chatter around the league and the fanbase that the team he just signed a three-year, $63m contract with is tanking for better draft position. He knows that there will be a portion of the fanbase that will always compare him to Cam Newton. He's heard all of that – he just doesn't care. That's why when he was asked about whether the team was in the midst of a rebuilding phase Thursday afternoon when he was introduced to the Charlotte media via teleconference, his first response was to laugh – and then to quickly explain why he's so excited to show the rest of the league exactly what he's capable of.
"I take pride in proving them wrong. They told me I wouldn't play football ever again. They told me it'd take 18 months to come back from my injury and I came back faster….they told me I wouldn't win last year and we won five games. So for me, it's just approaching every day with that mindset to win."
"I don't wake up with the mindset of losing or tanking – I take pride in winning."
He's no stranger to winning – after his freshman season at Louisville, Bridgewater was 23-2 in his final two seasons before being drafted with the final pick of the first round by the Minnesota Vikings. After a 6-6 rookie campaign, Bridgewater led the Vikings to an 11-5 record, an NFC North title and a playoff berth as he was named to his first Pro Bowl.
When disaster struck during training camp the next season in the form of a gruesome leg injury that destroyed Bridgewater's ACL, dislocated his knee and caused structural damage that doctors said would take 18 months to rehab from, Bridgewater could have quit – nobody would have blamed him as he was faced with having "a toothpick of a leg he had to rebuild."
But Bridgewater doesn't quit – he just keeps moving towards the finish line.
"Knowing what I know now, I would just go back and tell myself the moment I was on the ground screaming in pain, 'life is just a race,'" Bridgewater said. "We all have to run our own race and within that race, we have to focus on what is in our lane. For me, at the time, I stumbled in my lane – it's a race that I have to finish and I'm not finished yet….but I'm back in the race."
"And I'm excited to be back in it."
The previous stop in that race had Bridgewater playing backup to a legend in New Orleans the last two seasons – but when pressed into action, Bridgewater responded by leading the Saints to a 5-0 record while throwing nine touchdowns against two interceptions. And while he knows exactly what quarterback he'll be replacing in Carolina – fans and media are unlikely to let him forget it all season – he's excited to control what he can control in Carolina.
"Everywhere I've gone, I've won – and I take pride in that. That's the reason I'm in the game – to win," he said from his home in Miami, where he will remain until the NFL allows players to access team facilities. "To become the best version of Teddy that I can be."
"I'm aware of the situation that I'm coming to; I know it's a unique situation, but for me, all I have to do is continue to be myself. Last year…when I was in New Orleans, i was behind this guy named Drew Brees and I knew that when Drew got injured, I had big shoes to fill then. I just constantly reminded myself to just be you. Just be the best version of Teddy that I can be and by doing so, it allowed me to be a better teammate, better football player and a better person."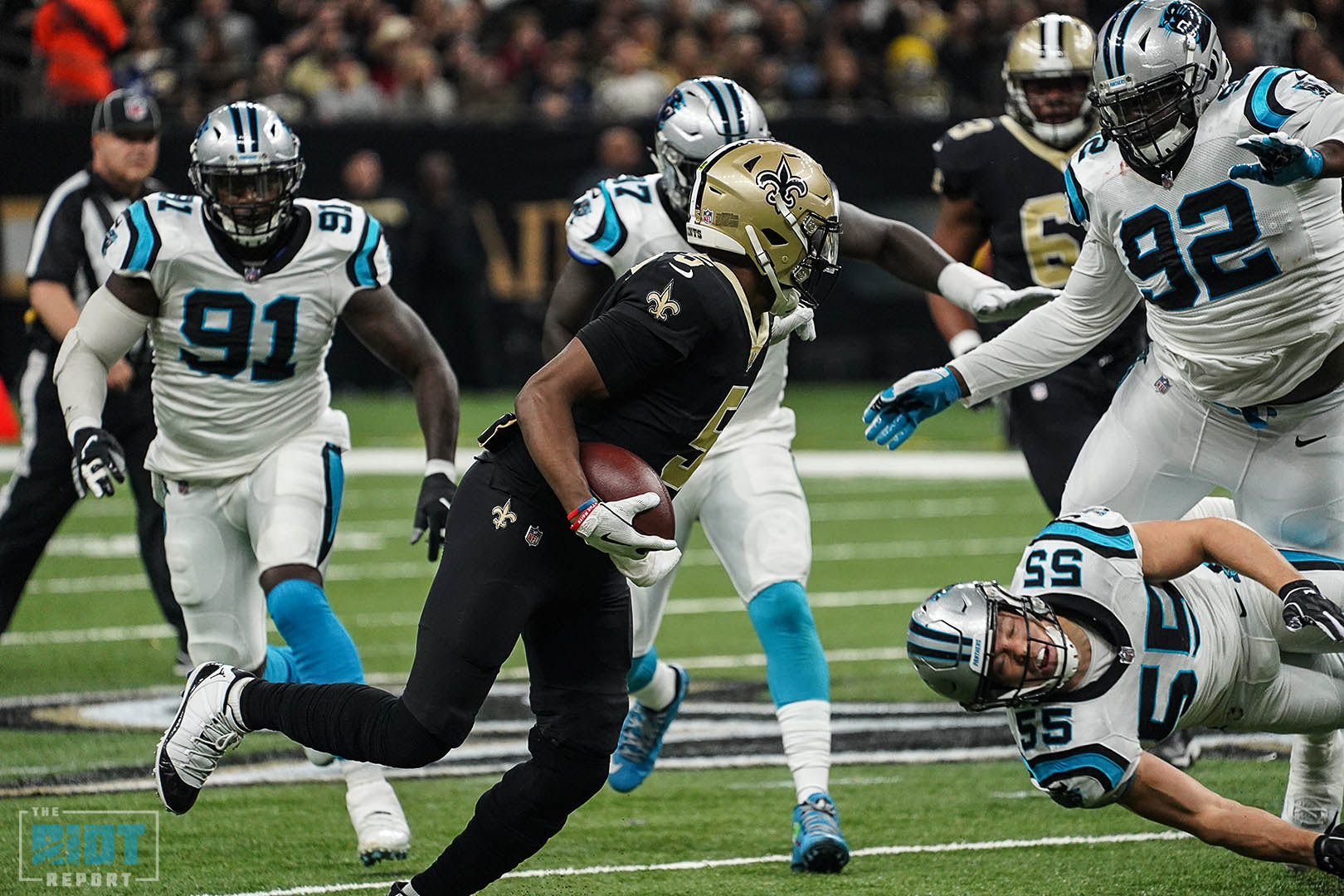 A key to his arrival in Carolina may have been the presence of Joe Brady, the youngest offensive coordinator in the NFL, who acted as almost a personal liaison to Bridgewater when he was traded to New Orleans just before the 2018 season started, when the rest of the coaching staff was already in "grind mode" getting ready for the regular season – the newly arrived QB and the offensive assistant who would soon leave to become the passing game coordinator at LSU worked closely together.
And when Brady left for greener pastures in Baton Rouge, Bridgewater would text him when he recognized concepts in purple and yellow he'd learned in the black and gold.
"He was the guy that first taught me everything when I first got to New Orleans," said Bridgewater, who knew Brady when he wasn't Joe, but Joey. "So Joey was the guy who worked with me after practice, in pre-games – he was the guy that took me through drills, we went over the call sheet together. He just stayed active with me."
"To be connected with him again in Carolina, I'm excited."
The question is whether or not Brady can help Bridgewater to be the same quarterback that led his team to the playoffs the last time he was a full-time starter.
"I actually feel like I am better than what I was a couple of years ago – I've been able to learn and grow from all of the adversity that I've gone through and all the experiences with different teams and motivations that I've been a part of. I know how to conduct myself, I'm not a young rookie starter trying to tell grown men what to do – now I understand what it takes to be a quarterback in this league and I want to apply this to the rest of my career."
Make no mistake – Bridgewater is very aware of the man that came before him, but he's excited for the opportunity to tell his own story in Carolina.
"Cam is a guy who impacted the game in a tremendous way," said Bridgewater, who has followed Newton's game since Bridgewater was in high school while Newton attended the University of Florida. The two were supposed to meet up at the Super Bowl this year, but plans fell through when Newton had to head to the red carpet at the NFL Honors ceremony. "He's been a huge help for a lot of guys in this league, especially a lot of young guys when they come into this league – he's one of the better men in this league when you really get to know him."
He's not trying to be Superman, just the best Teddy he can be.