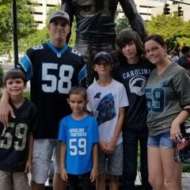 I am a Project Manager with Comfort First Heating and Cooling. Happily married to the man who made me a Panther fan (I was born a Pat's fan - sorry) over 10 years ago, and we have 4 kids, all of which are Panthers fans as well. We are obsessed with all things Panthers, and love all of the players!
This user account status is Approved
This user has not added any information to their profile yet.