There was a very specific moment where the Carolina Panthers lost their Week 7 game against the New York Giants. And it had nothing to do with any play that the Panthers either made or didn't make.
Looking to capitalize on a key third-and-long conversion with 4:54 left in the third quarter despite an injury-depleted offense that was just as woeful at moving the ball as their opponents, Giants offensive coordinator Jason Garrett decided to try some razzle-dazzle. The Giants ran a variation of the Philly Special, a double-reverse ending with wide receiver Dante Pettis throwing to quarterback Daniel Jones, who leaked out as a receiver to the right side of the field.
It was neither a particularly great pass or a very well-run route, and Panthers safety Sean Chandler read the play. But Jones made an incredible play, leaping up to catch the ball with one hand, pinning it into his facemask, and then securing it with two hands while taking a hit from Chandler to pick up 16 yards.
Realizing the sheer effort their young quarterback had just made in spite of the physical punishment he took, the partisan crowd at MetLife Stadium erupted. Likewise, Jones' catch sent a spark throughout the Giants players, and they subsequently raised their level of play – turning a 5-3 slugfest into a snowball of 20 unanswered points that Carolina had little hope of stopping.
By the time the Panthers left the field in defeat, there was much talk of what quarterback Sam Darnold lacks – and how he lacks it. But more importantly than anything Darnold has not done through his mechanics as a quarterback or through his decision-making, there is something conspicuously absent from his presence as Panthers quarterback that must change if he hopes to maintain that title.
Emotions, and the way they either make players persevere or crumble, are an integral part of the game of football. And as the most important player on the field, the quarterback is the emotional tone-setter for the entire team. While quarterbacks throughout the league all do their jobs differently – not everyone is a "rah rah" guy – a quarterback can set the tone of the game or change a game completely by making a play that creates a spark of inspiration throughout his team — a rising tide that lifts all ships.
But nearly halfway through the 2021 season, the waters of the Sam Darnold-led Carolina Panthers have been perfectly still.
This past Sunday, the Panthers exhibited the look of an emotionally flat team as the game slipped firmly out of their control. Though there was little cause for any player on the field or the sidelines to get fired up to begin with, the lack of emotional energy emanating from the Panthers had a clear correlation with Darnold's play at quarterback.
Darnold, simply put, was awful: He completed just 57% of his passes (16 of 25), throwing for 112 yards with no touchdowns and an interception. He threw several balls that were uncatchable, looked shell-shocked in the pocket, and had a shockingly bad mental error when he unloaded a pass into the ground while in his own end zone, resulting in a safety.
Part of leadership in football is to make sure your team avoids riding an emotional rollercoaster of letting their highs get too high and their lows too low. When asked if the Panthers either rally around him when he makes a play or go mute when he doesn't, Darnold chose to focus on the Panthers being a team that has stayed even.
"I think our team does a good job of emotionally staying consistent," said Darnold. "It can be tough, when you're not moving the ball and things are kind of stale, to kind of stay up and stay with it on the sideline. And I think our team for the most part does a good job of it. But again, you want to stay out of those positions as much as possible.
"We want to be able to march the ball down the field, obviously we want to get in the red zone. But we want to have those drives where we sustain them and we're able to convert third down after third down and go down the field and score points. That's the name of the game, and I feel like when we don't do that, I feel like as an offense we do a pretty solid job of trying to keep our heads up and continue to move forward as the day goes on."
At the very least, the Panthers have not responded negatively to Darnold – even as the Panthers have devolved from a 3-0 start into the losers of four-straight games. Multiple players, when asked how they emotionally react to Darnold in ups and downs alike, took an understanding and sympathetic stance towards their quarterback.
"We all have Sam's back. I think everyone on the team can say that," said tight end Ian Thomas. "We encourage him to do well, so that's our quarterback and we're gonna stick with it."
"We all understand that playing quarterback in this league is hard. And all we can do is really be there for him as teammates, make sure that we're in his corner," said defensive tackle DaQuan Jones. "We can't be snickering and talking crap in the locker room win, lose, or draw. For us, really the spark from Sam is knowing that he can go out there every day – win, lose, or draw – and he's gonna have the full confidence of this team."
What seems to be missing from the Panthers' relationship with Darnold, however, is the element of Darnold being a figure that elicits positive emotion and gets players and fans alike to rally around him.
Something that past Panthers quarterbacks were able to master.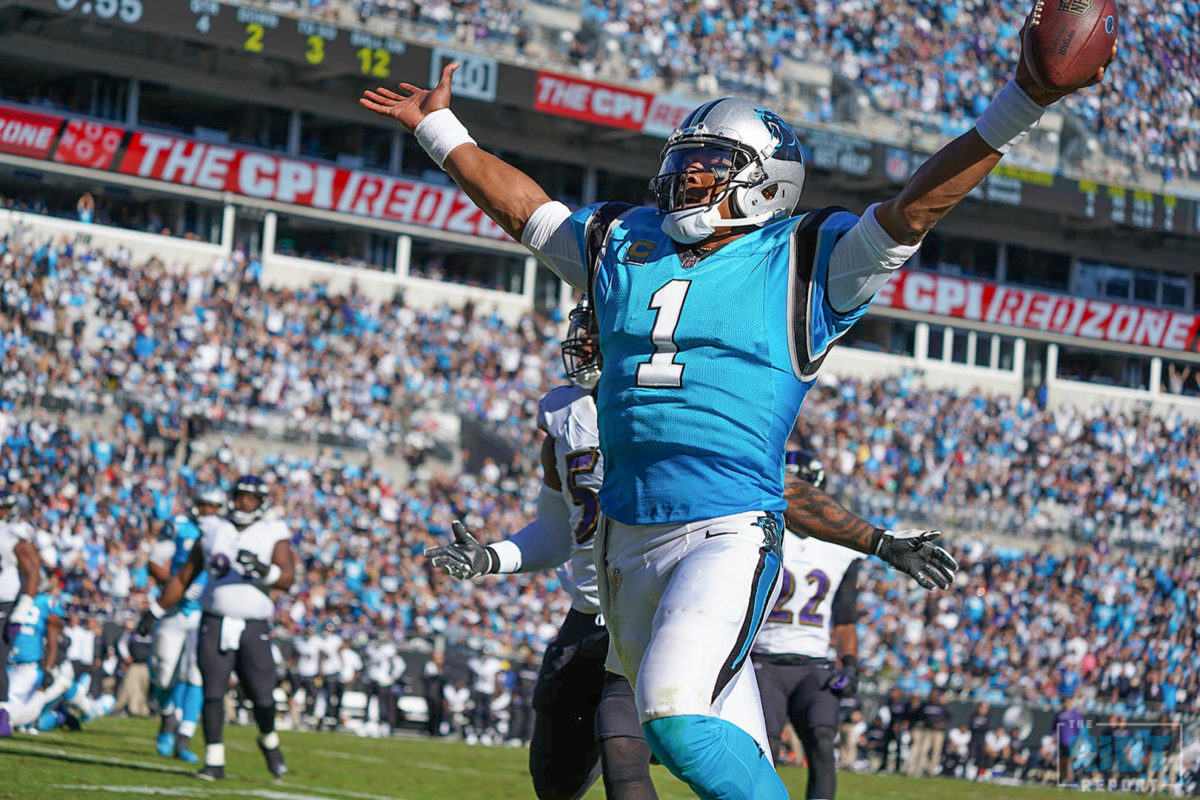 Steve Beuerlein emotionally elevated the 1999 squad; his game-winning Draw play against the Green Bay Packers sparked a late-season run that led Carolina to the door of the playoffs. Players reveled in the unlikely emergence of Jake Delhomme, whose high spirits lifted the Panthers to deep playoff runs and a trip to the Super Bowl in the 2000s. Cam Newton was the absolute master of using his emotions to his advantage, turning him into a force that energized crowds and made entire teams better around him.
Whether or not Darnold is capable of doing that is to be determined.
But if there's something within him that can jolt the Panthers awake and get them off the schnide, it needs to come out sooner rather than later – for his own future as starting quarterback in Carolina likely depends on it.
As it stands, Darnold is in the unenviable position of being the quarterback of a team that has heard the siren sound of Deshaun Watson – A National Championship winner and legendary player at nearby Clemson and a three-time Pro Bowler in the NFL. Although his pending legal issues and accusations of sexual assault are reportedly keeping them from making a move to acquire him, the tea leaves indicate that the Panthers would be interested in Watson under the right circumstances.
And Watson is an exciting player who would no doubt fire up the players around him on any given Sunday.
The aura that emanated from Darnold in 2018, when he entered the NFL as the third overall pick and the savior of the New York Jets franchise, has long since dissipated. The sheen of his first three games as a Panther, when he was a feel-good story as a quarterback winning games fresh off the scrap heap, has also worn off. With that, there's little about Sam Darnold as of right now that gives anyone any reason to be inspired by or to believe in him.
Darnold still has time to change that.
And the quickest way for him to do that is to do something that gets the attention of his teammates and creates a shockwave of positive energy and emotion that lifts the Panthers' play. That can be anything: rediscovering his abilities as a runner, which were featured during the Panthers' winning streak and have since been minimized during their losing streak. Standing tall, delivering the ball, and making a big throw while under duress. Taking a big hit. Making a big play. Doing SOMETHING.
If the Carolina Panthers flatline emotionally at a point in the season where other teams in their position are beginning to rally and find their identity, there's little hope that they'll be able to keep claiming they're a rising team in the NFC, let alone avoid a fifth-straight loss this weekend.
Getting back on track emotionally is a collective effort. But there's no one who can jumpstart that process more than their quarterback – who, for the sake of himself and the sake of the Panthers, must discover what power he holds as an emotional lightning rod – and use it for good.