Last week, the Carolina Panthers parted ways with one of the franchise's icons of the past decade as they moved on from tight end Greg Olsen, who had led the team in receptions, receiving yards and receiving touchdowns since being acquired in the greatest trade in the franchise's history in 2011.
"PANTHERS AND GREG OLSEN MUTUALLY AGREE TO PART WAYS," the headline screamed on the team website – and that made sense if you didn't dig too deeply. The 34-year old tight end said in no uncertain terms at the end of last season that he would not necessarily be interested in playing through a rebuilding effort in Carolina as the team transitioned into a new era under new head coach Matt Rhule and if the Panthers were rebuilding – or retooling, which is essentially just a rebuild with a more optimistic vocabulary – they wouldn't want to pay a 34-year old tight end the second-highest salary in the NFL.
Works for both sides – right?
Not so much.
"I told them all along that if they wanted me back obviously I would have been back," Olsen told WFNZ Tuesday in addition to other media outlets – whomever he could get on the horn, he let them know that he would have been more than willing to be paid $11m next season to be a veteran leader in a transitioning locker room. "The 'mutual parting' might have been a little overblown. The reality is they weren't going to bring me back at my current contract, my age, and the direction of the team. I understood it, but I didn't force my way out of here."
"It's kind of a new regime, new transition and sometimes the old expensive guys — regardless of their careers, regardless of their abilities — they kind of get the first axe, so to speak. That's kind of how that all went."
While Olsen, who is one of the more astute guys in an NFL locker room, saw the move coming and understandably wasn't upset, this move was anything but mutual – just like Thomas Davis a few years ago, Olsen is the latest in a long line of examples that franchise icons rarely get to write their own final chapter. With news coming that Olsen has had interest from many teams – including at least one who is in the midst of a rebuild and coached by Ron Rivera, natch – Panthers fans will almost certainly see Olsen in another uniform before he eventually rides off into the sunset of a television booth.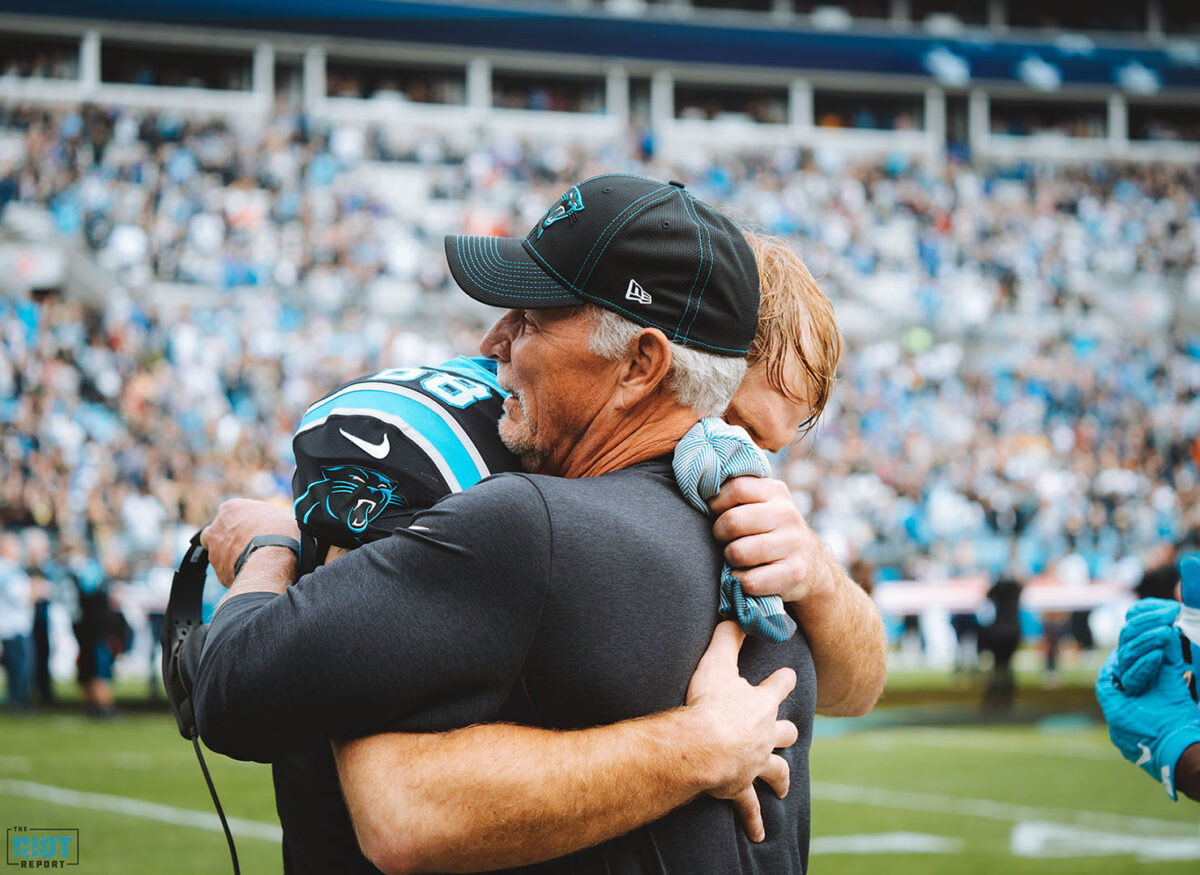 A little after 18 hours after the Panthers and Olsen 'mutually' agreed to part ways, another Panthers icon was making the media rounds in Miami as Cam Newton addressed the mystery surrounding his future in Carolina after trade rumors have been following the 2011 #1 pick since November as he missed 14 games last season with a Lisfranc injury before eventually undergoing his third surgical procedure in the past four seasons.
Newton told 'Tiki + Tierney' that he 'absolutely' expects to remain a Carolina Panther – at least through the end of his contract, which would pay him $21.1m in 2020.
"I had an unbelievable conversation with Marty Hurney, the GM, David Tepper the owner, as well as Coach Rhule, the new head coach," he said. "And I left that meeting inspired. And I told them, 'You won't find another person in that locker room with more to prove, not only to you, but I've got to prove to myself.'"
He certainly does have a lot to prove – he hasn't played a full season since 2017 and if he hopes to get a contract on par with the Russell Wilsons and Kirk Cousins of the world, he'll need 16 games of not only his foot holding up, but his shoulder. There were questions about whether or not Newton would play out the final year of his deal, but he has made it clear that he is ready and willing to suit up without an extension.
But in the business that is the NFL, whether or not Newton plays for the Panthers in 2020 is not up to him – it's up to the folks he had that unbelievable conversation with. A healthy Cam Newton – the health caveat weighs heavy in any conversation about the Panthers franchise QB – is a steal at a cap hit just over $21m in a league where the next QB contracts will likely reach $40m per season….but that doesn't mean that a new coaching regime wouldn't prefer to start from scratch with a quarterback of their choosing.
Just as Olsen wanted to stay but the organization moved on to not only save the money, but to continue the transition to a new, younger roster that doesn't include franchise icons like Luke Kuechly, Thomas Davis and the beanie-clad tight end, Tepper and Rhule may choose to do the same thing with the quarterback that has been synonymous with the Panthers for the past decade, whether Newton – or the fanbase that raised thousands of dollars to place billboards around Charlotte urging the team to 'Keep Cam in Carol1na' – likes it or not.
And so by using the media – make no mistake, no one was forcing Newton to do those interviews – to let Panthers fans know that he would like to return and appears willing to play out the final year of his deal without a contract extension, the Panthers quarterback has placed the ball firmly into the organization's court.
If the Panthers part ways with the most storied player in their history, there will be nothing mutual about it.