When you really think about the circumstances, DJ Moore had an incredible sophomore season.
In essentially 14 games – the 5-11, 215 pound soft-spoken wideout suffered a concussion only six snaps in to a Week 15 loss to the Colts and didn't return the rest of the season – Moore had 87 catches for 1,175 yards, averaged over 13 yards per catch and had a higher average depth of target than fellow NFC South wideouts Chris Godwin and Michael Thomas.
Thomas – along with fellow NFC South juggernauts Julio Jones and Mike Evans – was voted to the Pro Bowl while Moore, who quietly amassed the ninth-most receiving yards in NFL history before turning 23, was not even selected as an alternate. The 2018 first-round pick was consistent in his sophomore season, with over 73 yards receiving in 11 of the 14 games he played in – and this was with Kyle Allen, who measured out as the worst deep passer in the league, under center.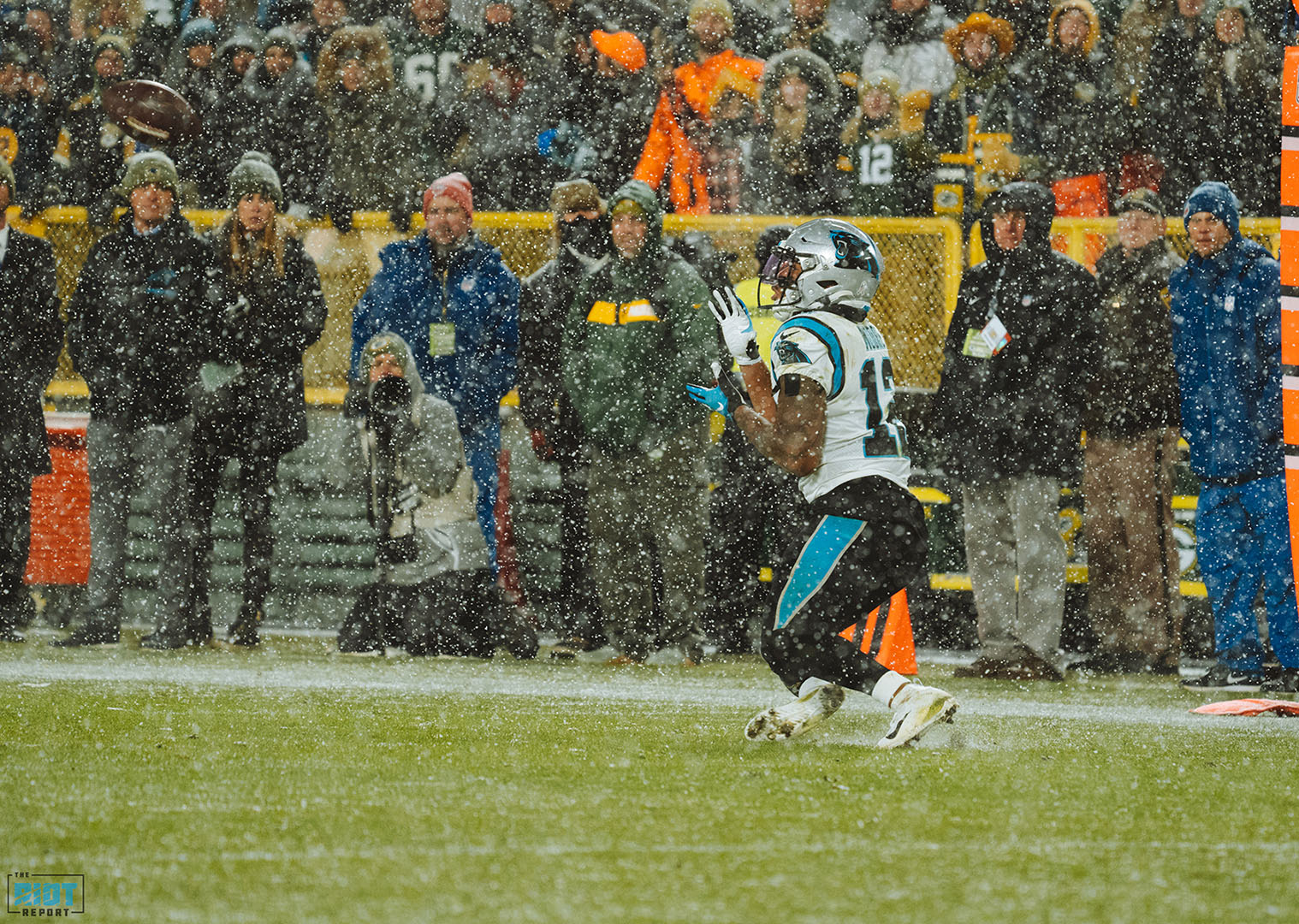 New coach Matt Rhule is pushing Moore to take the leap to that upper echelon of wide receiver. Armed with a Joe Brady offense that moves quickly and an exceedingly accurate passer in Teddy Bridgewater who can put the ball in Moore's hands and allow him to do what he does best – make plays – that's exactly what Moore is looking to do in 2020.
"D.J. has to take another step this year and be that dominant, physical go-to receiver on third-and-five that you're going to, and in the red zone that you're going to," Rhule said earlier in training camp. "Take the best matchup of the [other] team's best corner and just dominate it – that's the step that he has to take."
The Riot Report caught up with the Panthers wide receiver for a phone interview Friday afternoon, the day before the Panthers canceled their scrimmage to discuss social justice solutions, to talk about what Moore's been working on this offseason, how he's adjusting to being a new dad and how important it is for a professional athlete to be involved in the community.
Want to hear this interview and more from your favorite coaches and players? Check out the latest episode of It Is What It Is.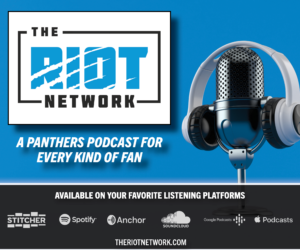 Hey, first of all, thanks for taking the time, I appreciate it. I wanted to start out by asking how your daughter's doing and what it's like being a father – and how much sleep you're getting.
She's doing good. She's just turned nine months today … She's growing faster than I expected, but I'm loving every step of it. Every time I get home during training camp we have like, I want to say, an hour of play time, she gets a bath and goes to sleep – that's the routine for right now during training camp. So we're getting good sleep right now.
In the first couple years of your career, you're one of the most prolific wide receivers under the age of 23. What were you working on specifically this offseason to try to get better?
I've been dialing in on my route running and setting people up – that's just one thing that I was working on. But everything that a receiver has, he always wants to take to the next level. Whether it's routes, releases, play speed – everything. Every day I just tried to go out there and work on one of those different things.
How do you get better? How do you work on route running specifically? Is that just getting reps or is it something specific that you do?
It all starts with reps, but then visualizing yourself running it and then working on a technique – dialing in with a quarterback and what kind of techniques they want and just going from there.
Is there a specific route that you feel like is the best in your repertoire and then is there one that you were working on during this offseason try to get better at?
I wouldn't say there's a worst or a best per sé but last year, the main route that I ran was a slant, so this year I'm working on all of them, so I can be an asset in the low-game, medium and deep ball. So just all of them right now I would say – getting used to running them all is probably the best thing.
I know that you and Will Grier did a lot of work this offseason, how much did that help you?
That helped a lot because, you know, coming into it, we had to learn a whole new playbook. So going out there and actually hearing the calls and actually going out there running the routes and understanding what's happening, that was huge for this offseason.
Will talked a little bit about how he feels more comfortable, not with the playbook or the offense specifically, but just kind of calling plays and in the language of it this year. How does that compare to you from the offense for the last couple years?
Well, as you know, this offseason was very different from any other offseason. I knew the playbook going into last year. But then to have a whole new playbook is like my rookie year, where we're going in and learning again – at a faster pace. But for this year, with the way that offseason went, It was kind of better that it happened that way because everybody was able to hone in on the playbook and actually be able to know it mentally and then go out there and do it physically.
Do you think that this weird training camp/no preseason is a help or a hindrance for you guys, with a new coaching staff and a new scheme? Like, could the lack of preseason mean the offense could surprise people?
I feel like it's helping because we're getting to know [our coaching staff] and they're gonna know us, but at the same time we're still playing football and learning how they want things at at a pace that everybody's comfortable at – [our opponents] know the type of players that we have, they just don't know how we're utilizing everybody. So it is a slight advantage. The no preseason games is helpful going into the season, but once you get into the season, everybody's gonna be able to see what you were doing.
What do you see from this young secondary? Because I think that when a lot of people look at this roster, they don't have as many questions about the offense, but they have questions about the defense. You've gone up against Troy Pride, Donte Jackson, Eli Apple, TJ Green, what are you seeing from them? And have you seen a progression even since training camp started?
They're all taking steps each days to work on something different. What I know, because I go against Donte a lot, is that Donte has improved a lot. So going into this year, I know he's working on himself to be more reliable than he ever was. And he's holding [himself] accountable for himself. So that's all I can really say from personally [going against] Donte – everybody else, I see them working hard and I just got to get reps against them to really understand them.
I know when you guys came into the league as rookies, we made a lot of DJ vs Donte when you guys had one on one reps – is it kind of cool seeing that progression? Year over year, every year in training camp, you're going to go against him and kind of seeing both of you guys grow up at the same speed…
Yeah, because then it's even harder every year because, you know, he knows me, I know him. And every year it just gets harder and harder to either defend or go against, so you've got to keep up with the new techniques that I'll be facing. Every time, we talk after every rep have during one on ones and see what happened.
Did you feel frustrated last year? Obviously, you guys had the long losing streak, you lost Cam – were you personally frustrated with the way the season went?
Frustration? No, but at the same time, yes – because you had the losing streak. But I really wasn't frustrated because I know that it's the NFL – any given Sunday, you can either win or you can lose. Before every game, [we worked as hard as] we possibly could and it didn't come out our way – so that was frustrating, but you know in the NFL, you got to move on to the next game – because can't change the past.
It seems like every offseason, there's a viral moment between you and Steve Smith – there was the draft night interview where he said the Panthers had finally found a #1 wide receiver to replace him, the way he poked fun at you about his fantasy team – do you talk to Steve often? How does it feel to be associated with one of the Panther greats?
Yeah, I talk to him – Well, right after that interview, I had a few questions. To be compared to him, that's amazing. But you also still want to make a name for yourself. So when I have a question, I could just hit him up, he'll answer it and tell me something that I could do better – so that's our ongoing relationship.

With the events of last week, what are your feelings about the Jacob Blake shooting and what has this past week been like for you?
This past week, [I was] kind of saddened to see the comments on what's happening in the world, it's kind of saddening – also to see it being recorded, it's real sad. But everyday we've just got to keep using our platform to better the world and speak out our feelings and let everybody know that this is not right but at the same time, we're going to need everybody to back us up on it, so we can change the world.
How can athletes use their platform for good?
Whether it's talking to the media, sending out a tweet, starting a petition, anything that is positive moving forward, stuff that won't get bad backlash….you want to use your platform as a positive role for better change.
What was that like giving out meals to front-line workers during this offseason?
That was huge because I got that experience [to] just see everything that was going on. And then, those people that I delivered food to were the very first responders that [treated] everybody that comes in with the COVID case. Those were the worst of the worst cases that were here in Charlotte and around the area, so they were working non stop. I forgot how long they said they were working, but they said they didn't have a break. So when I got there, it was like an a-ha moment – I was just stunned to even see them out there be able to accept the food because they had so much going on.
Do you look forward to that time on the field with all the craziness off the field in the world?
I would say so, but when you get out there, you're just not thinking about what's going on in the outside world – but you have to have that in the back of your mind. But football comes first. When you're on the field, you've got to be where your feet are. But once you step back off the field, you're a regular human being.
(Top Photo Via Brandon Todd/Carolina Panthers. Some questions/answers have been edited for brevity/clarity.)