In this series I will be reviewing how the Carolina Panthers 2016 draft class performed during their first season in the NFL. The first player under the microscope will be first round pick Vernon Butler. Below is some basic information and his 2016 statistics:
| | | | |
| --- | --- | --- | --- |
| Category | Information | 2016 Statistics | |
| Name | Vernon Butler | Total Tackles | 13 |
| College | La. Tech | Tackles for a loss | 2 |
| Age | 23 years old | Sacks | 1.5 |
| Height | 6-feet 4-inches | Passes Defended | 1 |
| Weight | 323 pounds | Fumbles Recovered | 1 |
2016 Expectations and Season Review:
Fans entered the 2016 season with few expectations in regards to Butler. He was considered a luxury pick with Kawann Short and Star Lotulelei already entrenched on the team and was expected only to rotate in and provide relief. His primary responsibility would be to learn from Kawann Short in the event KK left in free agency after the season.
Vernon Butler may have been seen as a pick with an eye towards the future before the season started, but after his Week 1 showing in which he recorded a sack in only 23 snaps against Denver, expectations were quickly adjusted. When Butler injured his ankle in week three, he had already accrued three tackles, batted down a pass, and looked ready to breakout if given the chance. He would miss seven weeks and not return to the field until the Panthers week 10 tilt with the Kansas City Chiefs. He recorded a half sack during the game and looked like a growing force. Butler blocked two field goals last season, in Week 11 against the New Orleans Saints that Luke Kuechly returned for a score and another against the Atlanta Falcons in Week 16. Butler also recorded a fumble recovery in Tampa Bay during the final game of the season.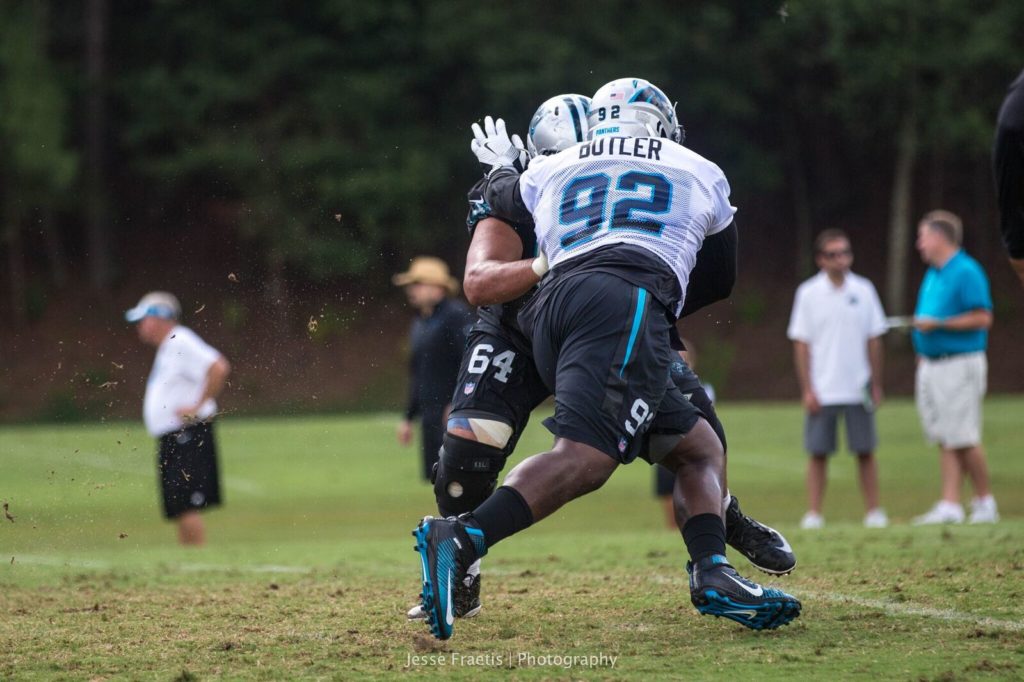 Performance:
The Bad News: Butler was expected to come in as a rotational player who filled Kawann Short's role while he was off the field, and he filled that role, but to a lesser degree than expected. When he broke through the line he was always a step away from making a play. The problem with "a step away" is that it does not get the job done, as we are playing neither horseshoes nor hand grenades. He was caught hesitating and taking poor angles to his target at times, also having problems actually making it into the backfield at times due to offenses focusing on him while disregarding players like Ryan Delaire and Paul Soliai.  While that is a symptom of playing mostly with the second string, Butler must improve on handling double teams in order to make a jump into the elite class of defensive linemen.  Kawann Short has made an enormous amount of money because of his ability to slip double teams.
The Good News: Butler has an outstanding burst off the line of scrimmage. His initial step and pass rush move, usually a rip, might be the best on the team. His violent hands only got stronger and more confident as the season went. In Week 16 against the Falcons Butler was double teamed on 12 of his 26 snaps and made it into the backfield a total of ten times most of which did not come while double-teamed. What really makes this interesting is the fact that he played alongside Short a number of times and the Falcons would send the double team at Butler instead of Short or even at both players depending on how many Panthers were rushing. Did the Falcons see Butler as a bigger threat than Short?
Last Thoughts and 2017 Expectations:
After reviewing his play this season, it is clear that Butler was not brought in as an insurance policy for Short. His skill set is more varied and the Panthers used him to fill more roles than I expected before I started watching the tape. He showed growth as a space eater and gap filler, improved his edge rushing and interior bull rush abilities all while maintaining his core strength and overall power.
Butler had a decent rookie year. If you compare his play at the beginning and end of the season, the amount of progress he made was astounding. In the beginning, he flashed talent and ability but would get blocked out of plays with ease and had terrible pursuit angles, but by the end of the season his first step and violent hands were on full display on every down. He still has a lot of work to do when it comes to pursuit angles, overall speed and play recognition, but he had larger impact during his rookie year than most realize.
In 2017, I expect Vernon Butler to be a huge piece of the defense. With the departure of Paul Soliai earlier this off season the Panthers will have to rely on Kyle Love and Vernon Butler as the primary defensive tackle rotational backups. Furthermore, as last season progressed, Butler saw more snaps alongside Kawann Short instead of working with the other rotational players. These two facts lead me to believe that Butler will see an increase in overall snaps and a corresponding increase in production and impact. Butler improved continuously over his rookie year and, while it is unlikely that he shows that amount of progress in his second year, his play at the end of the 2017 season will be a big factor in the Panthers playoff chances.