The Panthers offensive line isn't exactly the most consistent group in the NFL.
I don't mean that in the way you think I do.
Since Cam Newton was drafted first overall in 2011, 23 different players have started on the Panthers' offensive line. Even though the Panthers have made the playoffs in four of the past five seasons, they have still started 19 different offensive linemen during that period; while a number of those players have started the odd game here and there as starters have got injured, the predominant starter at each position has changed at least once since 2013 – the Panthers have not started the same combination of players for consecutive years in a positional group where consistency is of the utmost importance.
And that trend will continue in 2018.
And, if Ryan Kalil is to be believed, in 2019.

Of course, it would not be fair to say that there has been no consistency among the chaos; having emerged as starters in 2014, both Turner and Norwell started consistently ever since and Ryan Kalil's blip last season was due to injury. At the tackle positions, however, there has been nothing even close to regularity.
Some of that is out of the Panthers' control, as the surprise retirement of Jordan Gross and the career-ending injury to Michael Oher both led to significant disruption. Byron Bell, and then Mike Remmers, were forced into starting left tackle roles due to these departures, with Chandler and Williams being forced into starting opposite them as a knock-on effect. While these events were out of the Panthers' control, it is still highly likely that this lack of continuity played a significant part in the inconsistency of the Panthers' offense over the past five seasons. However, all of this is history, and while this goes a long way to explaining the past, it can also help with judging how the Panthers will do in the future – this game of musical chairs is still ongoing.
Matt Kalil's contract includes a team opt-out after this season, Ryan Kalil has already stated that this season will be his last, Daryl Williams and the Panthers are reportedly miles apart in contract negotiations entering his contract year and the left guard spot is very much up for grabs. The only certainty going forwards for the Panthers' offensive line is Trai Turner, who signed a four-year extension last year to keep him with the team through the 2021 season; what should be of even greater concern for Panthers fans is that there remain so many unknowns on the Panthers' offensive line right now.
While Matt Kalil did not play hugely well last season, coming off a serious injury that should not be hugely surprising, especially given the number of smaller injuries he dealt with during the season; he did have some good games, the Miami game in particular showcased all of the skills that made him a top five pick and a blockbuster free agent – we've heard this before, but a fully healthy Matt Kalil (if he is healthy, as he says) is a quality player. All of that being said, should his performance not improve this season, the Panthers should strongly consider releasing him.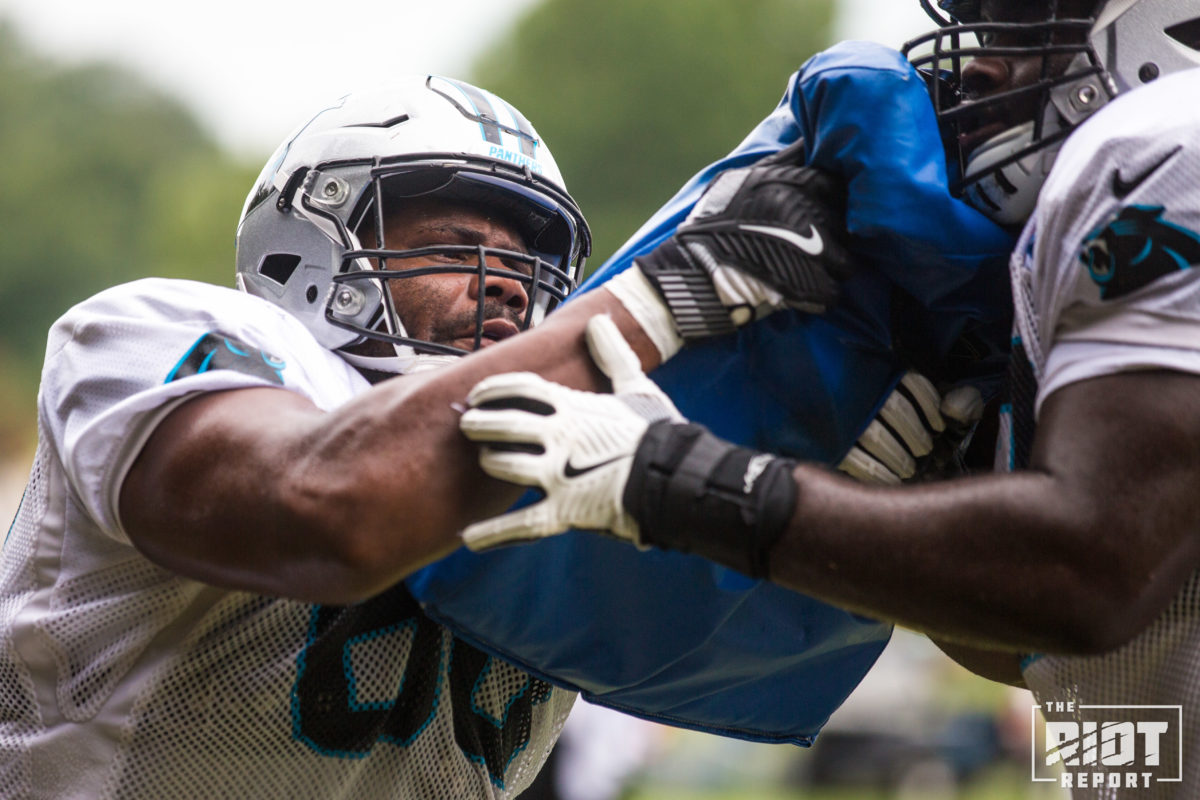 Likewise, at right tackle, the Panthers need to make a decision about Daryl Williams' future with the Panthers. Despite some lofty accolades for his performance last season, the Panthers often used help from players like Turner or Ed Dickson to hide the right tackle's flaws, something that is not at all sustainable – while it might be painful, the Panthers need to leave Williams to fight his own battles this season and should he falter, they need to have to confidence to explore other options. If it becomes clear that Williams is not able to hold his own as a starter or even that the team doesn't plan on bringing him back in 2019, then Taylor Moton needs to be given a chance to show what he can do, ideally with Williams being dealt for whatever Hurney can get for him.
2014 should provide a valuable learning experience when it comes to building an offensive line. The Panthers started the season with Amini Silatolu at left guard and Chandler at right tackle, and only when those two were injured did they resort to Norwell and Remmers, despite consistently poor performances by both Silatolu and Chandler prior to injury. The Panthers cannot wait for any strugglers to get injured before trying out alternative options this time around, whether that is Williams or whoever ends up starting at left guard.
Obviously, should Williams, Matt Kalil and whoever starts at left guard hold their own, there is no need to make changes for the sake of making changes, but there is no value gained in sticking with a player you know to be sub-standard. Moton, Sirles, Van Roten, Mahon and any other offensive lineman at the Panthers' disposal might all prove to be no better than Silatolu or Williams should they fail to progress as needed, but there is always the possibility that they are.
If nothing else, the Panthers need to know where they are with the offensive line, ideally by midseason but certainly come next offseason – if another significant offensive line overhaul is needed, the earlier that the Panthers' know it, the better.
Therefore, for left guard and right tackle in particular, the Panthers need to be brave enough to move on from under-performing starters midseason. By the time the 2019 offseason starts, the Panthers either need to have found their starters for the future along the offensive line or have exhausted the options available to them, knowing that they'll need to add a whole new set of options for the 2019 season. As painful as 2014 was at times, the Panthers managed to emerge from it with four solid starters on the offensive line, with the addition of Michael Oher propelling them to a Super Bowl run in 2015.
The Panthers might not finish the 2018 season with a complete offensive line in place, but if they have answers for 2019, that might be just as good.