Last year, Cam Newton wasn't able to throw overhand until August as he recovered from offseason shoulder surgery, with questions revolving around every activity the 2015 MVP quarterback participated in, including his annual Kicking It With Cam kickball tournament which raises money for the Cam Newton Foundation – although he couldn't throw overhand, he still participated and pitched throughout the tourney, calling it a "natural motion". He pitched his team to the 2017 championship, picking up celebrities along the way until he led Team Lokai to the trophy – this year, however, the first game proved 2018 different as Cam fielded a ball kicked back at him and threw it full speed at an unsuspecting opponent, ending the inning.
Although the Panthers QB that was hosting the event was fully healthy this year and gave up 18 runs in his first game as pitcher, don't get confused – he still ended up in the ersatz championship round before lightning stepped in and declared everyone a winner by ending the tournament with two games remaining – the host still probably declared himself the champion.
The more things change, the more they stay the same.
"We just wanted to have an event that would bring the kid out of everybody," said Newton about the event that raised tens of thousands of dollars for the Cam Newton Foundation. "As my mom would say, come back in the house musty and just having a fun event that not only males can play but females can play as well. From what I've seen, everyone's doing alright, but I don't know if they're stinky or not."

Newton was joined for the annual event by multiple celebrity guests, hosting not only Panthers teammates like Devin Funchess, Julius Peppers, Christian McCaffrey and Greg Olsen, but stars from across the league, including NFC South rival Julio Jones, who was trolled by the Panthers Twitter account, who posted a picture of Cam and Jones, who hasn't shown up to Falcons voluntary OTAs the past two weeks, with the caption "@Falcons – Julio says hi." The list of celebrities is too long to name, but here are a few: NBA star Dennis Smith, Jr, Patrick Beverly and Dwight Howard (who joined Newton's team for the first few rounds, even jokingly pleading with Cam to stop pitching as he continued to give up runs to the opposition during a first round blowout); Panthers Damiere Byrd, Alex Armah, Donte Jackson, Chris Manhertz, DJ Moore, Kendrick Norton, Jarius Wright, Torrey Smith; fencer Miles Chamley-Watson, and many more. It was the type of event where Captain Munnerlyn, Thomas Davis and Josh Norman leaned against a fence breaking down Norman's performance in Dancing With The Stars and Terrell Owens would get into a heated argument with a teammate about a baserunning error.
"It's a big deal for me to see people from their respective sports come out," Newton said about the star-studded event, which hosted teams from Bentley, American Airlines, Food Lion, the Roaring Riot and many more; the Cam Newton Foundation uses money raised at this and other events to address the educational, physical and social needs of youths in the Charlotte area as well as Newton's hometown of Atlanta. "It's always been important to put on an event like this that people can see not only the Panthers but a different variety of athletes and entertainers – people that they may see on social media or on TV. Charlotte's been home for me for a while and I just want to keep continually giving something that's outside the box."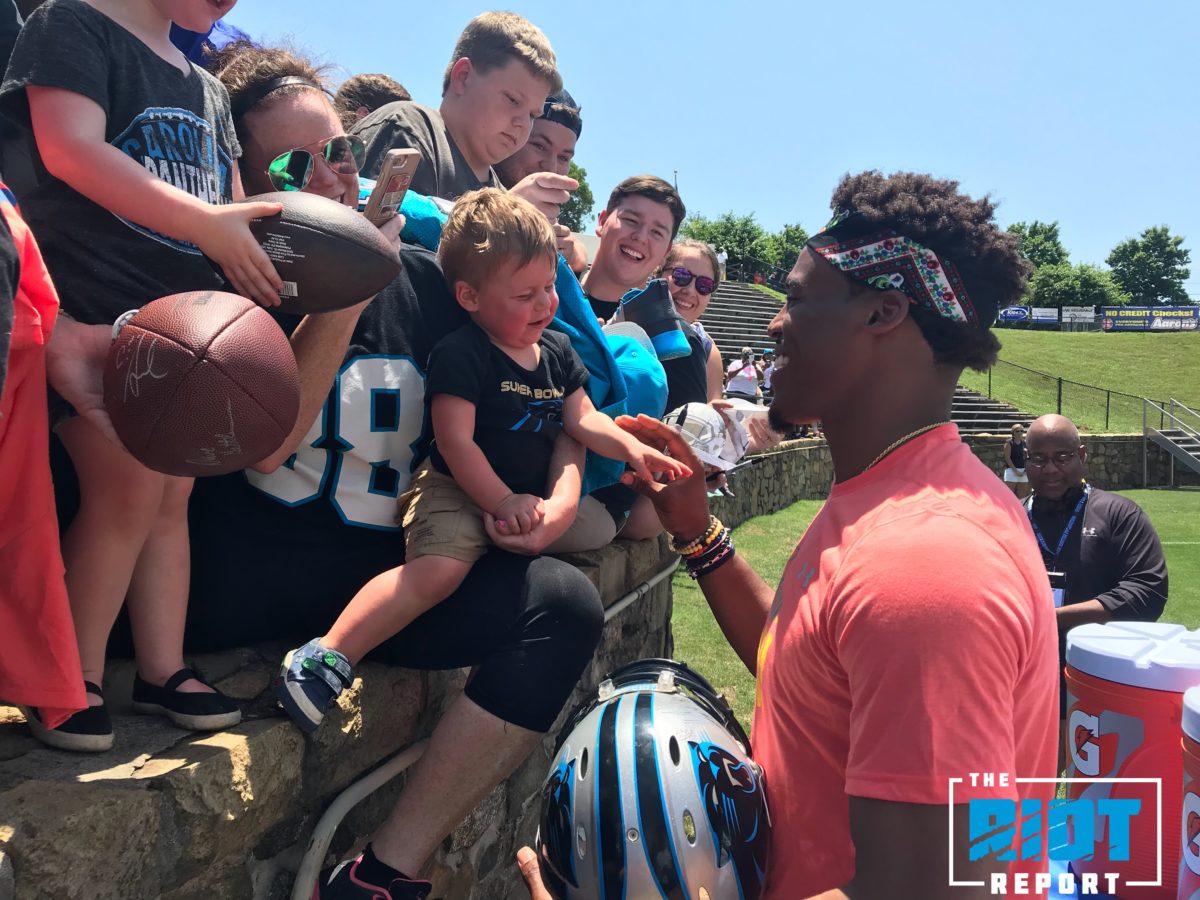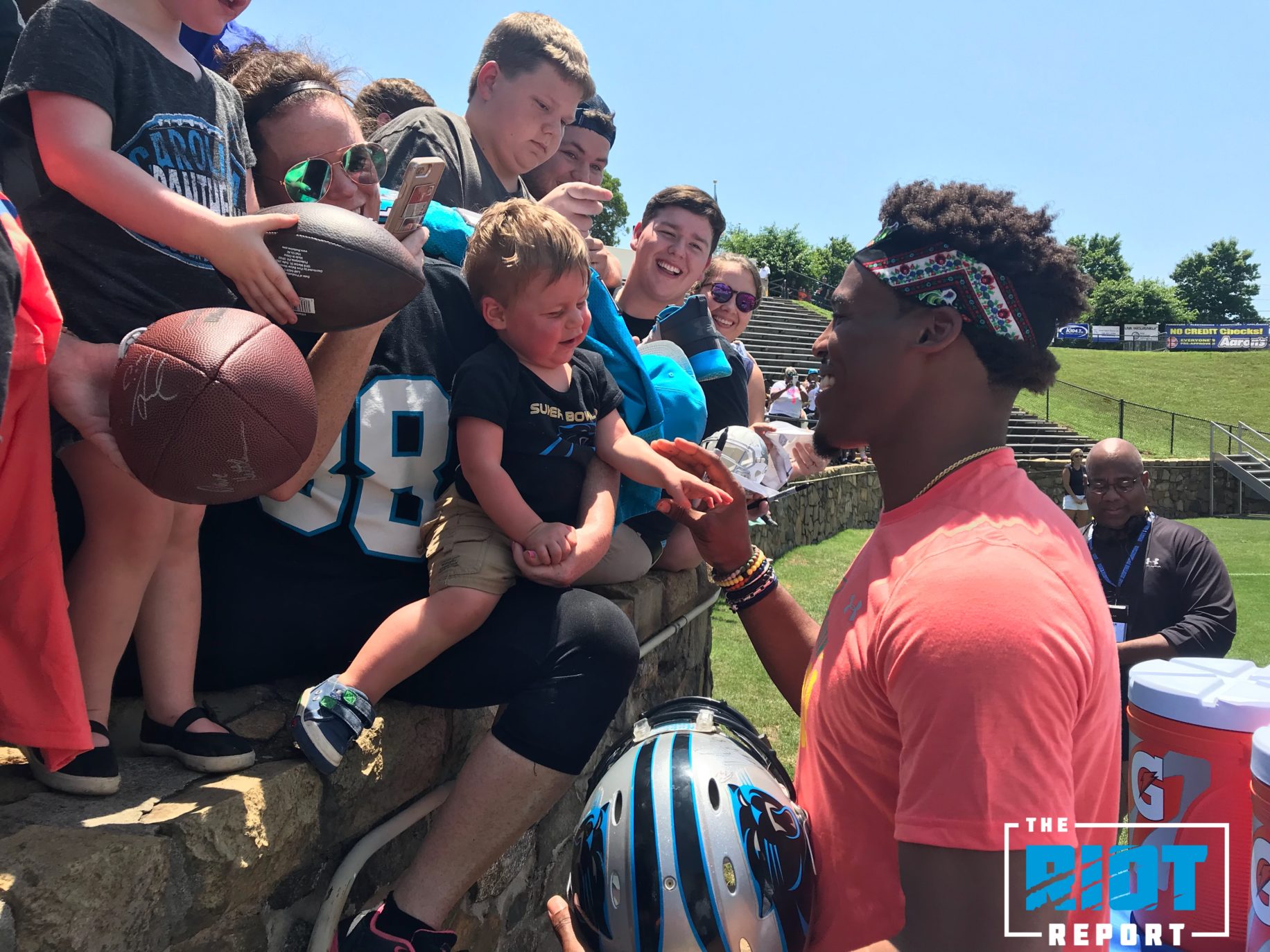 Newton and his friends spent much of the day snapping selfies and signing autographs – the host played on multiple teams, inserting himself into the lineup on any field he passed – it's easy to make it to the championship when you're on every team.
"It keeps getting better and better and we're looking forward to doing it for years to come."