With the NFL deciding to move forward with free agency as the rest of the world attempts to deal with the COVID-19 pandemic that seems to be infecting every corner of every conversation, the league will be examining all options to create guidelines for how teams will conduct free agency – from interviews to physical examinations to everything else that goes into inking a man to a contract worth millions of dollars – over the next few weeks.
The tampering period is due to open Monday at noon before signings can be made official on Wednesday – although, without physicals, this may be harder for teams….don't forget the Panthers had agreed in principle to a three-year, $24m deal with cornerback Bashaud Breeland before a physical revealed a foot infection that voided the deal two years ago.
But those hoping for the Panthers to make big-name signings this week may be out of luck as the Panthers, headed by new coach Matt Rhule, appear set to eschew being big players in the early stages of the 2020 offseason with the hopes of making a big splash in 2021 – because the moves they make this week will have reverberations that last all the way until next April.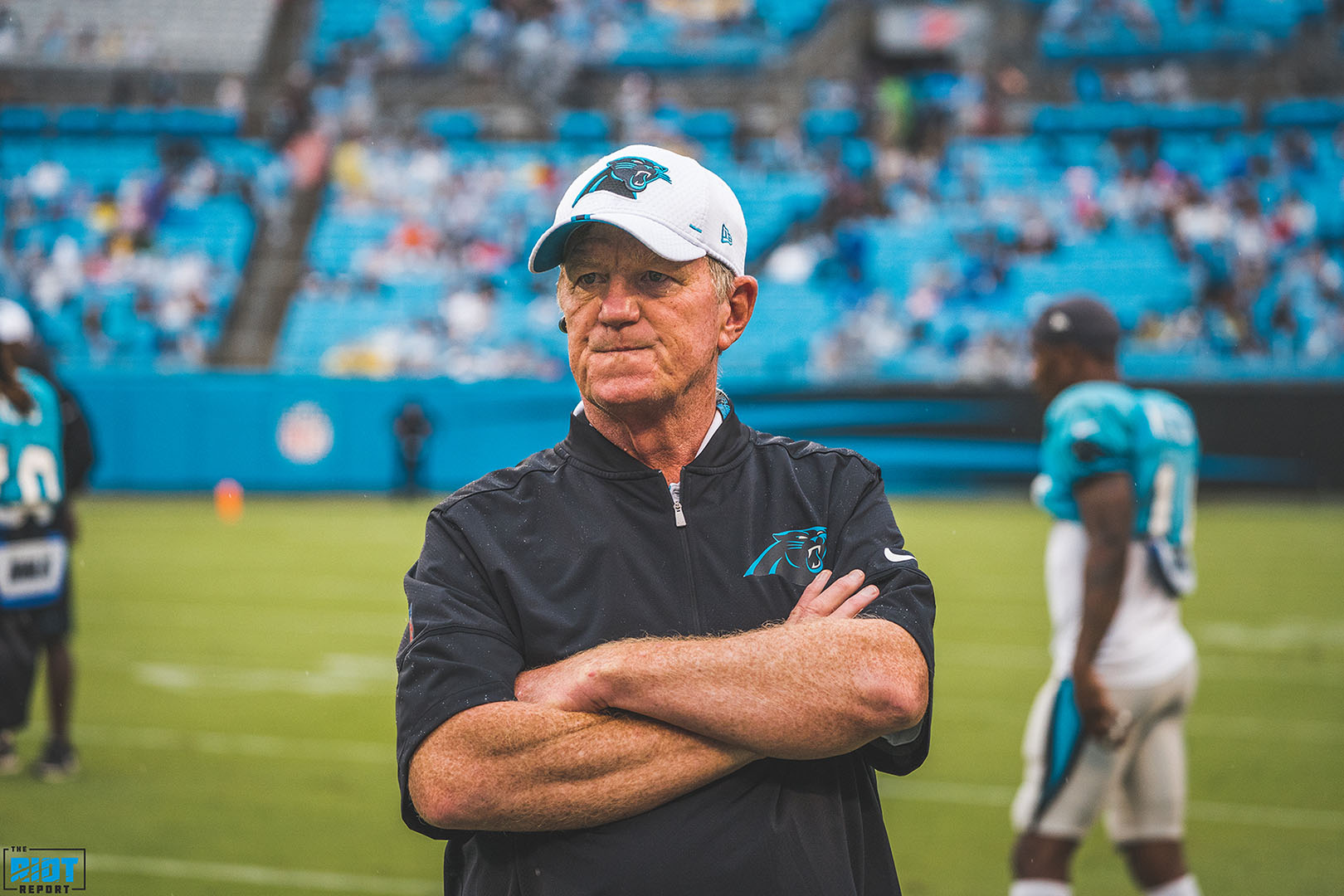 Because of the way the NFL's compensatory pick formula works, the Panthers will be careful to use the exodus expected during free agency of 2020 to help them in the 2021 draft. While the formula has never been officially revealed, according to Over The Cap, which has been a leading resource on comp picks in the past, "compensatory picks are awarded to teams that lose more or better compensatory free agents than they acquire. The number of picks a team can receive equals the net loss of compensatory free agents, up to a maximum of four. Compensatory free agents are determined by a secret formula based on salary, playing time and postseason honors."
In other words, free agents signed can cancel out free agents lost – if they're on the same level. For instance, the Panthers, despite signing Dontari Poe and Ross Cockrell, were issued a 2019 third-round compensatory pick (the 100th pick, used on QB Will Grier) for G Andrew Norwell, who signed one of the biggest deals among offensive linemen during the 2018 offseason.
The Panthers have been issued 18 compensatory picks in their franchise history.
With the Panthers set to have multiple players – from James Bradberry, who is expected to sign one of the bigger deals among NFL corners this week, to Tre Boston, who may have finally earned himself a large deal after three one-year contracts, to players who can expect mid-tier deals like Mario Addison, Greg Van Roten, Bruce Irvin and Gerald McCoy – perhaps leaving in free agency, they will likely tailor their signings in order to not cancel out losses like Bradberry, who will almost certainly garner a third-round comp pick, with players like Boston, Van Roten and others likely qualifying for picks sometimes in the middle rounds.
The team needs to refill their roster and will likely look to do so through free agency, but it would be surprising to see them do anything that might jeopardize future assets.
If you need further proof that past decisions affect future outcomes, the Panthers are hovering around $30m in cap space in 2020, but have the most dead cap – over $40m! – in the NFL. Once that dead money sluffs off this season – and they're able to roll over any cap they don't use this year – they'll have a lot more room to operate in 2021.
With owner David Tepper already urging fans to have patience to build 'sustained success' for his team and not-so-subtle reminders that the team is 'tearing things down a little' before building them up with a seven-year deal for their newly minted head coach, fans would be wise to expect a long runway to that success. Especially with a coach who has a history of both rebuilding programs from the ground up and the first season of those rebuilds tilting more towards losses than wins, the team may slowplay 2020 in order to reap the benefits in 2021.
To steal another quote from the owner – You heard about Rome, right?