With the Panthers looking to run more of their defense out of a three-man front in 2019, Ron Rivera has said how he hopes this change to a more hybrid defense would give opposing teams more to prepare for and make it harder for them to key into exactly what the Panthers were trying to do defensively based on personnel groupings on the field. However, if the goal is to confuse the defense, the same can be said for a five or six man front; why is it that teams look to use this three-man front – and how might that work for the Panthers?
Obviously, the 3-4 defense isn't universally better than the 4-3 defense, otherwise every team would run it on every play – both defensive strategies have their own strengths and weaknesses. While the negatives associated with using a three-man front need to be considered – most notably a weakness against the run at times – one would hope that the Panthers would be aware of these and look to use each formation to maximize their respective strengths.
One strength of a 3-4 defense was an area in which the Panthers struggled in 2018 – obvious passing situations. But to understand the advantage of using a three-man front, we need to make a couple of assumptions and do a little bit of math.
The first assumption is that the quality of the pass rushers doesn't depend on the formation – while this might not hold true for the same group of players between formations, the important point here is that if a team goes from a 3-4 to a 4-3 or vice versa, they are able to keep the overall quality of the pass rusher the same. This isn't absolutely true, but is close enough to being true that we shouldn't have to worry about it here – the Panthers like who they have at pass rusher currently, and we can assume that they'll be adding some through free agency, the draft or both.
Either way, the Panthers' pass rush need to be better than it was in 2018.
"I just think it's a matter of getting those guys back on track," Ron Rivera said at the combine this week. "I know last year was different, we had [Dontari] Poe who was a new player getting used to the way we do things, and [Kawann Short] learning to work with Poe. Remember, for five seasons he and Star [Lotulelei] worked together very well. You've got to develop that tandem, that tandem's got to have a good rapport. As far as guys that need to step up in that position, we've got a group of young guys we've got to take a real good look at. I think Marquis [Haynes] is a young man that's got that kind of skillset, as far as an outside attack guy. [Jermaine] Carter's shown some of those abilities. We've got to see what Efe Obada can do out there, Bryan Cox is another young man that has that type of skillset."
"We're interested to see how those guys come back and really whether or not they fit that type of role, or do we keep them at the defensive end spots."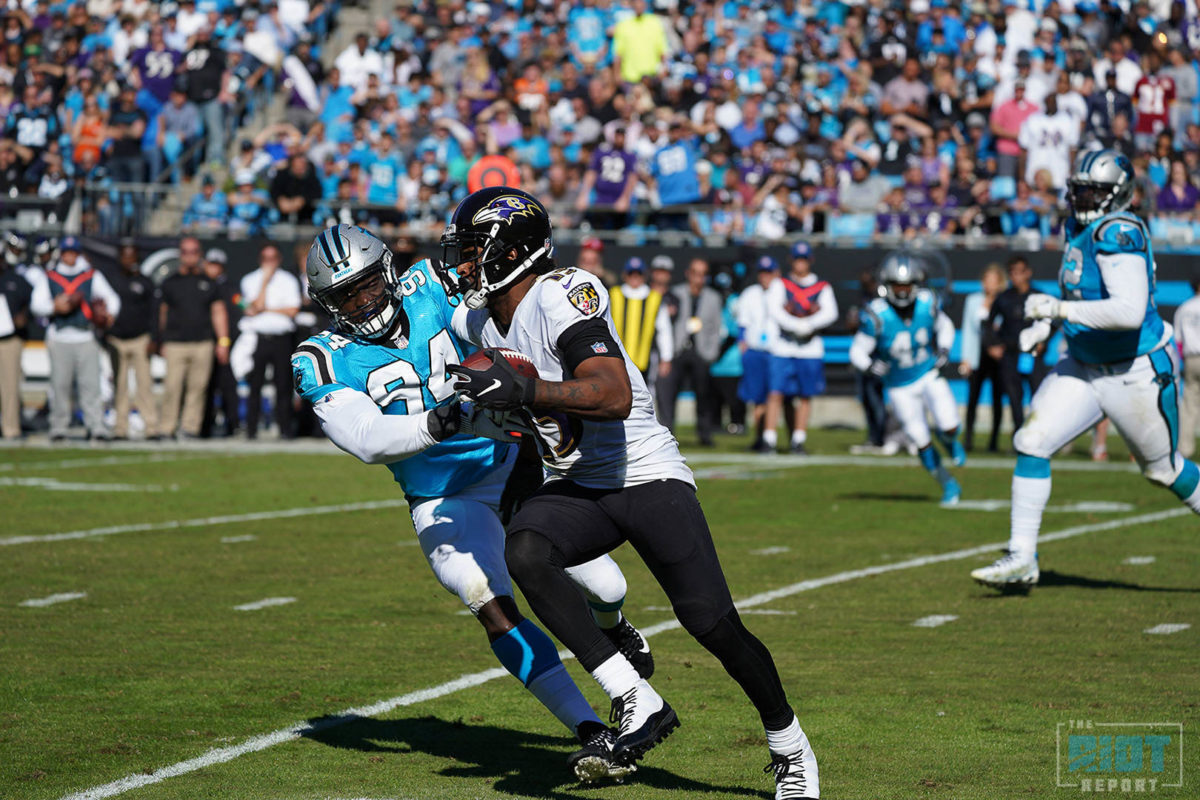 The second assumption 0 at least for our model here – is that down linemen don't drop into coverage. Dropping a player from a three point stance is never going to be advantageous from a pure coverage ability point of view, the reason why teams do it is because they get a surprise value from the fact that the quarterback isn't expecting them to do it. As such, if a team were to do so on a consistent basis, it would no longer come as a surprise, not to mention that it would just be a misuse of a down lineman.
Up Next: The Advantages of the 3-4