The 6-2 Panthers travel to Pittsburgh on Thursday night to try and exorcise their Pittsburgh Steelers demons; even though they've played their fourth preseason game against the Steelers seemingly every year since their inception, they've only played six regular season games against Pittsburgh and are still looking for their first win when traveling to the Steel City – they're 0-3 on the road against them and have lost five straight since beating the Steelers in 1996.
If you remember that game, Chad Cota sends his regards.
While the Panthers haven't had success against the Steelers – or for that matter on Thursdays with a 3-6 record since beginning Thursday play in 2009 – they enter this week playing some of their best football, scoring 99 points over the past nine quarters as they've outscored opponents by 50 points over that stretch. They'll need all of the misdirection that Norv Turner has used this season plus whatever else he has in the bag to defeat the Steelers, who seem to pull new weapons seemingly at will; when you peer at Antonio Brown's 2018 thus far and see a modest 51 receptions for less than 600 yards – don't worry, he's still leading the league in touchdowns – and you're less than impressed, you're forgetting about JuJu Smith-Schuster, who ranks in the top six in both receptions and yardage in the AFC. And lest we avoid talking about the rushing game, RB James Conner is making people remember his name instead of Le'veon Bell, who has yet to report – "He's making everybody around there forget about Le'Veon," said Thomas Davis this week.
1,085 total yards over eight games will do that.
The Steelers have won four straight after starting 1-2-1 and the Panthers are riding a three-game win streak – rock, meet hard place.
Our five-point preview starts now:
Five Players To Watch
TJ Watt, LB
TJ Watt leads the Steelers with seven sacks – that's the fourth-most among linebackers in the NFL – and he patrols a 3-4 defense that will attempt to stop the Panthers and their second-best rushing attack in the NFL; a 3-4 defense is incredibly reliant on gap control and discipline, so play-action and misdirection will, as has seemed to be the case all season thus far in the Norv Turner offense, be incredibly useful against a defensive unit that only allows 90.2 yards per game on the ground – the Panthers average 143.9 and piled up 154 yards against a similar 3-4 defense in the Baltimore Ravens.
Watt has had two separate games with three sacks each thus far this season and will look to add to that total Thursday night.
JuJu Smith-Schuster, WR
Smith-Schuster led all rookies last season in receiving yards, touchdown catches and receptions of 40+ yards in only 14 games, and he picked up that torrid pace right where he left off with three consecutive 100-yard games to start off the 2018 season; Smith-Schuster likes to tire out smaller cornerbacks – are you listening, Donte Jackson – during run blocking with his physicality (he's 6-1, 216 and played safety in high school) and then explode past them – as teams tilt coverages towards Antonio Brown, that leaves one-on-one matchups that JuJu has been exploiting.
Be especially wary when Smith-Schuster lines up in the slot, he'll be a tough matchup for Captain Munnerlyn.
Coty Sensabaugh, DB
Most Steelers fans expected former first-round pick Artie Burns to be the cornerback opposite Joe Haden, but on Sunday against the Ravens, it was veteran journeyman Coty Sensabaugh getting 60 of the 61 defensive snaps as Burns did not play on the defensive side of the ball at all – Steelers head coach Mike Tomlin confirmed this week that Sensabaugh is likely one of the top two corners on the team at this point. That means that Haden expects to be matched up with Devin Funchess on the outside while Sensabaugh, who has played with four teams in 14 months, will line up opposite DJ Moore or Curtis Samuel – or even Christian McCaffrey or Greg Olsen if they're lined up wide.
Last week, only four balls were thrown at Sensabaugh, none of which were completed.
Vance McDonald, TE
Since holding the Cowboys tight ends to only three receptions for 18 yards, the Panthers have allowed – you might want to sit down for this – 595 yards on 52 receptions to tight ends, not to mention a touchdown in six of the last seven games – including two last week to the Bucs' OJ Howard. While Ron Rivera likes to point out how successful the Panthers have been against wide receivers, which may lead to the success of their tight ends, this has to be an area of concern going forward. Both of the Steelers primary pass-catching tight ends – McDonald and Jesse James  – have already passed last year's statistics in terms of yardage and receptions; if the Panthers expect to win, they'll have to shore up the leaks against tight ends.
Julius Peppers, DE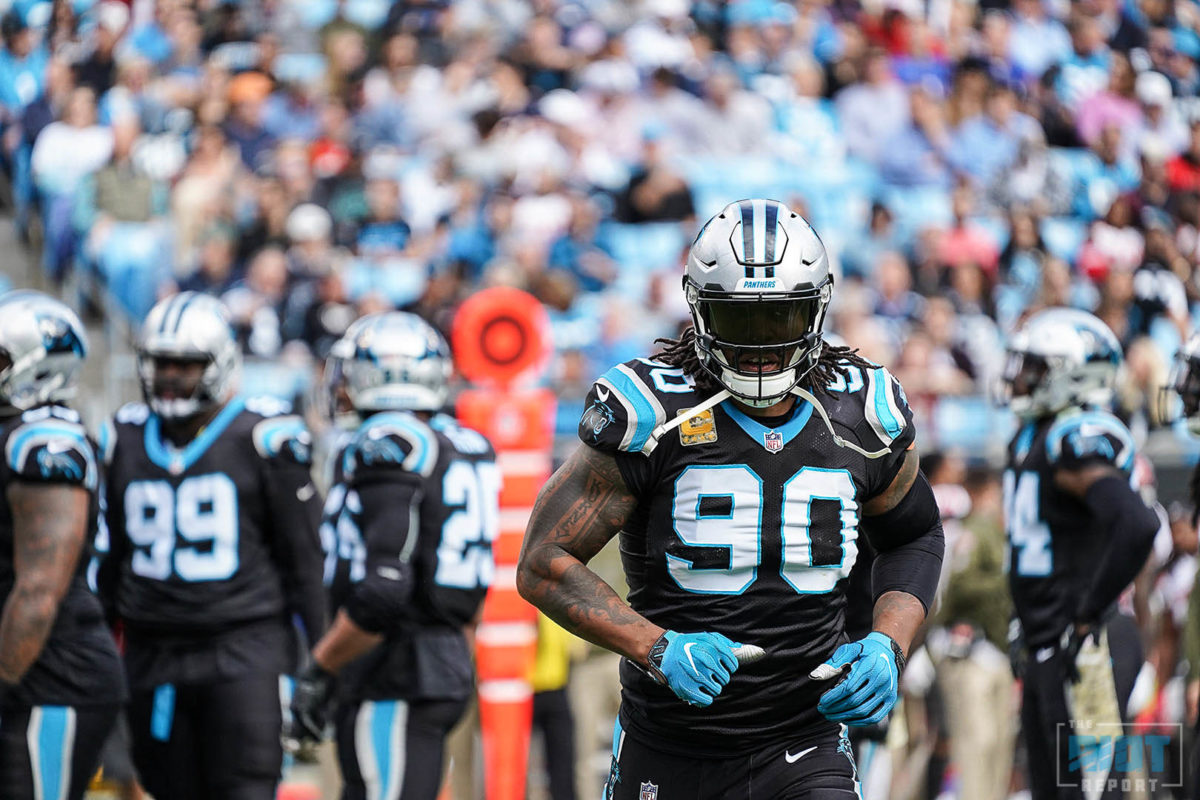 Aside from Mario Addison's 7.5 sacks – three of which came last week – no Panthers defender has more than two. One of the keys to stopping the Steelers' attack will not only be to put pressure on Ben Roethlisberger, who has only been sacked twice over the past four weeks, but to actually bring him down. At 38 years old, Peppers appears to be slowing down, although he hasn't been able to get home to the quarterback, he's affecting the game in other ways – this past Sunday against Tampa Bay, he had three batted down passe; his presence on one side may have opened up some rushing lanes for Addison to get his three sacks as well.
"When the quarterback can't step comfortably one way or the other, he's got to hold the ball a little bit longer," said Ron Rivera. "I think [Peppers'] presence of being able to push that side of the quarterback's throwing hand, his presence getting in the quarterback's vision, could also influence his decision-making."
Four Eye-Popping Stats
Up Next: Three Matchups That Matter, Two Burning Questions and A Bold Prediction