Free Agency is now just a matter of days away, the Panthers will hope to find players who can help fill-out their roster and put them in the best possible position to take the best players for their long-term future come the draft, rather than having to scramble to fill short-term needs.
With that in mind, here we highlight five pending free agents who would be fits for some of the Panthers' most pressing short-term needs on offense, and who are reasonable targets given the Panthers current cap limitations.
So, without further ado…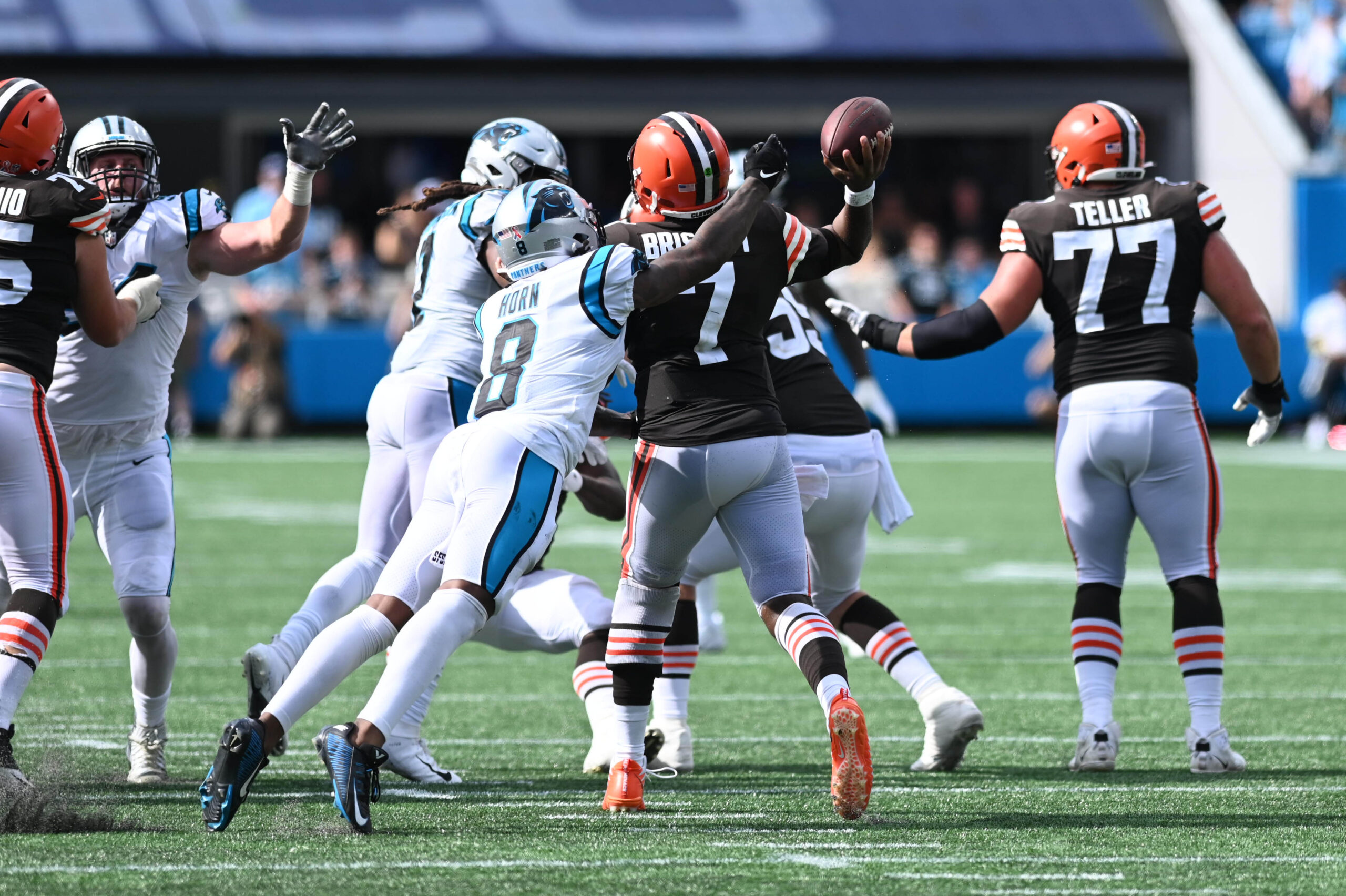 As of right now, the only quarterbacks the Panthers have under contract for 2023 are Matt Corral and Jacob Eason and, even if they intend to draft a quarterback in the upcoming draft, they will almost certainly need to add a veteran of some sort to help mentor the young quarterbacks on the roster and, in the reasonably high likelihood that any rookie isn't ready to start from day one, compete with Matt Corral for the starting role.
Should Steve Wilks have got the HC job, this job might naturally have passed to Sam Darnold, even if his performances definitely tailed off towards the end of the season, but with a completely new coaching staff and a new scheme it's hard to understand why they would go back to that well. On the other end of the spectrum, the Panthers were linked with Derek Carr before he signed with the Saints but the size of contract he secured is likely out of the range the Panthers would consider for the role.
What Brissett presents, therefore, is something of the middle-ground option. He has experience playing under Frank Reich, where he went 7-8 in 15 starts with 18 touchdowns to just 6 interceptions, and is coming off a season as the bridge quarterback in Cleveland where he consistently put them in a position to win games despite a 4-7 record.
Brissett is certainly not a gunslinger, even though he has the arm strength to push the ball down the field, but has shown a consistent ability over his 48 career starts to manage games, be efficient with the ball and allow the skill players around him to make plays. Would he be the long-term answer? No. But could he give the Panthers a chance to compete for a play-off spot in the short term while they develop their quarterback of the future?
Absolutely.
As with the quarterback room, the Panthers' running back room is currently looking rather thin. While Chuba Hubbard certainly improved over the course of his second season, especially as a receiver, it would be an awful lot to expect him to step into the role of a feature back.
One obvious option would be to bring back D'Onta Foreman, who has a solid season replacing much of the production that was lost when Christian McCaffrey was traded to the 49ers, and there is certainly some interest in bringing him back among the Panthers' front office, but, with deep free agent and draft classes at the position, the Panthers may also look to try and find an upgrade at the position.
Like Foreman, Harris's game is much more about downhill running, manipulating inside rushing lanes with footwork and breaking tackles than scoring 70-yard touchdowns on outside zone plays and, even if Foreman has a couple of inches and about 23 lbs on Harris, the latter is able to make up for this with great balance and lower-body strength that allows him to drive through contact and bounce off arm-tackles.
What Harris offers over Foreman, however, is an ability as a receiver that allows him to stay on the field even in obvious pass situations. For as good as Foreman can be as a rusher, it's hard to ignore the fact that, despite being drafted back in 2017 and playing nearly 800 offensive snaps, Foreman has just 23 career receptions. Harris might not be on the same tier as Christian McCaffrey, but he has caught 35 passes over just the last two seasons and is a much more sure-handed option.
It's not a secret that the Panthers need to add to their receiver group this offseason as, while DJ Moore continues to be very, very good, there is very little proven quality on the roster aside from him. Terrace Marshall Jr. showed some promise as last season went on, but it would be hard to go into the draft with your #2 receiver being a third-year pro with 45 career receptions and a catch percentage below 60%.
Should the Panthers feel like throwing a large amount of cash at a free agent, the likes of Robert Woods, Juju Smith-Schuster and Jakobi Meyers are all likely to attract sizeable interest this offseason, but with TMJ potentially developing into a more consistently large role and a chance that the Panthers could go back to the draft for a receiver this offseason, they might be better served by finding somebody who can compete with TMJ in the short term.
Mack Hollins experienced something of a break-out season in 2022, recording 57 catches for 690 yards and four touchdowns in his first season in Las Vegas after spending the first half-decade of his career as a special teamer and occasional receiver for first the Eagles and then the Dolphins.
At 6'4 and 221 lbs, Hollins certainly matches the physical profile that Reich has looked for in his outside receivers in the past, and, while he isn't a speedster, he is able to use his long-striding frame to eat up cushions and set-up defenders to allow him to create separation breaking back to the ball and shows a decent ability to make plays at the catch point.
For the Panthers, Hollins could come in and compete for the starting role opposite DJ Moore against either TMJ, a rookie or both. If he wins, then the Panthers have their #2 WR for 2023. If he loses, then the Panthers have a useful depth receiver who has proven to be a valuable ST contributor.
The Panthers have made no secret about wanting to add a TE this offseason and, given the lack of production they have managed to get out of the position since Greg Olsen departed, that should hardly come as much of a surprise. Tommy Tremble is still very young and has shown promise as a blocker, but neither he nor Ian Thomas have shown the ability to carry much of a load in the passing game.
Although the Panthers have been linked quite heavily with Mike Gesicki, the unfortunately reality is that he is simply not as good a player as the contract he is likely to receive this offseason would indicate. Since he entered the league in 2018, he has had just one season (2020) where he averaged over seven yards-per-target and doesn't even rank inside the top 40 TEs with over 50 targets in combined YPT over that period. Add to that the fact that he's never been an above-average blocker and you have a mediocre TE who's liable to be paid like a star because of one good season 2 years ago.
So why is Jordan Akins a better option?
Well, there are two answers. Firstly, he is likely to be much, much cheaper than Gesicki or any other the other "premier" free agent options and, secondly, he is actually quite good.
Although he has never been to a Pro Bowl or had a 500 yard season, Akins has quitely been a highly effective pass catcher for the Texans since he entered the league in 2018. He has enough speed to work the seam effectively by getting behind dropping linebackers and the short area quickness and balance to create separation at the head of routes underneath and turn short passes into bigger gains.
Given that Akins will turn 31 before the draft, he shouldn't be confused with a long-term answer at the position, but, given that the Panthers would be well-advised to try and find a tight end in what is a very strong draft class regardless of what they do in free agency, he would offer them an immediate improvement in the passing game whilst they develop their tight end of the future.
The Panthers' offensive line took a huge step forwards in 2022 and, while re-signing Bradley Bozeman is clearly the Panthers' first priority in free agency, the focus has now shifted to adding depth and developing players to give the Panthers options as Taylor Moton's contract becomes increasingly hefty and Austin Corbett and Brady Christensen head towards free agency in 2025.
They are certainly off to a decent start, with Cade Mays showing a lot of promise during his rookie season, but if they are going to try to add more developmental offensive lineman in the latter stages of upcoming drafts then that requires veteran, position-versatile back-ups who can avoid the Panthers having to throw young players in before they are ready.
This is going to be especially important for the 2023 Panthers as , with both Corbett and Christensen suffering major injuries during the 2022 season finale, the Panthers might need to have alternatives on the roster who can step into a starting role early in the season.
Jermaine Eluemunor finally found a starting role in 2022 as the Raiders right tackle after spending the previous five seasons as a spot-starter at both guard and tackle for the Ravens, Patriots and Raiders. While the Raiders' offensive line wasn't especially good last season, Eluemenor was solid on the right side, helping Josh Jacobs have a career year on the ground while being at least competent in pass protection.
For the Panthers, Eluemunor would give them a lot of short-term security at either guard spot while they wait for Christensen and Corbett to be healthy while also given them a high quality, position versatile back-up as they look to turn a historic weakness into an area of consistent strength.
As Panthers fans should remember from the Matt Rhule era, a new coach often brings a lot of roster churn. While the Panthers could look to bring back a number of their own free agents (most notably Bradley Bozeman, D'Onta Foreman and Cameron Erving), Frank Reich and Thomas Brown are likely to want to begin to shape this offsense around their own preferences.
However, in these five players, they have a chance to get good-value, quality players who are able to address some of their biggest offensive needs.
(Top photo via Andy Lyons/Getty Images)