With their win against the Falcons, the Panthers have managed to keep alive the faintest hope of postseason contention, sitting two games back of the division-leading Buccaneers with nine games left to play (including a week 17 match-up with the Bucs in Tampa). With that opportunity comes a chance for interim Head Coach Steve Wilks to stake a claim to the role full-time, even if the odds are still not exactly in his favour.
If Wilks isn't able to do enough to convince David Tepper that he is the right person for the job moving forwards, then it is also the time of year when the top candidates for the next hiring cycle are going to start to be discussed. As always, one can expect a preference for offensive coaches in these conversations, as every team wants to find the next Kyle Shanahan or Sean McVay, but there are already some former Head Coaches and defensive coordinators who are being discussed as candidates.
So, with that in mind, who are the top prospective candidates to be the Panthers' newest Head Coach?
Eric Bienemy
For some reason, Eric Bienemy is yet to get his first shot to be an NFL Head Coach despite spending five seasons as the offensive coordinator for a Kansas City team that has scored nearly 3 points-per-game more than any other over that period. It's hard to work out why this offseason might be any different, but yet another season where KC comfortably top the scoring charts (as they are doing currently) certainly can't help.
There are some reasonably reasons why teams might not be falling over themselves to hire Bienemy, most notably that it is ultimately Andy Reid's offense and that Patrick Mahomes allows KC to do things that are hard to translate to a new team, but in a league where there is almost nothing as valuable as a Head Coach who can call an effective offense it's hard to come to any other conclusion than that Bienemy is long due a chance to try and build a contender all of his own.
Frank Reich
Let's get this one out the way early. Frank Reich isn't without his flaws, and his struggle to find a franchise quarterback ultimately cost him his jobs in Indy, but in a league as historically as conservative as the NFL, the known competence of Reich is going to have suitors. After all, Reich's 40-33-1 record with a pair of play-off appearances over his four-and-a-bit seasons, would be a huge step forwards for the Panthers.
There are two things that are likely going to determine how attractive Reich is for prospective teams this offseason: how much credit for his early successes should have gone to his OC Nick Siriani (who is now excelling as the Head Coach of the Eagles), and how much of his latter struggles are really the result of poor roster management by GM Chris Ballard. However, if the Panthers think the latter is more significant than the former, then Reich could and should be part of the conversation.
Shane Waldron
This is probably one of the most left-field inclusions on this list, but if somebody had told you that, without Russell Wilson, the Seahawks would be one of the NFL's five highest scoring offenses then you'd probably have laughed them out the door. How much of that is Waldron and how much of it is the MVP-level play of Geno Smith (no, that's not a joke or a typo) is hard to tell, but it's hard to ignore the fact that Smith is having by far his best season under Waldron, and Wilson his worst.
Waldron is only in his second season as an OC, having spent several seasons prior occupying a variety of posts on the Ram's offensive coaching staff under Sean McVay, and whether he can reproduce his 2022 success over a larger sample size is going to be the main question that holds him back from being viewed as a serious candidate this offseason. If the Seahawks continue on their current offensive pace, however, then it is going to be hard to dismiss him as a darkhorse candidate.
Ejiro Evero
If Shane Waldren's CV is short then Ejiro Evero's is tiny, as he's just eight games into his tenure as a DC, but it's hard to ignore just how good the Broncos have been on defense, even if the offense hasn't been able to match that level of performance. No team in the NFL is allowing fewer yards-per-play, or fewer yards-per-pass attempt and only one (the Bills) has allowed fewer points. In a league where stopping the passing game is key, Evero should be in hot demand.
As with Waldren, how he is able to continue his early-season success is going to be key in how he is viewed come the offseason, especially following the Broncos trading away Bradley Chubb to the Dolphins. There are also going to be questions about whether he will be able to have sustained offensive success due to the difficulty in retaining good offensive coordinators, but there as long as the likes of Sean McDermott and now Robert Saleh have success then there is going to be interesting in coaches who can call an elite defense.
Shane Steichen
As happens every year, the offensive coordinator for the NFL's top team has got a lot of play once again in 2022, and this time it's the Eagles' Shane Steichen. Under Steichen's tenure as OC, Jalen Hurts has shown huge improvement, going from a 52% completion percentage in 2020 to over 68% so far this season, all while continuing to complete passes at a good depth of target. This has only enhanced Steichen's reputation as a QB whisperer, as he also worked with Justin Herbert during his award-winning rookie season.
The main hit on Steichen is that, similar to with Bienemy and others, he is the offensive coordinator for an offensive-minded Head Coach, and so separating what is down to him and what is down to Nick Sirianni is far from trivial. This doesn't mean he can't excel as a Head Coach, Sirianni himself was the OC under an offensive Head Coach before getting the job with the Eagles, but this is something the Panthers would need to probe in interviews.
Jim Caldwell
In Jim Calwell's four seasons as Head Coach of the Lions between 2014 and 2017, they went 36-28 with three winning records and two trips to the play-offs. In Detroit's combined eighteen-plus seasons since 2000 without Jim Calwell they are a combined 88-207-2, with two winning seasons and one play-off appearance. There are lots of other things that go into a winning record than just the Head Coach, but Jim Calwell certainly deserves another shot at being an NFL Head Coach.
Beyond Detroit, Calwell's resume is hugely impressive. He went 24-8 as a Head Coach, with a Superbowl appearance, in his first two seasons in Indianapolis (the third being the 2-14 season after Peyton Manning got hurt). He was Manning's QB Coach from 2002 until 2008, overseeing the years when Manning won his first MVP, his first 1st Team All-Pro and is first Superbowl and he was the QB Coach and interim Offensive Coordinator when the Ravens won the Superbowl in 2012. Whether he still wants to be a Head Coach at 68 is one thing, but it's hard to argue with his record.
Brian Callahan
Callahan is another offensive coordinator working alongside an elite young quarterback under the supervision of an offensively minded Head Coach, and so all of the caution that will be applied to the likes of Bienemy and Steichen will almost certainly be applied to him as well. However, with that being said, the offense that the Bengals have built around Joe Burrow is a very different one from that around Mahomes or Hurts.
Though the connection between Burrow and Ja'Marr Chase has been central to the Bengals deep passing attack, the Bengals have effectively leaned into Burrow's strengths and built a quick passing attack that looks to get the ball out of his hands quickly and make the most of a diverse set of skill sets among their skill position players. While Joe Burrow isn't an easy player to replicate, it is potentially an easier formula to reproduce that finding another Mahomas or Allen.
DeMeco Ryans
Though his name isn't quite as hot now as it was earlier in the season when the 49ers were on an all-time pace defensively, DeMeco Ryans looks to be the next 49ers' assistant who get hired out from under Kyle Shanahan to get his own shot at being an NFL Head Coach. His chances are only going to be helped by the two members of the Kyle Shanahan tree currently in Head Coaching roles are a combined 13-6.
What also helps Ryans' case is that the 49ers have improve from his first to second seasons as DC despite a rash of injuries and that, under his tutelage as linebackers coach, Fred Warner emerged as arguably the very best in the game today. As with Evero, there is going to be some hesitancy in hiring defensive coaches due to the difficulties in sustaining offensive production, but if Ryans can convince Tepper that he has a plan in place on both sides of the ball then he should be a strong contender.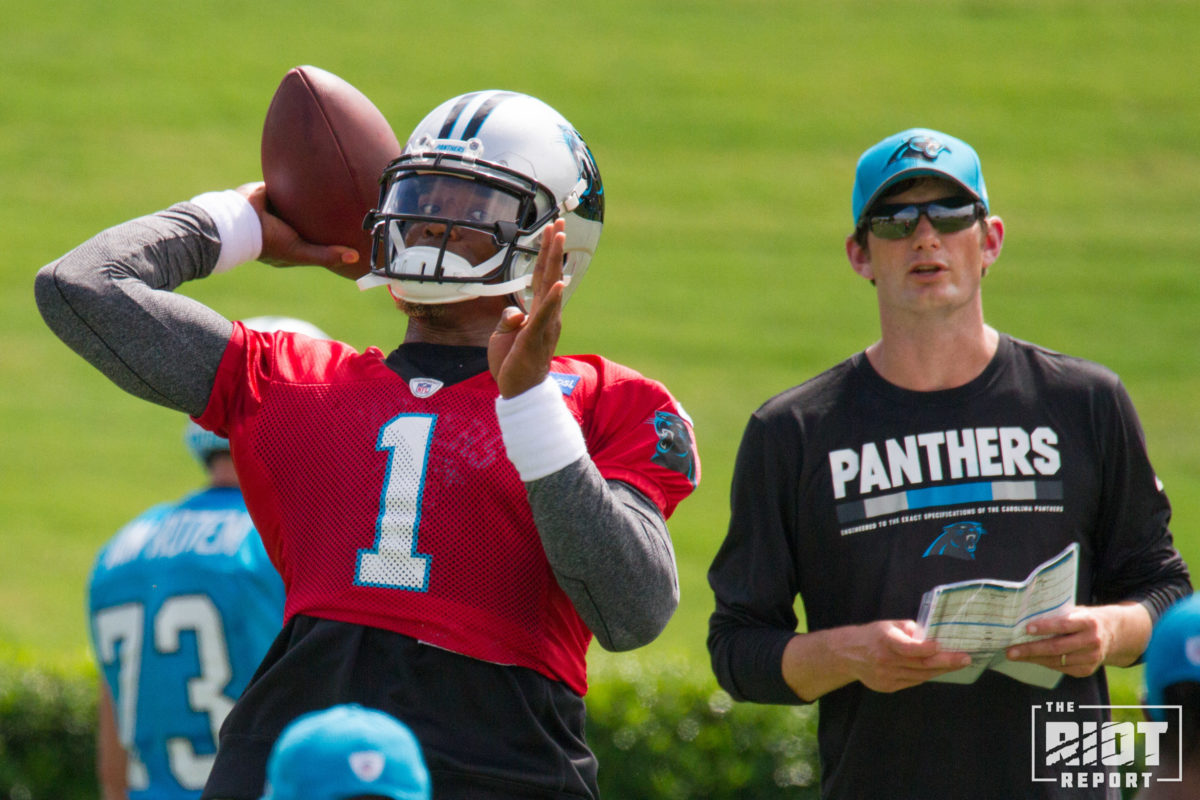 Ken Dorsey
Ken Dorsey returning to be the Panthers' Head Coach would certainly be a nice story, as the former Miami Hurricanes quarterback spent more of the Ron Rivera era as the Panthers' QB Coach, during which time Cam Newton went from elite talent to MVP-winner. Dorsey is in his first season as a play-caller in 2022, taking over the reins of a Bills offense that has been one of the best in the NFL in recent seasons, with the job of coaching Josh Allen being viewed around the NFL as a prime spot for a prospective Head Coach.
Dorsey certainly isn't doing a bad job in Buffalo; the Bills' offense is one of the best in the NFL and Josh Allen is once again in the MVP conversation; but given that he is in his first season as an OC and a lot of what they are doing offensively is something of a carry-over from what they were doing under Brian Daboll, projecting Dorsey to be a Head Coach right now involves a lot of, well, projection. If the Bills keep winning then he is almost certainly going to be a Head Coach somewhere, but he is probably more of a fringe candidate for the 2022 cycle.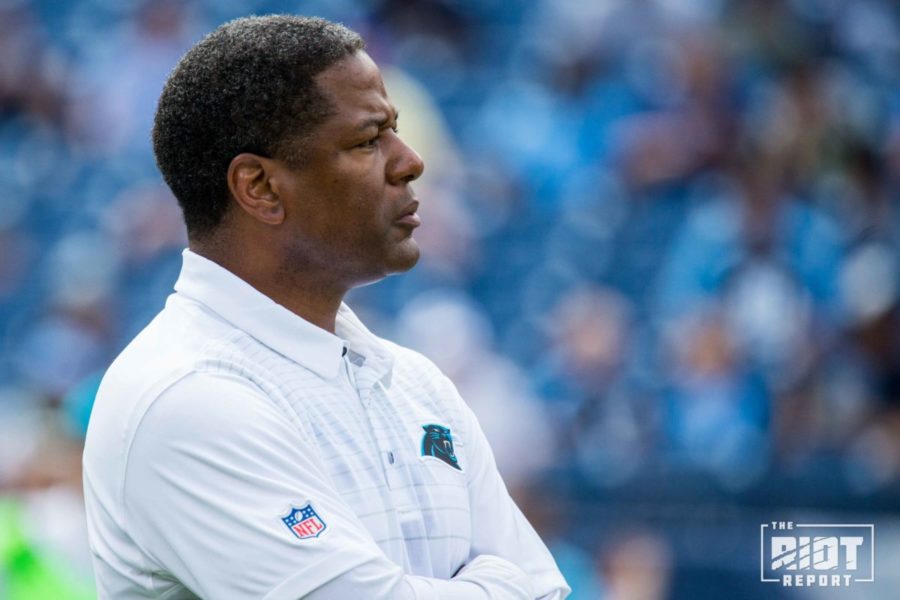 There are likely to be some additional top candidates coming out of the college game, though after the experience with Matt Rhule it would be something of a surprise to see Tepper go back to college right away, and there is always a chance that, as he did with the hiring of Scott Fitterer as GM, Tepper could opt for a candidate outside of those getting a lot of early media attention.
Ultimately, while we can look through resumes and try to compare candidates, the only person whose opinion on this matter really matters is that of David Tepper and, ultimately, we'll have to wait until January to find out who his preferred candidate is.
(Top photo via Jon Durr-USA TODAY Sports)