Somehow, the Panthers escaped with an exhilarating 33-31 victory over the New York Giants in a wild and crazy Week 5 matchup that was interesting, but never boring. The Panthers offense has been aided by several offseason changes – while much has been made of the weapons added this offseason, the biggest addition was actually offensive coordinator Norv Turner. Turner has been a very pleasant surprise, enhancing Carolina's offense with a motion heavy passing scheme that's never short on tricks or excitement.
One of Turner's best calls from Sunday's game involved rookie wide receiver DJ Moore on an first quarter end around that gained 18 yards.
Now, if that play looked familiar to anyone, it should – because Moore was used on end arounds and sweeps frequently at Maryland, the most famous being a touchdown sweep against Towson in 2017. As you can see, the Giants aren't only defense that have had trouble tackling Moore. It would've been incredible enough to turn this into a first down after looking like he'd be tackled for a loss of six, but Moore somehow converts this into a 21-yard touchdown.
This week, Ron Rivera compared both Moore and Samuel to a player like Devin Hester – a running back playing wide receiver, and on this play it makes sense. His pad level, balance, and elusiveness are all sensational on the above touchdown – I'm still not sure how he was able to pull this off.
Fast forward to Sunday's game, and while Moore didn't take it all the way to the house, he was still able to pull off an incredible play.
For more on that, let's take a closer look at his 18-yard end around against the Giants. To start, Curtis Samuel is being used here as a decoy in order to draw some of the Giants defense's attention to the strong side of the formation. Christian McCaffrey takes the handoff to what looks like an outside run when in actuality, he's lateraling the ball into Moore's hands – he even gets a nudge block in afterwards. Smooth sailing on the execution so far.
Rookie tight end Ian Thomas is pulled from the strong side of the formation after the snap to create further misdirection and space for Moore. What ultimately gives Moore space beyond the line of scrimmage is Cam Newton's devastating block on defensive end Kareem Martin, pulverizing him to the turf; the Panthers offensive line that has seen so many changes provides excellent blocking in space, most notably center Ryan Kalil who helps clear the middle of the field.
From this angle, the misdirection to the Panthers' right draws linebackers Ray Ray Armstrong (#55) and Alec Ogletree (#52), as well as defensive tackle Damon Harrison (#98). This diversion helps open a huge gap in the middle with just enough time for Moore to use his 4.42 speed to get through it. Cam Newton's block on Kareem Martin is even more devastating from the above angle.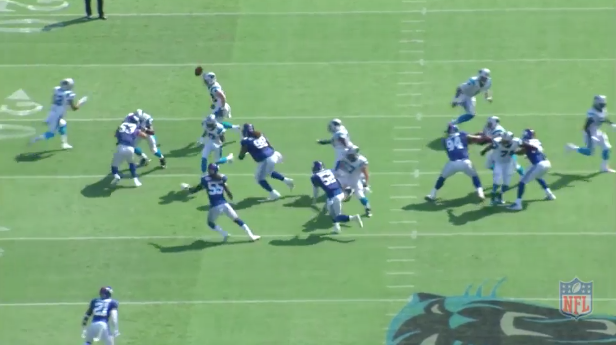 As McCaffrey pitches the ball off to Moore..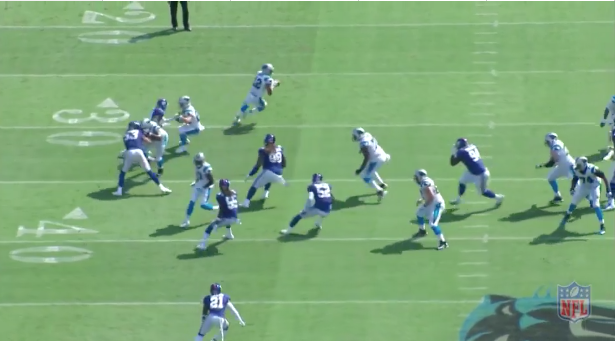 …that freezes Armstrong, Ogletree and Harrison in their tracks…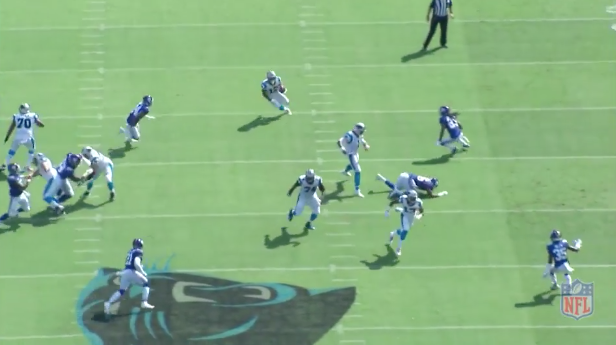 …which creates the huge opening in the middle of the field for Moore.
Moore could have very easily gone down after being tripped up at the line of scrimmage, but manages to keep his balance after an attempted tackle from safety B.W. Webb (#23) before bouncing off safety Landon Collins (#21) like a pinball, and still stays up on his feet. He's able to make an unbelievable first down conversion before finally being tackled by safety Curtis Riley.
Is this awful tackling on the Giants' part? You can bet that, but Moore is also difficult to bring down and picked up a lot of yards after contact on this play. His pad level and balance are parts of the reason why the Panthers made him the 24th overall draft pick.
Moore would further contribute to the offense with four catches and 49 yards through the air; he flashed quality with this performance, especially on the end around play, as a slippery receiver that has potential to become a dangerous underneath skill player. As the Panthers continue to give him more reps in the offense, that gives the Panthers more options to work with, which puts less stress on Cam Newton – not to mention with a play like this on tape, teams will have to respect the end around, opening up even more room for Christian McCaffrey when he inevitably fakes this pitch in a similar – but different – play over the next few weeks.
All clips via NFL Game Pass.