After the Panthers 34-31 heartbreaking loss to the Saints on Sunday, players in the locker room were unhappy – and for good reason; but defensive lineman Gerald McCoy appeared to be a combination of angry, disappointed and frustrated.
McCoy, who signed a one-year deal this past offseason on the assumption that he had joined a team with a chance to compete in the Super Bowl, says the defense should have played better, refusing to point the finger at Joey Slye, who missed a chip-shot field goal late in the game.
"I don't care about that, man," said McCoy. "People make mistakes. I'm not going to say he missed this field goal, who cares? We gotta play ball. If we get the opportunity, play football. It is the NFL. I'm not pointing the finger. I'm going to talk about the defense only – and what we didn't do. We gave up too many big plays and we just gave up too much momentum. Did we fight back, yes. But we shouldn't have been in that situation. You can't give a team like that that type of momentum. It's Drew Brees, it is that simple."
Carolina's defense certainly had their struggles against the Saints. New Orleans was able to get out to an early 14-0 lead before Carolina settled down offensively – and defensively – and trailed by only two at halftime. But the number of big plays during the game ultimately doomed the Panthers.
The Panthers defense gave up 418 yards, including 311 yards passing from quarterback Drew Brees. Carolina also allowed 118 yards on the ground, with 64 of them coming from Latavius Murray. Wide receiver Michael Thomas – 10 catches for 101 yards and a touchdown – and Jared Cook – six catches for 99 yards and a touchdown – were also significant contributors.
Despite the Saints being one of the best teams in the NFL, McCoy says he feels the Panthers are also a good team, but their 5-6 record hasn't reflected that.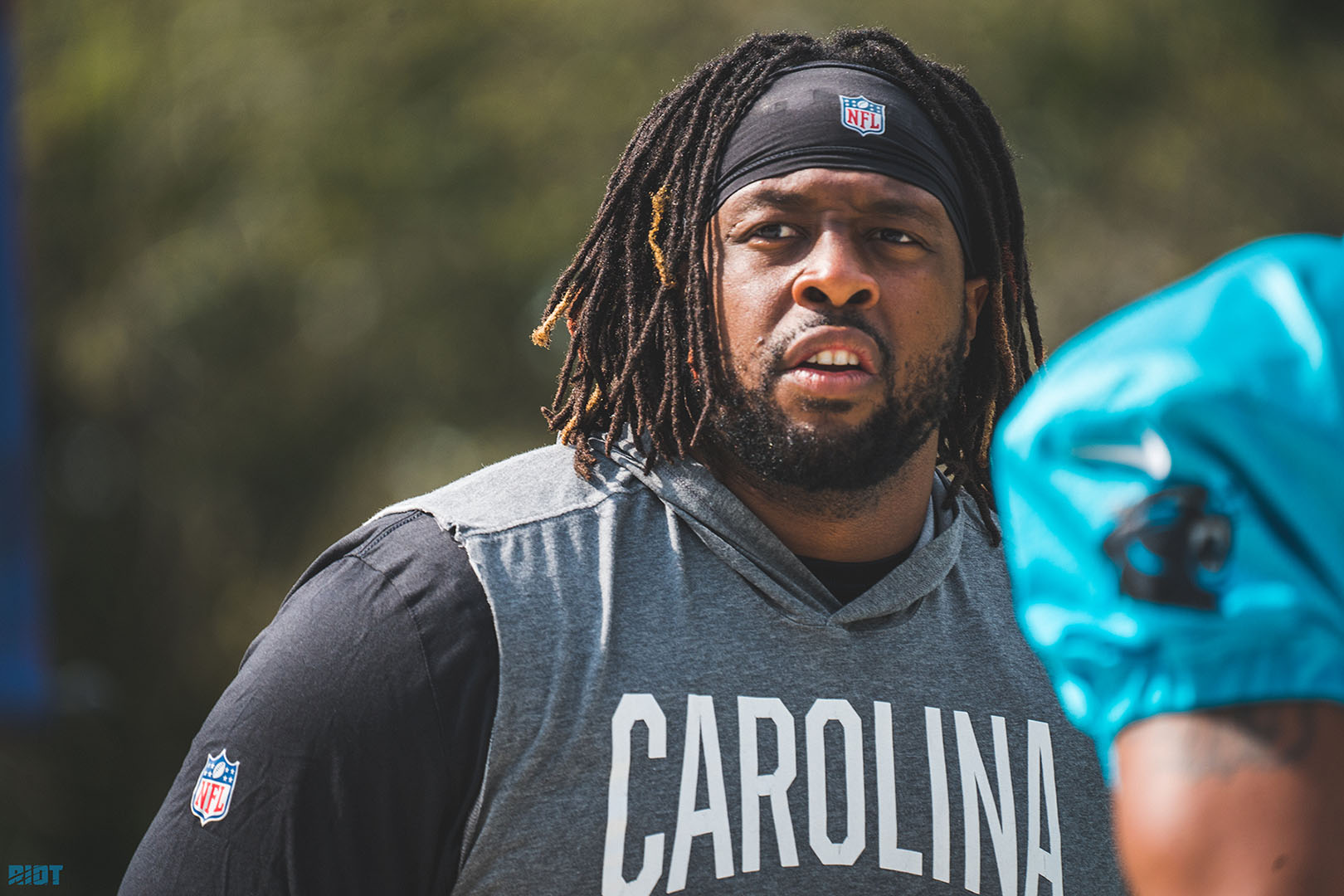 "We are better than what we are showing, that's the frustrating part," said McCoy. "We are way better than what we are showing. I know people say you're what your record shows, but we are better than what we are showing, I know that for sure. I'm not going to say injuries or none of that, man forget that, next man up. We've just got to be better."
But ultimately, the Panthers' defense took the field in a tie game and couldn't execute, allowing the Saints to drive 65 yards in less than two minutes and kick the game-winning field goal.
"You don't take the field thinking you ain't going to stop them, I don't care who's back there," McCoy said angrily in the locker room following the loss. "I don't care if Tom Brady or Drew Brees is throwing to Jerry Rice all game, I don't care who it is, you take the field and you expect to win that situation. That's what I said – we've just got to be better. We know what we're facing. This is a first-ballot Hall of Fame quarterback we [were] facing, so what? We're in the NFL too. You always take the field expecting to win."
At 5-6, the Panthers postseason prospect appear to be bleak – not only can the Saints clinch the NFC West Divisional title on Thanksgiving with a win over the Falcons, but Carolina is three games back from Minnesota for the final wild-card spot. Even if the Panthers were to win out, that might not be enough to get into the playoffs at this point.
It probably won't – and that's the most frustrating part.
"I played for the Bucs for nine years, I know how to take an L and keep it moving," McCoy said. "I ain't thinking about that, I'm talking about this one game. All that other stuff, whatever happens, happens. Even if I was focused on that, you can't focus on the playoffs if you can't win the games you play. And we should be, that's why I'm so frustrated, because we should be. I've been on teams where we lose and we were just fighting, but we know we weren't better than that team. We should have won this game."