The reverberations of the firing of Ron Rivera will affect the Carolina Panthers franchise for the forseeable future, but no one will be affected more than those who he coached in the Panthers locker room – there were dozens of stories the day after he was let go by the team he'd been with for the past nine seasons of exactly how Rivera had affected each man, not just as a player but as a person.
Greg Olsen waved off team officials who told him not to speak to the media while in the concussion protocol and the tight end who has been in Carolina for the entirety of Rivera's tenure spoke about their relationship, starting with the first texts they ever exchanged, which were not about football, but rather Rivera asking about how his Olsen's son was doing as TJ battled a rare heart condition in 2011 and his new coach urged him to take however much time Olsen needed to be with his family because that was more important than the game.
Olsen echoed the sentiment that reverberated throughout the locker room that he wished he could have done more; that if he had tried a little harder, if they had won a few more games – Rivera would still have a job today.
When I approached Efe Obada, who last year became the first player from the International Pathways Program to make an NFL team's 53-man roster, to get his thoughts on the man who gave him that opportunity, he first told me that he didn't want to talk about Rivera because he might cry.
Eventually, he spoke about Rivera – not like a coach, but more like a father figure.
"He's definitely one of the pillars of my success," said Obada. "I always wanted to go out there and work for him, make him proud and show him that I'm going to capitalize on the opportunity that he presented me and he gave me. It's deeper than football. He's a great coach, but he's a better man – that's what really separates him from other coaches."
"It makes you want to work for him."
This is not the normal sentiment for a coach fired with four games left in the season – the locker room had the feel of a retirement gathering rather than a dismissal. But when you bond with your players the way that Rivera bonded with his, this is the result. Here were some more comments: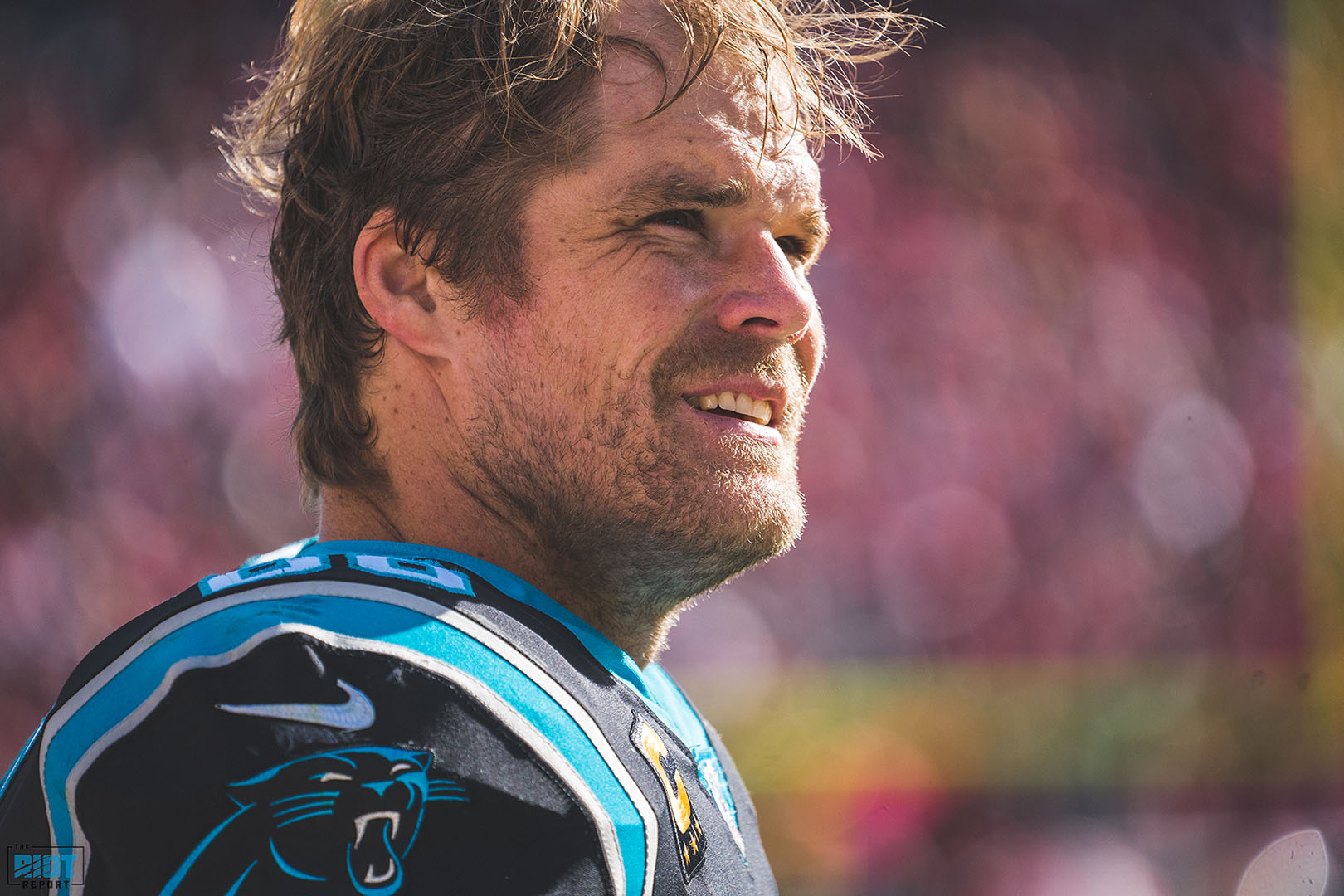 Tight End Greg Olsen: This is as bad a day as I've been a part of in the NFL. To lose a coach and have a coaching change at the top, I've never gone through it before. I've played for 13 seasons and I've only played for two head coaches and Ron was nine years of that. To have him come say his goodbyes and say our goodbyes after nine years of a lot of great moments that we've shared together, football and non-football related, is terrible. Ron means a lot to a lot of guys in here for a lot of things outside of football and I think the biggest thing you hear from guys today – current players, former players – guys who played for him in different organizations, I think the biggest consistent narrative is how much he meant to guys aside from just the fact that he was their football coach. 
Ron hopefully walked out of here with his head held high that he impacted a lot of people's lives and you're never going to find a person that's come across him that's going to have one negative thing to say about him. That's rare in this world.
Defensive End Mario Addison: My last encounter with Coach Rivera was this past Sunday; my family and I, we went to Del Frisco's and coach walked by because he was about to leave. He came back, talked to my family for a little bit, he went to the counter and he came back; he gave me a nice gift card to take care of my food. Everybody knows Del Frisco's is kind of expensive and let's just say the gift card took care of everything. We ate and drank and there was still some left over – I'm very thankful for that.
Long Snapper JJ Jansen: I've been doing my best to not really read into the emotions I'm feeling because I don't really know if there's any good way to feel about a day like today; there's overwhelming sadness, there's excited for the future and a whole mess of things in between. The other big emotion was just how much I appreciated Coach. The trust that he's put in me, the way he's treated us like men for nine year – he's treated us well, he's treated our families well and it's just a flood of memories. Good, bad, painful moments. Certainly we had a ton of exciting moments – it's a sad day at the end of it but there's a lot of good thoughts that run through your mind on a day like today, too.

Wide Receiver DJ Moore: I'm kind of sad, but at the end of the day, it's a business, so my heart goes out to him and his family; he drafted me and coming in, he was a good dude to me, so it's sad. 
Cornerback James Bradberry: I knew what type of man he was; of course, he's a family man, put a lot of emphasis on family and community, so he had a bigger impact than just the game of football. So it didn't surprise me when I saw everybody posting about it [on social media]. I think the most important thing he taught me was just how to approach life. Fall down, you've got to control your APE – your attitude, your preparation and effort, no matter what. You've got to move onto the future, you can't linger about the past, you've got to move on. 
Tight End Chris Manhertz: One of the first things that came to my mind in reflecting on what transpired was he took a guy that had little to no experience playing football and he took a chance on me. Thankfully, I've made the most of the opportunities I was given, but I'll never forget somebody like him and this organization offering me and giving me the opportunity.
Safety Tre Boston: There was a reason why I came back and for him to leave, it's going to take a toll on a few of the guys, but we've got to keep pushing. Control your inner APE – attitude, preparation effort. Obviously, I'm a guy that my attitude's never going to waver, losses or wins – I'm way too blessed to be where I'm at. Coach was all about that, esxpecially about family and the culture. This culture that we have in here, it's not by mistake. I've been in other places and we try to duplicate this culture and it doesn't come as easy as what we have here. The culture that we've created here, it's not going to leave.
Up Next: Christian McCaffrey and Others Weigh In On Their Former Coach