Let's face it.
You were going to be extra excited to see the Panthers play in their first preseason game no matter what – the uniforms looked a little whiter, Will Grier's beard looked as if he had oiled it up extra nice for a night out at a Wicker Park speakeasy, and your favorite training camp superstar likely got some playing time and he looked like a stud against the Bears' third-stringers.
But we're not here to rain on your parade – let's take a moment to focus on the plays from the Panthers win over the Bears you should absolutely be thrilled about while you're making your February hotel reservations in Miami and booking Brian Burns a first-class ticket to Canton.
Brian Burns Sack #1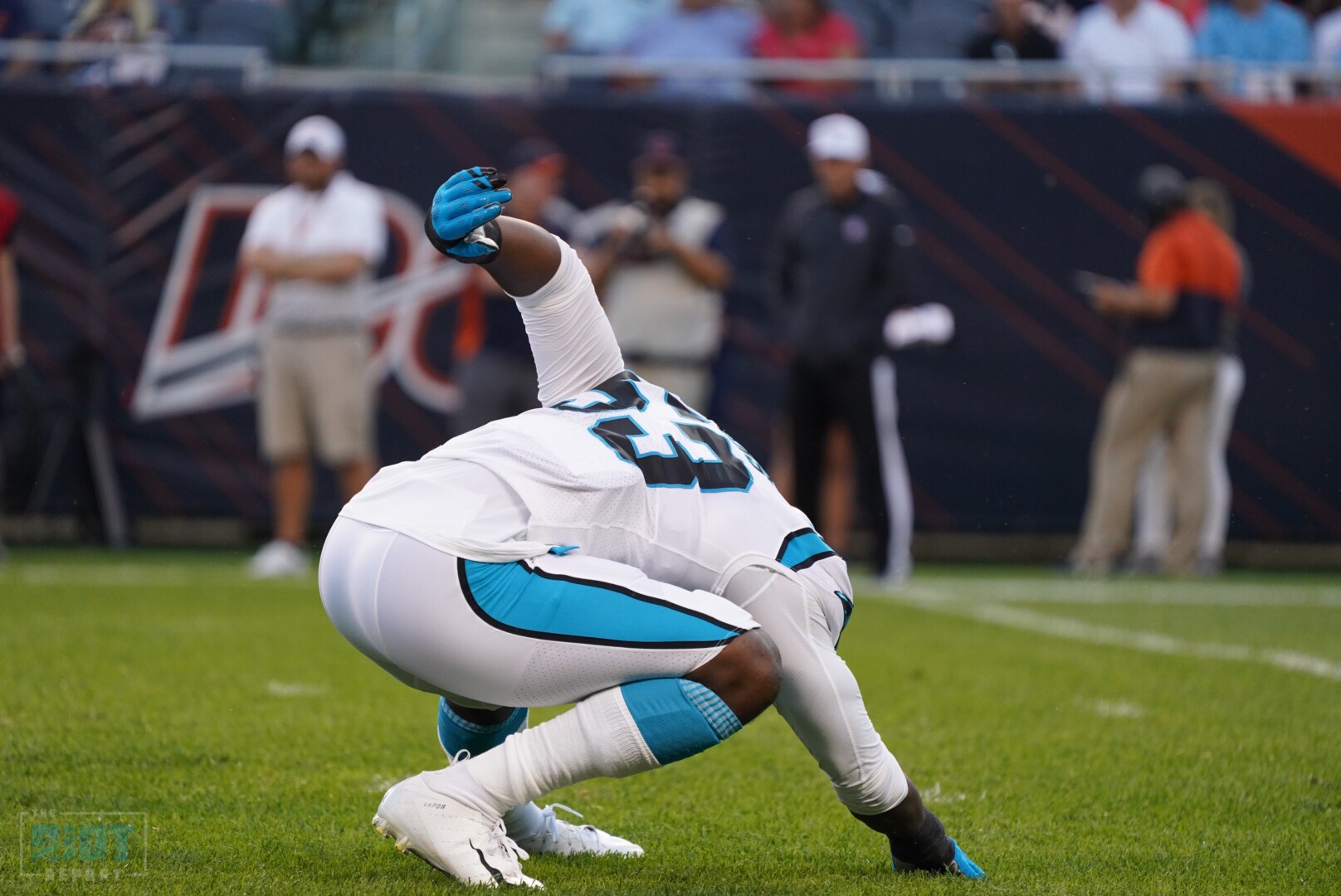 With every Panthers starter taking the night off, it was up to Brian Burns to create some excitement on the defensive side of the ball and Panthers fans didn't have to wait long. With the Bears backed up in a third-and-15, Bears running back David Montgomery – who Bears blogs are likely writing salivary columns about as we speak after he accounted for 41 of the 49 yards on a touchdown drive in the second quarter – attempted to chip Burns, who spun back to the inside and directly into Chase Daniel.
"I was planning on just taking off and throwing my fastball by using speed, but it just so happened that when I got to my point, the back came out to chip me so I spun off the back," said Burns. "With the help of Bryan Cox, he was already in the B-gap and so far up, there was a gap for the quarterback and I just came for the sack."
The spin move off of a chip block is something that you can't teach – and is exactly why the Panthers drafted him 16th overall.
Watch the first-round pick gets his first sack 🕷🕸 pic.twitter.com/nQkBZq5WcB

— Carolina Panthers (@Panthers) August 9, 2019
Brian Burns Sack #2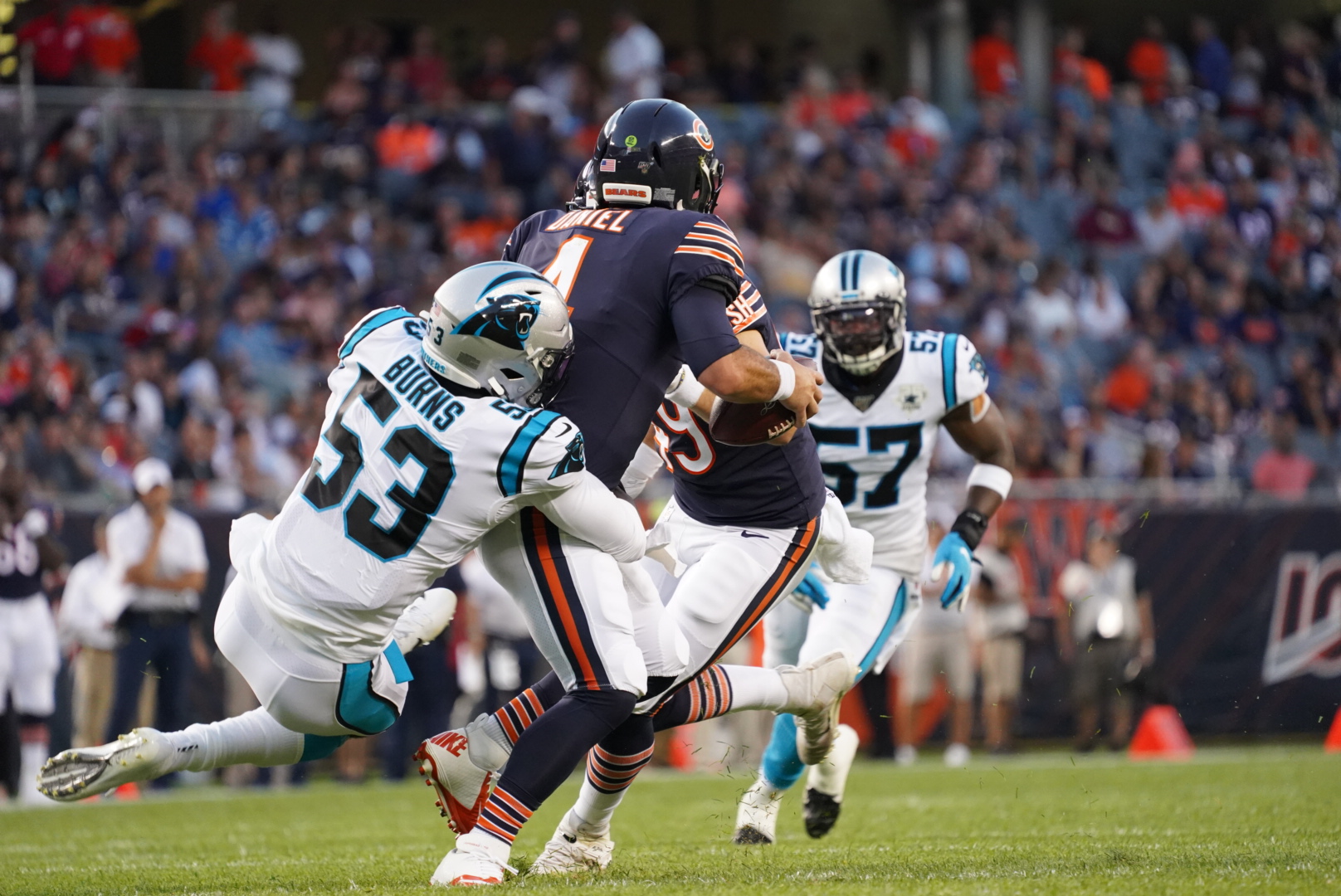 And then there were two – the second sack coming on the next drive as a Bears play-action fake allowed Burns to be matched up one-on-one with a tight end, and as Ron Rivera has said multiple times, when a pass rusher is matched up one-on-one, they have to win.
And when your first-round pick is matched up against an undrafted rookie who is one of the players that shares a number between offense and defense – linebacker Kylie Fitts also wears #49 on the offensive side of the ball – you need to win decisively.
Decisive is one way to put it. Burns used a stutter step to shift tight end Ian Bunting's weight and blew by him, leaving a 6-7 silhouette in Burns' wake, to take down Daniel for the scond time, this time opting for the "Spider-Man Hanging Down" pose after picking up his second sack of the game
"The tackle blocked down so I squeezed," said Burns about the second sack. "The tight end came to pin me so I gave him an outside jab, came inside and wrapped the quarterback up for another one."
"It was really a blessing. Coming into the game, I just wanted to bring my training to fruition by doing what I came to do and showcase my talents."
The last player to get two sacks in his first preseason game? TJ Watt – who has had 20 sacks combined in his first two seasons, including 13 in 2018.
Terry Godwin Punt Return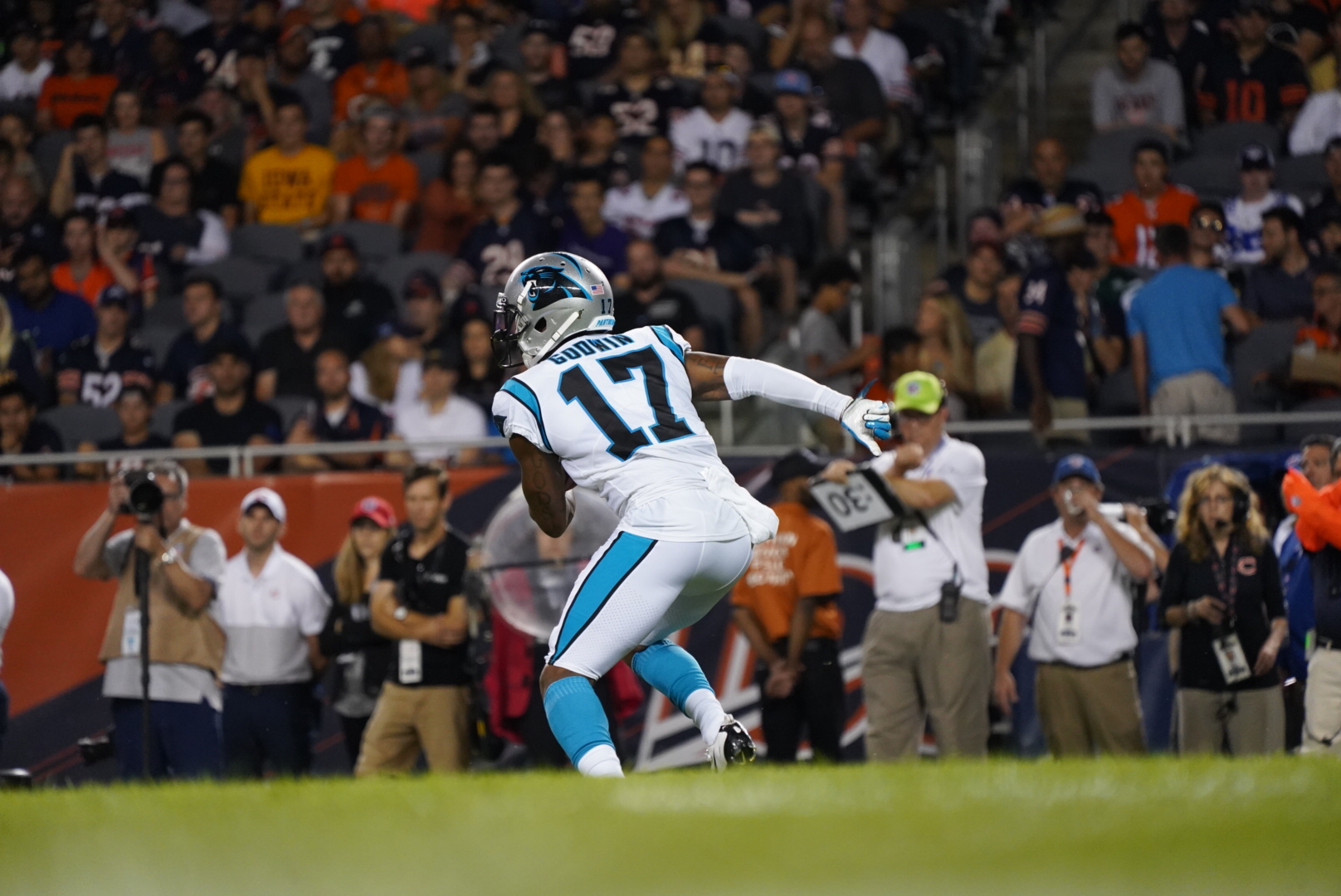 The Panthers were clearly in the market for a punt returner this offseason after signing Jaydon Mickens the day before training camp, bringing in Rashad Ross during the spring and using a seventh-round pick on Terry Godwin. While Jaydon Mickens got the first reps – and looked fine with two returns for seven yard each – it was Godwin who led to the Panthers first touchdown as he took a punt 57 yards down the right sideline, aided by a nice block by Reggie Bonnafon to spring the speedy rookie wide receiver – Godwin also had a nice catch in the flats on third down which he was able to turn upfield for a first down in addition to a nifty 22-yard punt return later in the third quarter.
The short field after the 57-yarder set the Panthers up for a short 22-yard drive.
Overall, the Panthers averaged over 18 yards per punt return after averaging less than 7 in 2018. The punt return competition is by no means over – both Mickens and Ross, who got the final reps of the night, looked good – but count the first round for Godwin, who also got a shot at kick returner late in the game.