Although Panthers defensive run game coordinator Al Holcomb has been to a lot of Senior Bowls over the course of his 25 year coaching career, 11 of which have been at the NFL level, this week in Mobile is his first time coaching the draft prospects instead of evaluating the talent from the sidelines.
And it's a whole different ballgame when you're on the field – especially when you don't know when you might get another chance to see these guys in person.
"This is my first time actually coaching it and being hands on, so everything I've done has been as a spectator, moreso than anything – throughout the process leading up to the draft, I've gone back and evaluated guys on tape and seen some things that you like or didn't like or whatever the case may be," the veteran coach told The Riot Report. "But really, when you look at the current state that we're in in the pandemic, I think this is a spotlight – this particular Senior Bowl will be highlighted, because there really isn't anything else going on."
"We don't know [about] Pro Days or the Combine, so right now, all eyes are on the Senior Bowl – this is a great opportunity for these young men to show their skillsets, their talent and what they can do. And I'm excited to be a part of it."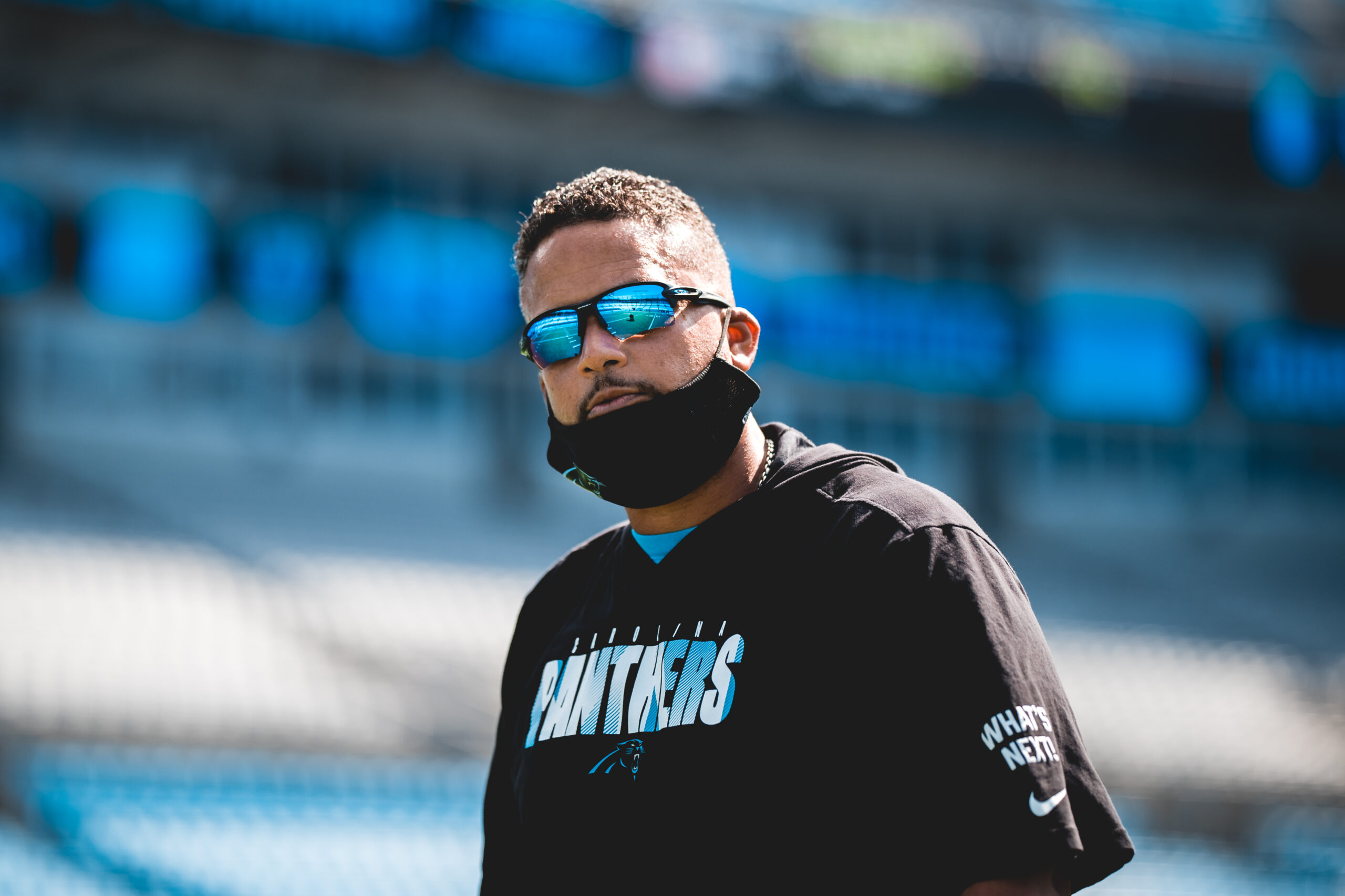 All week the Panthers have been running practices like their own sessions, with Matt Rhule saying their goal is not only to evaluate the talent for the upcoming draft, but to help develop that talent to shine at the next level. Holcomb and the rest of the coaching staff are excited for the opportunity to "get [their] hands on them and feel them," showing them not only what a pro practice is like, but which players on the team would fit in on a Carolina practice field.
The Combine is great and Pro Days are terrific, but there's nothing that can replicate being on the practice field with the players – that's why Rhule and his staff pushed so hard for the opportunity to evaluate the players up close and personal this week to see how they fit in terms of both technique and speed.
"All those things are invaluable at this point because sometimes you're watching guys do different drills for different coaches and they're doing drills that fit their system and not necessarily our system in Carolina," explained Holcomb.
The 50-year old coach who began his career as a graduate assistant at Temple in 1995 took some time out of a hectic week in Mobile to talk to The Riot Report on the phone and discuss what he's telling Scott Fitterer he's looking for in a linebacker, what he liked about Jeremy Chinn at last year's Senior Bowl and why Chinn and Brian Burns are so vital to the Panthers defensive scheme.
What are you looking for when you're evaluating players down there in Mobile?
Mentally, we want players that are smart and that are coachable, that allow you to coach them. I think that's extremely important. Obviously, the skillset is important, [but] you want guys that are self-starters and play with a tremendous amount of effort; in the classroom, they take excellent notes, they ask good questions and all of those kind of things.
From a skillset standpoint, though, you're looking for guys that are fast, guys that can run and guys that are physical. If you can get that combination of things and then coach 'em up, hopefully you can develop them into pretty good football players.
What was it that you saw in Jeremy Chinn during last year's Senior Bowl that made him stand out and what has he shown you this year?
What I saw was a big, long, fast guy who was smart and really, really was a competitor. He really competed and did a lot of different things throughout [the week] – he had some real versatility to him. A guy who was mature and, from a distance, it looked like he could pick things up fairly quickly so it was just a matter of trying to get him in and once we got him, we still didn't know truly what we had, based on the offseason we just went through.
Once we got into training camp and really started to dig into our system, our scheme and some of the things that we tried to incorporate with him, we really knew what we had – but we knew the skillset was there based on what we had seen on tape and what we had seen last year at the Senior Bowl.
How important is that hybrid ability in today's NFL?
For our system, players that can play multiple positions and can do multiple things for you on gameday, it's invaluable. With the game today on offense and how it's still a vertical game, but it's also a horizontal game, you need big, fast guys that can cover on the perimeter. Guys that can cover tight ends, guys that can cover these scat running backs [and] guys that can still play the run – so having those type of athletes on your defense, in my opinion, is priceless.
Because when you start to take these guys and put them in different positions, the offense has to figure out where they're at and what they're doing – one play, you may see a guy blitzing and the next time you see him in the middle of the field.
That versatility and that structure of how we're shaping the defense here in Carolina – the more players that we can accumulate and find, the more versatile we'll be as a defense.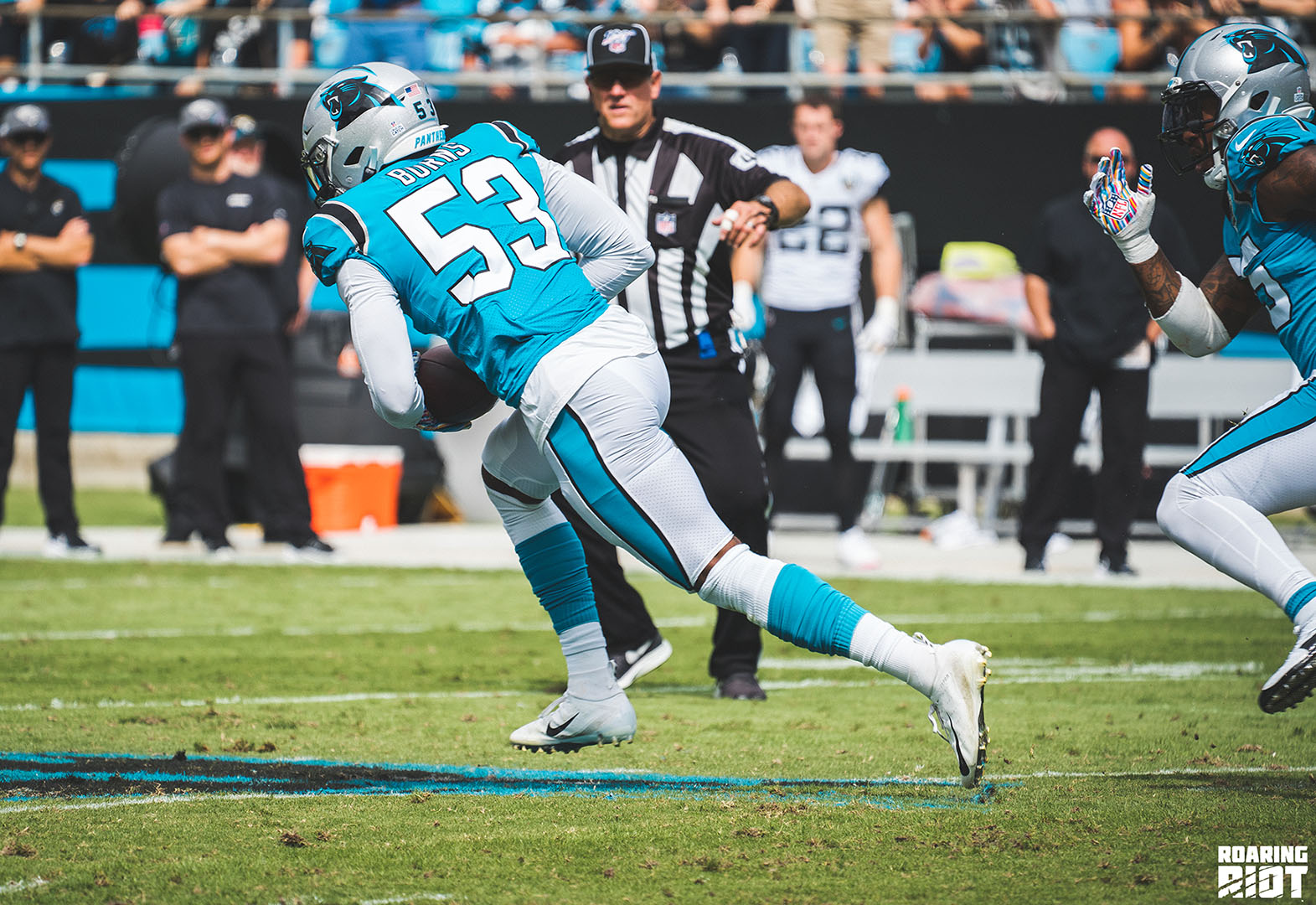 Were you surprised that Brian Burns is as versatile as he is?
Well, yes and no – I wasn't here when we drafted Brian, but then once we got into training camp and into the season, I became a little bit more familiar with him and the things he can do. I knew he was a phenomenal athlete, but he's also extremely intelligent. So it's one thing to be a great athlete, but it's another thing to be a great athlete and a smart football player – that allows us to use Brian in multiple ways like we do Jeremy.
We can line him up in some different spots and he's developing into a more versatile player for us, not just a guy who necessarily rushes the passer with his hand in the dirt. It was a pleasant surprise once I got to know Brian and do some of the things that we were able to do to incorporate him into our system.
With these younger players, how important are these early offseasons in their career?
I think it's extremely important and vital – you always hear that old cliche that after the first game of the football season, you expect your team to make a tremendous jump or improve in that second or third week. It's no different for those young players – as a rookie, this is new, it's a different schedule, it's a longer season, your off-the-field time has to be managed at a premium, you've got to take care of your body, you've got to really be a student of the game and develop a knowledge of the offensive [side of the] football as you continue to evolve in the defensive system that you're in.
Having a normal offseason would obviously help these guys tremendously, not to necessarily pick up where they left off….but your good players, your core, smart players, they hopefully have a lot of recall coming back in the spring.
I don't know what the outlook is for this upcoming offseason, but hopefully we can get those guys back.
Do you tweak or adjust your coaching techniques when you're dealing with a young defense like you had in 2020 vs. a more veteran group you've had in the past?
The guys have to understand, first and foremost, the effort that it takes to play at this level. If you can get 11 men, playing at a high level, playing fast, then you're going to have some success – getting guys running to the football, being physical and all of the things that go into the point of attack. And there's a learning curve, because they haven't seen certain types of offenses and certain types of plays that you typically see [in the NFL]. So when you have a more veteran group, I think the communication's a little bit better, the mental telepathy between players [makes it so] they can kind of play off of each other, whereas when you have young players, it's kind of more black and white for them, like 'you said do this.'
But then there comes a time when you want them to just go play football and make plays. And I think the veteran players, they know how to make [the technique] and figure it out, whereas the young players are still kind of just dipping their toes into the water and haven't totally figured it out yet. They're still doing it exactly like you said – you don't want them to be robots and sometimes they're like, 'hey, coach I lined up here like you said' and I'll say, 'well, didn't you see this?'
The expectation and the standard is still the same, but as a coach, you have to sit back sometimes and say, let's learn from this and not let this happen again. Let's not become repeat offenders.
(Top Photo Via Brandon Todd/Carolina Panthers)