As the Panthers prepared to head to halftime clinging to a 14-12 lead after blocking a Dustin Hopkins field goal attempt, the sidelines began to empty as both teams streamed across the field towards the locker room.
Only – the Panthers offense was still on the field, standing in a huddle near the Panthers 30-yard line, trying to figure out what was happening – where they should go, what they should do, if the half was over or if there was still football to be played. Some players shrugged at the sidelines, others gestured angrily trying to clear their teammates from the field as four seconds sat on the clock and the field was in chaos. But until the referees announced that the clock should have kept running after the blocked kick was recovered by Washington and that the half was over, those on the field had no idea what was going on.
One bumbling second half and another loss in the final minute later, that feeling of confusion, consternation and frustration would once again find it's way into the Panthers locker room as they struggled to answer questions about why they were able to be so successful in their first two drives and couldn't do anything until they were down two scores late in the fourth quarter – and more importantly, why they found themselves faced with another late-game situation inside the five-yard line and unable to score a touchdown to keep their hopes alive.
"It's haunted us all year," said Jarius Wright. "We've just got to be better – all 11 players. It's not on one guy, it's on all of us. That's the thing about offense, one guy doesn't do something right, it [affects] the whole offense."
The Panthers seemed on the verge of a madcap finish – down two scores with five minutes left and not having converted a third down in almost three quarters, Kyle Allen led the Panthers on a 12-play, 75-yard drive for a score to drag the Panthers within a score and two-point conversion of tying the game, Jermaine Carter Jr made a spectacular play on a perfectly placed onside kick and the Panthers found themselves needing a single yard with less than a minute left – after the first three plays went backwards, the Panthers sent multiple receivers on a play designed to give Allen multiple different places to go with the ball.
The place to go probably was to Wright, who was open on the right side of the field.
"His job is hard – it's hard to see everybody; it's not his fault he didn't see me," said Wright, adding that he thought the ball was coming his way on a play that appeared to be designed to get him open. "In the NFL, most likely, you're going to come down to that situation, so we just have to finish better."
"Of course, we're supposed to throw the ball – that's pretty much all I can give you. You watch the film. Man, I just – it's a tough game for everybody, especially – I mean, I don't even know what to say right now, I can't even lie to y'all. I don't know."
Here's fourth-and-the-season for the Panthers. pic.twitter.com/VresISdjTj

— Bill Barnwell (@billbarnwell) December 1, 2019

But don't let the fact that the Panthers failed in a goal-to-go situation again fool you – yes, a touchdown would have been nice, but in all four of the games where they failed on the goalline, those wouldn't have been walkoff wins. In Green Bay, as against the Redskins, they would have needed a two-point conversion; against New Orleans last week, they would have needed to step Drew Brees in the Superdome.
"We've had a chance," said Ron Rivera. "And that's a hard pill to swallow."
Most will point to the failed fourth-down pass, but it was a culmination of errors that landed the Panthers in that situation in the first place.
A failure to stay ahead of the sticks as they constantly put themselves into third-and-long situations that allowed a Redskins team that entered the game as the worst in the league at defending third downs to hold them to only 31% conversion rate and force Michael Palardy to set his career high with eight punts. As the Panthers went from up 14-0 to down 29-14, they had 15 first down plays.
Three of them went for four or more yards. Twelve of them went for three or less, with four producing negative yardage.
"If you shoot yourself in the foot on first down, it's tough because defenses can kind of predict what you're going to do on the second play, force you to throw the ball down the field – [they'll] play the sticks on third down," said Curtis Samuel, who Allen missed on a deep ball in the second quarter that would have been an 80-yard touchdown. "It's just tough when we're in that situation."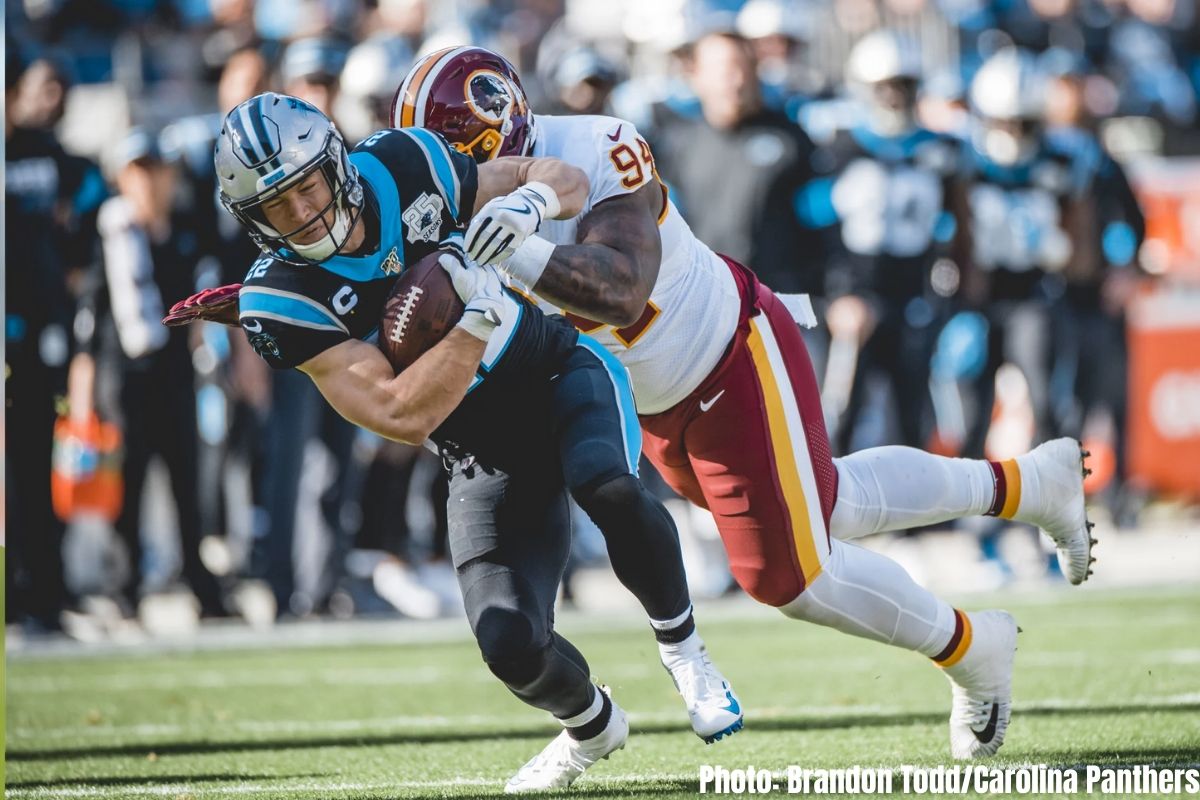 A coaching decision that was curious – if you're being nice about it – to give the league's leading rusher, Christian McCaffrey, six carries on the first two drives as the Panthers went up 14-0 and only eight carries the rest of the way, took the ball out of the hands of the team's best player and played right into the Redskins' gameplan on defense, but being behind the sticks on first down doesn't help that.
The Redskins entered the game allowing 137.6 yards per game on the ground – the Panthers finished with only 65.
"Again, when you don't have success on first down, you put yourself at second and long," said Rivera. "That makes it tough on the playcaller – we have to be able to do a little bit better; we have to put us in a better situation on second down."
A clearly frustrated McCaffrey, who had two uncharacteristic drops, left the locker room after the game before speaking to the media.
An ever-shuffling offensive line allowed seven sacks – the most for the Redskins this season – on Kyle Allen.
"I know a couple plays there were a couple plays I wish I had back," said Taylor Moton, who had battled a knee injury all week. "After a loss, I always think how I could have done more."
A run defense that gave up almost 250 yards to a team averaging less than 90 per game. Losing the time of possession to the team who was last in the NFL in the category. Falling down two scores to a team who had only won two games the entire season for the second home contest in a row.
Too many questions to list and no answers to be found.
"We just kept taking turns making mistakes," said Allen. "It's unacceptable."
What does it feel like to come so close?
"You said it. Close – but close doesn't matter."