If you hadn't heard, Cam Newton is throwing again.
The Panthers were so excited by this that they decided to livestream his throws from the first 20 minutes of practice on Tuesday, following a breathless report that he was going to be showing off some new throwing mechanics. Of course, at this time of year, even the smallest story is likely to be pored over and, in that spirit – what, if anything, has actually changed with Cam's mechanics and why does that matter?
What's Changed?
If you were expecting Cam to come out and throw with a completely different motion, you were likely very disappointed – in reality, you don't want to try and completely rebuild the throwing motion of a player who's been in the NFL for nearly a decade and was the MVP four seasons ago, Instead, what the Panthers are looking to do is more on the level of tweaking Newton's existing motion. So what did Scott Turner say about what they're trying to do?

The thing that Turner really emphasized when he spoke to the media earlier was the idea of making his motion "a little more closed off", meaning that he is "not as open" throwing the ball. What this means in practice can best be seen when looking at some of his throws from early in the 2017 season. Let's look at this play first:
Here, the key is to look at the forward step during the throw and the angle of his arm during the motion. With the step, it's notable that his foot moves, not in line with where the ball is going, but slightly to the outside of the ball's location, allowing the shoulder to drop slightly and for the arm to work around – rather than through – the shoulder. This creates something of a slingshot motion, similar to what you might see from a baseball infielder when throwing on the run – even with a clean pocket in front of him.
Instead, the Panthers are looking to get him to make that step to be more in line with the direction of the throw, something that was clear in the following Scott Turner quote; "The biggest thing is having your hips pointed in the direction of your throw". This can do some things in terms of power generation as well, but the bigger aspect is how it then changes the motion through the shoulder.
By being squarer to the throw, Cam is no longer to get the ball to the spot by throwing around the shoulder, instead forcing the arm to come over the shoulder. This is something that Cam has always been able to do, as can be seen in the following play from the same game in 2017:
Yes, the motion here is still slightly more 'whippy' than the Panthers would probably ideally like, but the point is that this isn't asking Cam to do something he has never done before, it is more a matter of being disciplined about doing it, especially in game situations where mechanics aren't going to be foremost in his mind. This is also something Turner mentioned, talking about the focus in making this motion something that Cam does without having to think about it:
"The work from now until the season is what's going to build that muscle memory," said Turner after Wednesday's minicamp session.
And as Rivera talked about after Tuesday's practice, this isn't something they've only just started doing – it was also something they put work into last offseason, though due to the change in offensive scheme at that point and the injury he sustained midseason, this is likely going to be something they are able to focus on more now than they did a season ago. However, with that said, this is clearly something that Cam was able to make progress with before his injury.
While it's impossible to get a completely representative sample without watching every throw from the past two seasons, going back and watching tape from last season, it did appear as if there had been a real focus even back then on keeping his feet in line and working his arm over his shoulder rather than around it.
Something that can be seen on these plays against the Eagles:
And when compared to throws from this week, you can see how they're continuing to work on getting him to release the ball from above his shoulder rather than slinging it around his frame:
As you can see, this isn't some radical change in how he releases the ball, but rather a reasonably subtle change that you can see at least the start of in these easy tosses he was doing this week.
Why Are They Doing This?
When people talk about mechanics, they often do so in terms of how it affects a player's accuracy and touch, but as Newton has been one of the most accurate passers in the NFL during his career down the field, the Panthers' motives for trying to attempt this are somewhat different from usual.
"[The goal is] just to make him as efficient as possible and putting the least amount of stress…on his shoulder just to take care of him," said Turner.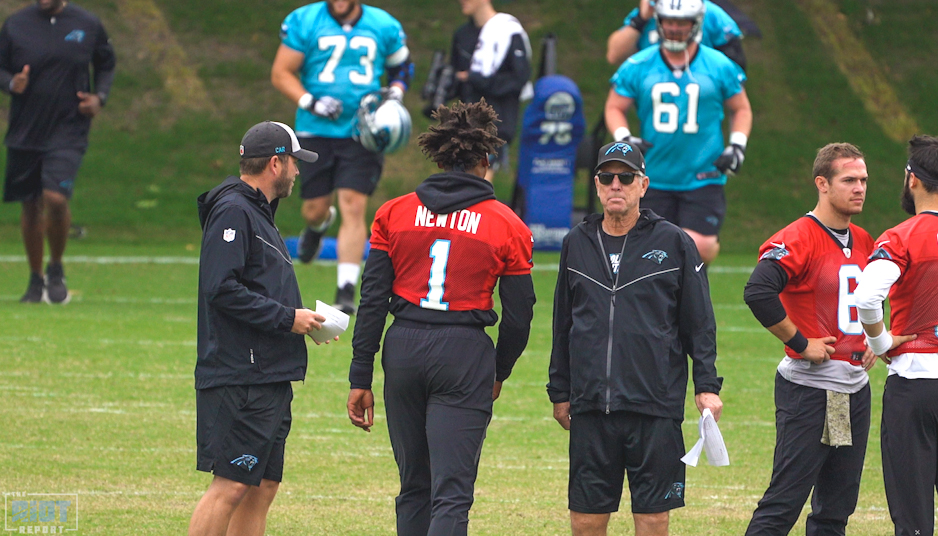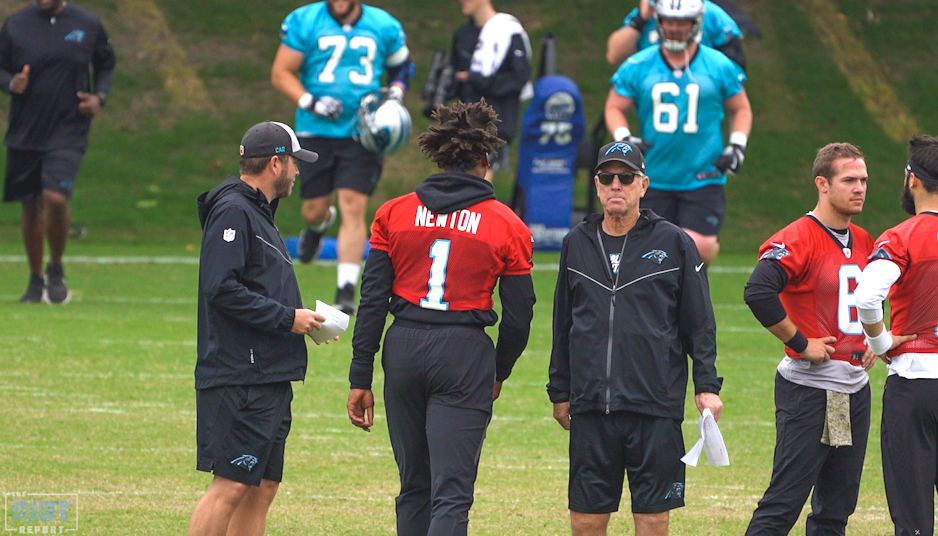 The reason why this makes sense is that the changes they are making to his motion involve a greater rotation of the shoulder, and, in turn, place less stress on the rotator cuff and the corresponding tendons. This isn't something that is likely to cause injury for an otherwise healthy player, but given that Cam is in the process of rehabbing from injury, changing his motion to one which places a little less stress on his shoulder should help to reduce the risk of tendonitis in particular and so give him an improved chance of a complication-free recovery.
This isn't some colossal shift in what Cam is going to look like, and there are certainly going to be times under pressure when he isn't able to get his feet set correctly, but if he can avoid putting more stress on his shoulder when he isn't under pressure, that can only be a positive for the future of not only Cam Newton, but the entire Panthers organization.