In order for the Carolina Panthers to be upset by the Tampa Bay Buccaneers, their #1 wideout Mike Evans – who came into Sunday's game with the fifth-most yards in the NFL – would have to be a big contributor. However, there was no magic from Ryan Fitzpatrick on this Sunday as he targeted the receiver 10 times and only got through to him once as the Panthers defeated the Buccaneers 42-28, improving their record to 6-2 on the season.
"I thought they had a nice scheme going for Mike [Evans] and there is some stuff, some throws that maybe I could have done better job placement or moving on with the progression," Fitzpatrick said after the game. "But any time Mike is one-on-one, we are going to try to give him the ball."
Throughout the game, Evans tried to break free of Panthers cornerback James Bradberry, but he was unsuccessful – Bradberry has trailed the opponent's #1 wide receiver all season and on this day, he got the best of Evans on almost every single target. On the opening drive in the first quarter, Fitzpatrick targeted the 6-5, 225-pound receiver, but Bradberry was there to break up the play. Later in the quarter, Fitzpatrick would overthrow Evans – directly into the arms of Eric Reid, who would return it to the 10-yard line and set up the Panthers first score.
The five-year veteran out of Texas A&M did not get his first reception until the third quarter as Fitzpatrick went deep to the left and got him for 16 yards. It is worth noting that coming into the game, Evans had a total of 13 receptions on a combined 24 targets in his last two games for 286 yards and a touchdown – he's only been limited to one catch or fewer twice in his career.
Until tonight.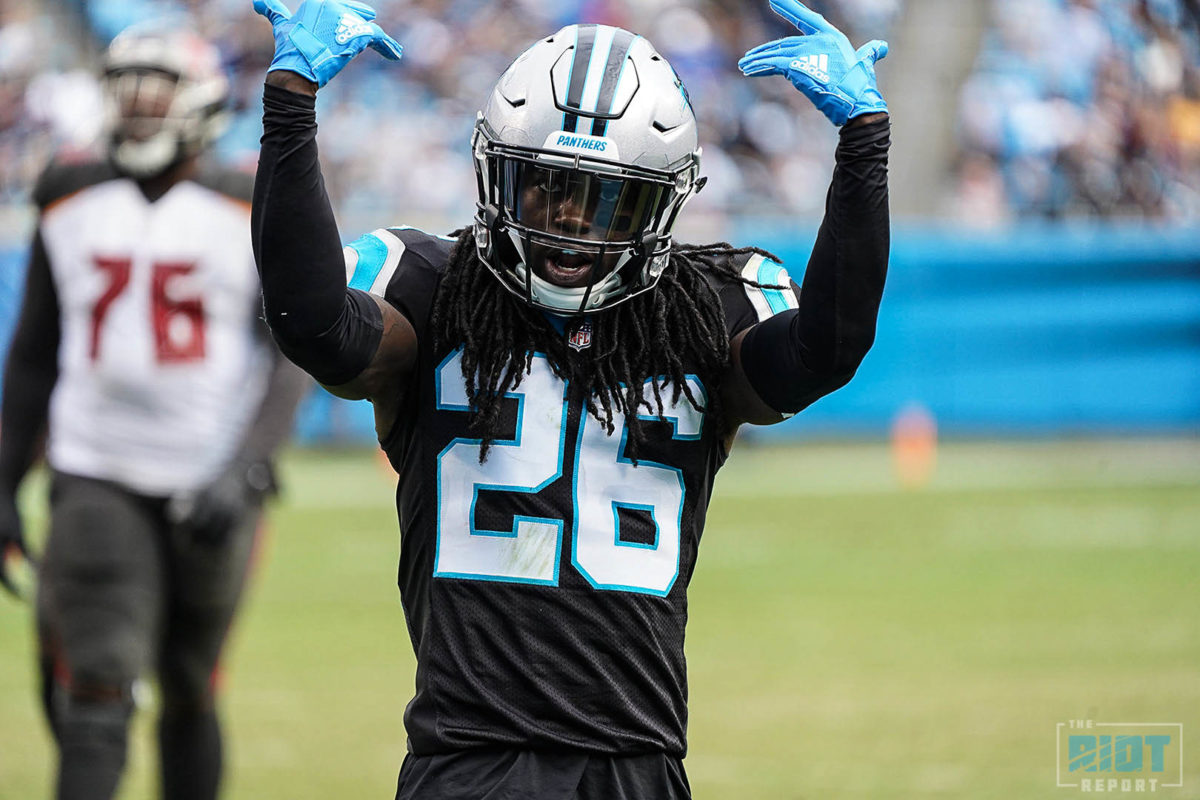 Panthers head coach Ron Rivera praised both Bradberry and his counterpart Donte Jackson, saying that this is one of Bradberry's best games.
"It was one of them," Rivera said. "It really was one of them. He did some really good things and really was pleased with the effort we got from James – it was solid as it gets."
Jackson is leading the league in interceptions and added to that total tonight as he picked off Fitzpatrick in the fourth quarter to seal the victory – Bradberry said the continuity between the two is helping them excel at the cornerback position.
"Donte's started off quick in this league; he's got four interceptions already," Bradberry said. "He's playing pretty well, and I'm feeding off of him. He locked down John Brown last week, so I knew going into this week I had to lock down my matchup."
Even though Rivera said that he did not expect the rookie to lead the team with four interceptions, he did want him to be impactful this season, and that is exactly what he is doing.
"We expected Donte to come in and play. He is a special athlete and he is one of the guys that I thought our scouts did a great job," grinned Rivera after the game – he has said multiple times he was imploring Marty Hurney to trade up for Jackson during April's draft.
After this game, Jackson now is tied for the most interceptions in the league. The 22-year old rookie out of LSU is proud of his personal accomplishments but does not want to get complacent because there is plenty of football left to play – we're only halfway through the season after all.
"It means a lot. I've been playing pretty good, putting some good ball on film," Jackson said. "It's just a testament of all of my hard work and a testament of the [pass rush] those guys been doing. We've got 11 interceptions this year, and we want more. We are going to stay hungry and those guys are going to continue to stay hungry, and we are just going to keep putting those things together."
"Another day at the office for the thieves, man."