On a third-and-one from the Baltimore 45, in the midst of a 10-play, 99-yard drive, after a play-action zone read to Christian McCaffrey, Cam Newton turned and pitched it to DJ Moore, who bobbled the pitch. The ball bounced directly back into the rookie's hands and Moore sped down the right sideline for 28 yards. Two plays later with the Panthers threatening inside the ten-yard line, Newton dropped back to pass and as he threw it, Baltimore safety Eric Weddle tipped the pass at the line of scrimmage – directly into the arms of a leaping Christian McCaffrey for his second touchdown of the day.
It was one of those kind of days.
The Panthers offense roared to life against the Ravens' #1 ranked defense en route to a 36-21 win at Bank of America Stadium to send them to 5-2 on the season; the Ravens came in allowing 14.4 points per game – the Panthers scored 36; they came in allowing 190.4 passing yards per game – the Panthers had 232; 90.1 rushing yards – the Panthers had 156. The Ravens picked up a sack on 11.07% of pass attempts – they had zero today; in fact, Cam Newton was barely touched.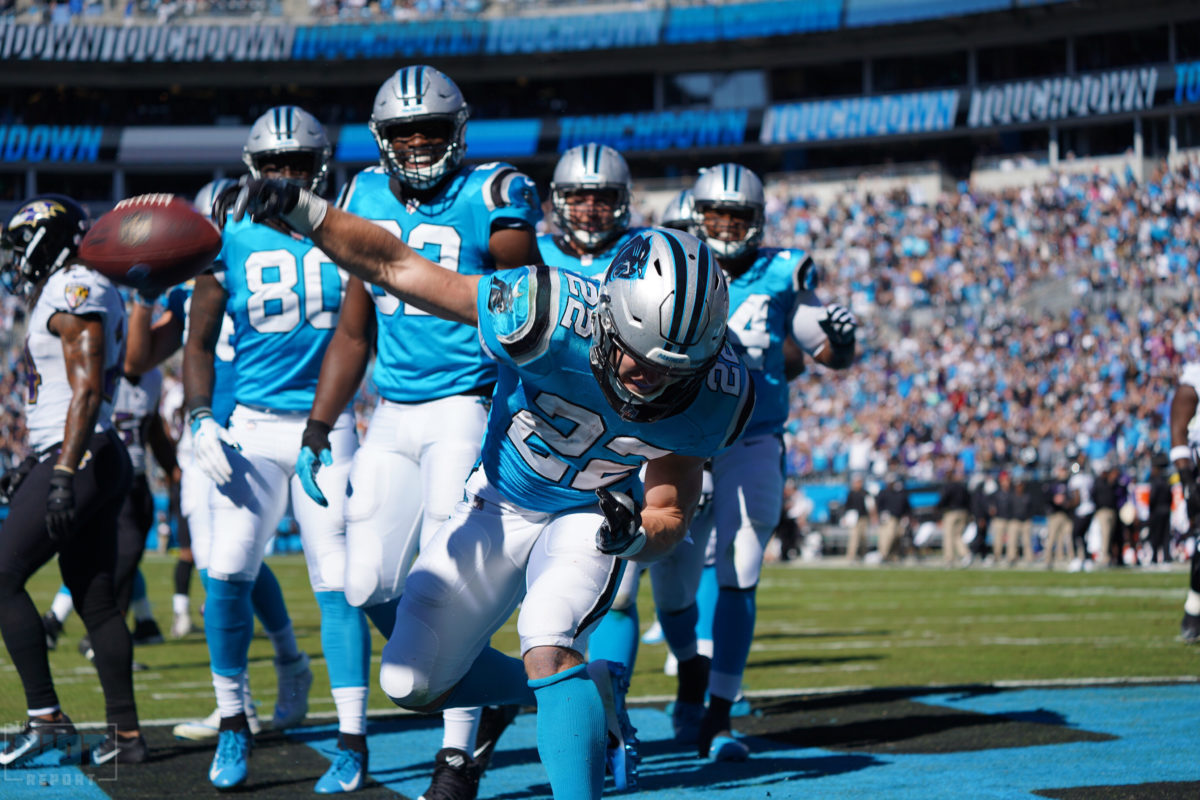 After falling down 17 in each of the past two weeks, the Panthers talked all week about getting out to a fast start and when the Ravens went 80 yards in 11 plays to open the game with a 14-yard rushing touchdown for Alex Collins in which he spun out of an Eric Reid tackle, it looked as if the team's first-half worries would continue. But after punting on their first possession, the Panthers would reel off four straight scoring possessions to take a commanding 24-7 lead into halftime.
Their first score would come on a Christian McCaffrey 11-yard scamper to tie the game at 7-7; while the running back had his lowest yardage output of the season with 56 total yards, he scored a pair of touchdowns – one on the ground and his seventh career receiving score, which tied him with Deangelo Williams and Jonathan Stewart for the most by a Panthers running back in franchise history. Williams and Stewart played in a combined 248 games in Panthers uniforms.
Today was McCaffrey's 23rd game as a Panther.

After a Greg Olsen 11-yard scoring reception, the Panthers got the ball back inside their own one-yard line and put together a masterful 10-play, 99-yard drive that utilized a couple of lucky bounces to put them ahead 21-7; rookie wide receiver DJ Moore accounted for 72 yards in what amounted to his coming out party. After 237 total yards in his first six games, Ron Rivera and Norv Turner answered the calls to get Moore extra touches as he had 129 yards on seven touches in the first half alone.
The Panthers defense showed up in a big way as well – after the Ravens first drive that totaled 80 yards, the defense only allowed 112 yards on the next six drives, turning the Ravens over three times – a Mike Adams interception, the 30th of his career, a Captain Munnerlyn pick over the middle and a forced fumble by Kyle Love that gave the Panthers a short field which they would turn into the Olsen touchdown. All told, the defense held the Ravens to 325 total yards, picked up a pair of sacks and forced the three turnovers – it was the team in blue that looked as if they were the #1 defense in the league on this day.
It was hard to blame Cam Newton for celebrating early on his 58th career rushing touchdown – the quarterback accounted for three total scores, 52 rushing yards and 219 passing yards on 21-of-29 (72.4%) – it was his 17th overall touchdown of the season; he didn't appear to have a Raven close to him on the naked bootleg when he raised his hands at the three-yard line.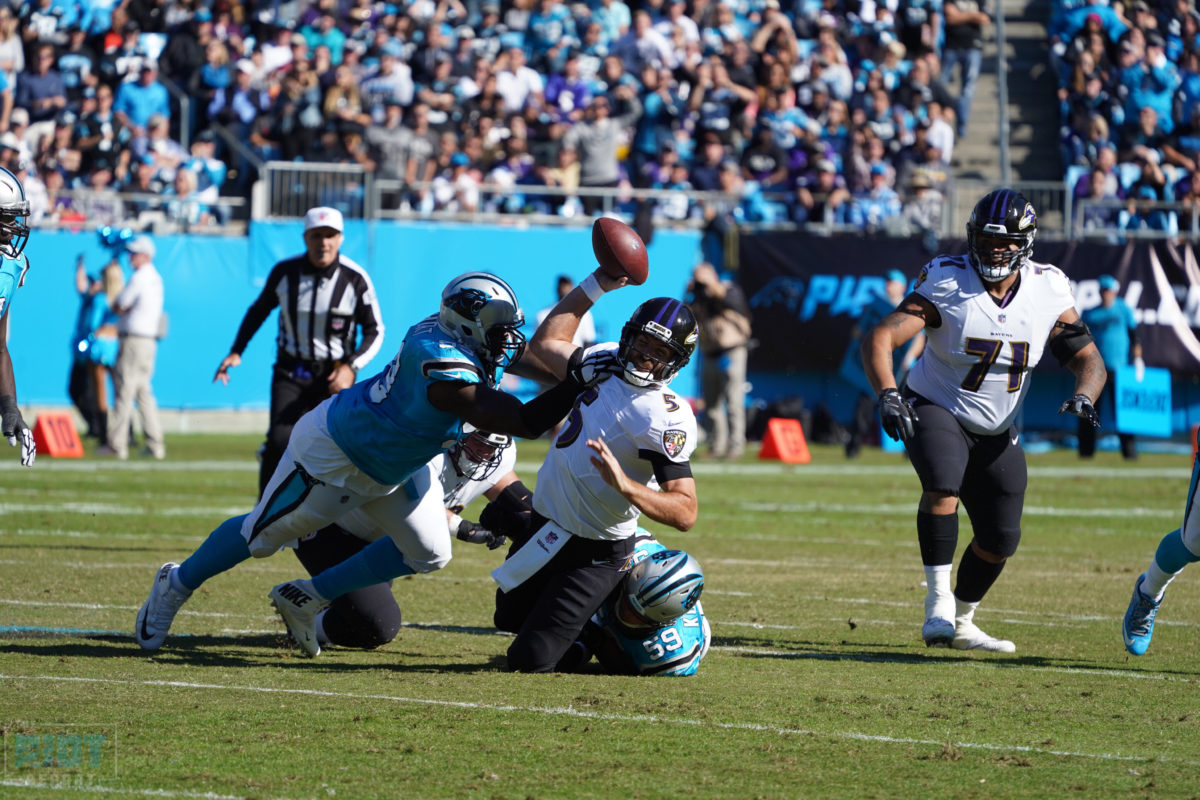 Additional Notes:
With Rashaan Gaulden complaining of ankle soreness in practice this week, the rookie safety is inactive; second-year defensive back Corn Elder received a jersey for the first time since Week 3. Wide receiver Torrey Smith was also out with a knee injury suffered in the fourth quarter of last week's comeback in over the Eagles.
A bizarre end-of-half sequence featured the Panthers taking a delay of game penalty with five seconds left in what looked like confusion between Ron Rivera and Cam Newton at the Ravens 44-yard line instead of sending out Graham Gano for a 61-yard attempt. The team then sent out backup quarterback Taylor Heinicke, who threw a swing pass to Greg Olsen who ran out of bounds for a 13-yard gain before Gano ran onto the field to knock through his 27th consecutive field goal attempt to put the Panthers up 24-7 at halftime.
Greg Olsen had 53 yards in the previous two games since returning from a broken foot – he had four catches for 56 yards to go with his score today.
Donte Jackson was masterful in his defense of speedy wideout John Brown – after having seven for 134 last week against the Saints, Brown could only manage three for 28 yards; Jackson picked up the first sack of his career as well.