A lot of Will Grier's time at West Virginia was spent throwing the deep ball.
So much so that he was on pace to set the Pro Football Focus College record for most deep passing yards in a season in 2017 before missing games in the second half of the season with a dislocated finger – the third-round pick admitted as much in his opening press conference after being announced the starter for the Panthers as they head to Indianapolis in Week 16 to take on the Colts.
He also admitted that a big part of being successful in the NFL is knowing when to do the opposite.
"You don't always have to take a shot on every play," said Grier. "A lot of my West Virginia tape is me throwing the ball downfield on almost every play – that's not necessarily going to work in the NFL – just learning a lot as you go."
That's why the Panthers coaching staff felt it was so important to give Grier all of the first-team reps in practice before he got his first game action – not just for him to get timing with the starting pass catchers, but get used to the different defensive looks that he'll see on Sunday and feel as comfortable as possible. So he knows when is a good time to take a chance – and when it's not.
"It was so important that he took all the reps so that when he saw the opportunity to let it rip, that he can let it rip," said interim head coach Perry Fewell. "But that's part of seeing the look and taking what the defense gives you – if the defense took it away from you and you think you can still rip it, but there's a guy underneath and you can check it down, check it down."
"It's just a growth process, it's a teaching process."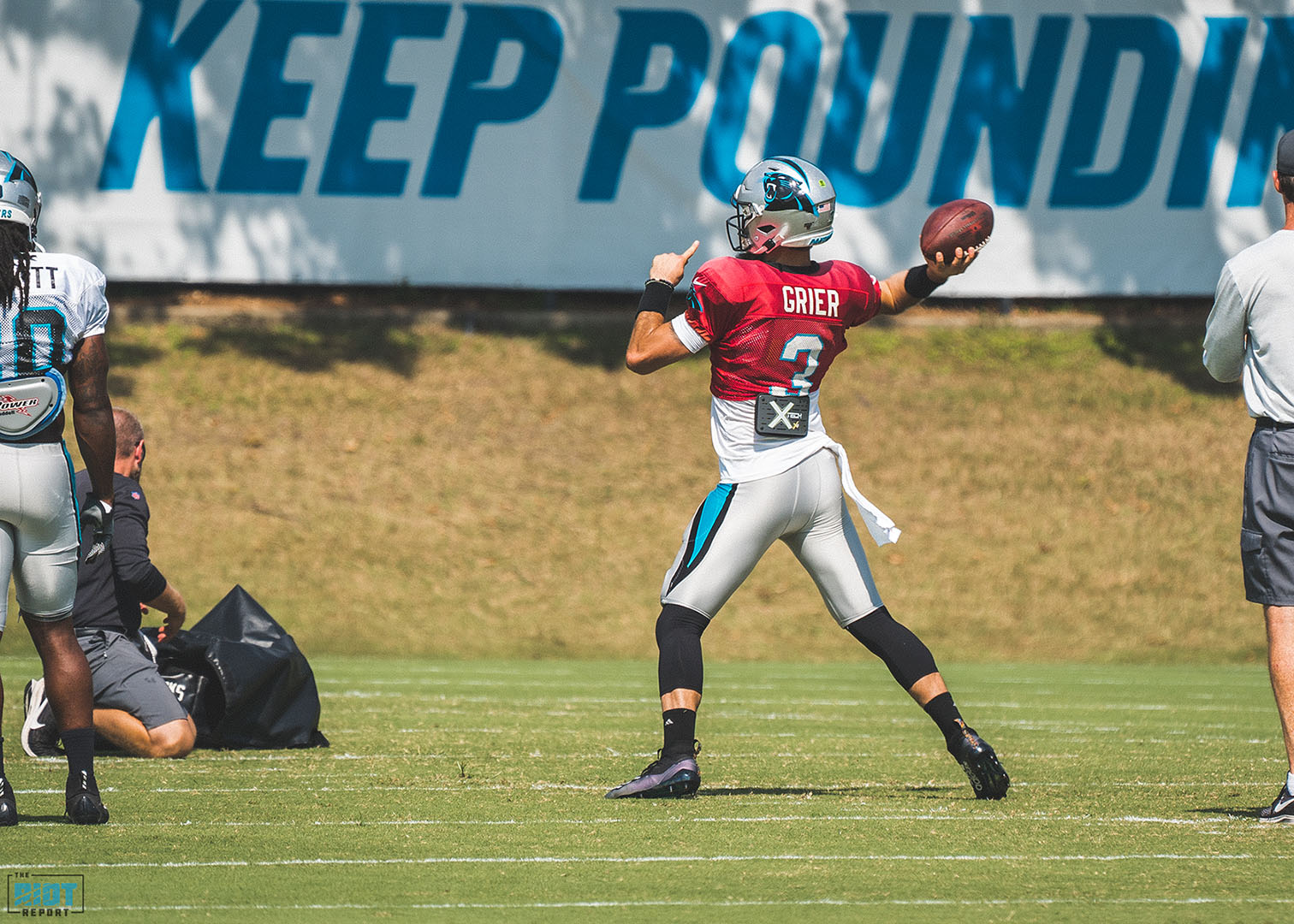 Interim offensive coordinator Scott Turner hasn't scaled the playbook back for a rookie quarterback making his first start, because he doesn't need to, even though the team will obviously try to play towards Grier's strengths in Indianapolis.
"He's trying to do the things that Will does well, but the good thing about Will is that he has listened in meetings," said Fewell. "The playbook is available for Scott and we're going to run our offense."
The biggest piece in making life easier for a quarterback on Sunday will likely line up next to Grier on Sunday – Christian McCaffrey has the most receiving yards and receptions of any running back in their first three seasons of their career and through 46 career games is averaging 6.1 receptions per game, the fifth highest by any player in NFL history at that point in their career.
He's also 186 yards shy of 1,000 yards receiving for the season, which would make him only the third player in history to join the 1,000/1,000 club. Seems like a perfect situation for both players: a rookie quarterback who needs to know that checking the ball down is an easy way to be successful – and perhaps the best running back in NFL history at picking up yards after the catch who has an opportunity to hit a significant milestone if given the opportunity.
"It's all about decision making, in my opinion. Take what the defense gives you – yes, he's got a cannon of an arm, I love his arm," said Fewell. "But sometimes the coverage doesn't allow you to throw that deep ball, so take what the defense gives you, protect the football…establish some drives and move the ball down the field."
Or, as Colts Head Coach Frank Reich put it even more succinctly: "Don't try to be a hero."