It wasn't all that long ago that the very suggestion you could implement a college scheme in the NFL – specifically, the vaunted "Air Raid" – was outright sacrilege.
In the ongoing philosophical fight between old school and new age football, there were all sorts of reasons why the Air Raid, a high-octane derivative of the run-and-shoot with a strong emphasis on passing, would never work in the pros. Air Raid quarterbacks, they said, "couldn't read defenses". And NFL defenses, they said, were simply too big and too fast for anything "cute" from the college ranks to be effective.
But when Air Raid quarterbacks like Jared Goff and Patrick Mahomes vaulted to stardom with the Los Angeles Rams and Kansas City Chiefs, the entire NFL suddenly was desperate for something or someone from that system. And that led to the Arizona Cardinals pursuing the logical extreme: Hiring an Air Raid head coach in Kliff Kingsbury, and soon after, bringing in an Air Raid quarterback in Kyler Murray.

Now a year into the Kyler & Kingsbury experiment, there has been great anticipation for the Cardinals to become one of the premiere teams in football by virtue of an unstoppable offense. And Arizona has done their part in putting together the sort of skill players that can overwhelm defenses: Kenyan Drake leads the team's rushing attack, which complements a passing game that features new addition DeAndre Hopkins, promising youngster Christian Kirk, and future Pro Football Hall of Famer Larry Fitzgerald.
"They have a scheme where they like to get a lot of guys going early. A lot of guys touches early," said Panthers cornerback Donte Jackson. "They have a lot of explosive guys who can make plays all over the field."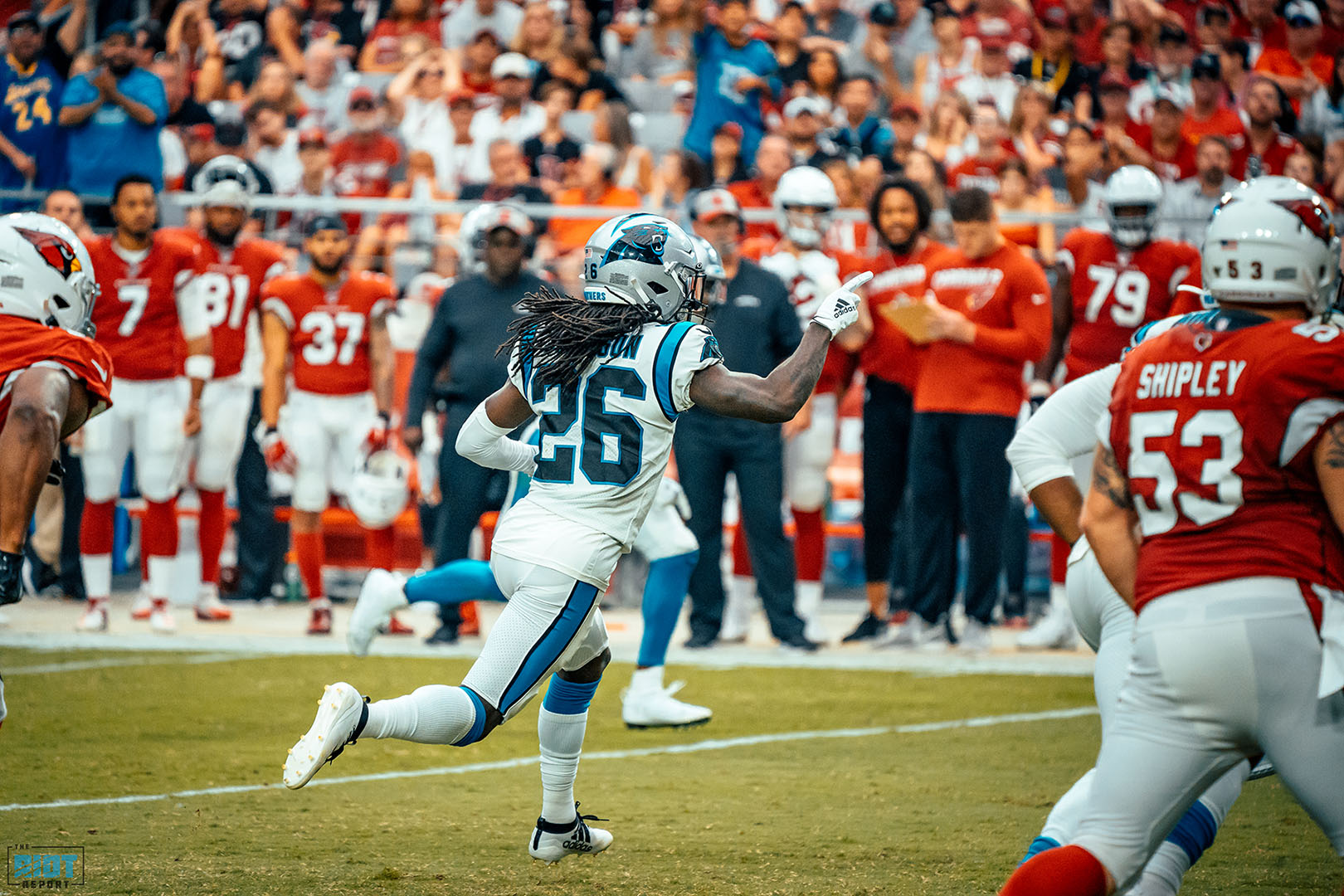 Considering the raw talent and athleticism of Murray, a gifted passer with an exceptional ability to throw the ball deep, the Cardinals' Air Raid has become the latest thing that keeps NFL defensive coordinators' minds uneasy. And once, defensive coaches in the college ranks got very little sleep trying to prepare for Air Raid teams either.
That is, until a scheme was crafted to respond to the Air Raid and blow it out of the sky.

Under the direction of defensive coordinator Jon Heacock, the Iowa State Cyclones of the Big 12 recently patented a defense simply known as the "Air Raid Killer", a modified dime package using three down linemen, three linebackers, and three safeties with two cornerbacks.
The defense is otherwise referred to as a 3-3-3, and has proven highly successful in stopping Air Raid-style attacks – such as in 2017, when Iowa State held opponents like Oklahoma, West Virginia, and Kingsbury's Texas Tech 15 points or more below their scoring averages.
Given Iowa State's success against the Air Raid system, other coaches at both the collegiate and NFL levels have begun to take notice of the 3-3-3 and the damage it can do. Panthers head coach Matt Rhule, once a Big 12 coach himself, is among those to have done so – in fact, the Panthers have already begun to help bring the newest concepts in defensive football up to the pros.
"That Iowa State defense is something that we adopted at Baylor, and then we've played a lot of it the last couple of weeks," said Rhule. "In fact, when people have asked [about] our low numbers of sacks the first two games, I attributed a lot of it to the fact that we were in some three-down structures. So it's got its pluses, it's got its minuses."
"I think a lot of things that you see in college football have obviously moved to the pros with the things that the Ravens and many other teams with athletic quarterbacks who can zone-read and do things that you see in college. It's made its way to the NFL."
Although Kingsbury's offense was billed as being the very Air Raid he ran at Texas Tech when he was hired by the Cardinals in 2019, Rhule notes that there's much more to Arizona's offense than that simple label: Though the Cardinals' offense is based in the Air Raid, Kingsbury has also implemented pro & spread-style run schemes, pro-style passing schemes, and play action as well.
In Rhule's eyes, what Kingsbury has done particularly well as the NFL's latest offensive mastermind is find out which ways he can best utilize his personnel and what they do well. And likewise, that too has become Rhule & Co.'s objective on defense.
"Defensively, we've tried to do the same thing," said Rhule. "We're trying to take advantage of our defensive personnel and put them in the best position possible."
Considering the ongoing dominance of offensive football in the NFL, the very mention of the Cardinals and their passing attack has become enough to send a chill up one's spine. But like so many other exotic schemes before it, it isn't as though the Air Raid makes Arizona unbeatable: The Cardinals only went 5-10-1 last year, and they are coming off of a 26-23 loss to the Detroit Lions in Week Three.
Given that, it's unlikely that the Panthers will shy away from returning fire at the Cardinals and their Air Raid. After all, it's not like they haven't done it before.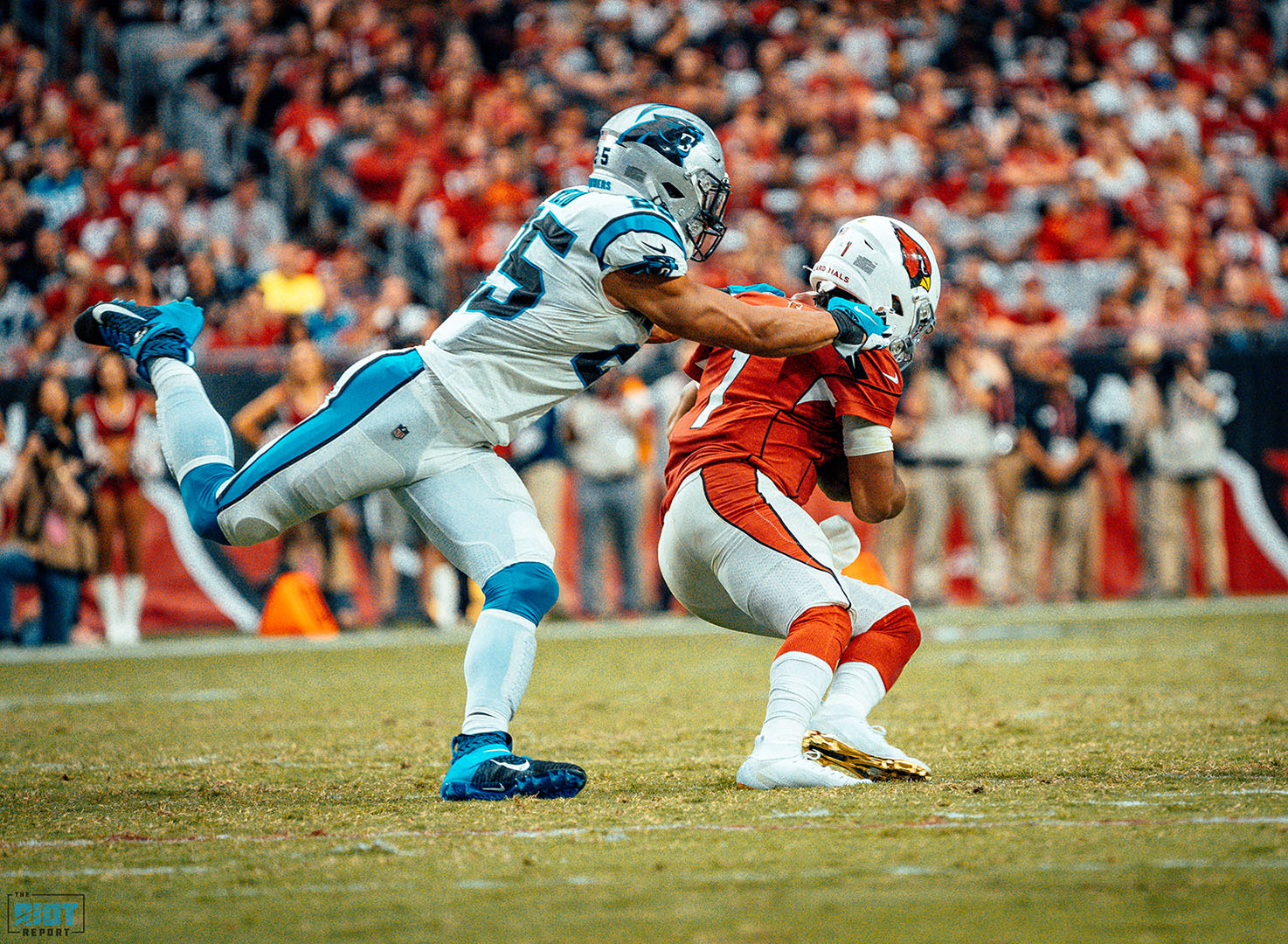 In Week 3 of last year, the Panthers began a four game winning streak with a triumph over Arizona, one which saw its defense take over the game in the second half. Holding the Cardinals to 20 points, Carolina held the Cardinals to just 173 passing yards, only giving up two short touchdown passes by Murray while sacking him eight times and picking him off twice.
"We had a lot of success because we came out and we attacked early," said Jackson. "We cut down the explosive plays, and an offense like that – they're built on explosive plays. So you've just got to stop the explosive plays."
"Cut out how many passes they're throwing over your head, cut out how many explosive runs they have, and you'll have some success. And I think that's what we did pretty well last year."
Whether the Air Raid is the new standard in offensive football or just another passing fad remains to be seen: Plenty of exotic schemes from the college ranks have experienced temporary success in the NFL, only to fall to pieces once pro defenses become wise to their tricks.
But at the very least, the cause of NFL defenses in stopping the latest in offensive college concepts has been abetted by the latest thinking in defensive college concepts – an important development as the pendulum of football philosophy, perpetually in motion between offense and defense, continues to swing.