James Bradberry is the living embodiment of the Panthers defensive struggles over the past three weeks.
He, like the Panthers defense, came into the season with enormous pressure to perform – his talent had him ready to take his game to the next level, with Ron Rivera saying that he needed to 'ascend' as he was faced with the unenviable task of following opponents' #1 receivers all over the field from week-to-week; could he answer the challenge?
The answer – at least for the first eight weeks of the season – was a resounding yes as Bradberry, along with the rest of the Panthers defense, helped Carolina jump out to a 6-5 record as Bradberry held Julio Jones and AJ Green in check during the first month of the season. But as the season bore on, there were chinks in the 'shutdown corner' armor – Odell Beckham catching a touchdown in crunch time, Alshon Jeffery corraling seven catches for 88 yards and a score – heading into the Panthers matchup with the league's #1 passing offense where Bradberry shut down Mike Evans – he of the five consecutive 1,000-yard seasons to open his career and 6th-most yards through four seasons since the NFL merger – to the tune of one catch on ten targets for only 16 yards.
"Bradberry definitely got the best of Mike in that last game, he played a heck of game," said Tampa Bay head coach Dirk Koetter. "Mike was a little banged up in that game. Mike's always played, played well against Carolina in the past – that game was not indicative of how Mike's played against Carolina. Definitely not his best and Bradberry got the best of that one."
But since then, it's been downhill not only for Bradberry – who's allowed key long completions to Juju Smith-Schuster, Kenny Golladay and David Moore over the past three weeks – but for the Panthers as a whole as they've hit a three-game skid to drop their record to 6-5 and place them in a precarious position from a playoff perspective; Bradberry knows it's up to him to turn it around – and that starts this week with Evans, who will almost certainly be looking for a different result this go-round.
"I started off strong in the beginning of the season and I just haven't played too well these past few weeks," said Bradberry, who welcomes the challenge every week of going against a top-tier wideout. "I've got to come into this game preparing to play the best game of my season so far."
"I'm sure he's going to want to get back on me and get his game going again – I'm prepared for it, it's going to be a tough challenge any time I face him, so I'm going to have the same mentality I did the first game."

Evans has gone over the century mark the past two weeks, but one of the reasons Bradberry was so successful against Evans was his ability get his hands on Evans at the line and knock him off his landmarks – something that the game plan will call for again this week. Jamming receivers at the line can allow for that precious extra second of pass rush to get to the quarterback – it was a primary factor in the Panthers hitting Ryan Fitzpatrick 11 times in their last matchup and Mario Addison racking up three of his 7.5 sacks.
The Panthers were also able to generate two turnovers against the Bucs in Week 9, and even though Tampa Bay will be trotting out a different quarterback – Jameis Winston as opposed to Ryan Fitzpatrick – the Panthers are hoping that the turnover-prone Bucs, who lead the league in interception percentage, will help to spark the Panthers defense, who haven't produced a turnover since their last matchup with Tampa Bay.
Not coincidentally, that was their last win.
"In my opinion, that's the biggest stat in professional football. The team with the most turnovers usually wins the game," said safety Eric Reid, who had one of the two interceptions in Week 9. "If we don't get our offense extra possessions, we lessen our chance to win."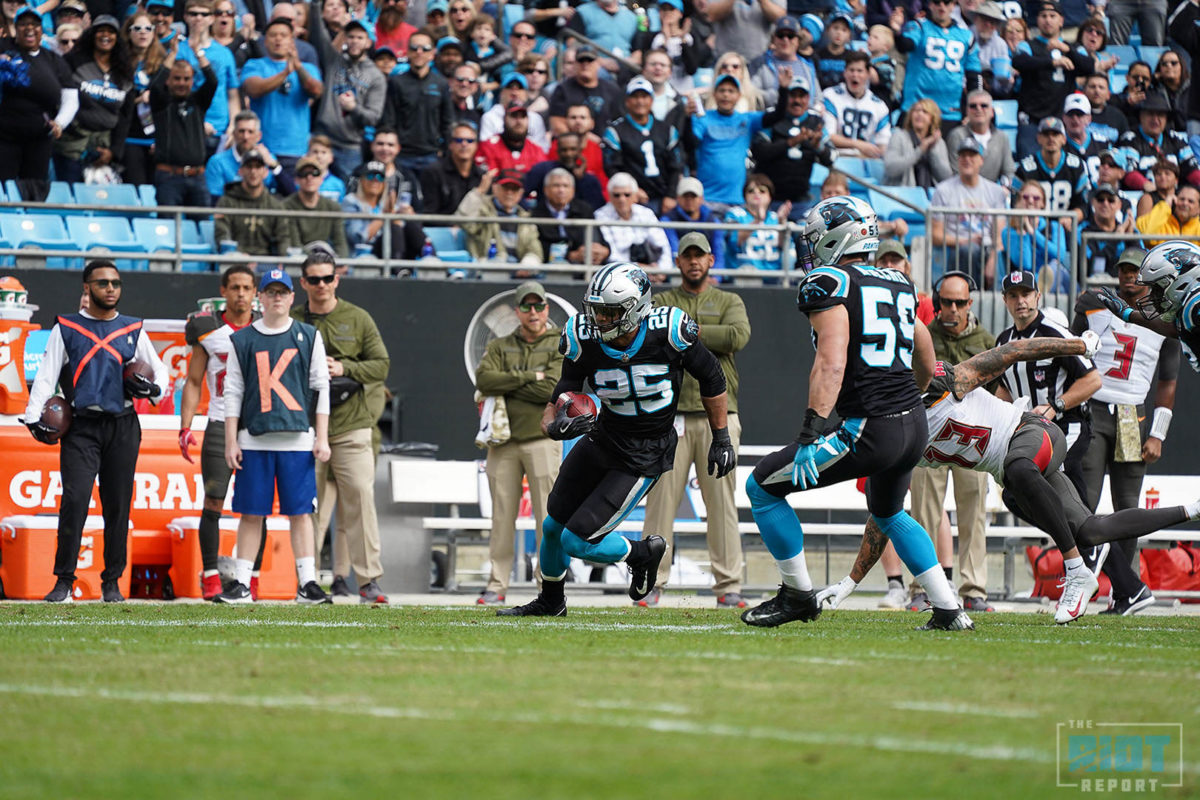 Another key to stopping the Bucs will be a returning Donte Jackson, who missed every snap but one last week and the Panthers felt his absence on key plays – a fourth-and-3 touchdown to David Moore in which second-year cornerback Corn Elder didn't get his head around in time and a backbreaking third-down completion to set up the winning field goal – Jackson's absence left the outside cornerback slot to nickel corner Captain Munnerlyn and Elder, who the Seahawks made it a point to exploit late in the game, to great success.
Ron Rivera admitted this week that perhaps the team could have prepared Elder and Munnerlyn better for playing on the outside.
"We had a tough go of it last week [and] part of it can be attributed to one of our starting corners goes out on the first defensive play, but we do have guys in position that there are backup roles – they have to be ready to role and there should be a next man up mentality," said Rivera. "Unfortunately, we gave up some plays."
"We had to move [Munnerlyn] outside because of the necessity to do it and we played a young guy outside as well that we've been really focusing on [at] the nickel and that's [Elder]. Looking at that, we've got to make sure that those guys get a few more reps on the outside and work a little bit more, just in case."
The common thread behind all of the big plays has been allowing receivers to get over-the-top of the Panthers secondary, and while the game plan involves sticking them at the line, the other piece of that is keeping receivers in front of the defense. Now that opponents have had success getting behind the defense in the past three weeks, something the Buccaneers have excelled at – four of their pass-catchers have receptions of 50 yards or more on the season – the Bucs, as well as future opponents, will try to exploit something they perceive as a weakness in the Panthers defense.
"What's going to happen is if you're giving this up – I'm going to tell you right now, teams are going to come out and attack that," said Ron Rivera about his team, who have allowed long completions on third down for three consecutive weeks. "One of the things we've talked about specifically on the defensive side of the ball is guarding against the deep ball – it's shown that we've given it up a couple of weeks in the row."
"So it's coming."
While fans may complain about the Panthers playing off-coverage on a consistent basis, that off-coverage may keep the big play from occurring.
"You want to be aggressive, but you've got to know what your goals are in your defensive scheme; to stop everything behind you and let them catch everything in front of you," said Bradberry, before quickly correcting himself – no one wants to allow completions.
"Well, not let them catch everything in front of you – just don't be too aggressive and don't let anything get over the top of your head."
Easier said than done.