It's easy to be judged when you're at your best. It's not hard to look your best in a tux or after you've been professionally styled; you want people to remember your look on your wedding day, not the way you looked when you were sneezing on Marisa Tomei.
But when you're in the NFL, you don't get a choice in the matter – you're often judged by the mistakes you make. And when you're a cornerback, that's always the case.
Give up a big play and the world remembers. Holding a wide receiver without a catch for 70 consecutive plays doesn't matter if the 71st is a touchdown – when you're going up against the other team's best every week, you're going to be targeted – a lot.
No one knows that better than James Bradberry, who follows the opponent's #1 wideout around on a weekly basis and has done it for the majority of his career – he's been targeted more than any other Panthers player this season, and among the 11 most targeted players in the league, Bradberry's 76.2 passer rating on those 86 targets is the second-best. He's allowed only one touchdown this season and has the third-highest number of interceptions in the NFL in 2019 – since he came into the league, he has the third-most tackles of any cornerback.
So if you want to measure Bradberry's worth to this team, you can measure it against other corners, but you'll have to measure it on a curve against the best wideouts in the league – in the single game he missed this season with a groin injury, the Packers #1 target Davante Adams went off for 118 yards a touchdown.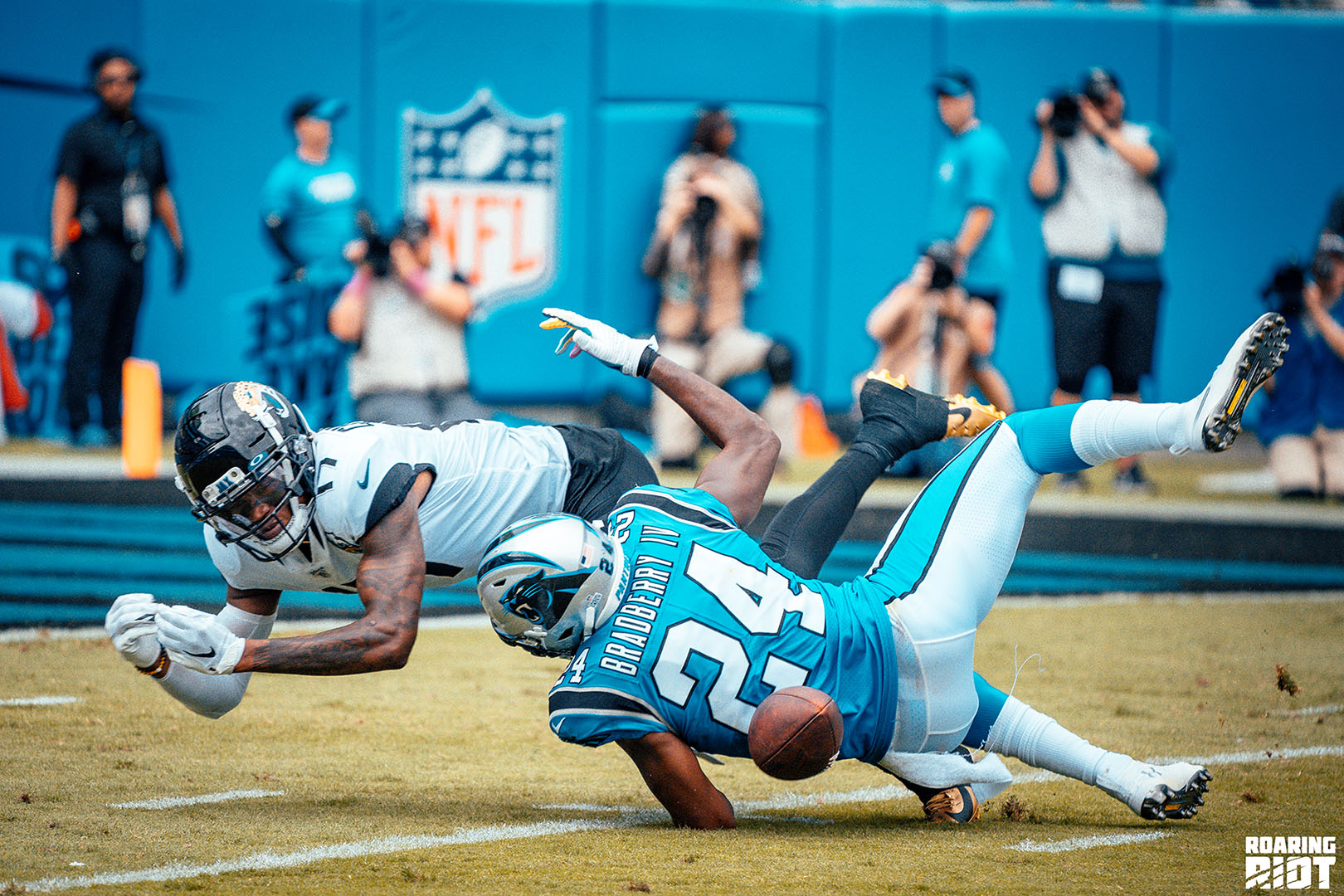 Because that's against the league's best is how he measures himself – and he knows that's how he's going to be measured after this season when the team is debating whether or not to re-sign him.
"Definitely," Bradberry said when asked if his performance against the top wideouts in the league would likely determine his worth at the negotiating table. "This league is about what have you done for me lately, so they're going to judge me off my recent performance."
In 2016, it took one rep of jamming Julio Jones that proved to a rookie Bradberry that he could play corner in the NFL – his performances against the top pass-catchers in the league the past few years has proven he is among the best cover corners in the league, including his most recent performance against the Falcons #1 receiver, even if he was helped out by a Matt Ryan overthrow where Jones had him beat deep.
"I think that's really special about our game when you have two men that can go out and lay it down and compete – there's going to be someone that has the upper hand at the end of the contest, but the other guys battled his butt off like the Ali-Frazier fights," said interim head coach Perry Fewell, who has worked closely with Bradberry as secondary coach this season. "They're two gladiators."
And now, with three games left, those gladiator battles are for the most part over – he'll likely cover rookie DK Metcalf against Seattle this week, TY Hilton may not play again this season and if last year was any indication, the Saints may not have much reason to send out Michael Thomas in Week 17. Bradberry has already offered his best work against the best receivers in the league – and he's found himself with the upper hand in almost all of them.
Even in a 40-20 loss to the Falcons, Jones had only 66 yards receiving and 38 of them came with Bradberry in almost perfect position to defend the pass – sometimes you've got to tip your cap to a perfect pass and a perfect catch.
"I mean, it's Julio, he's going to make his plays," said Bradberry after the game. "I'm going to try and make mine."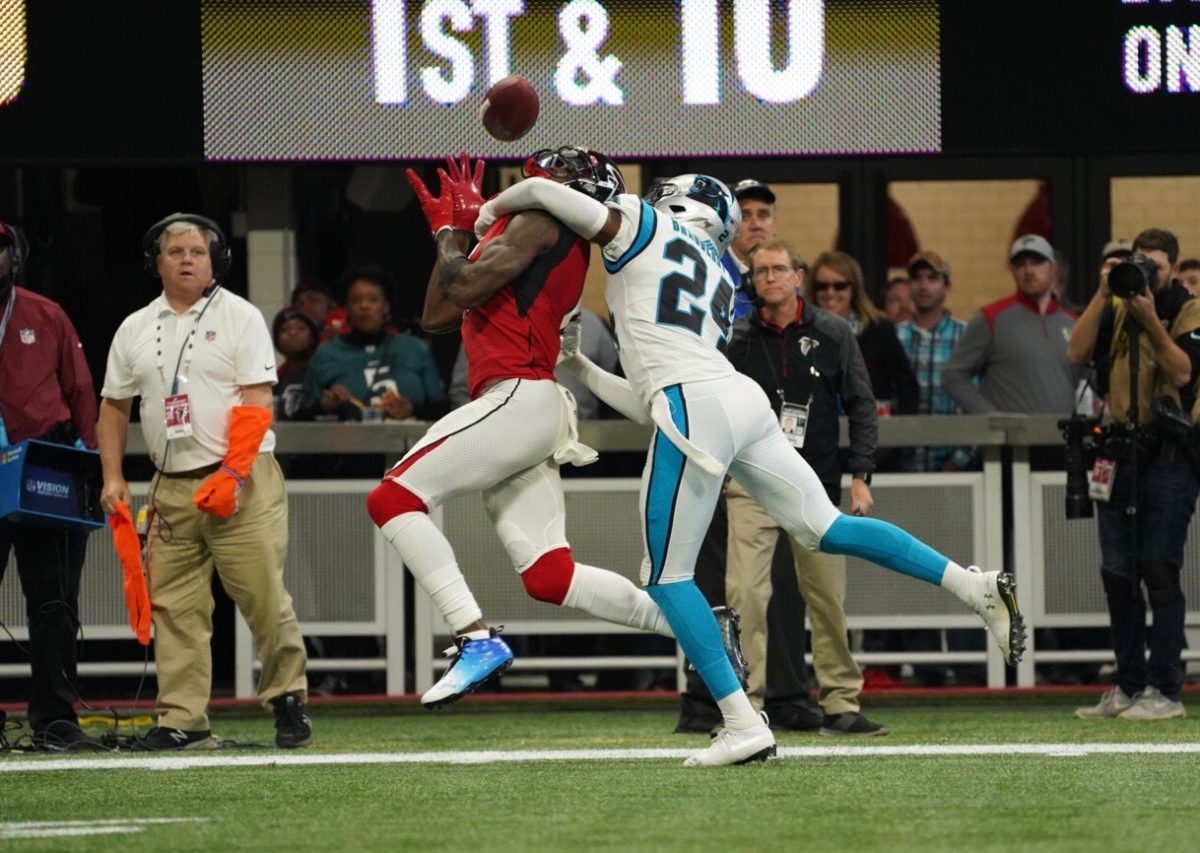 Here are the #1 receivers this season Bradberry has faced:
Mike Evans Week 2 – Four catches, 61 Yards
Larry Fitzgerald Week 3 – Five catches, 36 Yards
DeAndre Hopkins Week 4 – Five catches, 41 Yards
Mike Evans Week 6 – Nine catches, 96 Yards
Emmanuel Sanders Week 8 – Four catches, 25 Yards
Julio Jones Week 11 – Six catches, 91 Yards 
Michael Thomas Week 12 – 10 catches, 101 Yards
Bradberry has learned to use his superior length against opponents – his process and attitude have helped mold him into the corner he is today as opposed to the raw prospect that Fewell scouted when Bradberry was entering the 2016 draft.
"I learned about the mindset of that player and I think James has developed that mindset over time now, so he's now ready to take on those challenges of the Julio Joneses," said Fewell. "Very unselfish. He goes about his work, very businesslike; you love a DB like that because he's always looking to get better and he's always seeking information – he comes back and he studies. If you give him a project and tell him to watch 20 plays of first and second downs, he watches those 20 plays.
"He doesn't cut any corners and those are the kind of people you want in your organization."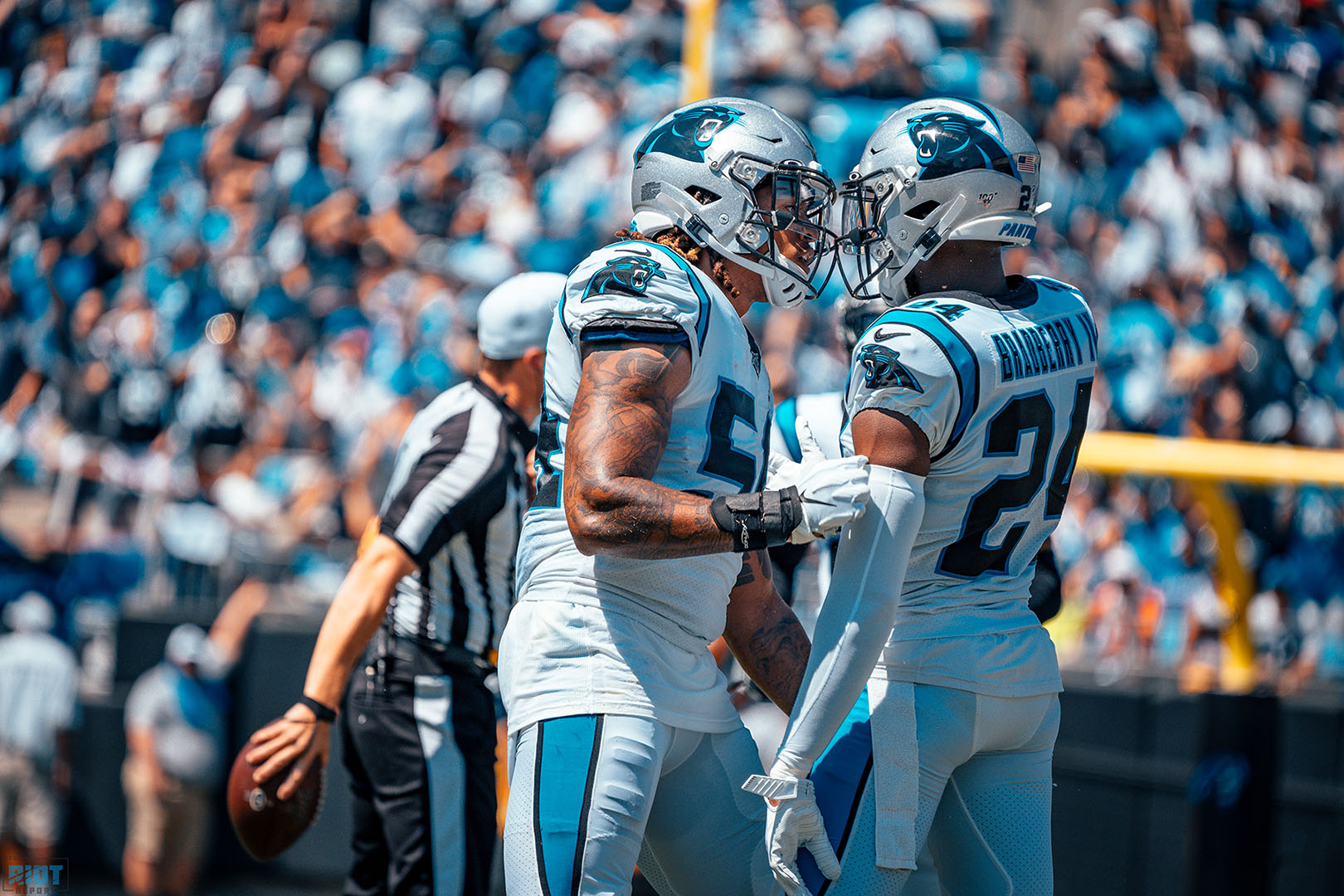 The Panthers will face almost an innumerable number of decisions this offseason – a new coach will need to be hired and questions at quarterback will be asked not only until a move is made in the Cam Newton Saga, but for the months following. The Panthers answered one question last week by giving former first-round pick Shaq Thompson a four-year, $54.2m extension – a rare in-season deal for GM Marty Hurney. Bradberry doesn't necessarily want to talk about contracts, he will let his play do the talking – but Fewell says he thinks Bradberry is the kind of player an organization builds itself around and Thompson feels the same way.
"Me and James –  we're both the same; we're definitely both quiet," said Thompson. "But our game and our play, that's where we talk about our leadership."
Do the Panthers see the 26-year old Bradberry as someone they need to re-sign? Someone that's part of their future? Those are still left to be answered by the Panthers front office – Bradberry has answered all the questions he needs to on the field.
Now he'll be the one waiting for answers.