As a rookie in 2016, James Bradberry made one particular play that convinced him he could play at a high level in the National Football League.
It was a divisional game against the Atlanta Falcons, and Bradberry's assignment was none other than Julio Jones – the Falcons' perennial All-Pro and arguably the single-most dominant receiver of the past decade.  As a second round pick out of an FCS school, Bradberry was far from the sort of household name expected to cover Jones. But in two-man coverage, he was able to jam him at the line – and realized that if he could hang tough with Julio, he could play against any receiver he faced.
"That was my whole rookie year. Just feeling my way through the league, trying new things against new receivers," said Bradberry on Thursday. "And that was one moment that I knew I could play in this league."
As Bradberry prepares to go up against Julio Jones for the seventh time his Sunday, much has changed for him in his four years in the NFL. Once firmly in the shadow of Josh Norman, Bradberry has become the Panthers' most-trusted cornerback, and arguably as good a cover corner as there is in the NFL – among corners that have been targeted 40 or more times this season, Bradberry has allowed the fourth-lowest passer rating in the league. That reputation has been developed by what Bradberry has been able to do against the big, fast, and physical receivers of the NFC South – none more prominent than No. 11 for the Falcons.
From the get-go, Bradberry's physique at 6-1 and 212 pounds meant that he matched up naturally with Jones, 6-3 and 220 pounds. However, as the years have gone on, Bradberry has developed great technique to go with his length and size – which has forced Falcons head coach Dan Quinn to have to account for him.
"He's got such good size that when you have to release over and over again on somebody with James' size, that can make it challenging," Quinn said this week. "What James has shown he's going to do is when he's playing up on the line and playing aggressive – what we would call bump or at the line – That's a challenging release, and you see more and more of that for the guy that he is guarding.
"That's a difficult matchup to win on the release, and you can tell he's worked hard at it. It's definitely been something we've noticed too."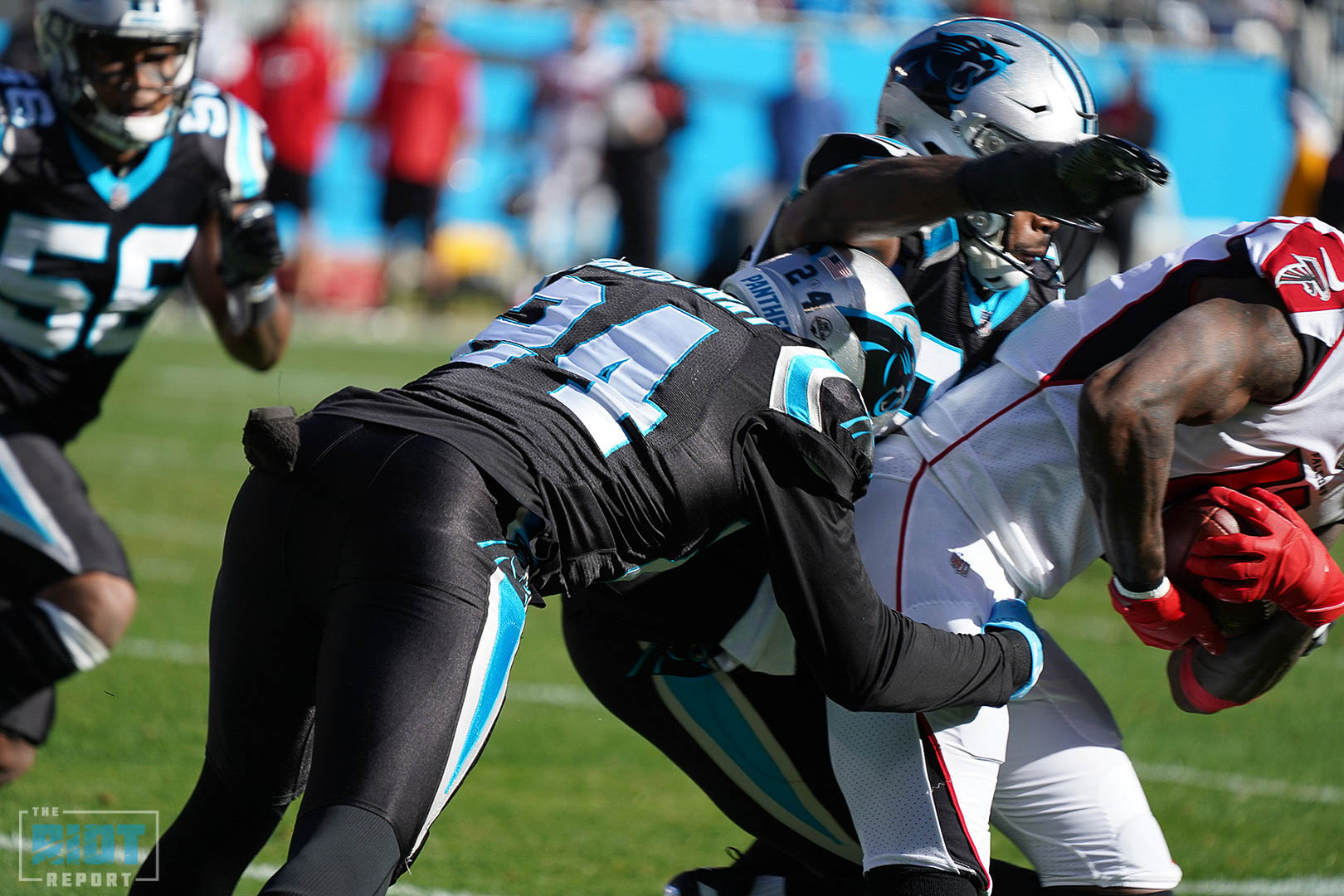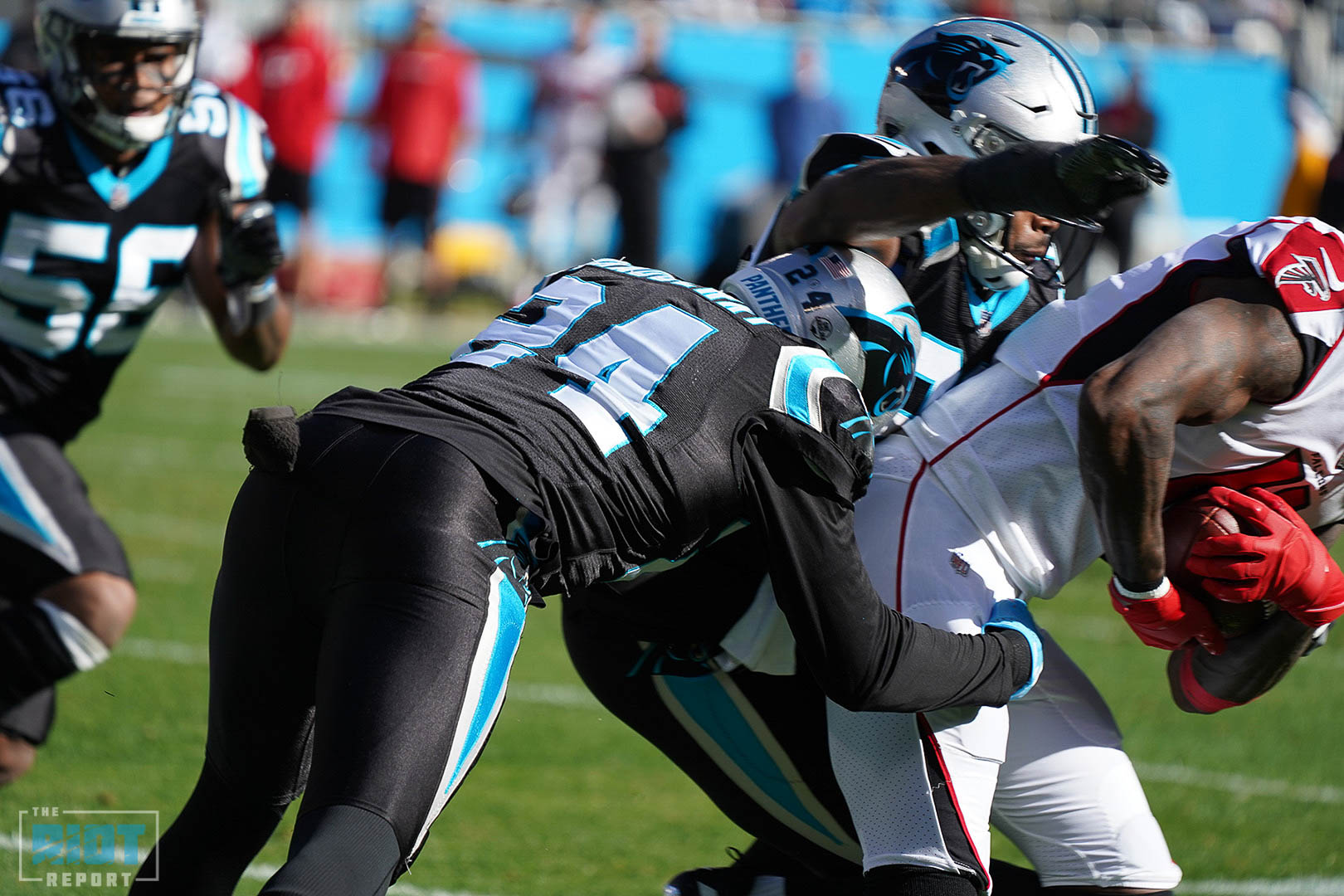 Though a groin injury forced him to miss his first game in three years just last week, Bradberry is perhaps in the best position he's ever been in prior to a matchup with Jones: he is arguably having the best season of his career as he has recorded a career-high three interceptions and already has nine pass breakups to go with 35 tackles through nine games. And in growing into a veteran, head coach Ron Rivera and defensive coordinator Eric Washington both pointed to the amount of confidence that Bradberry now has in his ability to match up with elite receivers.
"A guy that's physical, that can run, that's long, that has a good, competitive spirit about him, I think is the kind of guy that you want to be able to line up against Julio," said Rivera. "It's a tall task every week when you ask James to do certain things … And so to have a guy like James, we feel very fortunate. We just think he's got the right skillset, the right mental makeup."
"He will be the first one to tell you how much he respects Julio Jones," said Washington. "And I think James, he loves the challenge, and he realizes there's gonna be some give-and-take, but he has a lot of confidence in his ability to do his job.
"Great players want to play against great players. … They get excited about that opportunity. And that's what I see in James. Especially from his rookie year – I remember when he got his first interception against the San Francisco 49ers. Watching that and watching him grow from that into a player that looks forward to going one on one against the top receivers in the league, it's pretty fun. It's pretty cool to see that."
There is little mystery as to why Bradberry takes such pride in playing against Jones: a six-time Pro Bowler and the two-time defending NFL receiving yards leader, Jones is a generational talent at the wide receiver position that breaks the traditional mold. Normally, receivers Jones' size are major jump ball and red zone threats known for tough catches, but generally aren't known for their speed or route-running ability.
Jones, however, is the complete package.
"He kind of does everything well. He can run fast, he's explosive, runs good routes, big, physical guy," said Bradberry of Jones. "Bigger receivers, they don't run good routes most of the time. But he runs good routes for a big guy."
Statistically, the 2018 season series between the Panthers and Falcons saw Bradberry do the best work he's ever done against Jones. In Week 2, Bradberry only allowed Jones to catch five passes for 68 yards, while Week 16 saw him limit that to just four catches and 28 yards – the fewest he's ever allowed Jones to gain. That Week 16 performance would have been a banner one for Bradberry's career, had it not been for a one-yard touchdown Jones caught on an over route ("I wish I could have that one back," said Bradberry recalling the play.)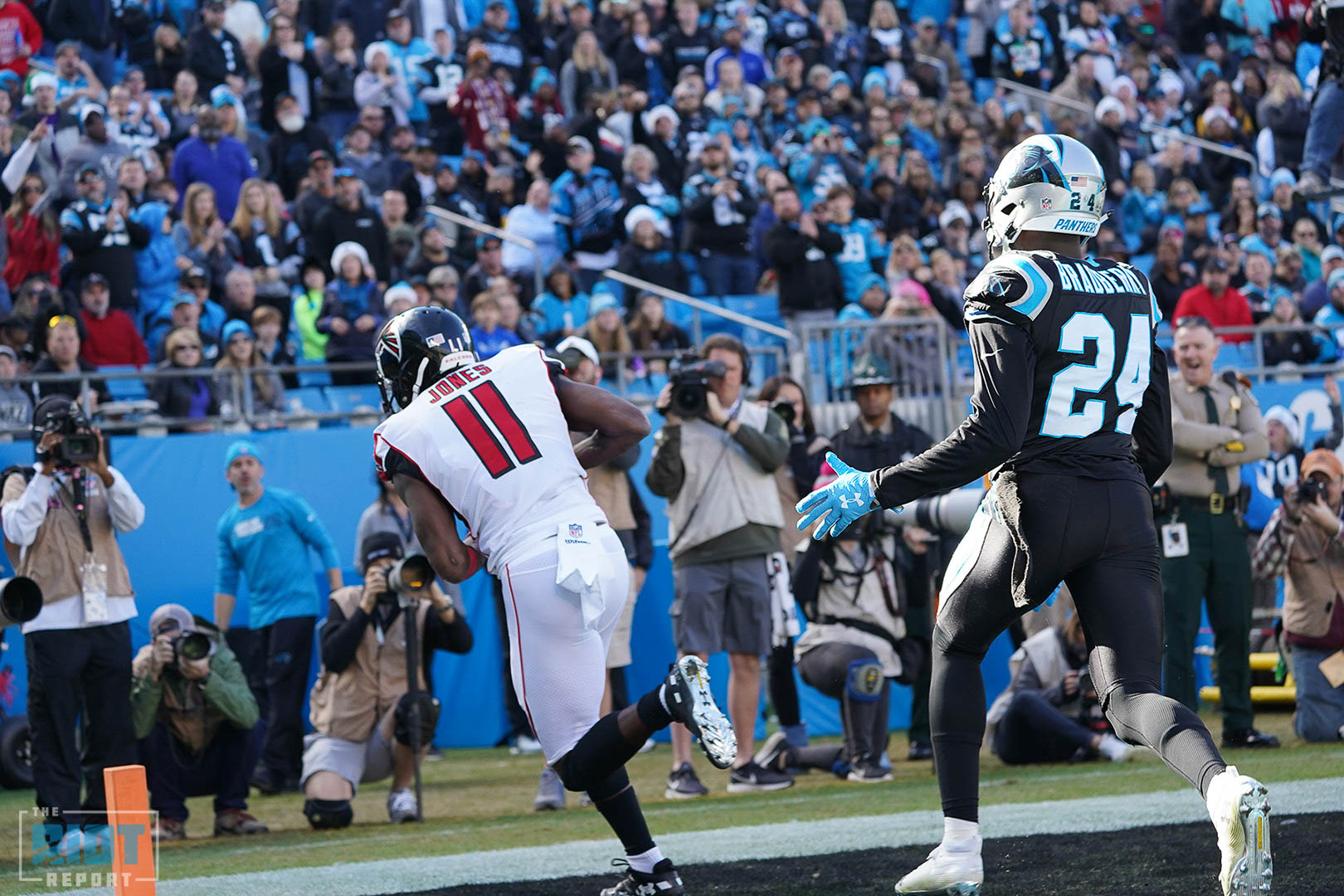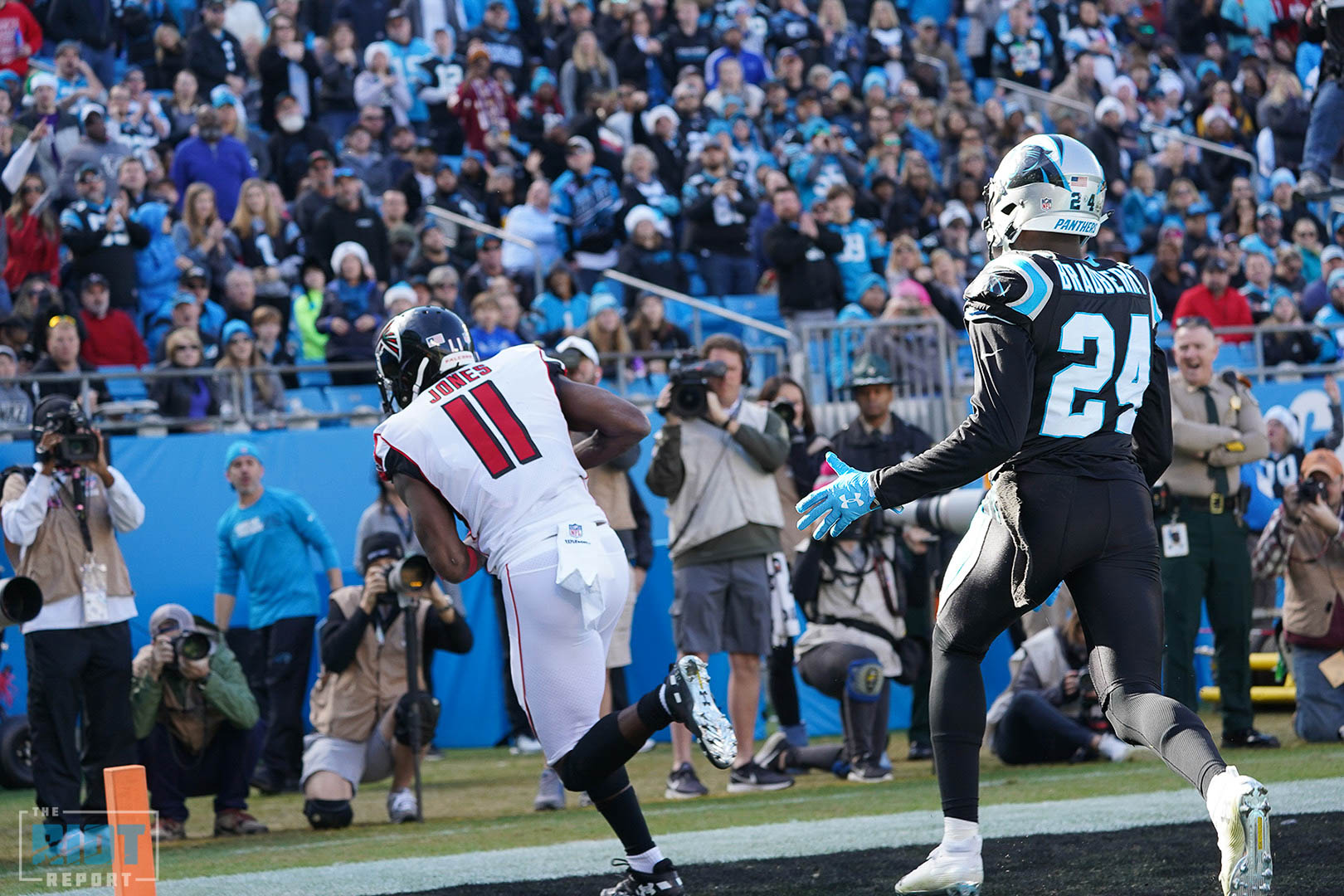 For the Panthers' secondary as a whole, the trouble with the Falcons is that they have all the firepower they need on offense and then some. Despite their 2-7 record, Atlanta has the second-best passing offense in the entire NFL thanks to triggerman Matt Ryan and other skill players like wide receiver Calvin Ridley and now-injured tight end Austin Hooper.
In order to stop the Falcons' passing attack, stopping Jones is and has always been the Panthers' top priority. For not only is he their go-to receiver, he is the sort of receiver who fits into any situational football scenario. And considering what Jones can do if a defense is not at their best, the trust that Carolina has come to place in Bradberry is absolutely essential.
"If it's red zone, we know they're probably going to Julio," said safety Eric Reid. "If it's in the field, if coach calls a blitz, James, you've got to make your money on this down."
Indeed, a lot of money is soon to come Bradberry's way. He is in the final year of his rookie contract, and the Panthers have indicated from minicamp onwards that he is bound for a second contract ("We've kind of shown that you've got to be able to keep that type of a corner around," deadpanned Rivera in June). And when Bradberry does indeed become Bagberry, his annual matchups with Julio Jones will be largely to thank. For not only do they make a difference in the Panthers' NFC South fortunes – they also illustrate that in response to a rare player at Jones' level, Carolina has found and developed a rare player of their own.
"Big guys who can move like those two can, that's a lot different," said Quinn. "Oftentimes you may see a slot [cornerback or receiver] … Of course they have that kind of change of direction. But when you see the bigger guys really playing like that, that's something. And Julio has done it forever.
"It's always a tough matchup getting his draw, but James is definitely somebody when they know each other, that they're going to go fight for sure."