Last season, Brian Burns was on his way to contending for the NFL Defensive Rookie of Year Award before tragedy – in the form of an almost-blocked punt – struck.
Burns underwent surgery on his right wrist during the Panthers bye week after slamming his fist into the ground frustrated with himself after failing to block a punt in Arizona – and that wrist would limit him, in one form or another, for the rest of the season. Prior to his surgery, Burns recorded 4.5 sacks and a defensive touchdown during the Panthers first six games of the season. After the surgery, Burns only registered three the final 10 games of the year in limited snaps.
Burns wore a cast on his wrist for the rest of 2019 – and the pass rusher reiterated while speaking to the media on a Zoom conference call on Wednesday that it affected his play.
"Having a cast on limited me from grabbing and being able to have a firm grip on the blocker or the running back or whoever it is," Burns said. "Yeah, it did limit me quite a bit. Towards the end of the season, it was getting better, but I would say it did limit me quite a bit."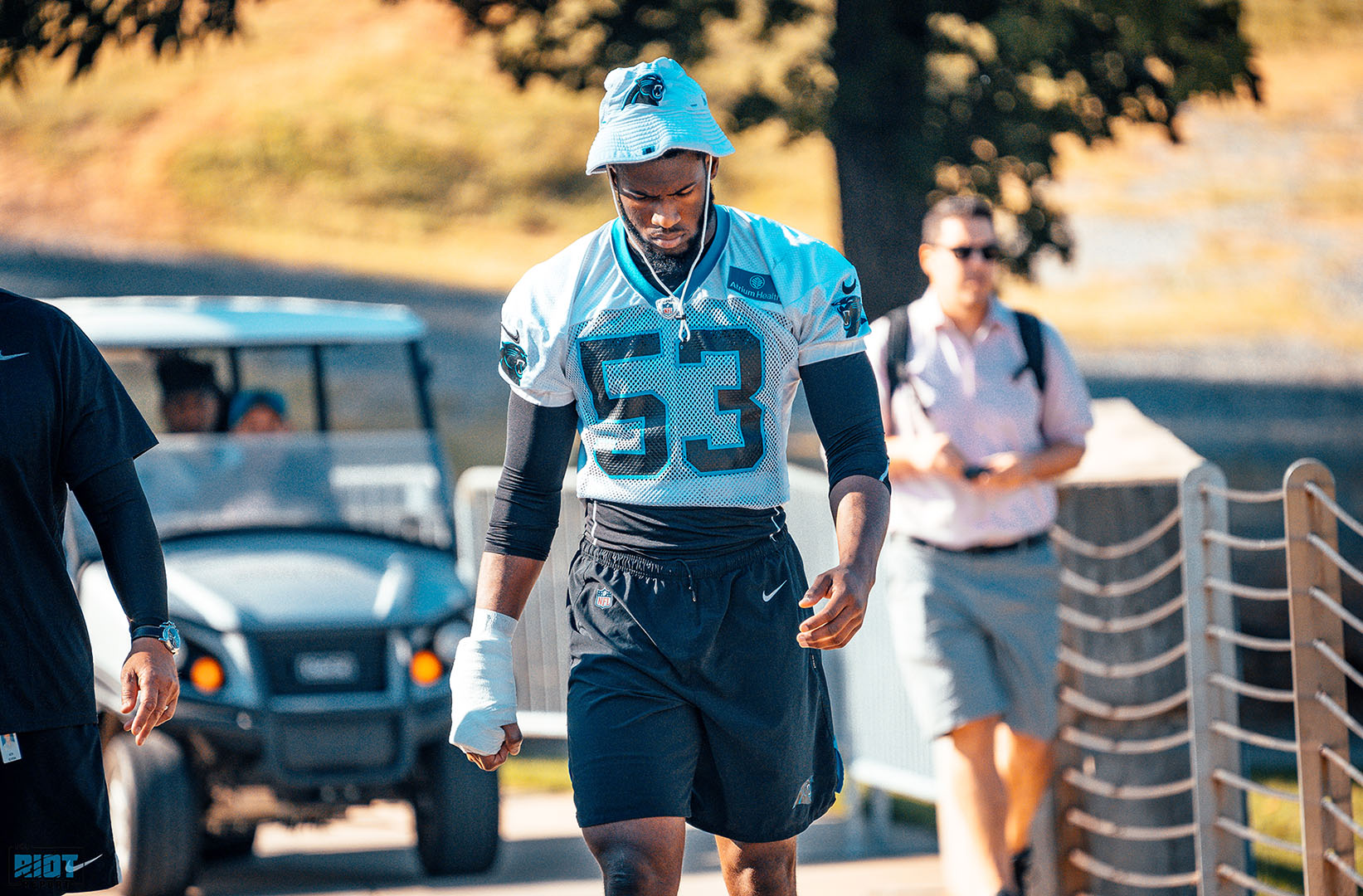 After an offseason of healing, Burns says his wrist is healthy – time spent on therapy and some exercise has restored the wrist of the 22-year old. Now, the Panthers will count on Burns to create havoc on opposing defenses – and they will need him to after a season of a lot of roster turnover.
Gone from the Panthers defensive line are veterans such as Mario Addison, Gerald McCoy, and Bruce Irvin. Not only did the Panthers have changes among their defensive line, but the team also lost the heart and soul of their defense in linebacker Luke Kuechly.
The Panthers are looking for leaders – and although it's just his second season in the league, Burns is ready to step forward.
"I think it is about how you carry yourself, honestly," Burns says. "How you go about things, you're doing everything right, and you're holding people accountable. I feel like you can be a leader in your first year.
"But you also have to back it up on the field as well."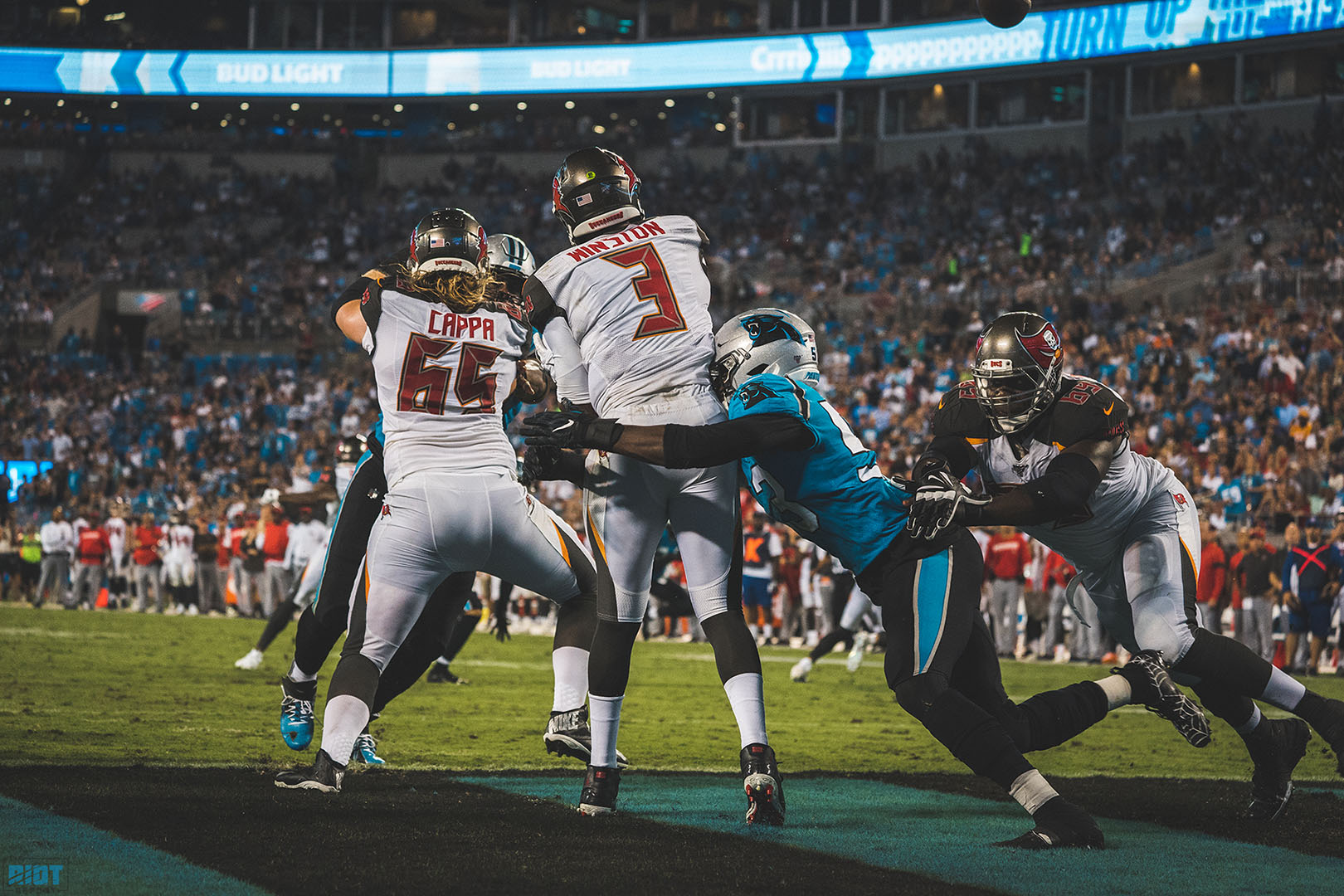 Unlike last year, where then-Panthers head coach Ron Rivera was reluctant to use Burns extensively as a rookie (except as a gunner), first-year defensive coordinator Phil Snow has a plan to use Burns not only as an edge rusher, but in a multitude of ways. As a rookie, Burns was strictly a rush end in the Panthers 3-4 scheme.
However, Snow and the Panthers believe their defensive players should be versatile. That includes not only having Burns line up as a defensive end as he was in college at Florida State in the Panthers 4-3 scheme, but also dropping back into coverage as well – something that Burns has been working on this offseason.
So don't expect Burns to be taken off the field as much during the 2020 season.
"I'm trying to teach Brian every package on the field," Snow said on WFNZ's Mac Attack in June. "He's long and athletic, he can run, and he is really smart. I don't know if you had a chance to talk to him about football, but we are not going to take him off the field. We have different packages, and he is going to play different roles. One of the things that we like about the guys that we have is their versatility."
"So not only can Brian rush off the edge, but he can drop, and he can do a lot of different things. So we are going to use him that way. And that is going to create a lot of problems for the offense when you can use guys and different roles, and they're not sure where they're going to line up."
"So I'm excited about Brian."

In 2019, the Panthers finished 23rd in total defense giving up an average of 374.5 yards per game. They were 29th against the run as they allowed 143.5 yards per game on the ground along with giving up an NFL record 31 rushing touchdowns.
To help with that, the Panthers drafted defensive tackle Derrick Brown out of Auburn with the No.7 overall pick. They also signed linebacker Tahir Whitehead, who will become the team's new middle linebacker.
They will hope those additions, along with getting Kawann Short back from injury, will improve their defensive unit under Snow.
"The defense is very versatile, and it's a lot to take in, [there are] a lot of ways we can come," Burns said. "The talent around me, there's a lot of guys I can learn from. Being in my second year, I still have KK, Stephen, I got Tahir behind me, Shaq is still here. So they're a lot of guys I can still learn from, and they're a very talented group, in my opinion."
Burns' offseason, like many other NFL players has been a bit different due to the COVID-19 pandemic. Instead of working out with his trainers down in Florida, Burns had to find creative ways to stay in shape, like buying buckets from Home Depot to double as weights.
It's tough to put on weight – one of Burns' goals this offseason – when you don't have access to proper workout equipment. Even still, Burns says he was able to put on about 15 pounds ahead of the 2020 season and plans to play defensive end at between 250 and 255 pounds after playing last season a little below his ideal weight due to not being able to work out as much as he would have wanted – again, because of the wrist injury.
But now he is closer to where he wants to be. Even if he has to do a little bit of trespassing to get there.
"It was parks," Burns said. "So when we would go out down there, we would have a group of nine or 10, and the park guy would come over and say you guys gotta get off the field. And then we go to another park – and we get kicked off that park. So we would just go to the garage just to get a lift or something."
After everything he has been through the last season and the insanity that has been 2020, he's excited to get back to football.
"I'm excited – I'm really, really excited," Burns said. "Just to be back, just to be back with the guys and to get some quality work in the weight room and just hone in on my skills. Right now, I've just been very detailed oriented. So everything from the stance, to the hand placement, to everything, my eyes."
"I've just been detailed oriented – that's what I've been focusing on."