A little over two years ago, Brian Burns walked into Bank of America Stadium for the first time as a Carolina Panther. Since then, almost everything around him has changed.
The coaching staff and front office that drafted Burns are no longer in the building, with new coaches and personnel executives taking their place. Many of the players who were in the locker room when Burns arrived, franchise stalwarts among them, have also made their exit. As the Panthers have gone through the process of modernizing themselves, all sorts of details in Burns' surroundings – from the surface he'll play on to the very configuration of the grandstands – have changed from when he donned a Panthers uniform for the first time.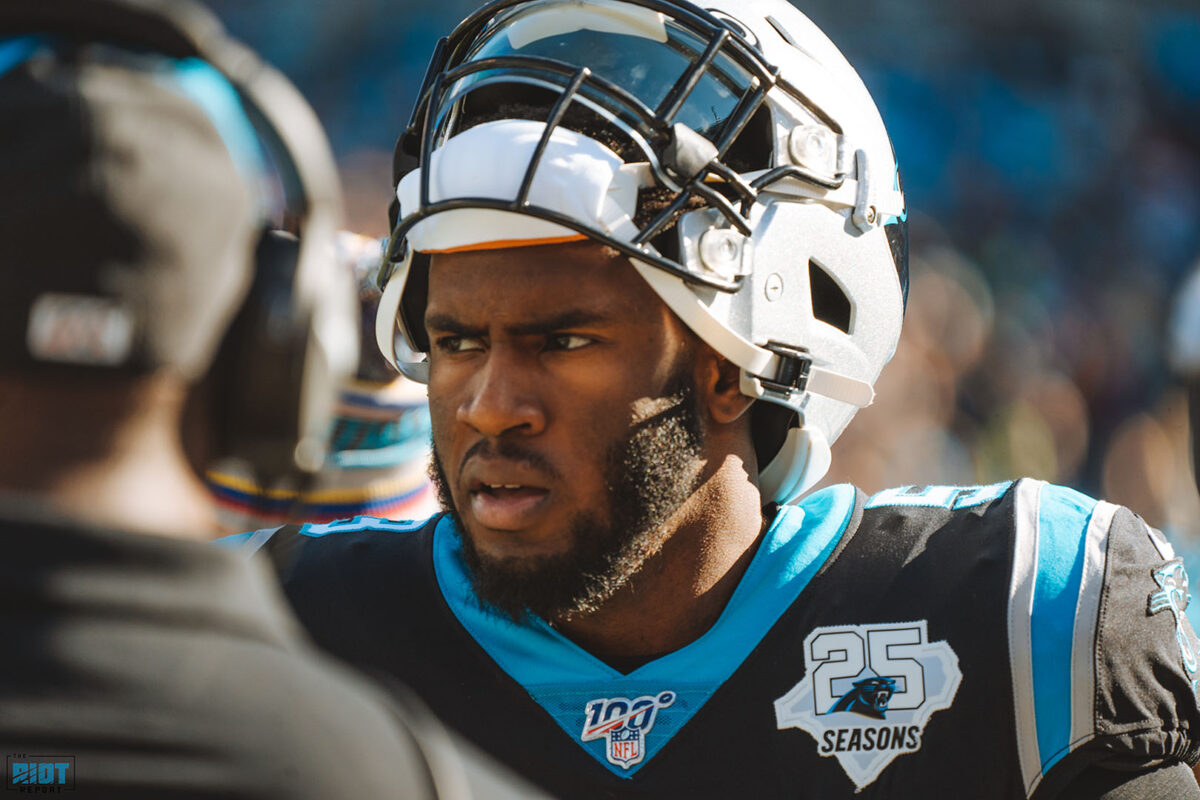 In line with all that's gone on around him, Burns himself has changed too. He's no longer the promising newcomer on an experienced, veteran-led defense but rather, at still just 23 years old, one of the centerpieces of a young, developing defense That environment has understandably accelerated Burns' coming-of-age story, and as he now enters his third NFL season, he recognizes how the inexperience of the players around him last season created a change in his approach:
"Towards the end of the season last year, I had to grow up. Even though it was my second year and I had limited snaps my first year," said Burns. "I had to grow up because I had basically a defense that was almost fully rookies. I think there was like, six or seven rookies playing at a time. So I had to grow up and kind of show them the ropes."
And having taken that step towards becoming a more proactive leader on defense, Burns is now committed to continuing to develop in this regard:
"Going into this year, I definitely gotta have that leadership role, because now we have even more rookies. But that's something that I'm gonna embrace and I want to take part of, so I'm gonna do it."
For Matt Rhule, Burns has already taken steps towards this:
"I thought Brian did a good job of starting to become more vocal," said Rhule. "… I think a lot of guys think of leadership as like a position. To me, it's if you're willing to be coached, if you're willing to hold yourself accountable, if you're willing to say 'Hey, that's on me', and if you're willing to work really hard. Brian's doing those things, so I'm sure he's someone that a lot of guys will follow."
As well as developing as a leader, however, Burns is also hoping to continue his development on the field as well. After being selected 16th overall in the 2019 NFL Draft, Burns has quickly developed into one of the NFL's best young pass rushers. After recording 7.5 sacks as a rookie despite being slowed by a wrist injury, Burns took a leap forward from a production standpoint in his second season, besting his rookie totals in sacks (nine), combined tackles (58), tackles for loss (eight), quarterback hits (21), forced fumbles (three), and passes deflected (four).
In OTAs, it is already apparent that certain things have changed about Burns, while other aspects of him will not: Even as the No. 99 he wore in college opened up following the departure of Kawann Short, Burns stated that he is happy with continuing to wear the No. 53 he has made his own. But in his uniform, Burns is now heavier than he was in 2020, putting on weight even after a procedure on his shoulder caused him to lose some mass off his 250-pound figure earlier in the offseason.
Beyond improving his body and strength, there is more that Burns needs to do in order to change another aspect of himself as an NFL player: In spite of his individual success and growing reputation as one of the best young pass rushers in the NFL, Burns has yet to be named either a Pro Bowler or an All-Pro.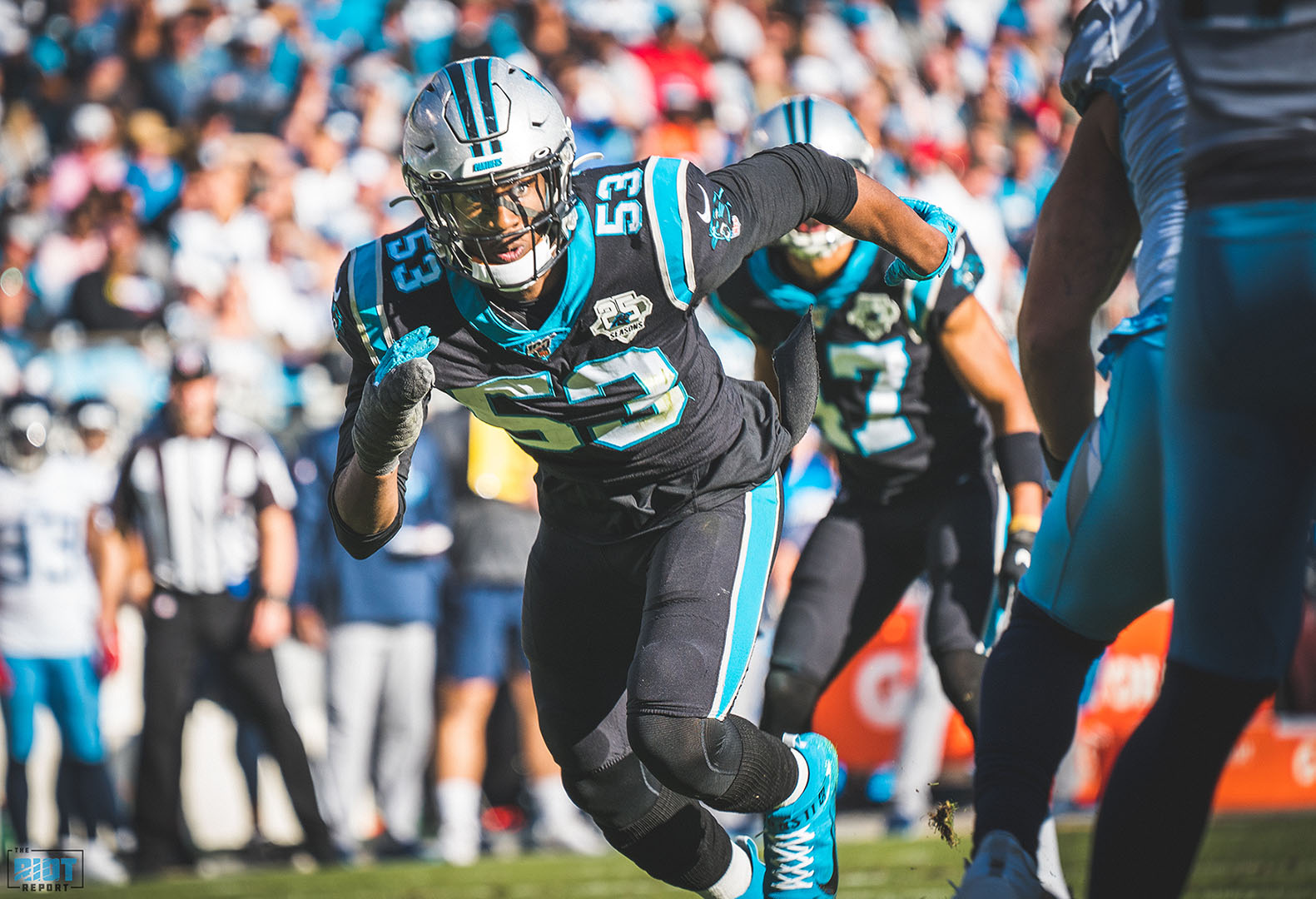 While Burns acknowledged he can't necessarily control such accolades being bestowed upon him, he acknowledged that tweaks to his technique will allow him to take that next step as a pro: Specifically, changing the times where he almost brought the quarterback or ball-carrier down last year into sure sacks and game-changing plays.
"It's like 50 percent motivation, 50 percent heartbreak. Because I missed out on a couple sacks that was in my hands – I could have been in double-digits easy," said Burns. "But it's just something to get better at, so just something to watch and I can just take those building blocks and just step on those."
There is another change that Burns welcomes: A change in fortunes and stature for the Panthers' defense.
Despite featuring mostly first-year and otherwise inexperienced players, Carolina fielded a middle of the pack defense in 2020, finishing the season with the NFL's No. 18-ranked defense after a strong finish to the year. The building of the next-generation Panthers defense – headlined by Burns, safety Jeremy Chinn, and defensive tackle Derrick Brown – continued in this year's NFL Draft with the addition of cornerback Jaycee Horn among other players.
The constant and fundamental changes that the Carolina Panthers have experienced since 2018 have, at times, elicited feelings of anxiety and trepidation. The future, however, appears to be bright for the Panthers' defense. And as he himself continues to grow and change; Brian Burns is bullish on the group he now leads changing into a force that can truly alter the franchise's destiny.
"As a defense, I just want to be completely dominant over the course of the season. So I just feel like we can really do it now," said Burns. "… You know how the saying goes: Defense wins championships. So I feel like they're putting a lot of emphasis on it. And bringing guys in — like Horn and Chinn and Brown and me myself, you feel me? – I feel like that's the start. That's how you're gonna get to it.
"Hopefully we can put on a show this year with this defense that we have. I'm excited, if you can't tell."