Sunday's game was a good news/bad news scenario for the Carolina Panthers.
The good news is the Carolina Panthers' offense finally showed up during the second half as they were able to score 24 points during the final two quarters after struggling for points in the first. The bad news is those 27 points weren't enough as the Panthers lost their season opener to the Los Angeles Rams by the score of 30-27.
Here's the other good news: Christian McCaffrey is one of the best running backs in the NFL.
McCaffrey led the Panthers offense is the second half as he registered a combined 209 all-purpose yards versus the Rams while rushing for 128 yards and two touchdowns; he also caught 10 receptions for 81 yards on the day.
McCaffrey credited his big day to the Panthers offensive line.
"I thought they did an unbelievable job, it's a good D-Line, and our line has been working extremely hard all preseason," McCaffrey said. "So to go out there and have the performance that they did, obviously, we will check the tape, but I'm proud to be a running back in that group."
"They make my job easy."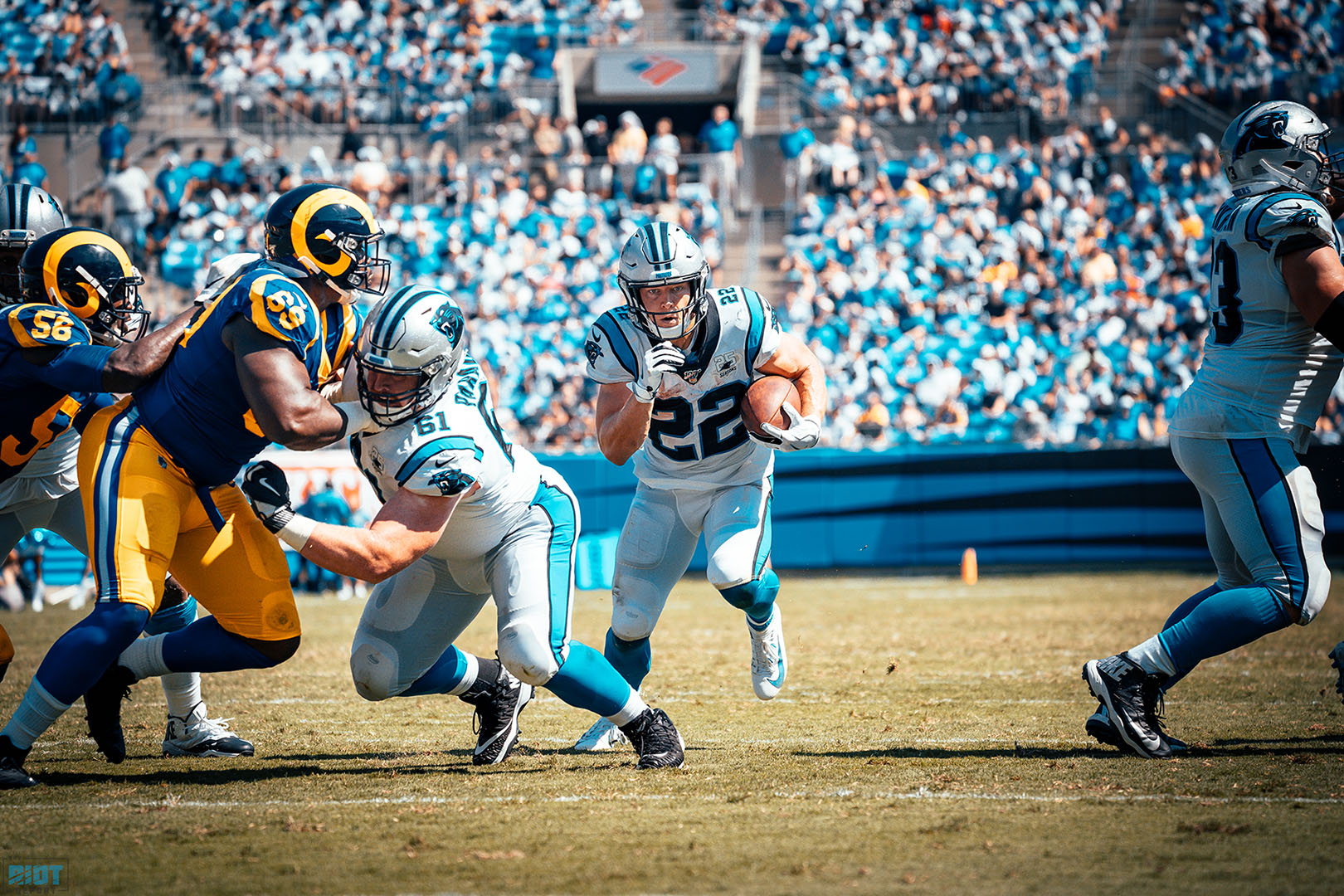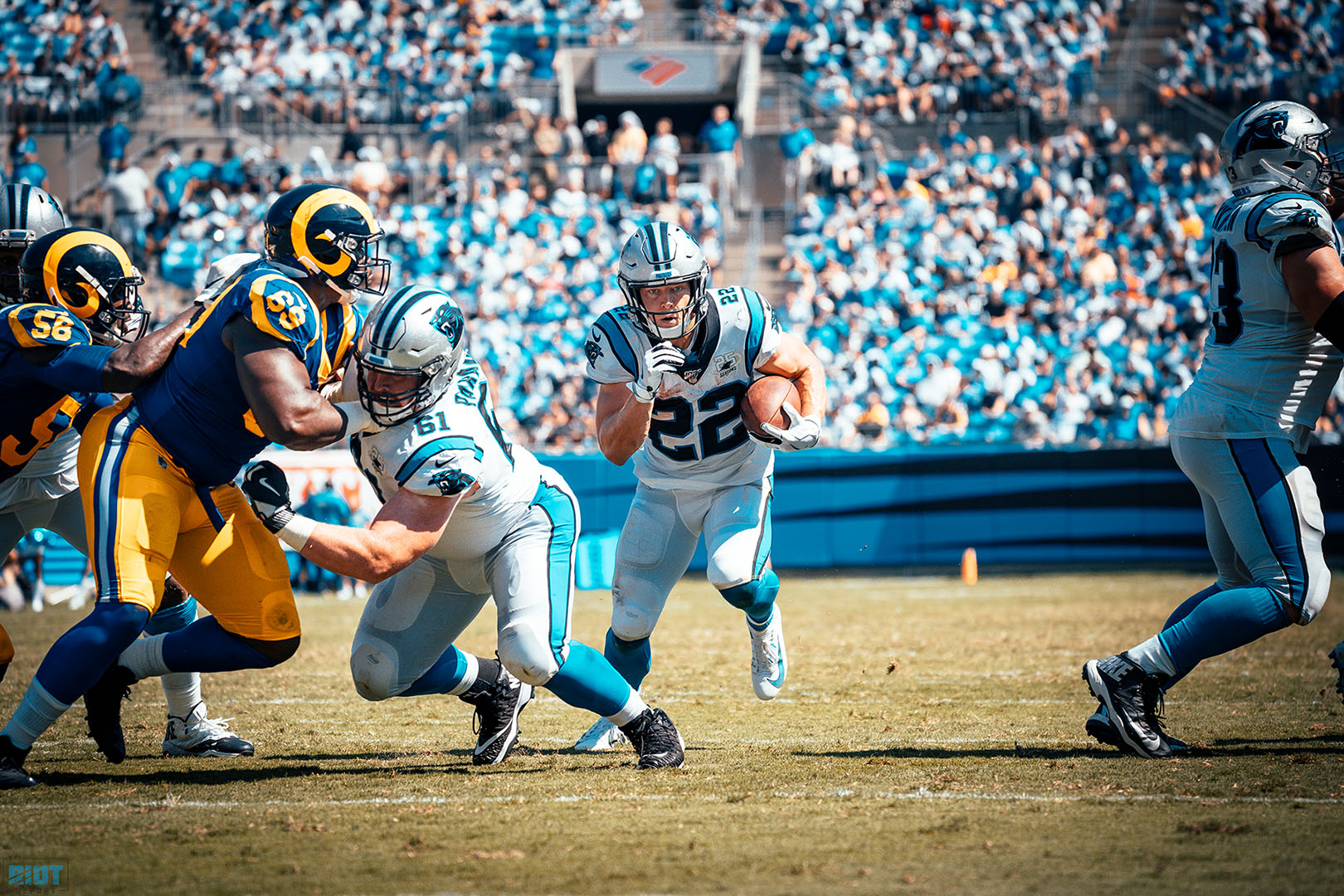 It was McCaffrey's second career game over 200 scrimmage yards, fifth career 100-yard rushing game and third career game with multiple rushing touchdowns. He now has five 10+ catch games in his career, the second-most by any NFL running back since 2000 behind former Chargers running back LaDainian Tomlinson's six games.
In the third quarter, McCaffrey's eight-yard touchdown in the Wildcat formation was huge in getting the Panthers back in the game; he would later display excellent effort to score a two-yard touchdown in the fourth quarter to cut the deficit to one score.
McCaffrey also led a late drive by the Panthers which pulled them within 30-27 on an Alex Armah 1-yard TD with 1:58 to go in regulation – McCaffrey accounted for 55 of the 69 yards on the final drive. However, Joey Slye's onsides kick was recovered by the Rams, and Los Angeles would run out the clock to secure the victory.
McCaffrey had 76 of his 209 total yards in the fourth quarter.
"He's a gamer," said Luke Kuechly. "It's amazing what he is able to do no matter what point in the game, it looks like he is fresh all the time. He is a guy that takes care of himself. He takes a lot of pride in it, he loves the game. He loves his teammates, and he will do anything to help the team win – that's what you need on your team are guys like Christian that are unselfish and play hard all the time regardless of the situation."
It was a tough day for Panthers quarterback Cam Newton as he played in his first regular-season game since December 17, when a shoulder injury forced him on injured reserve. Newton completed 25 of 38 passes for 239 yards, but had a costly backward pass that resulted in a fumble deep in Carolina territory and a fourth-quarter interception.
"I haven't met a great quarterback that hasn't missed any throws, that hasn't thrown an interception, that hasn't missed any reads," said Newton. "For me, I understand that I have to be better and those are just certain things that you can't have happen."
"In my position, I wish I could have a couple of throws back."
Despite the loss, Panthers coach Ron Rivera was impressed with the way McCaffrey played as he hopes that will carry over to their game on Thursday night against the Tampa Bay Buccaneers.
"It was awesome," Rivera said. "He gave us an opportunity to coming out of the backfield, catching passes and then running the ball the way he did."
"He gave us an opportunity to win."