In mid-March, when the Panthers made the first addition to their defensive front by signing veteran defensive end/linebacker Bruce Irvin, the eight-year vet was quick to embrace his role as a mentor, even immediately going out of his way to highlight a young player he was excited to mentor, calling 24-year old defensive lineman Bryan Cox, Jr. a "young Bruce".
But that was in March, when the Panthers' offseason was just beginning – before they spent their first and fourth round picks on Brian Burns and Christian Miller, before they made their biggest splash of free agency by bringing in Gerald McCoy and – most importantly – before their 'hybrid defense' revealed itself as more of a 3-4 than a 4-3.
Forget about mentoring just Cox; lots of guys on the defense have looked to Irvin to help them with the transition – and he's happy to help.
"When you've got a young guy that's willing to work and willing to take criticism, the sky's the limit," said Irvin about the young players he's taken under his wing. "Young guys willing to learn, taking advice, coming out here and busting their tails – that's all you can ask for in a young guy, that they come in and put their head down and work."
"Those guys have [all] done a great job of doing that."

Because of the implementation of a lot of three-man fronts, a system that Irvin has played in for the bulk of his career, players like the trio of young pass rushers, second-year rusher Marquis Haynes and even veteran Mario Addison have leaned on Irvin for the knowledge to translate the x's and o's they see on paper to the field of play – where run fits are, where certain gaps will break, and other factors are all different in a three-man vs. a four-man front, but the reality is that the responsibilities of the rushers hasn't changed – get to the quarterback.
"I've been in this scheme a minute – I know the blueprint, the ins and outs of it, so for the most part at my position – we really rush," said Irvin after the Panthers finished up their offseason program and prepared to head to their summer break. "The guys we've got, their first instinct is to go forward and rush, that's the good thing about it. The covering – we take [that] day by day and get better each and everyday."
"It's just about keeping people honest – they won't be able to know if I'm coming, if [Addison] is dropping or vice versa – both of us are coming or both of us [could] drop. That's the great thing about it, you can do a lot."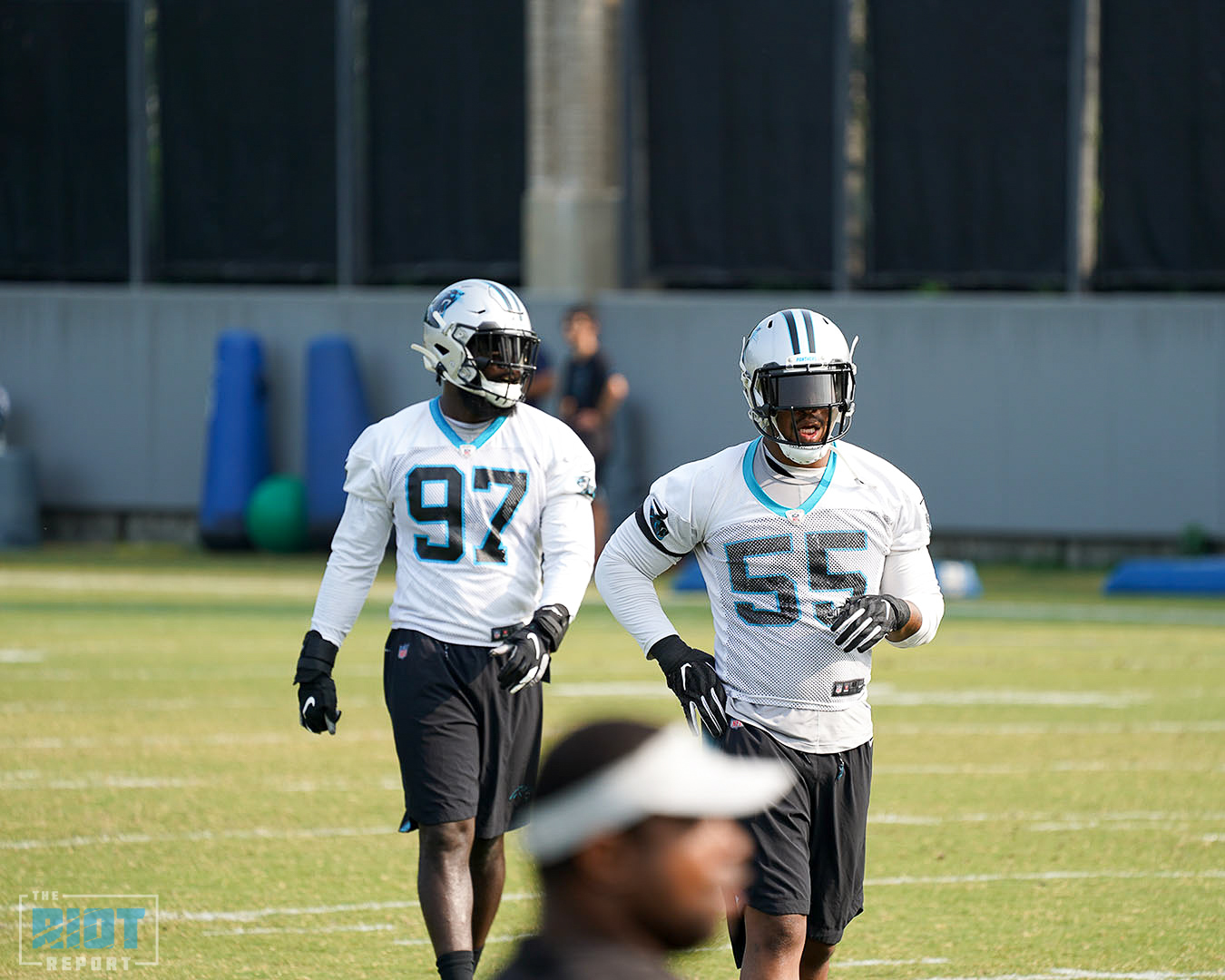 Irvin loves the versatility of the defensive scheme that has helped him rack up 43.5 sacks, 266 tackles, 15 forced fumbles, 11 passes defensed and three interceptions over his eight-year career thus far. Irvin is one of four NFL players since 2016 with more than 20 sacks and 10 forced fumbles – and Ron Rivera says the Panthers are not going to mess with success, they're going to deploy Irvin in a system he's familiar with from his days in Seattle – the type of system that had Greg Olsen calling him the Panthers' "arch nemesis" and has Rivera already impressed with not only what he sees on the field, but his relationship with the younger players as well.
"He's everything I expected him to be," said Rivera. "He's a veteran guy and you do see him putting his arm around the young outside linebackers – it's exciting for those guys to have a guy that's done it and done it very successfully, so that's one of the huge plusses about having him here."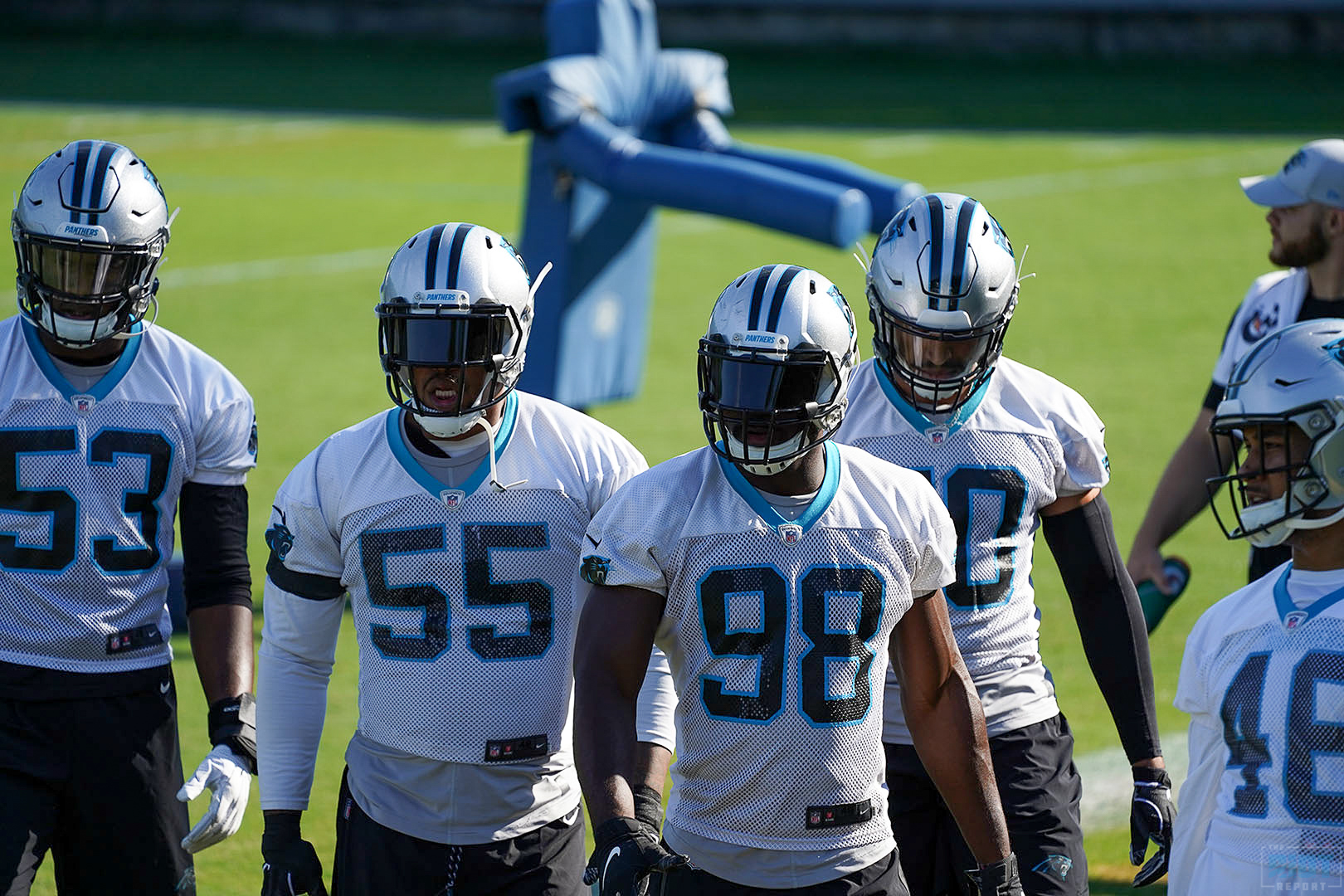 That versatility allows not only Irvin to line up in different spots pre-snap and rush from different angles – it allows everyone to move around consistently. So a linebacker group that might include Irvin, Burns, Miller, Addison, Efe Obada, Marquis Haynes, Kuechly, Jermaine Carter and Shaq Thompson in a regular rotation is a terrifying thought for offensive lines who have to play every snap with no idea who's rushing and who's dropping from play to play.
And that rotation of talent the Panthers have amassed for 2019 can help keep the defense fresh not only for 60 minutes of football on Sunday, but hopefully deep into the postseason.
"When we won a Super Bowl [in 2013 with the Seahawks], we were eight deep," said Irvin. "You put four guys in and you take them out and you put the next four in and there's no drop off – so having a pass rush is very, very important to playing late into January and into the Super Bowl."
"The [Panthers] really focused on it and they did a great job with the guys that they brought in."
Irvin was one of eight defensive ends/linebackers to play more than 45% of the snaps that season in Seattle – if the Panthers employ a rotation like that, it's going to be tough to choose who to block.
"It's ridiculous," said Thompson. "Teams [have] got to just pick their poison of who they want to double-team or who they want to go single blocks with."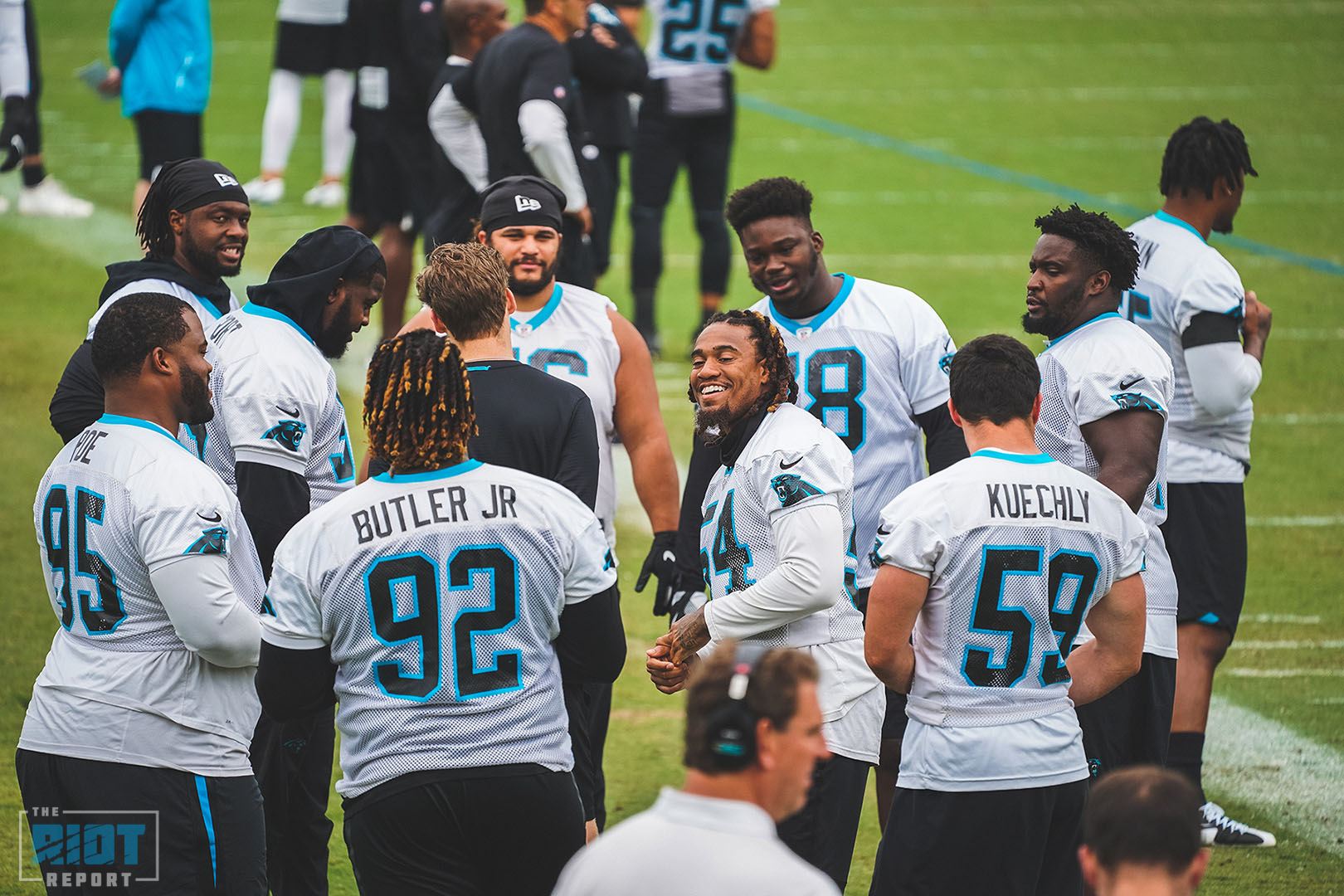 While the defense gets used to a new scheme, the offense has to attempt to block it; although the old 'iron sharpens iron' mantra gets thrown around a lot during workouts and camps, the Panthers offense, specifically Greg Olsen, is happy that some of the faces he's seen across from him throughout his career are now trying to get past him during the week – instead of on Sundays.
"We've added guys that bring a lot of not only experience but a lot of ability, a lot of talent [and] a lot of credentials to the position," said Olsen. "Obviously, with Gerald [McCoy], we know him – he was a pain in the neck to block twice a year, every year….Bruce Irvin was like our arch nemesis trying to block him when he was in Seattle and then in his quick time in Atlanta – so we've seen him a million times, too."
"It's nice that we only have to try to block him in practice; you add him with Burns, the young kids, Marquis [Haynes] coming on – you can tell they've got a little something to them – even when we're not in pads."
Just wait until the pads go on.