While the Panthers may not have needed a lot of offense to get a win against the Buffalo Bills, the wins all count the same. While all win are equal, the injuries are not, because the lasting result from this 9-3 victory might be much costlier. Tight end Greg Olsen exited the game in the second quarter and returned to the sidelines on crutches and with a walking boot on his right foot. Olsen, who has played in 160 straight games, the second-longest streak for a tight end in the NFL, was unable to return and the Panthers offense sputtered once he left the field. After gaining 193 yards in the first half, albeit only leading to six points, the Panthers were only able to manage 63 yards in the second half. "I was running a route and I just stepped and I just fell," Olsen said after the game. "I just felt something in my foot. I didn't touch anybody, I didn't get hit, it's just the way my foot went down. It just popped." Olsen has no timeline for his return, but he should be back at some point in the season.
Quarterback Cam Newton wasn't ready to make excuses for the offense once the all-pro tight end went out, and certainly not willing to let this derail their entire season. "This is the NFL, you just have to know, it's the next guy up. Obviously, you're tormented when something like that happens, but the optimism of it is, we're going to have him at some point this year. I have full faith in Ed (Dickson) and guys underneath him are going to do their jobs. I know Greg is going to coach those guys up,"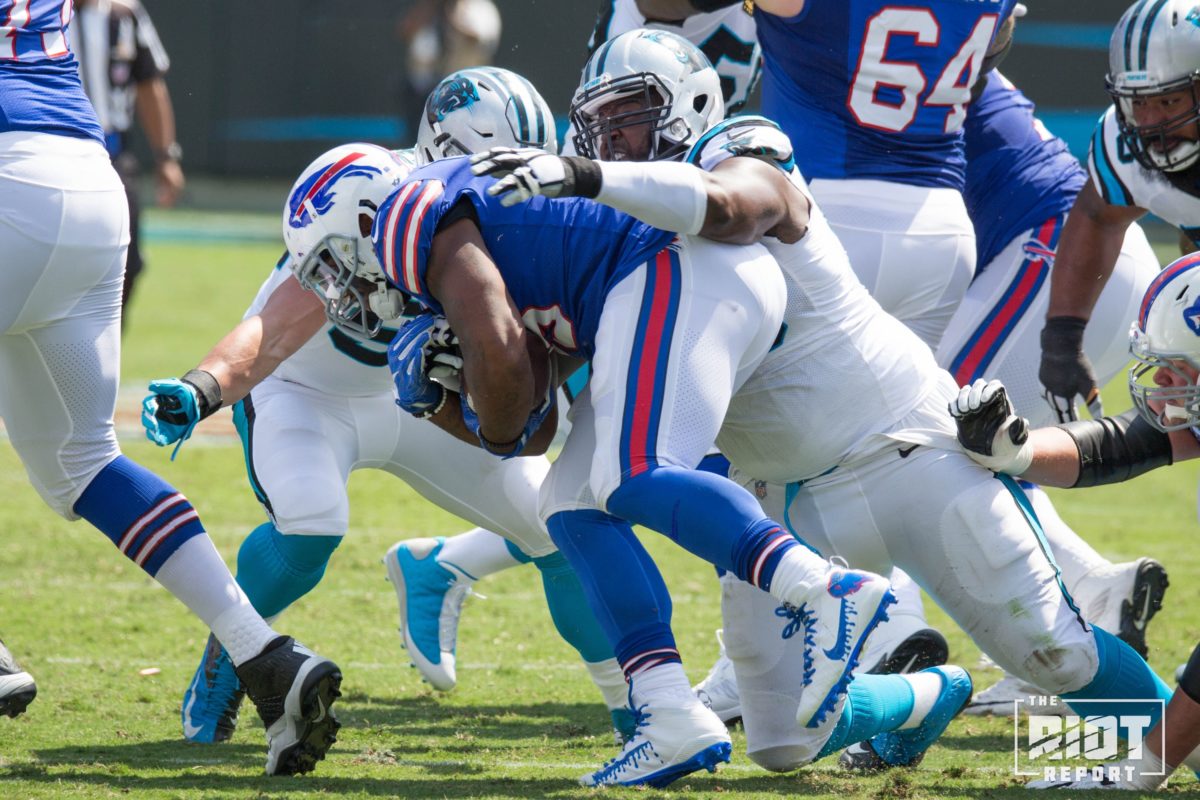 While the offense was having it's issues, it was another absolutely dominant performance by the Panthers defense. After holding the 49ers to 287 yards and three points last week, the defense added another helping of stuffing to their plate, holding the Bills to only 176 yards in front of over 71,000 Panthers fans to ruin former defensive coordinator Sean McDermott's return to Charlotte. The Panthers shut out their opposition in the first half for the second straight week, and were consistently able to get off the field in late-down situations. The Bills only converted four third downs all day, only 31% of their attempts, and only managed 39 net yards in the first half; the Panthers were able to keep all-pro running back LeSean McCoy at bay as well, only allowing him nine rushing yards on 12 attempts.
"We always know defense wins games, that is our philosophy. We had to close it out, if they don't score, they don't win. That was our mindset coming out on that last drive. We had to do what we had to do to stop them and we did it."

-Panthers defensive end Mario Addison
While the defense was humming, the Panthers offense still has some work to do. After gaining 193 total yards in the first half, the team was unable to convert long drives into touchdowns on multiple occasions, only leading by six at halftime while the defense pitched their shutout. With center Ryan Kalil not playing, the run game was never able to get going, with Jonathan Stewart and Christian McCaffrey combining for only 68 yards on 19 carries. The offensive line looked porous all day, allowing the Bills to get penetration on Cam Newton throughout the game, especially in the third quarter, where the Panthers allowed three sacks and ended the quarter with negative net yardage. Matt Kalil had trouble with edge rusher Jerry Hughes, allowing him access to Newton seemingly at will, and while Cam Newton is steadily shaking off the rust, he still misfired on a couple of throws that could have gone for gains, including sailing a pass intended for Ed Dickson for the second week in a row and missing a wide open Christian McCaffrey in the endzone. Newton was still able to finish with 228 yards and 20 completions on 32 attempts as he progresses towards full strength after offseason shoulder surgery.
When the Bills got the ball back with 2:35 on the clock down by six and began their march down the field, most fans minds immediately went to the 2013 contest that ended with EJ Manuel throwing a last second touchdown to Steve Johnson to give the Bills a one-point win; but luckily for the Panthers, the outcome was not as dire this year. After the Bills gained 42 yards on 10 plays to start the drive, the Panthers defense was able to clamp down on the Bills just as they'd done all game, forcing them to give up the ball at the 33-yard line when the pass from Taylor to an open Zay Jones fell incomplete on 4th-and-11. James Bradberry was beaten on the play, and he knew it.
"The last play, I got beat. I have to stay in the lead and make sure nothing gets behind me. I saw him throw it and I thought someone was going to be behind me; that is my fault, I have to stay back. If he would have caught it, I would have been hurt. I probably would have cried," said the second year cornerback. "Fortunately, he didn't catch it."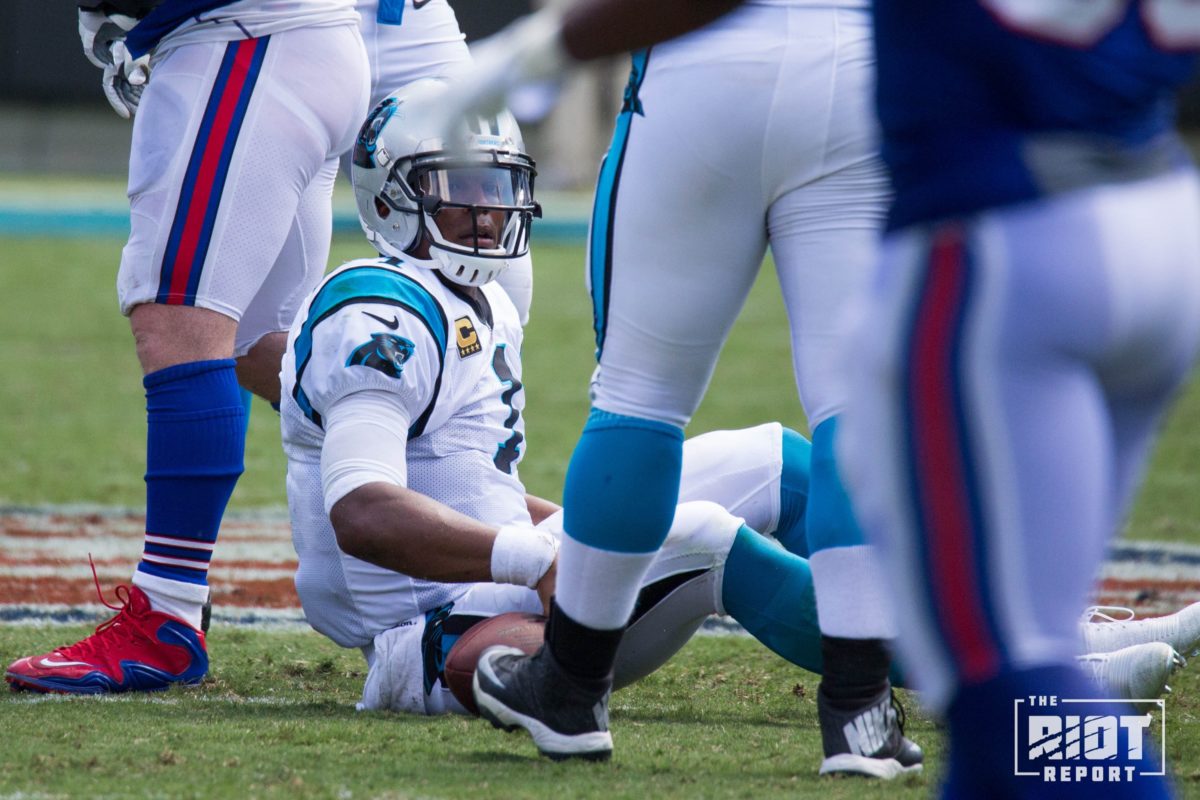 Other Notes:
Christian McCaffrey continues to have a lot of value as a decoy; a first quarter play involving a fake jet sweep to Curtis Samuel and McCaffrey in the flat drew two defenders towards him and left Greg Olsen wide open for a first down. While McCaffrey will obviously have value with the ball in his hands, his value as a decoy may be even higher; the rookie only had 44 total yards on 12 touches, but was open on a goal-line pass that Cam Newton should have gotten to him.
Michael Palardy continues to be a field position weapon, forcing the Bills to start inside their own 20 every time the Panthers punted the ball back to them, including a punt downed at the 2-yard-line. Thus far, Palardy has made the decision to keep him over Andy Lee look extremely smart. One punt was downed by gunners Curtis Samuel and Russell Shepard at the 2-yard-line. "We have two unbelievable gunners; when you see the ball go in the air and you look and scan the field and you see 10 and you see 19 going down the field…it makes my job a whole lot easier," said Palardy. "Without the protection and without the big plays from our gunners, I wouldn't be able to do what it is I do."
While the Panthers entered the game with on one on the injury report, it didn't stay that way for very long. Center Ryan Kalil did not start after he woke up with a stiff neck, and wide receiver Kelvin Benjamin was shaken up after a hard hit by safety Jordan Poyer but was able to return. Cam Newton had a scary moment with an injured ankle on a sack in the third quarter, but was able to return as well.
Julius Peppers, the 37-year-old future Hall of Famer, picked up two more sacks to bring his season total to 2.5.
Graham Gano remains perfect on the season, converting on all three of his attempts to provide all of the scoring for the Panthers.