Those hoping to come out of the Panthers' Week 1 matchup with the Rams with a clearer picture of Cam Newton's health did not get an answer Sunday at Bank of America Stadium as the Panthers franchise quarterback looked, in his own words, "a little rusty" – Newton finished 25-of-38 for 239 yards, no scores and an interception.
But Panthers fans may have – at least, in part – lived through this situation before. And come out the other side with a playoff berth.
After offseason shoulder surgery in 2017, the Panthers traveled to San Francisco for Week 1 with Newton having thrown a total of two preseason passes – and although we saw more of Newton throwing during training camp in 2019, the 11 snaps he played in New England last month were reminiscent of the 10 he played in Jacksonville in 2017 before debuting his surgically repaired shoulder in San Francisco.
And while the results were better in 2017 – Newton threw two touchdowns but neither was anything deeper than 20-25 yards downfield en route to the Panthers beating the 49ers 23-3 – the game flow had some similarities. In San Francisco, Newton rushed six times for only three yards, at the time the third-lowest total of his career – in 2019, he rushed for negative yardage (three rushes for -2 yards) for the first time in his career.
In 2017, it took a few weeks for Newton to shake off the rust – the next week, the Panthers would only manage nine points against the Bills in their home opener and they would get blown out by New Orleans in Week 3 before exploding in Week 4 against the Patriots as Newton finally shook the rust off.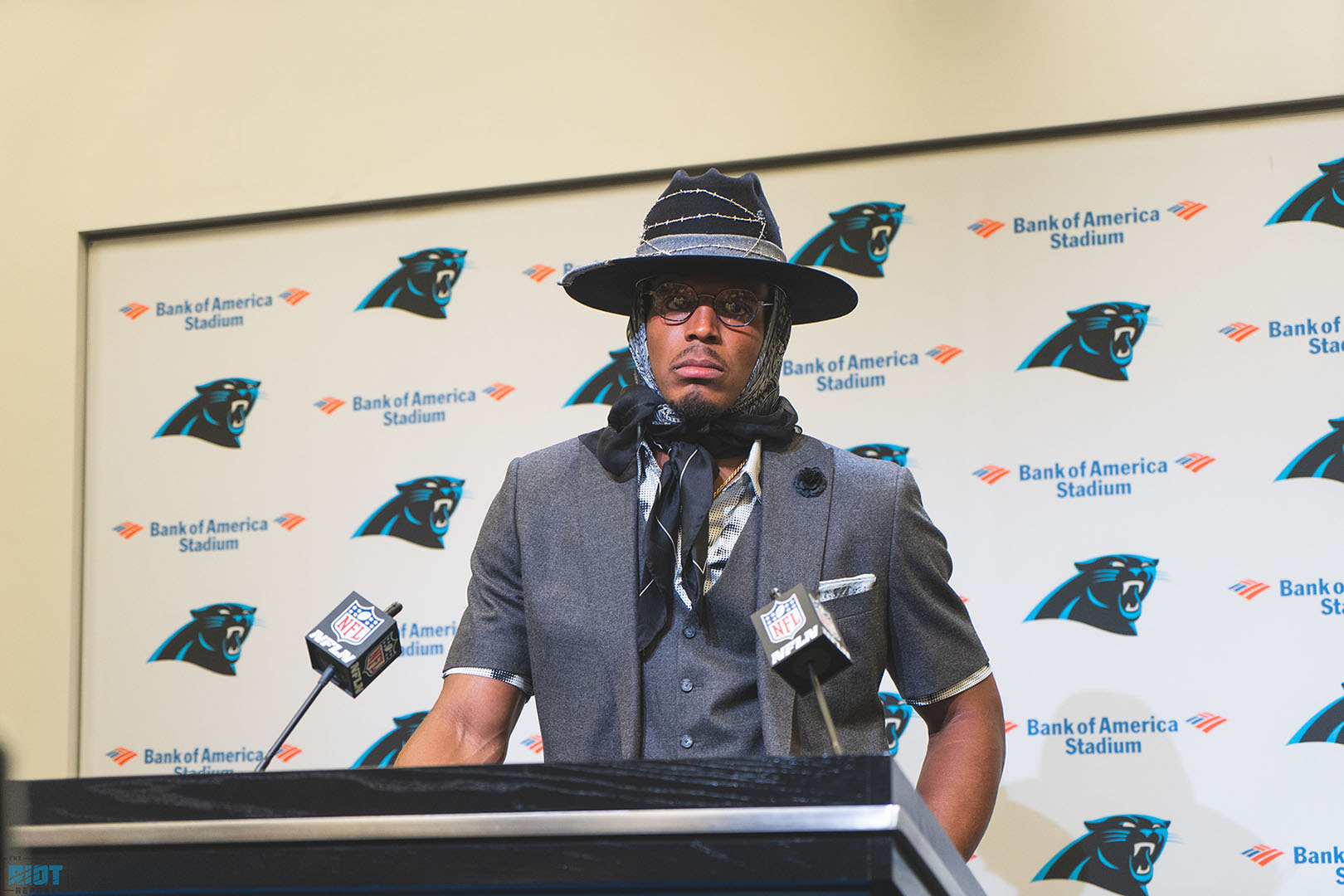 "Everything felt great," said Newton about his Week 1 performance. "A little rusty, just have to get on the same page with everybody. But, all in all, we had our opportunities today and I think that's the most frustrating part because you feel that this is your time."
"Not being on the same page, not being connected to the same WiFi, whatever floats your boat….We didn't have the start that we wanted to have. We've got to do a better job of protecting the football."
Instead of facing a 49ers team that would finish 6-10 as they did in 2017, the Panthers were facing off with the defending NFC Champs. Even though the Panthers had a chance to win against the Rams on Sunday before ultimately falling short, it wasn't the play of Newton, who has personally willed his team to victory in games they appeared to have no right to win, it was the spectacular play of Christian McCaffrey that kept the Panthers in the game.
"He gave us an opportunity coming out of the backfield catching passes and then running the ball the way he did," said Ron Rivera. "He gave us an opportunity to win."
The third-year running back accounted for 209 of the Panthers' 343 total yards and there were times that Carolina needed a big play, especially in the second half, and Newton and the rest of the offense weren't able to come through.
Down three after a James Bradberry interception, Newton missed an open Curtis Samuel on the wheel route. On the ensuing possession, now down ten, Newton threw an interception to linebacker Cory Littleton trying to throw an out to Greg Olsen.
"That one, I just rushed it," said Newton after the game. "When [Olsen] was kind of out and down in that hole, the defender realized the same thing that I was doing, too. That just comes with time. I haven't a met a great quarterback that hasn't missed any throws, that hasn't thrown an interception, that hasn't missed any reads."
"Through my lens right now, it's extremely frustrating but at the end of the day you can't do anything about it but move forward."
The good news is that Newton said he didn't think about his shoulder during the game, certainly not something that could be said last season. But those hoping for Newton to come out and uncork the kind of long bombs he did on the first day of training camp were still disappointed.
"I took what the defense gave me," said Newton, who chalked up some of his inaccuracy to 'first game jitters'. "I go through the specific reads in a timely manner and that's how I always play. You don't call plays [and] say to coach 'let's throw the ball deep and see what that gets us,' – that's not our mentality."
Newton also didn't use his legs on Sunday; the thing that makes him the biggest dual threat quarterback in the NFL wasn't a factor against the Rams as the only designed run came with three minutes left in the fourth quarter – and went for negative yardage. The mid-foot sprain that Newton suffered in Week 3 of the preseason didn't keep him from practicing this week, but it clearly affected the gameplan.
"We came in here anticipating MVP Cam," said Rams linebacker Clay Matthews. "Obviously, he didn't scramble as much as many would have thought. If that's because he's getting older and wiser from taking hits, or if it was the [foot], then so be it."
The Panthers still had a chance to win in the final minutes of the game and that's all the Panthers, Cam Newton and the coaching staff can ask for – the Panthers will come out of games like this against lesser opponents with a victory. But questions will likely ultimately linger until Newton is is able to will his team to victory as he's done throughout his career – relying on McCaffrey to have 29 touches and over 200 total yards every week isn't a recipe for lasting success.
"At the end of the day it's still three points, we left more than three points out there," said Newton. "With the opportunities [and] the things that we have done to get us to put ourselves in that position [from] all three phases – special teams, offensively, and defensively, we had opportunities to score more than the three points than we lost by."
"That's what it comes down to."