For the first Wednesday in 45 weeks, Cam Newton was a full participant in a Wednesday practice.
What became the 'new normal' for the Panthers franchise quarterback – limiting his throws on Wednesday and Thursday ramping up to Friday's practice in order to get him to Sunday before rest and rehab Monday and Tuesday and then starting the cycle over again – as Newton's shoulder slowly deteriorated until he finally gave way to backups for the final two games of the season after his team had essentially been eliminated from playoff contention may be a thing of the past. That seems to be the case, at least for now, as Newton said he feels "like a rookie again" heading into his ninth season even after suffering a foot sprain during the third preseason game.
So Newton will head into Sunday's Week 1 matchup with the Rams feeling good – and that makes his teammates feel good.
"After you miss a couple of games, a couple of practices, you're super excited to go out there and make a mark on the game – you know, everybody has their doubts, but we're not worried about that. We're going to make things happen," said wide receiver Curtis Samuel, who seems poised to take a huge leap in his third season. "Cam's got that energy, he's got that juice. You know when Cam's out there. Even when Cam is not around, he's going to motivate us, but when he's in the huddle, it's a different feeling."
"We're all super excited – we can't wait to go out there and make things happen."
Whether it's the vegan lifestyle he adopted after last season, the arthroscopic procedure he had on his throwing shoulder that has his deep ball looking better than it has in years, Newton was back to his old tricks on Wednesday, whether it was dancing along to Meek Mill during practice, comparing kicker Joey Slye to a character from Varsity Blues or happily stumping to be included in the team's social media 'Cat Pack' campaign, Newton certainly seems mentally ready for Aaron Donald and the Rams.
Here's what he had to say when he spoke to reporters on Wednesday:
On this week's matchup: We're going against a great team. It's a very strong front seven and a very talented secondary and then, opening up at home means a lot for us, for me and I know we're going to need full support from our fans as usual. I'm excited for it.
On Curtis Samuel: Curtco? He kind of migrated from his once nickname [of] 'Cupid' for obvious reasons. He doesn't have a girlfriend anymore. But Curtco is a person that is a very vibrant person – the energy that is around him is contagious; it's contagious. We have a couple of those guys on our team as a matter of fact and Curtco is just one of those guys. Dennison [DJ Moore] on the other hand, he could be in a room with you for a whole two days and won't say nothing to you – but he still will be productive. But the thing that's been more refreshing has been how both of them play off of each other; for two receivers to be in such high demand, they've played extremely well together, they understand [that] it's nothing against each other. They challenge each other to be better, so if one of them makes a play, the other one feels as if he has to make a play, too. But doesn't make it vocal and noticeable, you know what I'm saying? They understand what Norv is trying to get them to do and he understands as much as possible.
It's been apparent that [when] he's been healthy, he's been a big asset for us, but he's been doing everything asked of him, but now this is when everything really starts taking account of everything. No one cares what you did in preseason games or training camp or joint practice. It's irrelevant. Now the decisions, the catches, the touchdowns, everything counts.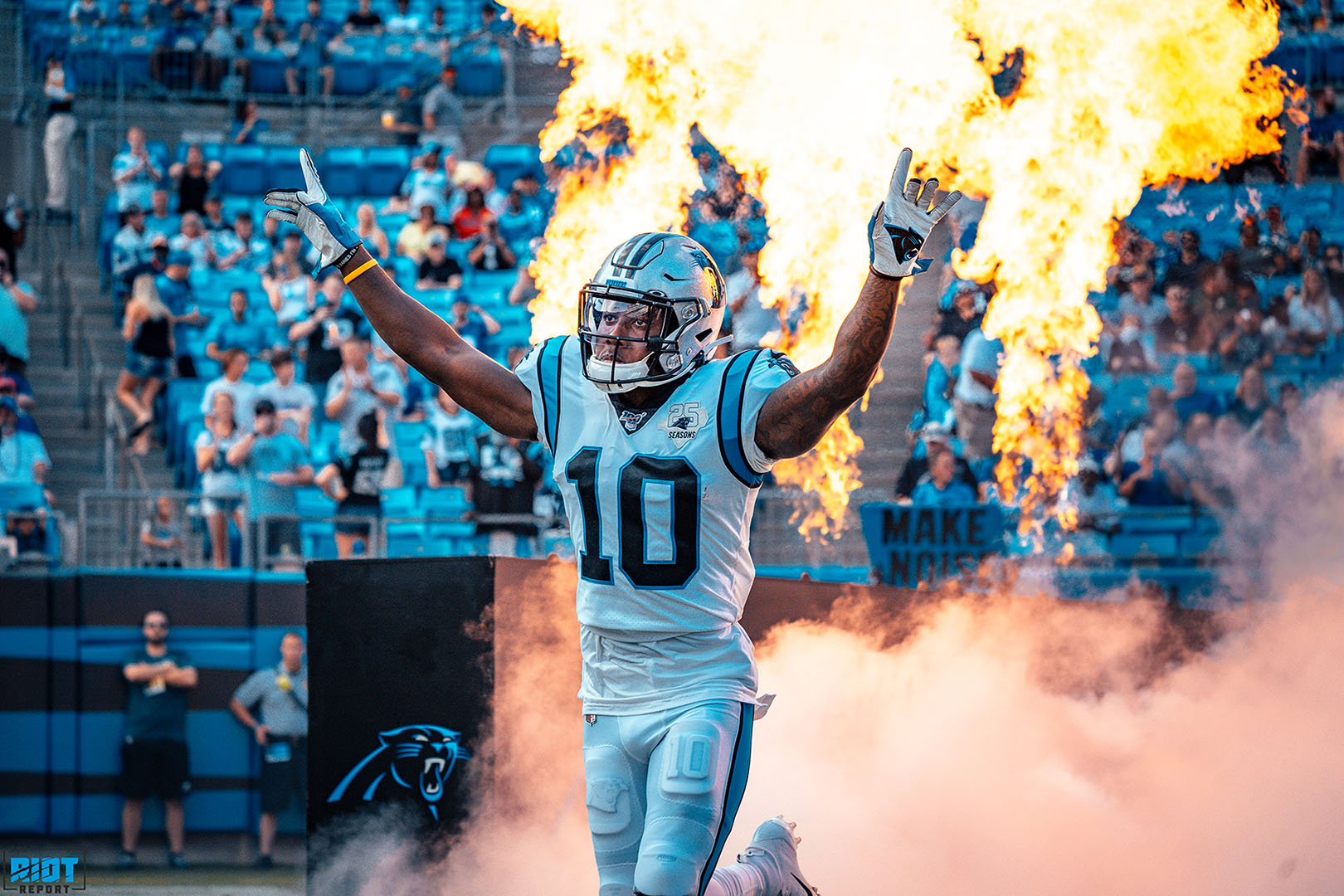 What Christian McCaffrey has added for Cam Newton: Outlet. Safety valve. Rescue button. Life harness. Easy button. An old go-to. C-Mac, just like a person I've been playing with a long time, is very consistent, reliable and understanding of the game of football.
How does McCaffrey compare personality-wise to Curtis Samuel and DJ Moore: First off, I've got a beef with all three of them. They've got this thing right now, where they're a part of the rat pack, the cat pack, whatever it is. And I was thinking they need a lead singer – kind of like The Temptations. But David Ruffin was in The Temptations but it was 'David Ruffin & The Temptations' – y'all could add me to it, Ace Boogie & The Cat Pack. If they want to set records, if they want to get noticed, just holla at your boy. But other than that, he's alright.
On Joey Slye: Swole Tweeder! I told him two weeks ago – he's been very humble and he's been playing his humble role – and I told him, you keep kicking the way you're kicking, you're going to kick yourself right into a job. And that's what he did and there's really no pressure for him – just keep doing what he's been doing, but now they count. As far as the things he's been doing, his preparation, he may have the least body fat of any kicker in the last decade of kickers. Honest to God. He's a licensed trainer and he does not hesitate in any hour of the day to work on his obliques, his triceps, biceps, squats and all of that. You can't see it because he wears a 6X jersey and I told him, because I'm the incorporated swag coach, I told him – 'Bro, you've got to get smaller jerseys, to fill out your [chest],' but if he's not worried about it, I'm not worried about it.
On whether it feels weird being his ninth year: Sometimes it does, but I feel like a rookie again. Having fun, feeling good and the thrill is still there. I'm blessed, man. Just knowing that you've got to put a lot of things into perspective.  Just two or three days ago, grown men cried, you know what I'm saying? People getting unexpectedly cut, released, traded, whatever – I'm just lucky to be a part of a fanbase and an organization for these same nine years and a lot of people can't say the same. My oldest brother, who played in the NFL, was one of those guys who was cut, brought in, cut, brought in, cut – and he always reminds me. So, for me, being in year nine, I'm just as humbled to have the opportunity. I want, everytime a person sees me play, talk or whatever, I want them to see the joy as if it's day one – because that's how I feel.
On if his health is playing into that joy: Of course. I'm vegan – vegan strong. That helps a lot. I've been a vegan all year and I don't think I'm going back. I feel good, I recover well and that's what it's pretty much all about. You're not putting certain things inside your body that are going to combat your body trying to recover. Obviously, the human body cures itself, but you want to put things in your body that helps expedite that whole process. You don't want to put foods in your body that's going to create inflammation and you want to do those things – as I get older, I think we have had a lot of great blueprints over the years and still kind of have a blueprint in guys who take care of their body. There's no secret, it's because of their diet.
On his offense: We just want to execute. We want to get back to Carolina Panthers football and that's staying on rhythm. It's not necessarily a run-and-gun offense, it's not necessarily controlling the clock, it's not necessarily taking shots downfield – all that's well and good. But we want to get back to doing the things that we want to do when we want do them on the terms that we do them at.
On the difference between Ryan Kalil and Matt Paradis: I miss Ryan, I want him to know that. But life still goes on and Matt has been such a great addition for us. He probably snaps the ball harder than anybody I've had the opportunity to take snaps from. He has this aura about himself that he wants to be in control and I like it; we feed off each other. I think everybody's kind of firing on all cylinders – everybody's optimistic right now. Holler at me around Week 4, Week 5, you know what I'm saying?
Everybody feels like they're doing the things that nobody else is doing – they feel as if they're going to be the team to win the Super Bowl. At this particular point in time, I want to say it publicly – I could care less about the Super Bowl, I'm just trying to become 1-0 on Sunday.