Cam Newton hasn't had a black eye since middle school.
When Newton scrambled right on third-and-nine, he knew he had enough room to get the first down. He also knew it was the preseason. But here's the thing about Newton: it doesn't matter that it's the preseason. He wants it.
"I was thinking to myself, "It's preseason, it's preseason. What do I do? I want to get a first down, but I want to bring this plane in as smoothly as possible," Newton said. "As I'm thinking all that, my man went low and I tried to avoid the hit and helicoptered out of there or whatever. The helmet came down on my eye….it could have been better. It was a lot going on. A lot of malfunctions from the cockpit. Buttons were getting stuck."
"Oh my goodness, it was bad. It was real bad."
Once Newton came down on his head, the referees placed him in the concussion protocol – and as he was in the blue tent on the sidelines, he continually insisted that he wasn't concussed, it was his eye that hurt; even two hours later, during his postgame press conference, Newton said his eye still hurt as the beginnings of a black eye began to take shape — his first since middle school.
VIDEO: Not the best decision from Cam Newton. The Panthers QB is now in the injury tent pic.twitter.com/lJJzL3k5gK

— Patriots on CLNS (@PatriotsCLNS) August 24, 2018
"Back in middle school, I had one of these," pointing to his eye before rearing back with his signature 10,000 watt smile. "But you should have seen the other person and what they had."
Whether it's running or passing, Newton says he's a fan of however he gets the ball down the field; that's his job – one way to get the ball down the field on a consistent basis has been the focus on improving his completion percentage, a number that new offensive coordinator Norv Turner insisted could end up between 65% and 70%. Wherever the number lands, Ron Rivera is happy with what he's seeing in Newton thus far this preseason – a three game stretch in which he's completed 68.4% of his passes but more importantly, spread the ball to ten different receivers.
"I think he's learning to play more and more consistent, Rivera said after the Panthers' 25-14 win over the Patriots in which they entered halftime with a 9-3 lead. "He's making good decisions off of good reads and he's finding the right opportunity to put the ball in there [and] force some throws as opposed to holding onto it and waiting. I was very pleased with his effort and the way he's worked – I think it reflects and shows in how this team has played so far; we've still got a long way to go – this is the preseason, we're still learning."
"One of the things I've always talked about is a couple of years ago (2015) when we had our good run was the different targets and the ball being spread around, so it's not just one guy that there's a responsibility to and I think it takes a lot of pressure off of the quarterback when he knows he can spread the ball around."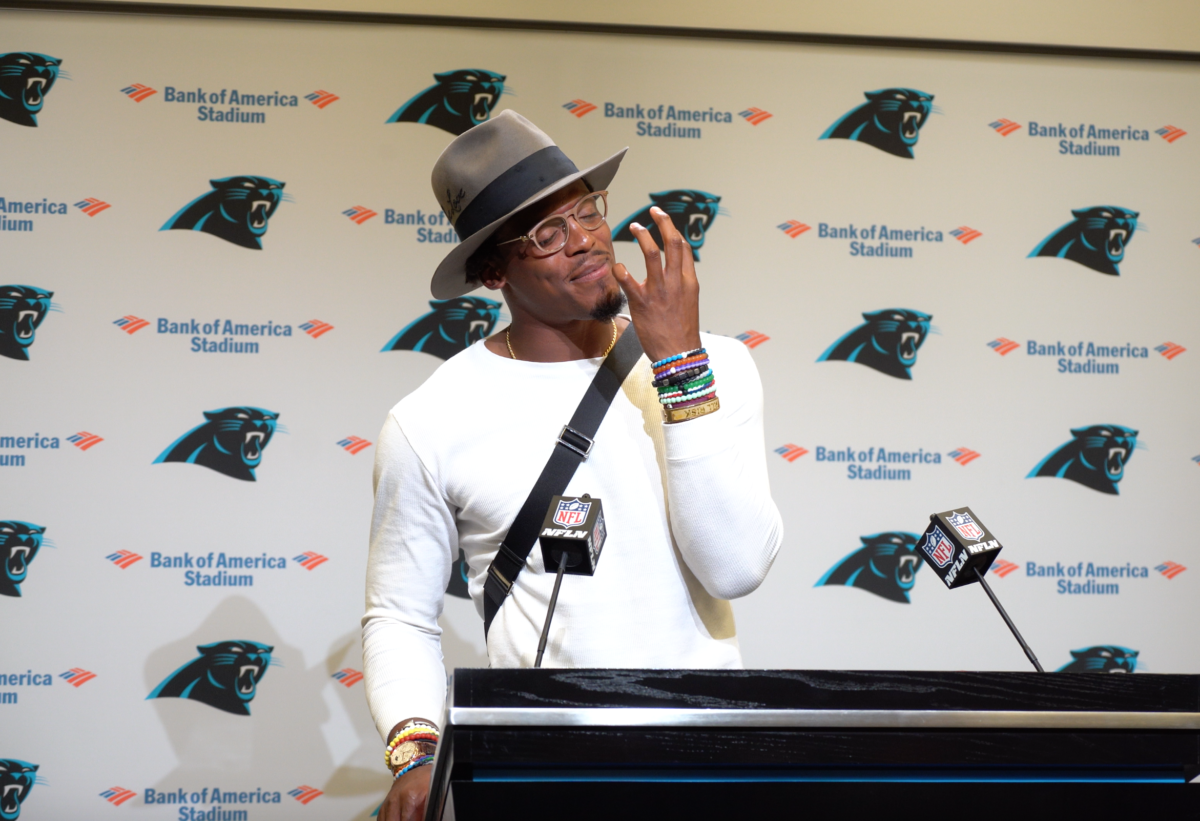 A lot has been made of the weapons that surround Newton – he's still learning exactly how to use them, but he's certainly utilizing them – Newton targeted seven different players in a half of work Friday night.
"When you can throw it to Funch and turn around and throw it to Torrey and to Jarius and then you start throwing in the mix the young guys – DJ, Curtis and Damiere; those weapons at wide receiver are pretty exciting and then when you add Greg into the mix and Ian and the two backs – when you've got targets like that and you spread it out, it creates space for everybody."
Running for a first down can help create that space, too; a healthy running game like the one the Panthers showed in the first half in which they averaged 4.4 yards per carry and Christian McCaffrey had 12 totes helps as well – but when your quarterback is the one running the ball, sometimes it ends up with a shiner tarnishing the face of the self-proclaimed "unincorporated assigned coach for swag on the Carolina Panthers."
"I'm not used to seeing myself feel like this, you know? I'm just going to find a lot of ice on this off day and soak in it."
He can soak in a 3-0 preseason record and a completion percentage almost ten full points than his career average as well.