The Panthers have a problem.
Previous to this week, the longest losing streak of Cam Newton's career was the six games the Panthers dropped in 2014 – they currently haven't won a game with Cam Newton as the starter since November 4th of 2018, a stretch spanning two seasons and eight games.
For the first 120 games of his career, Cam Newton didn't have two consecutive games where he didn't account for a touchdown, either with his arm or with his legs. Dating back to last season, he's now had four such games in a row.
The problem last season was clearly his shoulder – this season it appears the problem is a little lower.

Over the course of his career, the Panthers have kept Newton's health mostly behind closed doors, but the now 30-year old has endured two shoulder procedures in three years – the latest one being this past January; he's suffered cracked ribs, concussions, a broken back and a thumb injury.  The Panthers continued to roll out Newton last season even as his shoulder deteriorated to the point that he couldn't throw the ball more than 20 yards in the air.
Just over three weeks ago, he suffered a mid-foot sprain and for the first two weeks of the regular season, the thing that made the Panthers franchise quarterback the hardest quarterback to defend in the NFL hasn't been there as Newton has rushed five times for -2 yards in two games.
Newton has rushed for either zero or negative yards exactly four times out of the 125 games he's played – two of them have been in the past two weeks.
"I do. I feel okay," Newton said after the Panthers 20-14 loss to the Bucs when asked if he felt capable of running the football. "You're not going to hear any type of reasons why tonight didn't go as planned. I have to be better. No matter what physical condition I am in, no matter what – foot, shoulder – I didn't get the job done tonight. I wish I could say something other than that, but that's the facts. I am an extremely, brutally honest person with people and extremely, brutally honest with myself."
"It's time for me to look at myself in the mirror and do some real soul searching because I had opportunities tonight and I didn't get it done."
For years early in his career, the question was whether or not Cam Newton could play the style he played and have the longevity of other quarterbacks – the list of quarterback rushing records is long, but perhaps this one is the most telling: Newton needs just over 120 yards to pass Randall Cunningham for second-most rushing yards by a QB in the history of the NFL – Cunningham played 16 seasons in the NFL and Newton just began his ninth.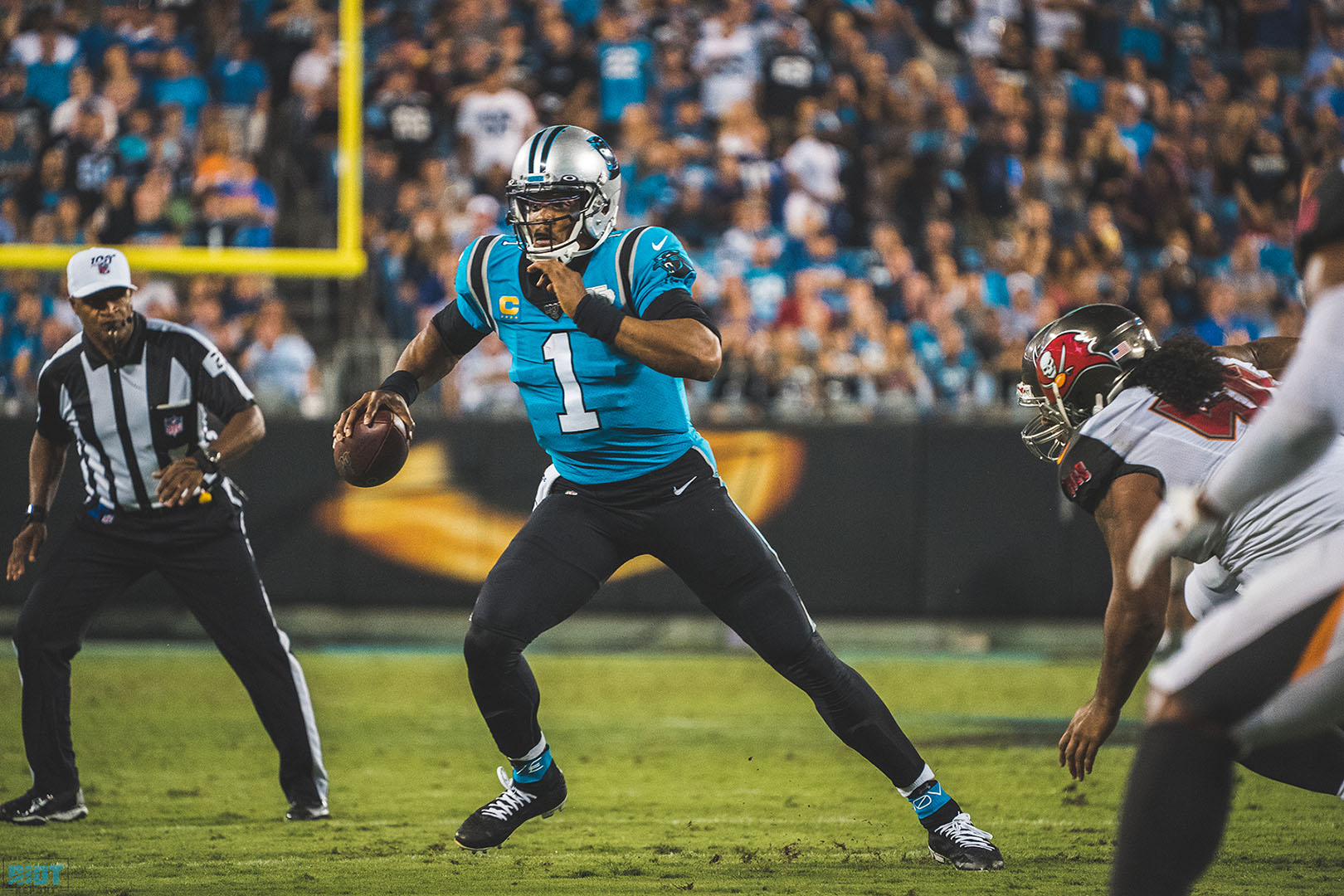 The problem's with Cam's shoulder – a storyline this week after the Panthers didn't test the Rams deep in Week 1 – will likely take a backseat to the questions of why Newton isn't running the ball. While Newton was inaccurate at times, particularly to the right side of the field as he attempted the second-most passes of his career on Thursday night and completed less than half of them, there's a case for a player shaking off the rust and still getting used to slightly different mechanics as he begins the season – especially after he didn't practice for almost ten days after the Patriots game and had only one practice session this week before playing on a short week.
Whether you believe that case is a question of your optimism level – but the case for Newton not running the ball seems a lot flimsier.
"No, his foot is not such that we don't trust. Don't even worry about the foot," bristled Ron Rivera when questioned after the game about his quarterback rushing only two times against the Bucs. "The foot has nothing to do with it."
Newton has rushed two or fewer times only seven times in his career – the Panthers are 0-7 in those games.
No rush attempt – or lack thereof – will be scrutinized like the final offensive play the Panthers will play at Bank of America Stadium until October 6th, as Norv Turner chose to run a take on the Philly Special and use the 6-5, 250 pound quarterback as a decoy instead of plunging him over the middle as Newton had done so many times in the past. According to Warren Sharp, Cam Newton has had 101 carries when the Panthers have between one and three yards to gain since 2015 regardless of down – the next highest total during that period is Tyrod Taylor with 39.
On those 101 carries, Newton has 418 yards and 17 touchdowns.
The Panthers obviously know how valuable Cam is in short yardage there.

He's the only QB with over 100 sneaks since 2015 & no one is a close second.

They had chances on three separate 3rd/4th & 1s & didn't use him.

Decipher away, but they certainly know how solid the sneak is. pic.twitter.com/I10MrgSlSE

— Warren Sharp (@SharpFootball) September 13, 2019

But when the game was on the line – with the Panthers needing one yard for a first down and two yards for a touchdown with less than two minutes remaining, the Panthers opted to run Christian McCaffrey towards the left pylon instead of trusting their franchise quarterback.
Would Cam have liked the ball in that situation?
"Of course, but like I say, you're not going to have me up here saying what I would have called different," said Newton after the game. "Personally, I accept responsibility in making sure offensively, I do my part and uphold my end of the bargain. That's the only thing I can say right now."
"At this particular time it's up to us offensively to do better because our team is giving us opportunities."
There are valid reasons for the play of Newton – and the Panthers offense as a whole – the first two weeks of the season. Some will point to Daryl Williams allowing three sacks and Shaquil Barrett constantly bothering the quarterback and collapsing the pocket. Some will call it rust and some will question why Newton was throwing the ball 50 times in the first place. Some will rightly point out that the gameplan didn't call for Newton to throw deep in Week 1 and when he had his opportunity, he was able to hit Curtis Samuel 40 yards downfield early in Week 2 – perhaps when the gameplan calls for it, Newton will run again.
Newton, with his unique ability to test the defense as both a rusher and a passer, has always been a problem for opposing coordinators, but a Cam Newton who can't – or won't – run and completes less than 50% of his passes isn't an issue for opponents – it's a problem for Carolina.