As Cam Newton answered questions about his fifth annual Kicking It With Cam! event, the celebrity kickball tourney that featured teammates Luke Kuechly, Christian McCaffrey and Donte Jackson and celebs ranging from NBA star Anthony Morrow to Miss USA Cheslie Kryst to Terrell Owens, a group of Roaring Riot members slowly gathered behind Newton in matching shirts wishing him a happy 30th birthday. In the middle of a generic answer about much more compact the fields of Bank of America Stadium were vs. the fields of Memorial Stadium, the 2015 NFL MVP was interrupted.
"Cam, these folks have something to say to you."
Newton turned around, immediately broke into his signature smile and ran over to the group as they sang Happy Birthday – a joyous moment in an offseason that seems as if they've been few and far between for the quarterback as he's faced questions of whether or not there's a quarterback controversy in Carolina – there's not – whether his shoulder is fully healthy after his second shoulder procedure in three years – Newton says he has full strength but he's waiting for clearance to throw – and whether he'll change the way he plays – Newton has multiple rushing records, including the most rushing touchdowns for a quarterback in NFL history, but he also takes a lot of hits – as he enters his ninth season in the league.
But Newton says he's not changing his style.
"One thing: I'm not changing. I think I'm too old to change," said Newton. "But I can get better – that's one thing that I can do. And I like that word – better. At this particular point, the things that make me me are still cemented in, it's just up to me to take my game to the next level and branch off and get better."

Newton has been reflecting on his age recently, specifically as he looks back on who he was drafted with – the vaunted 2011 draft class that he was perched atop includes Von Miller, Julio Jones, J.J. Watt, A.J. Green, Patrick Peterson and others.
But he was also drafted ahead of Jake Locker and Blaine Gabbert, a choice Sports Illustrated once called "The Toughest Call In Football" – Newton is the best quarterback in Panthers franchise history and has started 50 more games in his career than Locker and Gabbert combined, so it's safe to say that the Panthers made the right call.
"I'm just one of the lucky few to be able to still be playing and still have a lot of life in my bones as well," said Newton.

It's not just the milestone birthday that's occurring this weekend that has Newton considering his age – it doesn't help that Newton has two teammates that participated in his 7-on-7 camps as high schoolers.
"It really hit home – I knew these kids when they were 17 years old, you know, man?" Newton said about seventh-round wide receiver Terry Godwin and undrafted free agent Elijah Holyfield. "And now being on the same team with them, it's just a surreal moment. I know if I have any issues with Terry, I can call his mama."
"I know if I have any issues with Elijah, I can call his daddy."
Newton conveniently left out that Elijah's daddy is four-time heavyweight champion Evander "The Real Deal" Holyfield.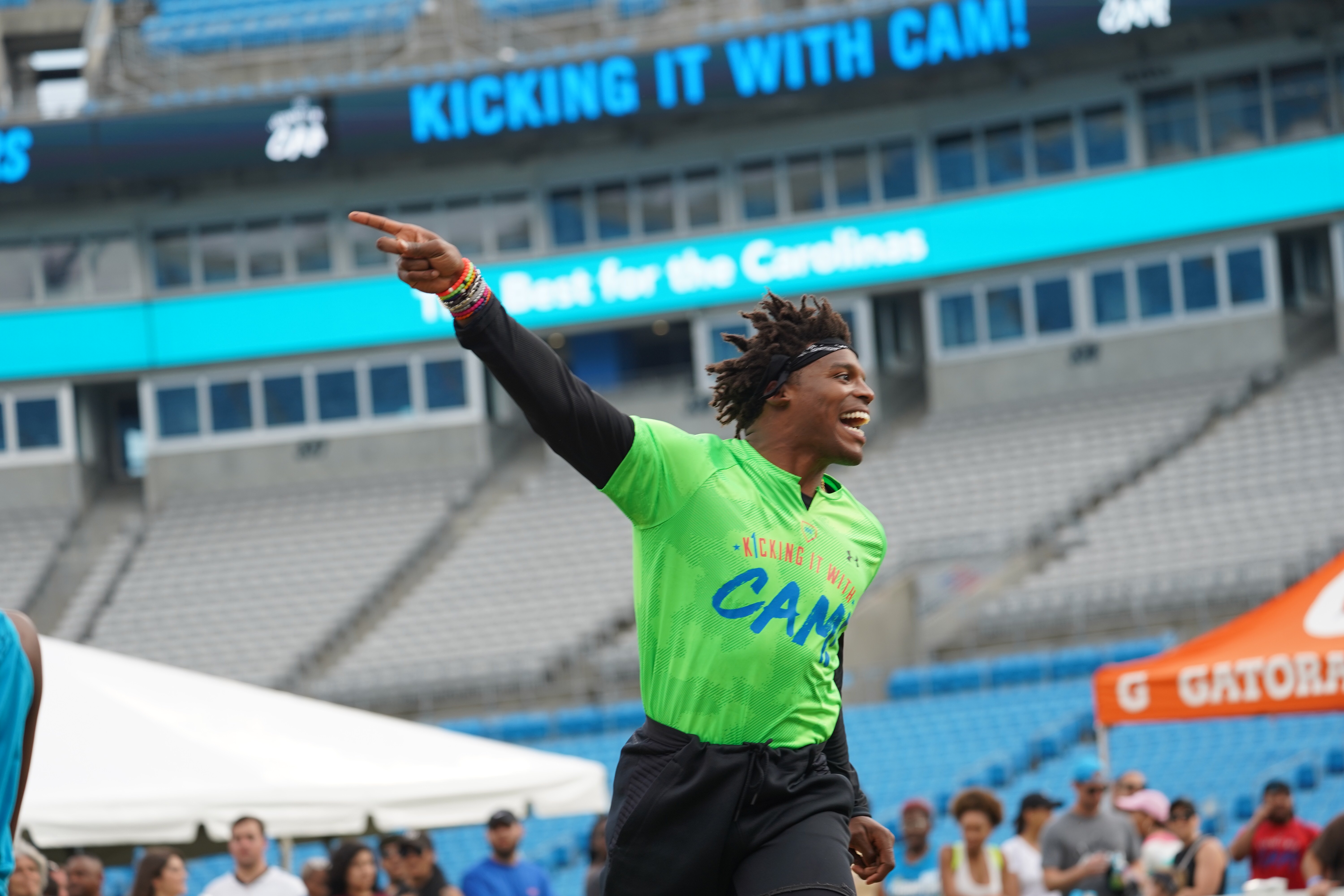 Just like Newton had Jordan Gross, Steve Smith and others to teach him how to be an NFL player when he was a rookie, he'll pass on his wisdom to not only Godwin and Holyfield, but to newly drafted quarterback Will Grier as well.
But for now, there's no talk of shoulder surgeries, quarterback controversies or whether he's absorbed too many hits over his career.
There was only that moment of pure bliss on the eve of his birthday when he turned around and saw his fans – and they didn't want him to change either.