"There is no difference between what is right and what is necessary."
Beneath the culturally-pervasive spectacle of NFL football and the heroes that it creates, there is an undercurrent that is always present but seldom acknowledged. Any player in the league – no matter how "great" they are, no matter how well-liked they are, and no matter how much they've meant to a franchise, city, or region – can be let go of at any point for any reason.
And as we've found out in the past two weeks, those at the quarterback position are hardly immune to pro football's merciless churn.
Not even the great ones, including those whose take that step from greatness to apotheosis, are immune from that one phrase that is so dreaded: "The NFL is a business."
The career of any great quarterback, in the classical sense, is most-often thought of as a hero's journey of sorts: A young man given the responsibility of leading a team and franchise alike and fulfilling – or failing to fulfill – those responsibilities to the ultimate extent. He wins over hearts and minds throughout a long and storied career, displays his greatness time and again through dramatic victories and persevering against the odds, wins many games and perhaps a championship or two, and then finally rides off into the sunset at the end of his days – presumably after some fitting and final moment of glory with the Lombardi Trophy slung over his shoulder.
But after nine years of capturing imaginations and inspiring a generation, that's not how Cam Newton's career with the Carolina Panthers ends.
For all intents and purposes, it ended in Week 2 of the 2019 season, with the once-mighty quarterback of the Panthers laboring through yet another injury and enduring yet another loss in a nationally-televised spectacle that left fans incredulous as to what had happened to their quarterback and an army of outsiders writing him off.
Certainly not the ending that befits the greatest QB in franchise history.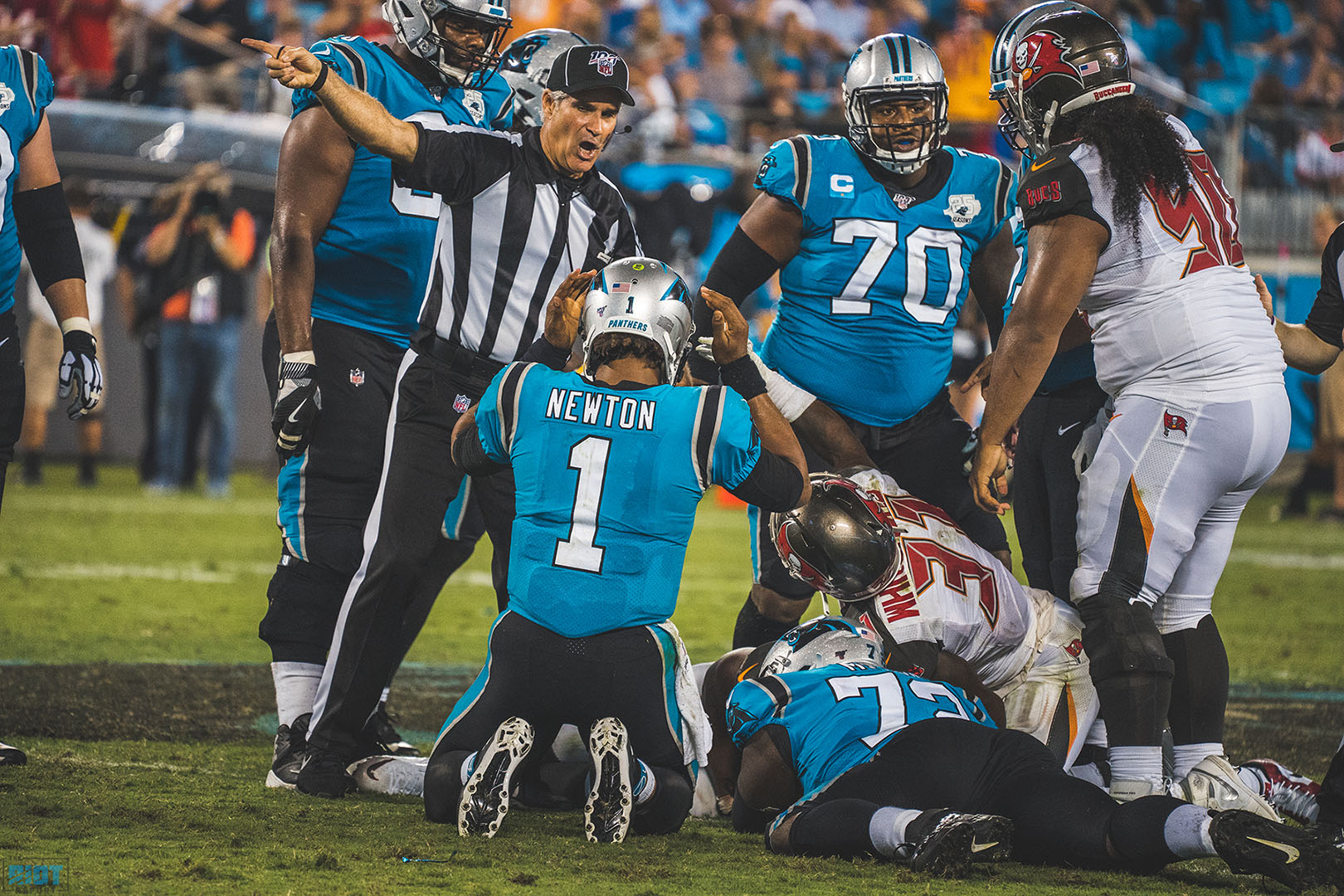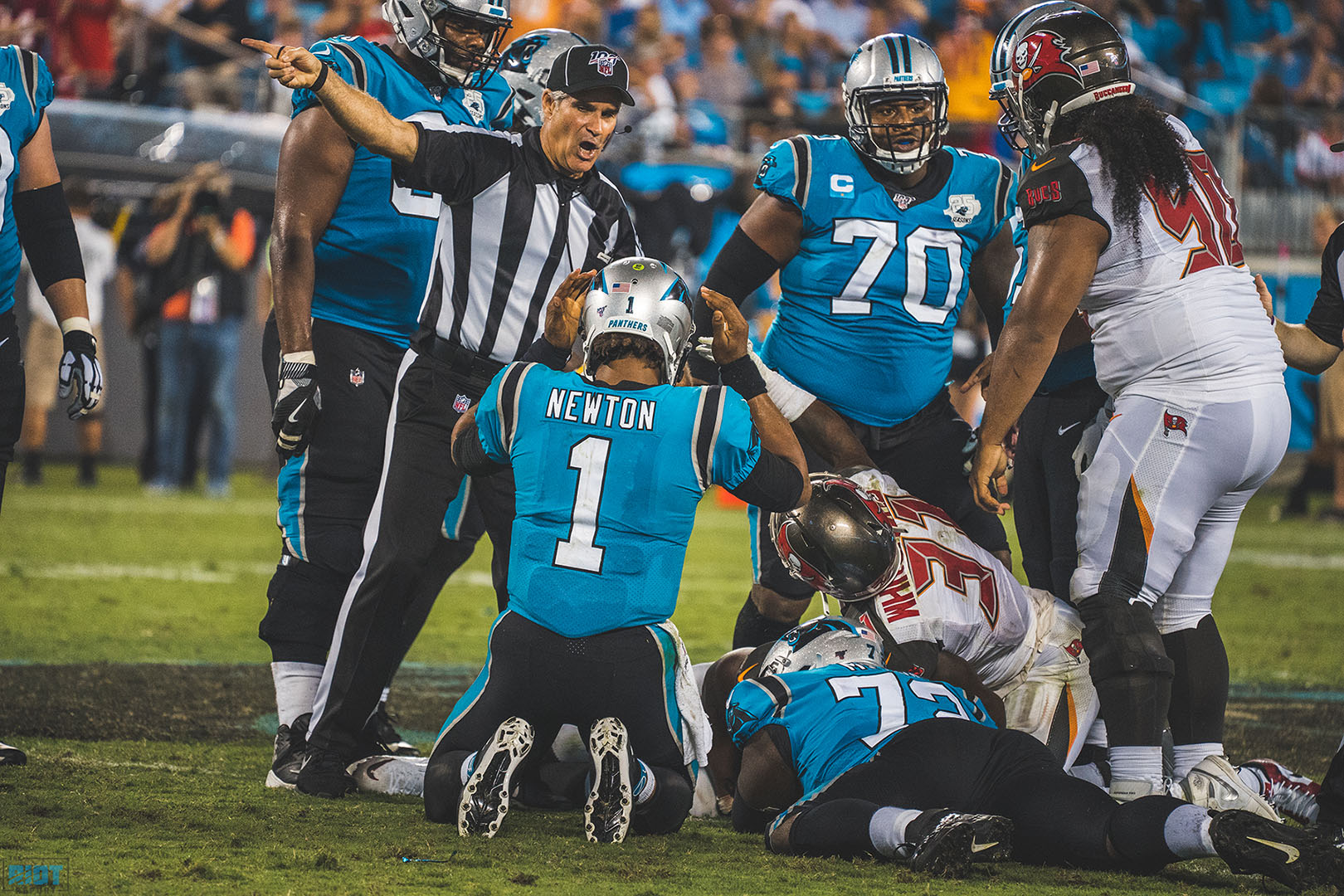 On Tuesday, one week after officially indicating that they were moving on from him, the Carolina Panthers brought the Cam Newton era to a close by releasing their longtime quarterback. And in the Carolinas, the reaction to the divorce has been one of consternation towards the franchise and commiseration for Newton, the once and future football hero for an entire generation of Tar Heel and Palmetto staters alike. And, for what it's worth, the criticism the Carolina Panthers have received has been earned. Last week, the Panthers' spin that they had given Newton "permission to seek a trade" quickly blew up in their face, and the posting of a "Thank You" graphic with quotes from the GM and owner who were set to let him walk had all the tact and tenderness of cymbals at a wake.
In their emotional responses, more than a few have framed the Panthers letting go of Cam Newton as being a matter of right and wrong – and all things considered, anyone who feels that the Panthers did the face of their franchise "dirty" is entitled to feel that way.
However, in fairness to the Panthers and their way of doings things, there was likely no alternative to Tuesday's final course of action. Not if they wanted to, in their current state of upheaval, really do what was best for Cam Newton – even if the end result was ultimately clumsier than it could have been.
Perhaps in another timeline, this would never have been a possibility.
Perhaps if the status quo had been maintained and the franchise had been kept as it was, Newton would have been given one more chance to lead his team back to the top of the NFL. But when the Panthers did away with the old guard of Ron Rivera and his coaching staff at the end of last season, the lights effectively went out on the Panthers' chances of contending for a Super Bowl in the immediate future. With team owner David Tepper striving to "tear things down to build them up", the Panthers' offseason has been defined by the departures of many players who helped the Panthers win throughout the past 10 years – many of whom were Newton's most-trusted allies.
Five years from the Super Bowl, only four players remain from their iconic 2015 team.
If Newton had indeed returned to the Panthers for 2020, he would have been in the following situation: behind an offensive line with two gaping holes at guard and his eighth starting left tackle in as many years, playing with a defense that lacks not only Luke Kuechly, but players like Mario Addison, James Bradberry, and Eric Reid and is led by a first-time NFL defensive coordinator. He would have had to lead a group comprised mostly of rookies and castoffs, and do so for a team that has all-but explicitly stated that they are punting on playing winning football in the short-term in the name of a grandiose long-term vision.
Simply put, the Panthers would have hardly put Newton in any position to succeed. And more likely, they would only have hurt Newton's career further by saddling him with the burden of more losing football.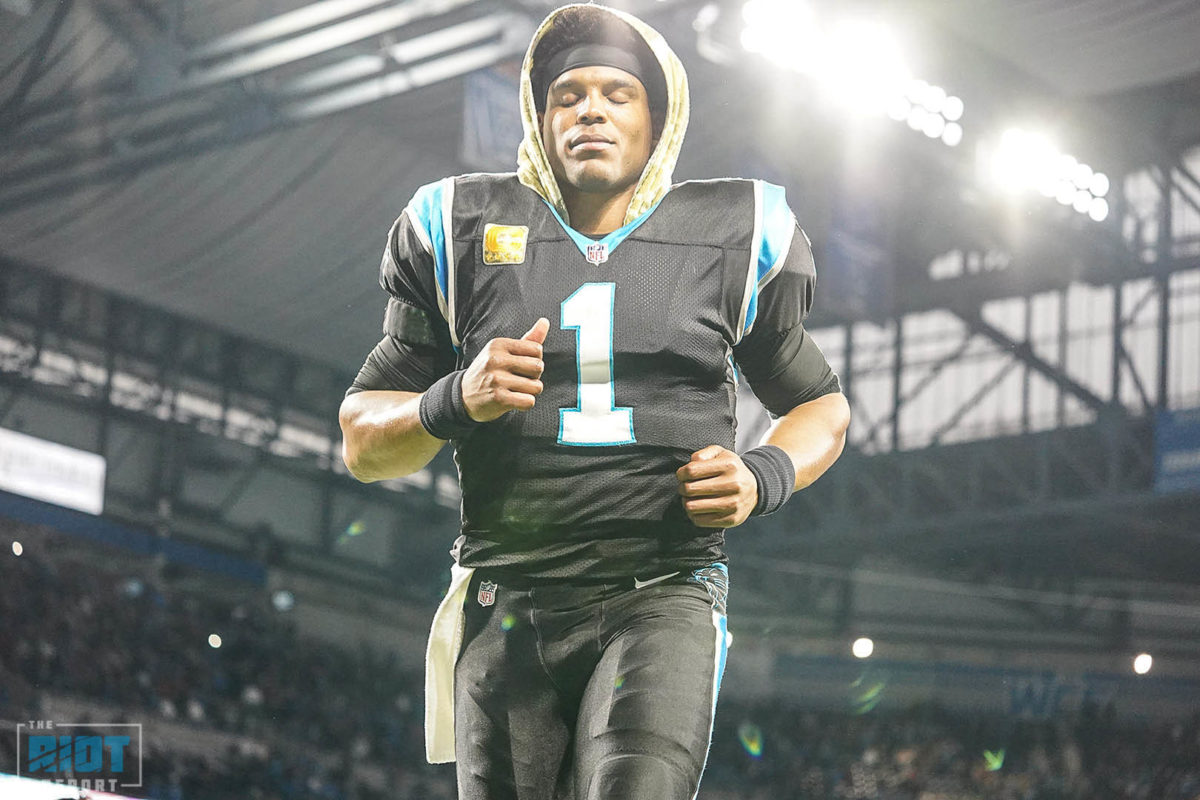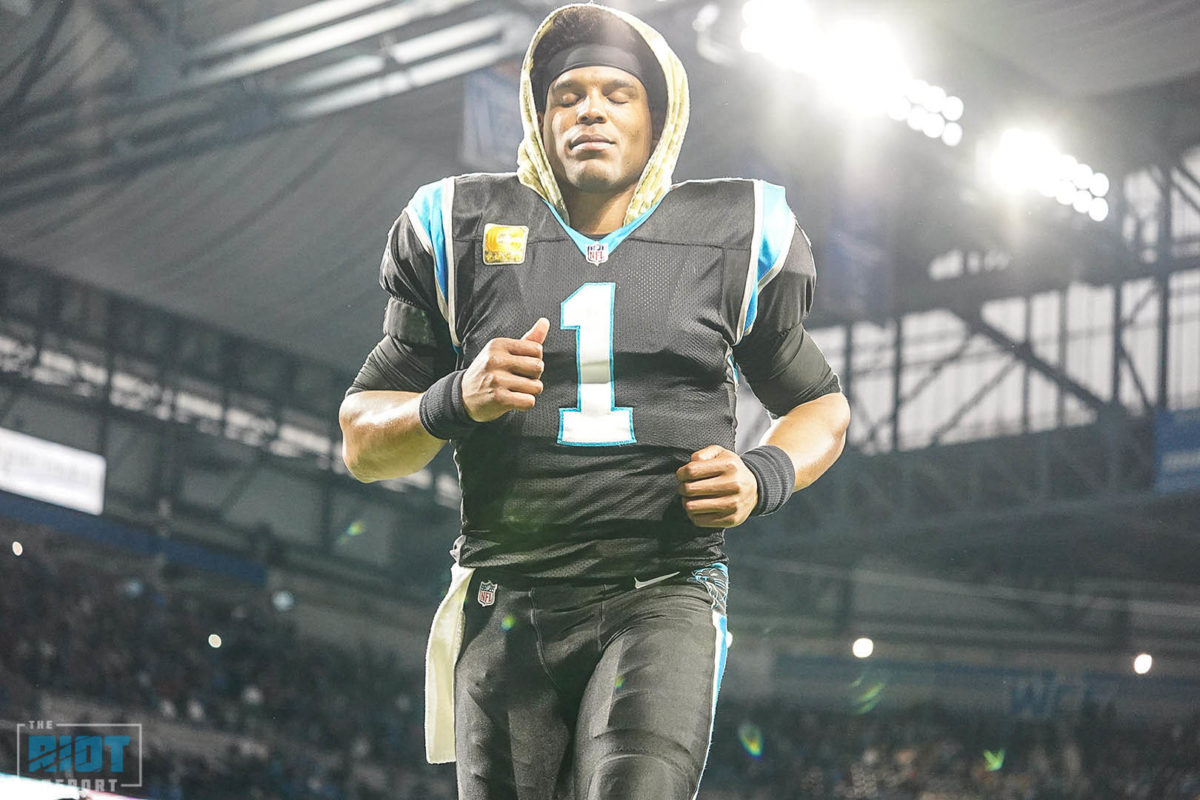 But let's suppose, for argument's sake, that the Panthers had brought Newton back for the final year of his deal – which they could have done as a display of goodwill and as a means of placating their anxious fanbase. With one more year on his contract and a point to prove, the temptation for any fan beholden to Newton is to think of the dramatic "comeback season" that could have been: A season of Newton playing hero once more, saving both the Panthers and his own job – and earning a shiny new contract to keep leading the Carolinas through the desert towards the promised land.
It's difficult to stomach the scenario that was more likely: with a new coaching staff in place full of their own ideas, Newton would likely have been a lame duck on the 2020 Carolina Panthers. One expected to sacrifice his well-being for a team with no real ambitions and no intention of having him be a part of their future. A team merely staging a charade to sell a few more tickets and maintain some semblance of good optics as crowds unhappy with a losing record chanted the name of whichever young quarterback was backing him up.
No one – no matter how much they love Cam Newton – could or should have wanted that for him.
But perhaps at least then, no matter how bad things got, Newton would still have gotten an opportunity for one last moment of glory, where he left the field after a victory to be saluted by those fans who trusted and loved Newton for so long. After all, New York Giants QB Eli Manning got that last season, when he left the field victorious and to a standing ovation in his final game at quarterback. Bengals quarterback Andy Dalton got one too, as a nine-year run of his own ended with a season-ending victory and him leaving the field to cheers of his own.

By themselves, both of those moments were extremely special – and for those who witnessed them, unforgettable.
But those fitting endings were hardly the stuff of glorious circumstances: Manning's final years with the Giants saw him be besieged by media criticism and hot seat rumors, and his chance at a proper ending only came after Charlotte native Daniel Jones – whom Manning had been benched in favor of – suffered an ankle injury that forced him to miss two games. Dalton, meanwhile, was a lame duck on the worst team in the National Football League and was unceremoniously benched for a fourth-round pick after starting the season 0-8.
While the sendoffs that Manning and Dalton both got were touching, and surely appreciated by them and their admirers alike, they hardly took place under glorious circumstances or after the sort of success that earned them a place in the history of their respective franchises.
The truth is, that rare moment likely wouldn't have come for Newton.
For most great quarterbacks, their time with a certain franchise usually ends with them crestfallen and enduring some sort of indignity. Cam Newton was hardly the first, and he certainly won't be the last: Tony Romo's career ended with him losing his job due to injury and riding the bench behind a rookie. Tom Brady's career with the New England Patriots ended with a pick-six at the end of a playoff game. Closer to home, Steve Beuerlein was unceremoniously cut following the 2000 season, and Hall of Honor inductee Jake Delhomme suffered the same fate just one year after being signed a long-term contract extension.
Rather than the sort of storybook ending John Elway got, the fate of most quarterbacks resembles that of Y.A. Tittle as it was captured in his most-famous photo – broken and beaten down, having nothing more left to give after years of giving everything he had for his team.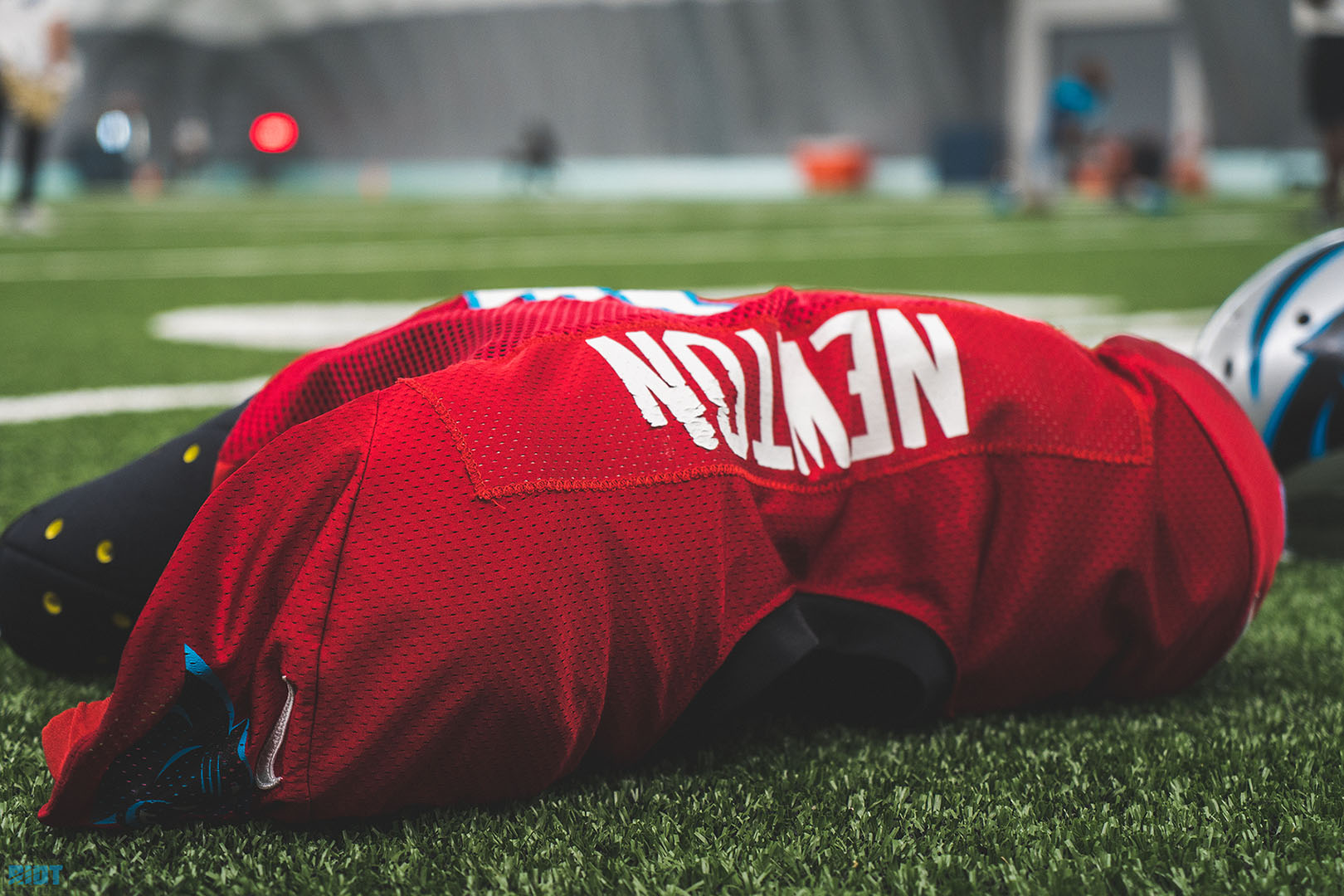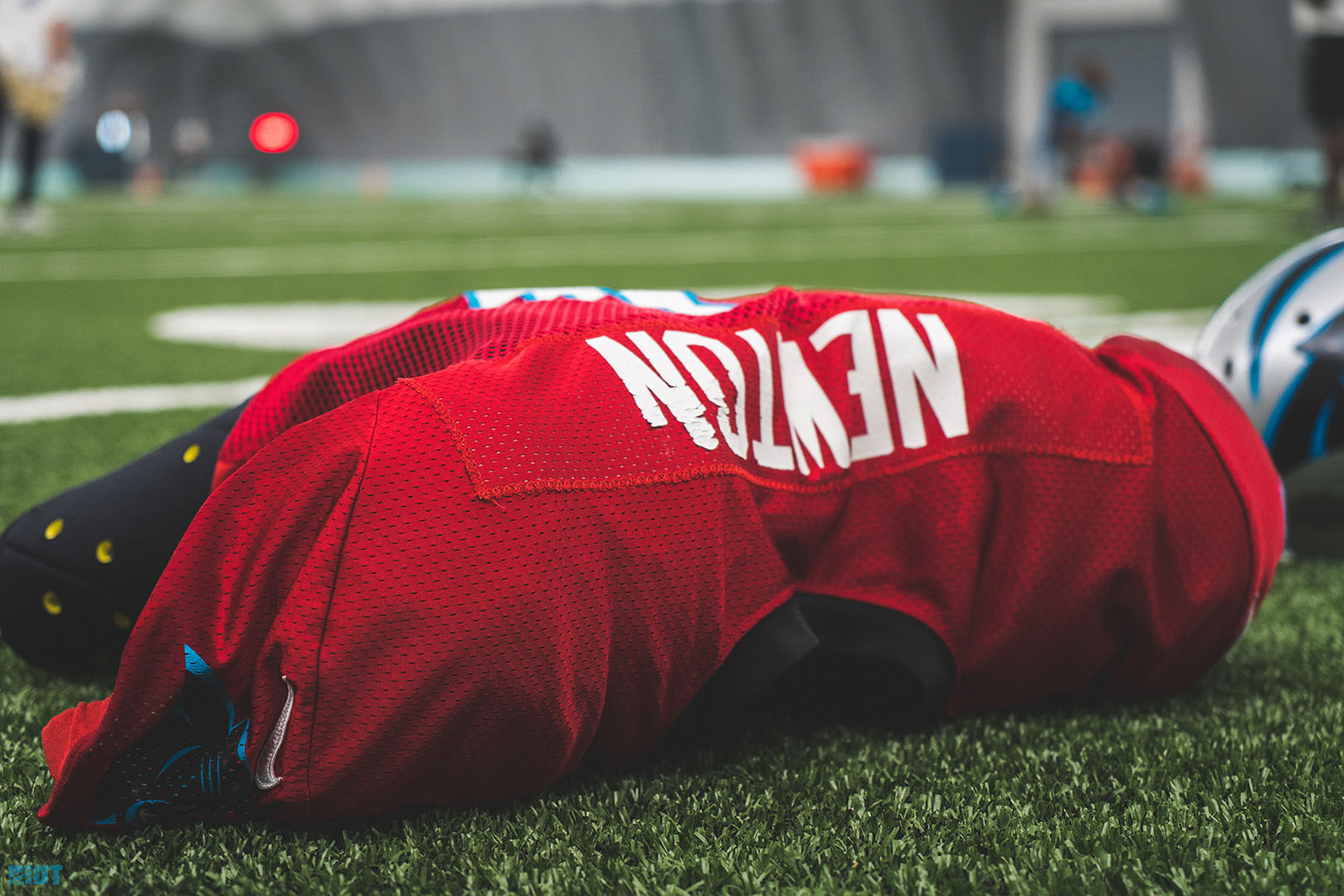 Make no mistake: Nothing that happened Tuesday was good. The release of Cam Newton denied the Panthers' greatest player ever the right to lead his team and give him another chance at glory. It broke the hearts of fans who have held Newton in the highest regard and cared for him just as deeply as they would a member of their own family. And surely, it gave no one within the Carolina Panthers' organization any pleasure to knowingly do this.
Until the day the Carolina Panthers rise again, Cam Newton and the greatest era in the history of the Carolina Panthers will be immensely grieved. And in the months and perhaps years to come, there will be plenty who feel that the way the Cam Newton era ended – with him being discarded without so much as a final, sentimental sendoff other than a well-done social media video tribute– wasn't right.
And yes, it wasn't right at all that Cam Newton had to go out this way. But then again, maybe it was necessary that he be let go. At least, if nothing else, to spare him of an even grimmer fate and give him the fastest opportunity to once again thrive and be the once-in-a-lifetime player everyone throughout the Carolinas knows him to be.
It will just ultimately be somewhere else.