The rumors have been swirling over the weekend about not only the status of Cam Newton for the upcoming weeks, but for the rest of the season as the suggestion that he will be placed on injured reserve, ending his 2019 season and plunging his future with the Panthers franchise into doubt, has gained more and more steam.
With Newton in Atlanta over the weekend conferring with those closest to him about his best course of action and Ron Rivera addressing the elephant in the room with only the barest of answers – "what we're going to do is Kyle Allen will start this week, Cam will continue his rehab program; I've got nothing further to add, guys" – the rumors will continue to swirl until a definitive answer is given one way or the other.
But here's the thing – putting Cam Newton on injured reserve makes no sense.
If the recommendation from Dr. Robert Anderson this weekend had been surgery to repair Newton's Lisfranc injury, then he should go on injured reserve.
If the Panthers didn't have a use for Newton at all down the stretch of the season and into a theoretical playoff run – then yes, he should go on injured reserve.
If the Panthers had so many other injuries or so many questions on the bottom of their roster that they couldn't afford to waste a roster spot on the best player to ever put on a Panthers uniform and had to have that roster spot, then by all means – put him on injured reserve.
But none of those are the case.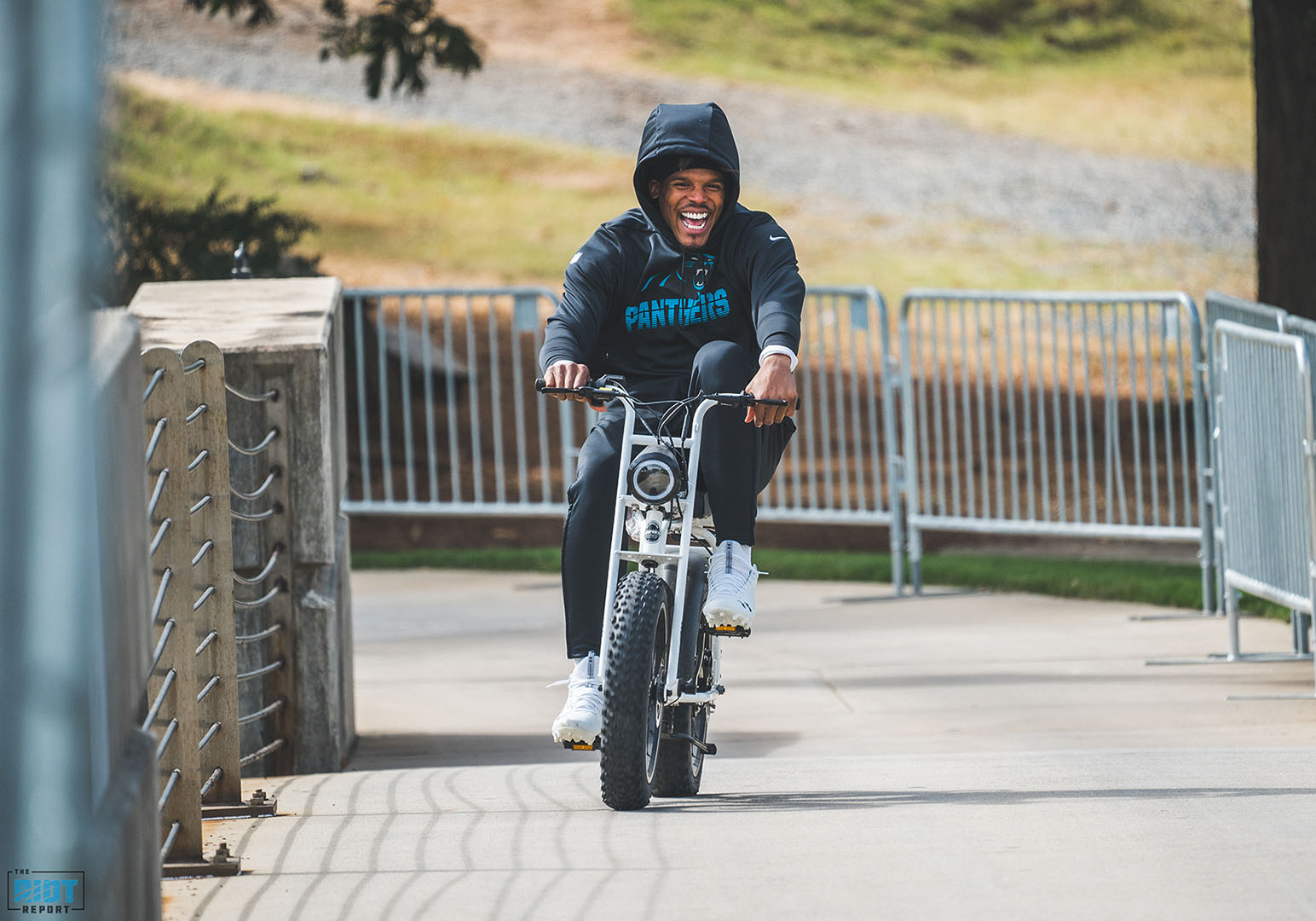 Newton certainly seemed to be making progress in his rehab, at least outwardly – going from wearing a protective boot for a few weeks to being at practice but not participating to working on the side with trainers to doing his traditional lap around the field and warm-up throws before the game in San Francisco, the first time he's traveled with the team this season. That all appeared to be forward progress.
But all of a sudden – immediately after the trade deadline, if you really want to put on your conspiracy cap – he wasn't on the practice field and was seeking another opinion on a foot that still wasn't 100%, even though it was still within the eight-week timeline that usually accompanies a Lisfranc injury.
"I wouldn't even use the word setback, because, again, nobody really knows – he's going to go up, he's going to be examined by probably one of the best foot guys we know of, and we'll get an assessment then," said Rivera on Friday. "So until then – honestly, guys – I would wait until you hear something else from us before you draw any other conclusions because that's unfair."
So he hasn't had a setback and his rehab isn't progressing as quickly as they'd like, but it can't get better in the next eight weeks? The possibility of him getting back to healthy before January 15th has already been eliminated?
That's the sentence you put an exclamation on when you place Newton on injured reserve and end his season.
If you feel comfortable enough that you can win with Kyle Allen – and they certainly do, especially after going 5-1 with him as the starter – what happens when you're in the thick of a playoff chase and Allen has a twisted ankle? It seems like that might be a time when you would need someone like Newton on your roster, even one that's not 100% healthy.
Newton's absence on the roster puts an enormous amount of pressure on Will Grier – not Allen, whom we've seen can handle it and has what it takes to be at least a reasonable quarterback in the NFL – but on Grier, the third-round pick who didn't seem ready for the NFL from what we'd seen of him in the preseason and training camp.
Now you're asking him to take the reins should Allen get hurt.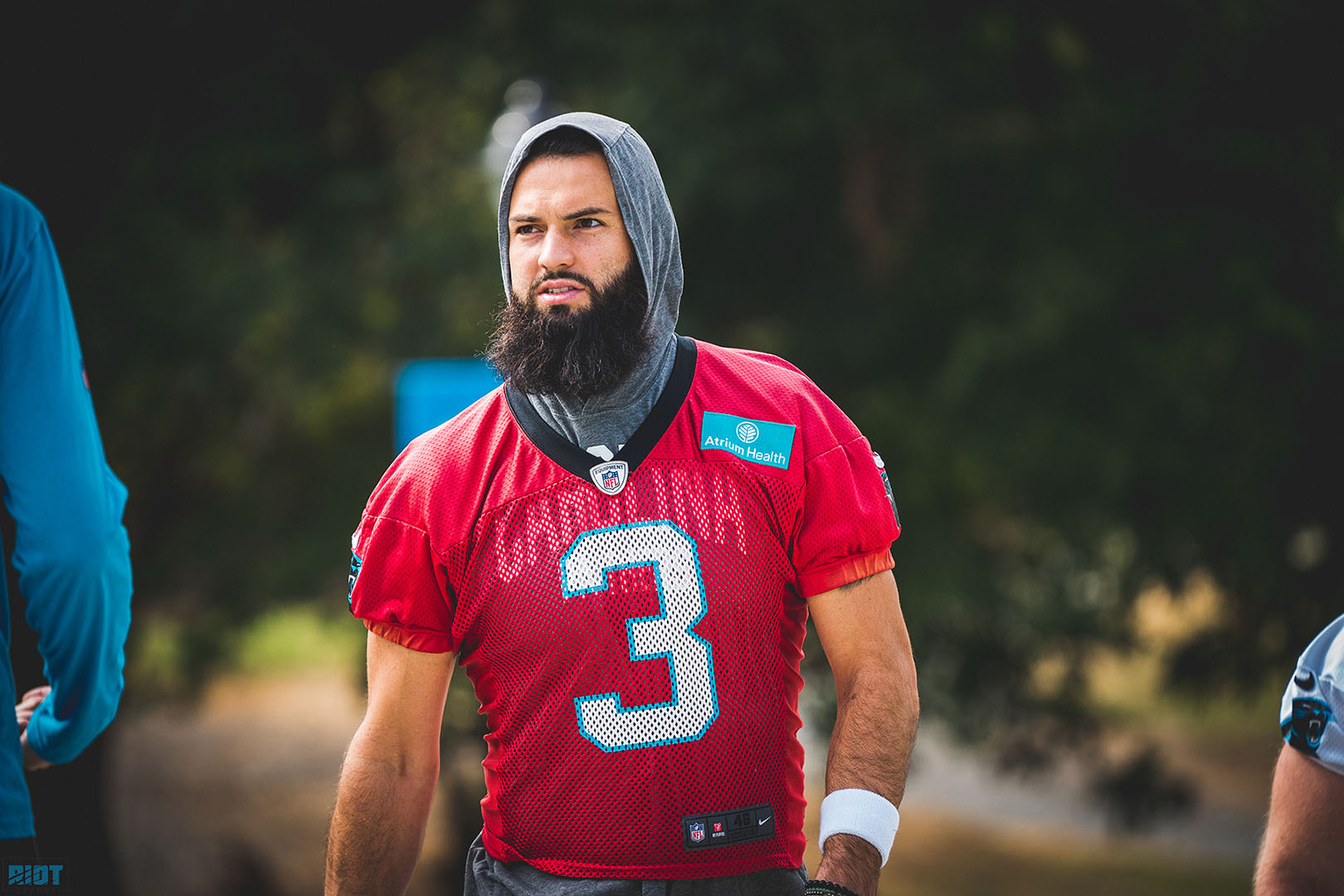 By putting Newton on IR, you might eliminate a distraction in the locker room that having the player who has scored the third-most touchdowns in NFL history through his first eight seasons was causing – but Rivera says the distraction isn't real.
"When the question is asked, it becomes a distraction, in my opinion," said Rivera when asked if the constant questions about Newton would affect the locker room. "The guys understand that they're going to play with who's here on the field – it doesn't matter who's on the field, as long as that guy can help them win, they're going to do everything they can to help. That's just kind of the nature of playing the game, of playing a team sport."
Another reason to put a player on injured reserve is because you need the roster spot – the Panthers played with 52 on their roster the past two weeks and filled the open spot yesterday with Donte Moncrief, their seventh wide receiver. With three quarterbacks on the roster, one of them is almost always inactive – why not have that be Cam Newton?
From a Panthers perspective, it makes no sense to put Cam Newton on injured reserve – you're paying him the same amount of money either way and if he can offer the smallest inkling of a chance of helping you down the line this season, even if only as a 'break in case of Kyle Allen injury' piece, keep him on the roster instead of banishing him to IR where he is less likely to be in the meetings or around the team.
Unless he wants to go on IR – and that's where it gets hairy.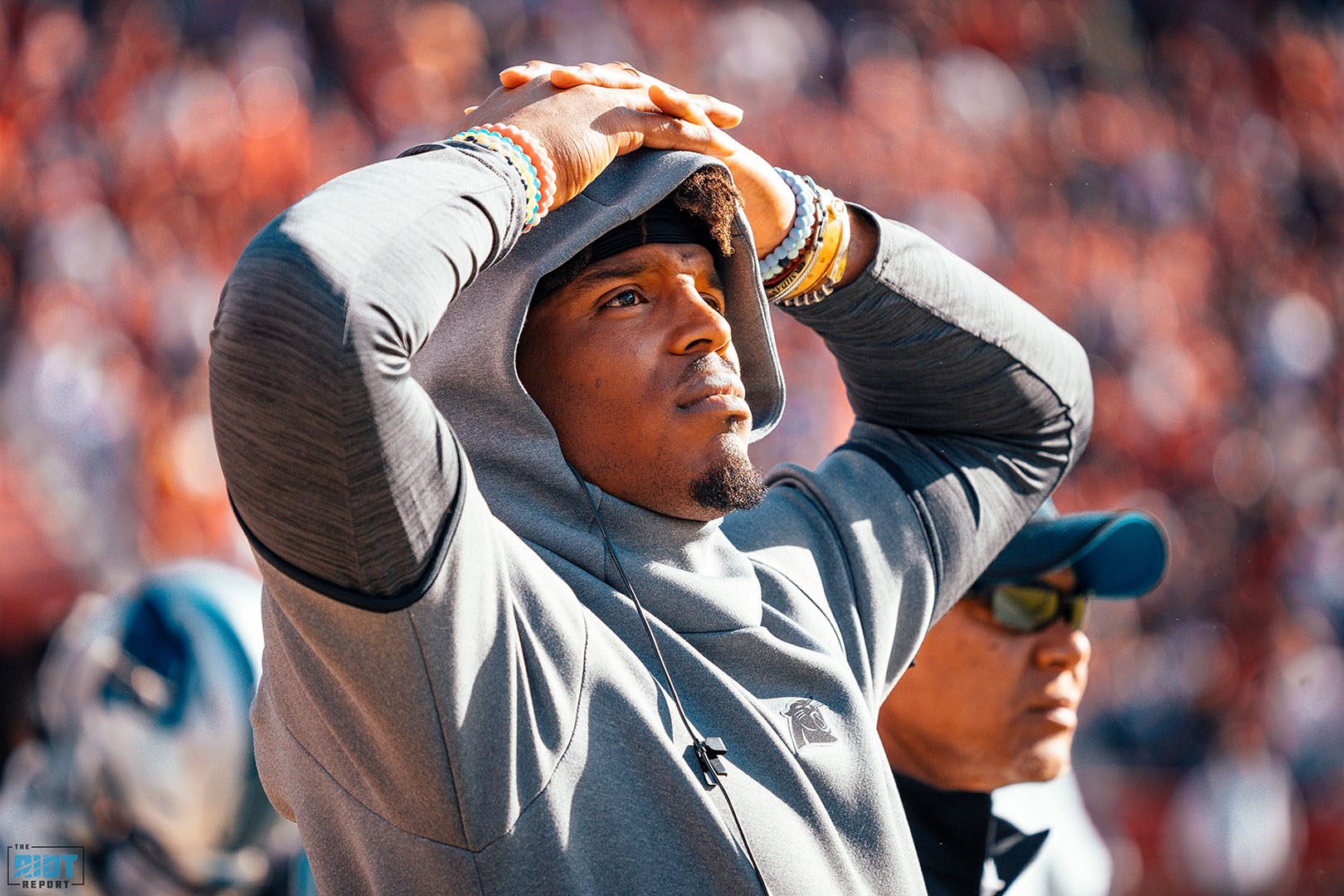 Newton's contract is up at the end of 2020 and the Panthers can part ways with him this offseason, via trade or release, and save over $19m in cap space next season – Newton's camp will almost certainly be looking for a maximum contract this offseason, either from the Panthers or elsewhere. A return that features anything but Vintage Cam Newton will likely lessen their negotiating power – but the possibility of a fully healthy Cam Newton garners a lot more money in the long-term, even if it's only a possibility.
Instead of Schroedinger's Cat, call it Newton's Shoulder. Until you get him on the field, do you know what you're getting when he steps between the lines?
The word from national reporters like Rapoport is that Newton is still not ready to go back on the field, but where is that word coming from?
"I don't know who's talking, but we're not talking. I know that much," Rivera said as he grew more and more agitated with each question about Newton. Last week, Norv Turner was asked directly if he expected to see Newton back on the field this season and if the reports he'd seen showed progress.
"I think you should try to get the reports I get," Turner said.
Cam Newton couldn't accurately throw the ball deep in 2018 – this season, he couldn't throw to the right. Last season, you could chalk up inaccurate throws and the inability to go downfield to his shoulder injury and this year, you could chalk it up to the foot injury, but if – and this is a big if – he returns and looks more Clark Kent than Superman – where do you chalk that up?
The question may not be whether going on injured reserve makes sense – but who does it make sense for?