Since his post-game press conference in Week 2 over three weeks ago, Panthers franchise quarterback Cam Newton has appeared publicly only once, in a 15-minute YouTube video on his personal channel in which he spoke plainly, openly and honestly about the foot injury that has plagued him since Week 3 of the preseason. He opened that video – shot as a straight-on profile with a dark background as Newton intermittently smoked a cigar and sipped a glass of red wine – with a missive.
"I want to do things on my terms, and this YouTube channel has allowed me to do that," said Newton. "So pardon the smoke, pardon the wine, but this is — I plan on being here in a fashion that I'm comfortable. I don't want to have to beat to nobody else's drum except for mine. So here we go – this is my opportunity to be completely transparent to the viewer, to Panther nation, to the people who follow me, to the people who hate me, because I do understand, especially going through this, there's a lot of people coming out of the woodwork, voicing their opinions about me."
"That's fine. You have a job to do. This is kind of like a vent session for me as well."
If that was a vent session, Friday night – his first public appearance since revealing his Lisfranc injury – was the exact opposite.

The Panthers quarterback joined 60 members of the Roaring Riot for the second iteration of Cruisin' With Cam in the past three years – an event exclusively for Roaring Riot members that raised over $15,000 for the Cam Newton Foundation in a single evening Friday on Lake Norman.
And it seemed like Newton couldn't wait to interact with those who loved him the most – and return that love.
"I've been in Charlotte for nine years now and I love it," said Newton, wearing a walking boot on his left foot and a tan shoe emblazoned with flames on his right. "I find it helpful for my mental to be around people. I'm a social bird and so going to the grocery store, going to do whatever….I want to hear people. Obviously, we can't play this game forever and I'm finding that out more than anything this year. But talking to people gives me my purpose."
"I've been in this little cocoon of mine, AKA 'the boot' and I just want to talk – I want to hear favorite Panthers moments from everybody, the reasons why you love the Panthers and I want to hear from the people."
Cam invited the group to sit around 'the Camfire' on the yacht as he flipped the script, asking the fans for their gameday rituals, their favorite Panthers moments, favorite players and how they liked to rub in a Panthers victory to fans of other teams at the office.
He answered some questions of his own, from revealing his pre-vegan Victory Monday treat for himself – two McDonald's Filet-O-Fishes with extra pickles, a large fries and a large Sprite – to how he reacted to Cam Jordan's gift of a bottle of wine when the Saints swept the Panthers in 2017.
He kept it.
"I have not cracked open that bottle of wine," grinned Newton, perched on a barstool next to the DJ booth. "Because when we sweep the Saints this year, I'm going to ship it back to him express mail."
"That'll be a time that I look forward to going to FedEx personally and putting that next day air and paying extra for it to get it to him ASAP."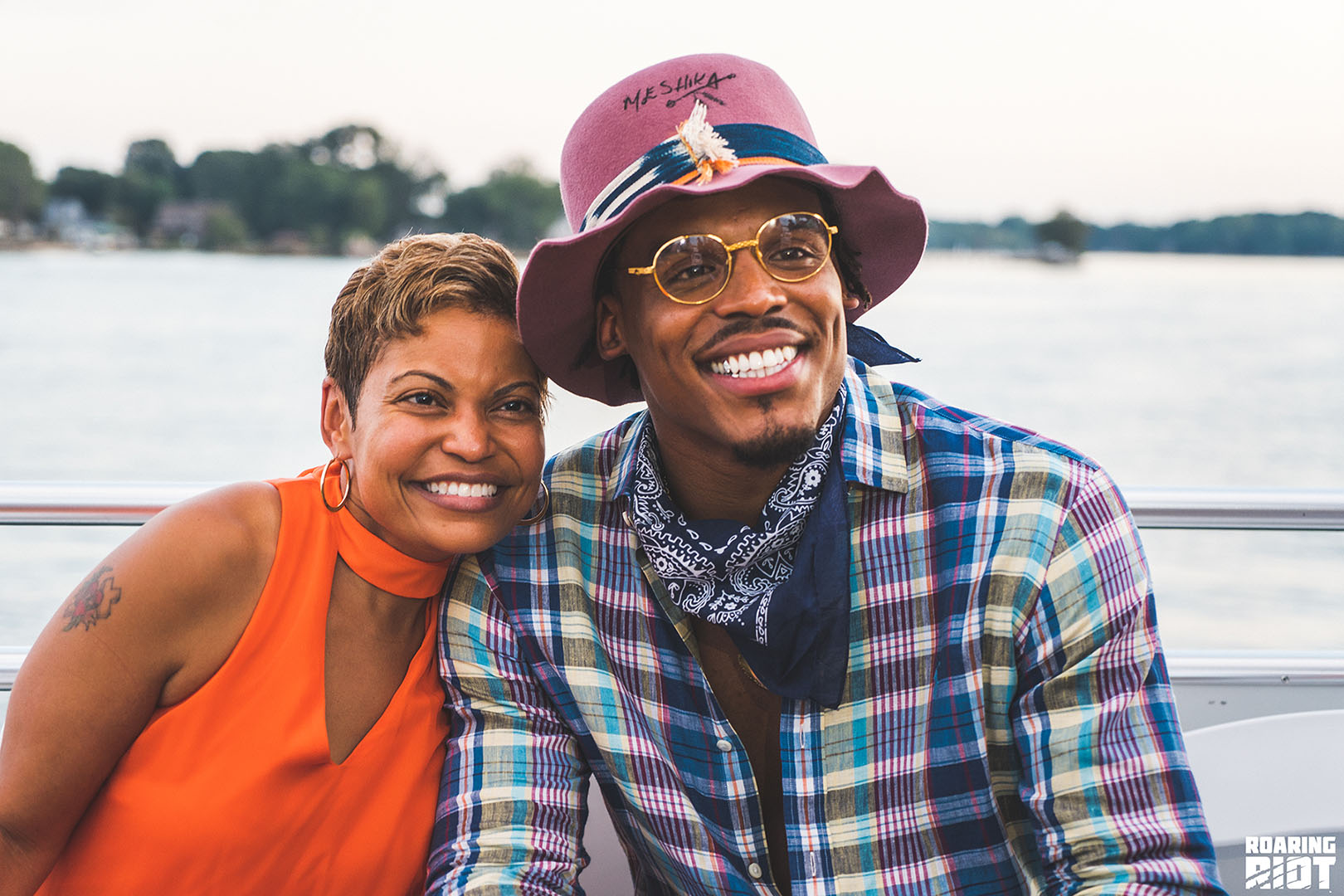 The smile on Newton's face – so infectious for so many years – was something we hadn't seen for a while.
Newton's somber video aside, he hadn't seemed himself, both on the field and off of it. But for one night, he seemed as if he could put the Lisfranc injury – the first ailment of his career that's kept him out for more than two consecutive games – to the side. Although he didn't volunteer a new timetable other than the 'it could be two weeks, it could be three weeks, it could be four weeks, it could be six weeks' vague timeline he spoke about in his YouTube video, it was telling that in a 30-minute Q&A session with fans around the 'Camfire', no one asked when he would be back on the field.
Folks were more concerned with his state of mind.
"As long as I've been here, I've never had a point in time where I didn't feel loved," said Newton. "As a player, you go through ups and downs and you go through trials and tribulations and that's life and how it goes and more than ever, this year has been that for me. Just going through it and saying 'Dang, I can't be that person that I once was'"
"I'm a person that wears their emotions on their sleeve and as I've grown to know, it's okay. I'd rather have my emotions on my sleeve for people to know how I feel rather than keeping it inside and then you don't really know."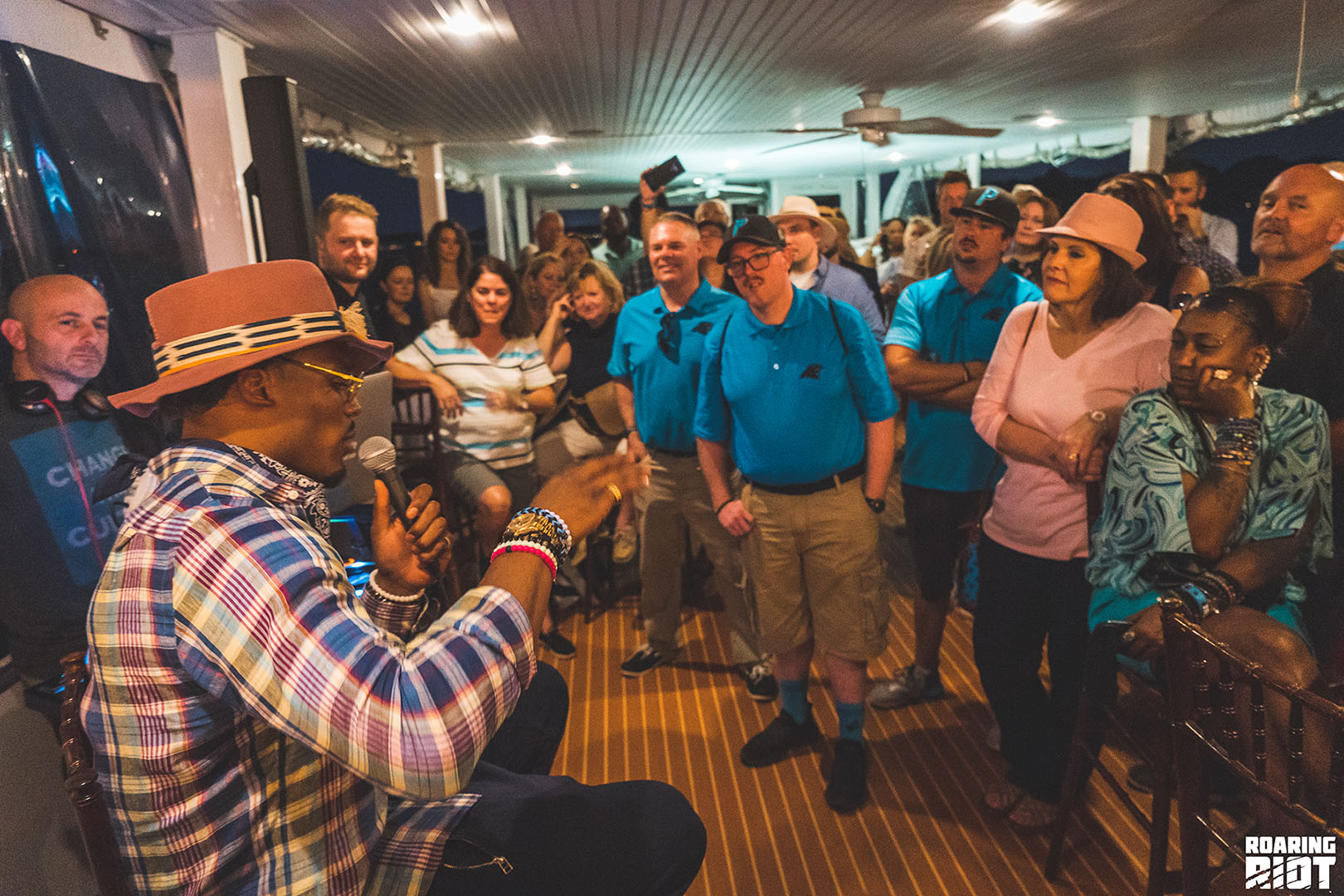 He also weighed in on what he was seeing on the field in his absence – and any fears of a schism between Newton and his teammates appear to be a red herring.
"As this year is taking on it's own identity, obviously I'm not able to play, but we still have that little pulse. We have that pulse and I want people to know, from the bottom of my heart, that I am the biggest Kyle "Lovey Dovey" Allen fan, I'm the biggest C-Mac, I'm the biggest Luuuuuke fan."
At this point, he joined the crowd as they sang their low-pitched praises of their star linebacker.
"It's just hard to watch it [and not participate]. I'm still invested, you know what I'm saying? And looking at it through you guys' lens for these last couple of weeks, I see your pain and I see your happiness as well. When we've been winning these past couple of weeks like we've been winning, it's just like a snowball effect. That's what happened last year – a snowball effect can happen positively or it can happen negatively in this league."
"You want to be that team that's bumpin' [and] having good chemistry in the latter part of the year and I believe that we have those key ingredients that we need that can get us there."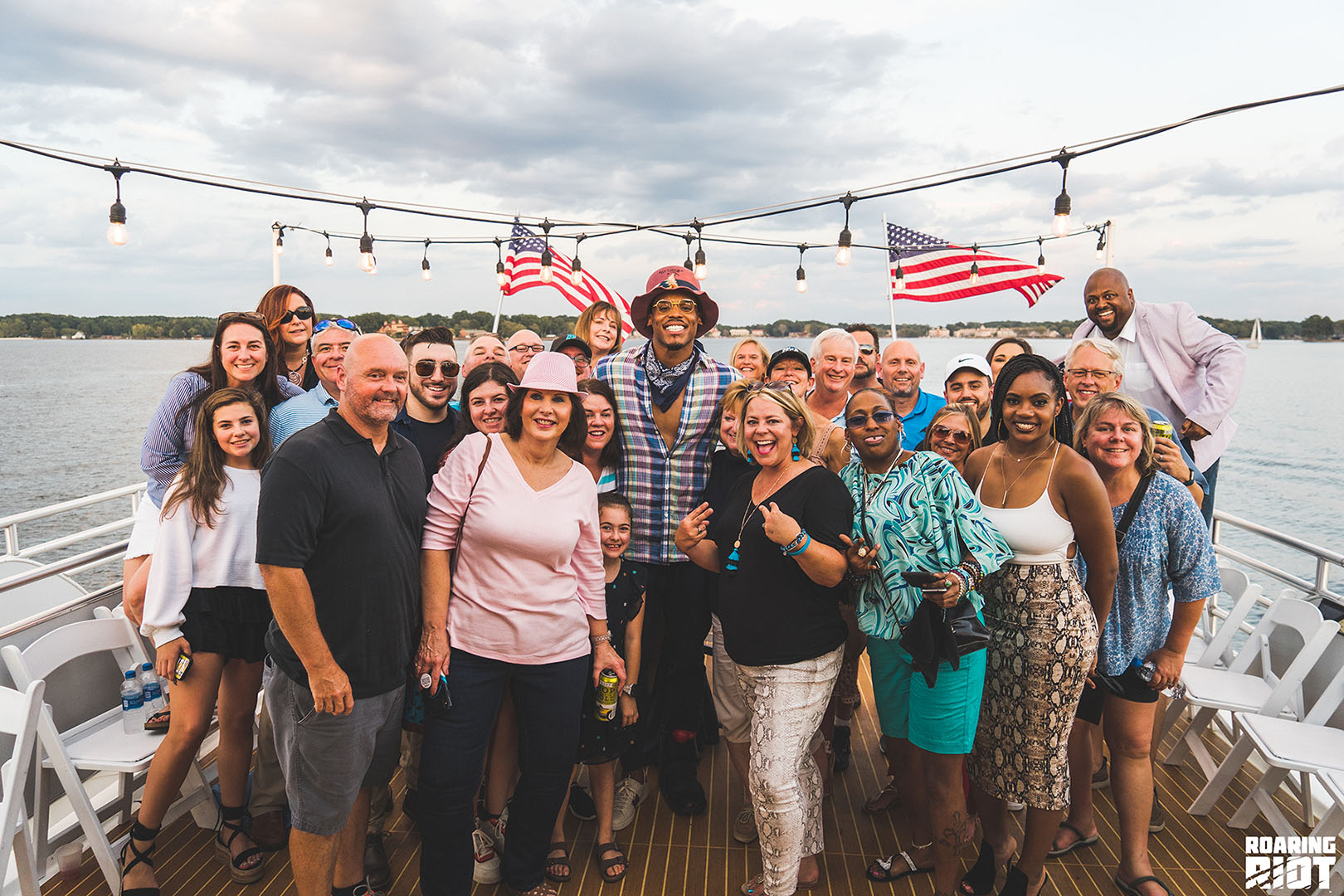 The Panthers have won their past two games on the road, with loud support from the Roaring Riot, something that didn't necessarily happen before Newton came to Carolina. Even the quarterback noticed it early in his career, noting that there were times when he could hear other fans just as clearly as Panthers fans in Bank of America Stadium.
Now he hears Panthers fans everywhere – both at home on the road.
"I'm so aware, as a player, of things that are not going on in the game, I literally know where my parents sit, where my kids sit, where my friends sit or my brothers sit and I gain inspiration from it," said Newton. "So on the road games, I look for the Roaring Riot and I've got this thing that I do prior to the game – I try to find them and I try to get them turned up even more."
"It's kind of our way of saying we're here and we're here to stay."
"It's easy to criticize athletes – you put them on a pedestal, you knock them down, but for someone to be invested in the community and doing things like this and have foundations, we're really blessed that we get this interaction," said Panthers fan Ken VanDerwerken, who attended the event with his son. "It's awesome that you're involved and you're invested."
"Wins and losses, that's one thing, but it's so awesome that you're a part of the community and we're glad you're here."
It was clear the positive energy that the camaraderie brought to Newton, especially after what has been perhaps one of the most trying months of his career – if not his life – when it was obvious that he was coming to grips with his sports mortality. Never before had his body betrayed him and it has happened twice in the past eight months – and it had clearly affected him.
But not tonight.
"I always want to be the person that represented this community and represented the city of Charlotte the right way – no matter what I wore – and I wanted to show that on the field and I wanted people to feel like 'Who is this dude, running around, having fun, smiling and making football a child's sport again?' Because it is," opined Newton, holding court in front of the dozens of Roaring Riot members enthralled to be in the company of one of the best players in Panthers history. "A Sunday at Bank of America [Stadium] should feel like a celebration and for so long, and for me and as long as I'm able to play, it will alway be a celebration."
"You've seen the good Cam and you've seen the bad Cam and you guys have been patient with me and that's all I can ask for – as a human being, not as a football player, [but] as a human being. Understand that I am human, I do make mistakes throughout this whole process – it's been such a remarkable one – but guess what?"
"We ain't done yet."