As a Giants fan, from the time I started paying attention to football to the time I graduated from college, Tom Coughlin was the only head coach I had ever known. For those twelve years, Coach Coughlin – a mentor and major influence on Panthers head coach Matt Rhule – was a constant, steady, and principled figure who I admired enormously and felt I could always depend on as long as he was the head coach of my team.
On a January day nearly six years ago, the post-Coughlin era loomed. The Giants had finished 6-10, and it was clear that Coughlin would be dismissed after three-straight losing seasons. As the crowd filed out of MetLife Stadium, I stuck around for some time after the end of the game – Taking a good look at that crusty old Irishman as he bowed out at midfield, chanting his name to express my feelings, and watching him until he went into the tunnel out of sight.
Just saw my coach walk off the field for probably the last time. It hurts. #NYGvsPHI pic.twitter.com/b8bTLC77kQ

— Steven Taranto (@STaranto92) January 3, 2016
Coughlin "resigned" the next day, and while at the time I felt he was being made to take the fall for the failures of the front office, in retrospect I deeply appreciate and cherish that moment of closure that I had. That I got to see off the man who had given me so much that I could be and still am grateful for.
That experience is why the timing of Ron Rivera's firing as head coach of the Carolina Panthers bothered me so much.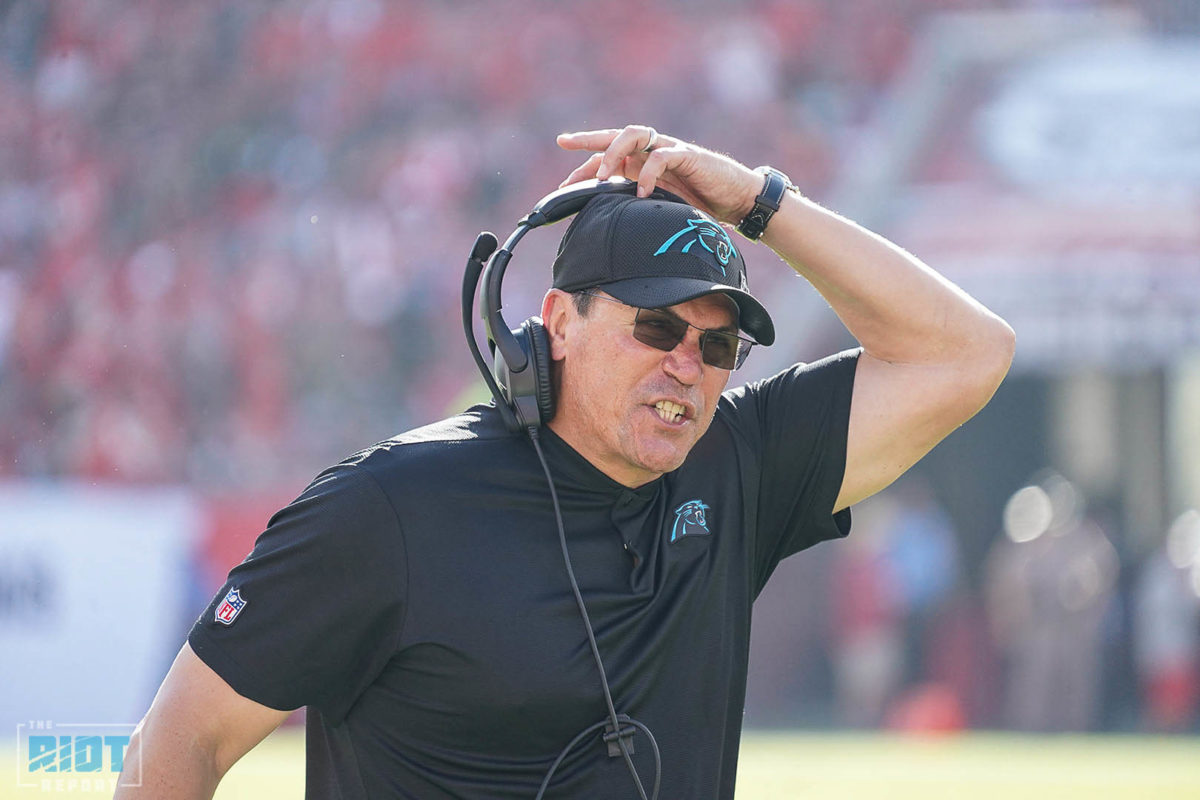 This Sunday, there is a surreal, storybook-esque atmosphere surrounding Cam Newton's return to Bank of America Stadium as the quarterback of the Panthers. A major factor in that is the fact that it's Rivera, Newton's coach of nine seasons and a man who is forever linked to him, who will lead the visiting Washington Football Team from the other sideline. This game isn't merely Cam's first game back in Charlotte, but also a first return to the Carolinas for Rivera following the loss that saw him fired a little under two years ago.
There was no other conclusion to be drawn from that game – an indefensible, inexcusable 29-21 loss to a Washington team that went 3-13 – than that it was over for Rivera. The bloom had fallen from the rose somewhere along the way, and even his most staunch advocates had to admit there was no way forward for him as head coach of the Panthers.
What wasn't inevitable, however, was the manner of Rivera's departure. Considering all that Rivera had done for the Panthers and the Carolinas alike, he likely deserved more than a midseason farewell.
While I felt the Panthers gave Rivera as dignified a mid-season send-off as they could, a large part of me felt that it never gave fans a chance to say goodbye and thank you. The Panthers' winningest head coach of all-time was simply there one day and gone the next.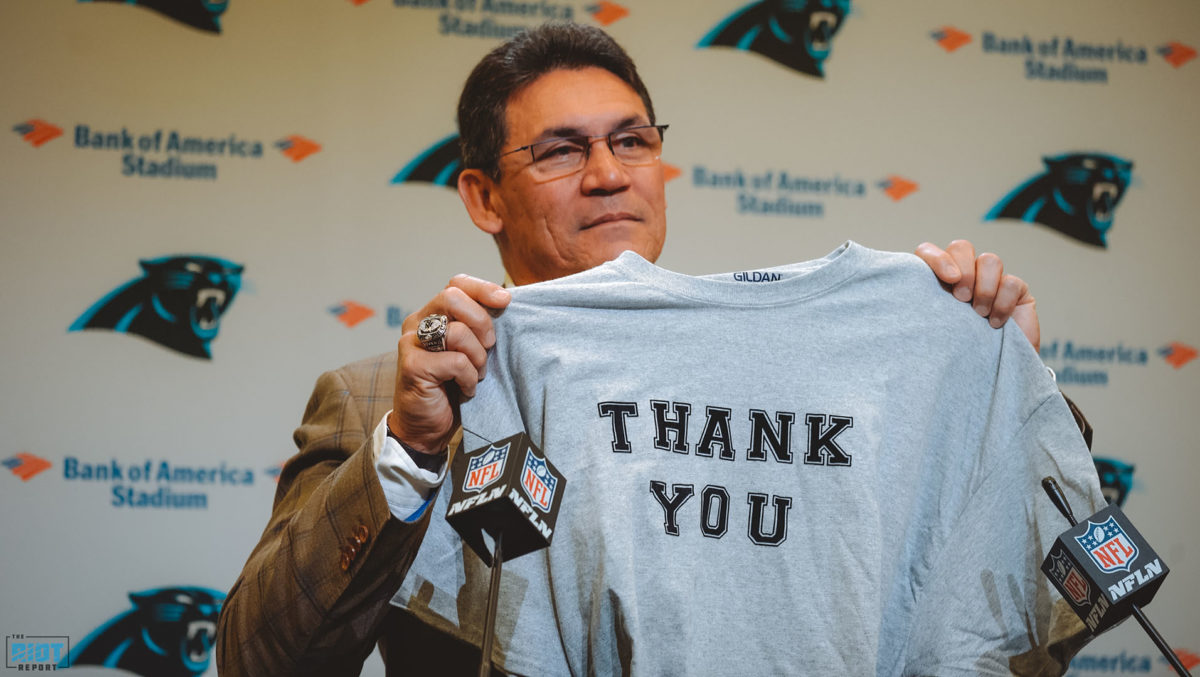 For as much hype and excitement as there has been around Cam Newton's return to Charlotte, Ron Rivera's return has likewise been viewed with a collegiate air of anticipation. Particularly from players eager to see their old coach again, but also looking to beat him.
"I have nothing but the utmost respect for Coach Rivera. Not just as a coach, but as a person too," said running back Christian McCaffrey. "He's an unbelievable mentor to a lot of people and a guy that's real easy to look up to. It'll definitely be good to see him again despite obviously the competitive nature of the game."
"The relationship that the Carolinas have with Coach Rivera, it's gonna be fun to see a packed house with Cam Newton and Ron Rivera back in Bank of America (Stadium), but on opposite sidelines," said cornerback Donte Jackson. "I think it's gonna be a great thing to see, and I think it's gonna be really, really fun."
"It's not about us. It's not about me, it's not about him. He knows how I feel about him," said quarterback Cam Newton. "But he knows what it's gonna be on Sunday. … I know he understands there is a respect, but we tryin' to get 1-0 by any means."
The anticipation of players, surely, is also shared by the many fans who will see perhaps the most consequential game the Panthers have played at Bank of America Stadium in six years. While no one donning black and blue wants Week 11 to turn into Ron's Revenge, and any feelings of being glad to see him again are muted in comparison to Cam Newton's return, Sunday's game will at least avail fans the chance to make up for a missed opportunity.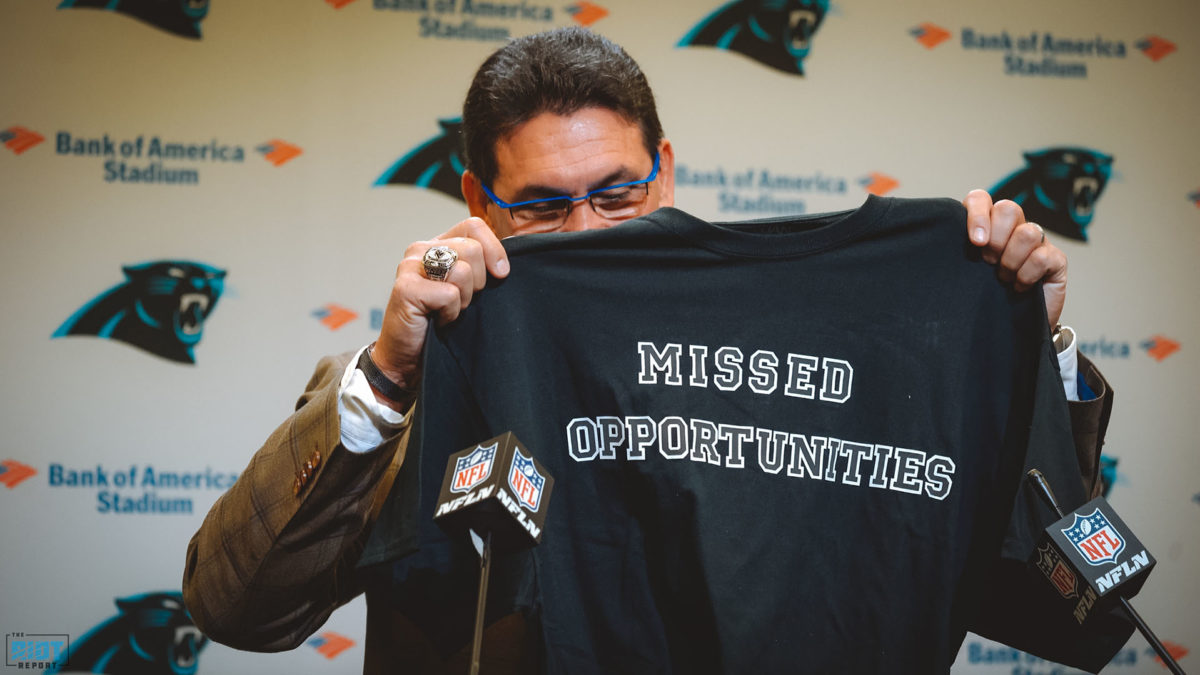 Although Rivera's farewell to the Charlotte community came in February of 2020 at a yard sale that benefited the Humane Society of Charlotte – a more intimate setting for fans and one for a great cause – there was never a moment at Bank of America Stadium where Rivera could be seen off and wished well by the partisan crowd as he went from one chapter of his career to the next.
On Wednesday, I asked Rivera himself if he ever regretted not getting that sort of send-off or moment of closure.
During yesterday's conference call, I asked Ron Rivera if he ever regretted not having a last sendoff or moment of closure with fans at Bank of America Stadium. His midseason firing in 2019 didn't allow for that to happen.

Former Panthers head coach's answer: pic.twitter.com/OU6lwgekl8

— Steven Taranto (@STaranto92) November 18, 2021
"I don't. I really don't – I don't have a lot of regrets," he replied. "I never really thought about that, but I do know this though: When (wife) Stephanie and (daughter) Courtney had stayed out there and I was coming back between both places, getting to see folks and being able to say goodbye really I think created that opportunity.
"And one thing I really did appreciate was after Mr. Tepper and I had talked and he gave me the opportunity to have the (exit) press conference the next day, I think that was probably it for me right there. It was great, he treated me with a lot of respect and dignity, which I thought was really good of him. I appreciated that. And so having that opportunity, I think, probably was what created that for us.
"The yard sale was pretty cool too, because having folks be able to come up and say 'Thanks and we really appreciate it,' that meant a lot because they came and supported a charity … that Stephanie and I felt very strongly about."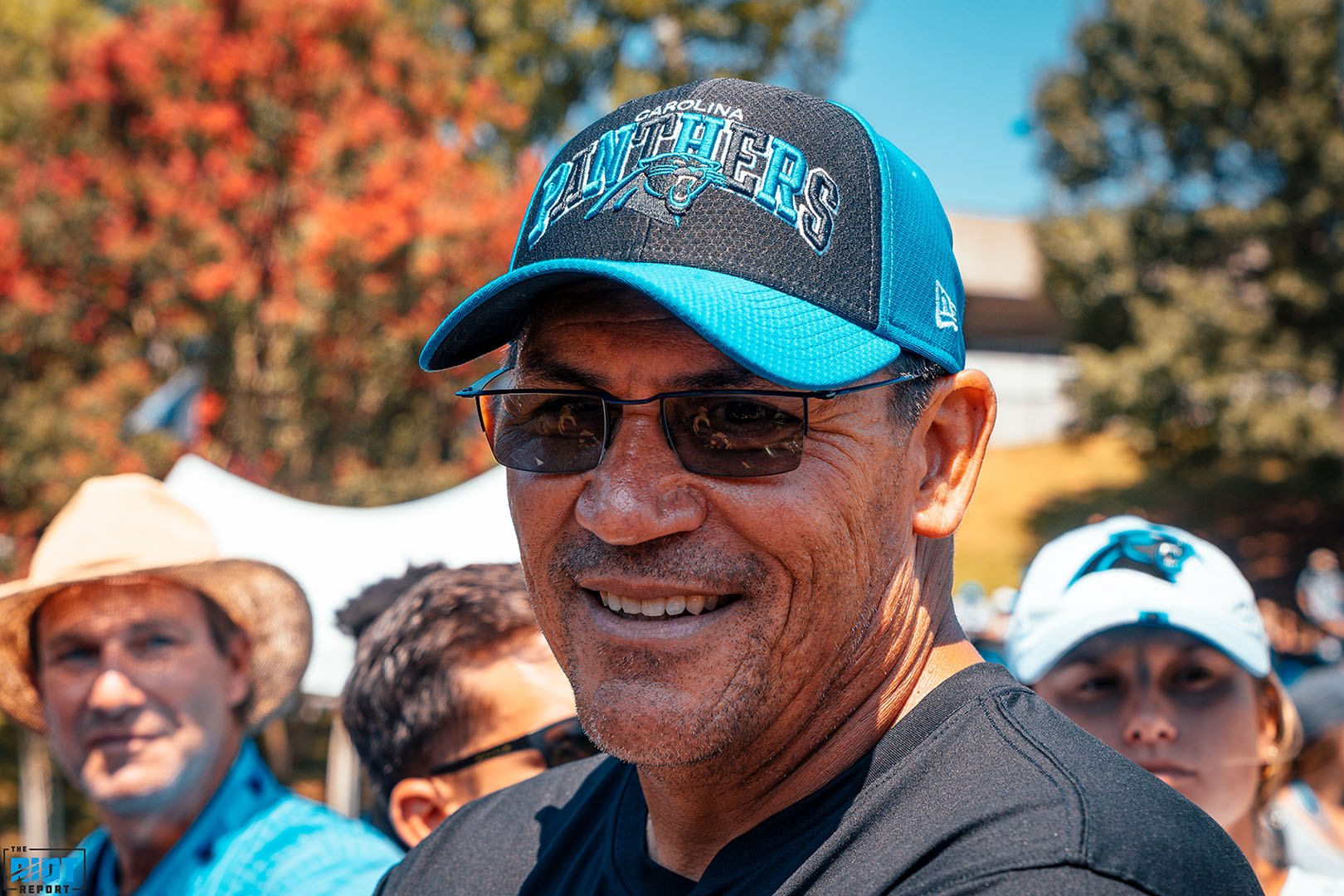 On reflection, the way Ron Rivera ended up being treated with dignity after all says a lot about the city of Charlotte and a lot about him also. But if I put myself in the shoes of a lifelong Panthers fan – especially if they had grown up with Coach Rivera and only Coach Rivera – I really would have wanted a chance to say goodbye from the stands. To look at my coach on the field one last time and be able to express my feelings in the way a fan does.
I'm glad that on Sunday – In pre-game, before things get serious – Panthers fans will get the chance to get a good look at their old coach again on the same field where the relationship between them was forged. And in that moment, I'm glad that the opportunity will finally come for fans to both say "Thank You" for all he did and also be able to acknowledge that once he walks through that tunnel back to the visitor's locker room, the past will be the past and he won't be the head coach of the Panthers anymore.
As much as this Sunday's game is about the revival of the Cam Newton era and happy days being here again, I think it's also about getting a proper chance to acknowledge someone who was a big part of what made that era of Panthers football great. That chance is one which, in my opinion and based on my own experience, I feel is long overdue. But thankfully, it's a chance which has come to Panthers fans all the same.