As the Panthers began practice in preparations for Sunday's game at the Arizona Cardinals, there was one noticeable absence.
Cam Newton missed Tuesday's practice as he reaggravated the same foot he injured during the Panthers' Week 3 preseason game against the New England Patriots. General Manager Marty Hurney talked to a small group of reporters outside of Panthers practice on Tuesday morning and let them know that Newton was rehabbing inside the facility as opposed to attending practice.
"We are going to take it day-to-day," Hurney said.
Panthers coach Ron Rivera said Newton told him after the game against the Buccaneers that his foot was sore; Rivera also said Newton did physical therapy over the weekend with a trainer to try and get himself back healthy enough to practice today, but that was ultimately unsuccessful.
Although Newton was not listed on the Panthers injury report before the game against the Buccaneers, he was clearly playing with an injury. After starting the game 7-for-8, he went on to complete only 17 of his final 43 attempts.

In the Panthers' 20-14 loss, Newton went 25-of-51 for 333 passing yards. He was sacked three times and rushed twice for zero yards while also losing a fumble. During the game, Newton was off-target on several throws as he finished with a completion percentage of 49%.
Newton has yet to throw a touchdown pass during the first two weeks of the season as he has thrown for 572 yards and an interception. While he had a 65.8 completion percentage in their season-opening loss to the Los Angeles Rams, Newton also missed throws throughout the game. This comes just a year after completing a career-best 67.9% of his passes during the 2018 season, despite battling a shoulder injury that got worse throughout the season and eventually forced the Panthers to shut him down before Week 16. Not only has Newton been ineffective as a passer during the first two games, but also as a runner.
Since entering the league in 2011, Newton has rushed for 4,806 yards on the ground, which is the most by any quarterback during that span. In 2019, he had two carries for no yards against the Buccaneers after having three carries for a career-worst minus-2 yards in the opener against the Rams.
Rivera said the lack of designed runs for Newton wasn't necessarily because of his injury and he felt confident in the quarterback's health and was optimistic as they headed into Thursday night.
"It was a short week," Rivera said. "He told us he had reaggravated [the foot] at some point during the game and that it was sore. So we are just going from there."
While the Panthers want to get Newton back on the field as soon as possible, but they won't rush him back if he is not healthy.
"Well at the end of the day, nobody will know better than him," Rivera said. "So my job, really, will be to handle the players that are playing and handle the quarterback situation as it goes. Until we know that, Kyle Allen – if he ends up playing as our starter – will be our starter."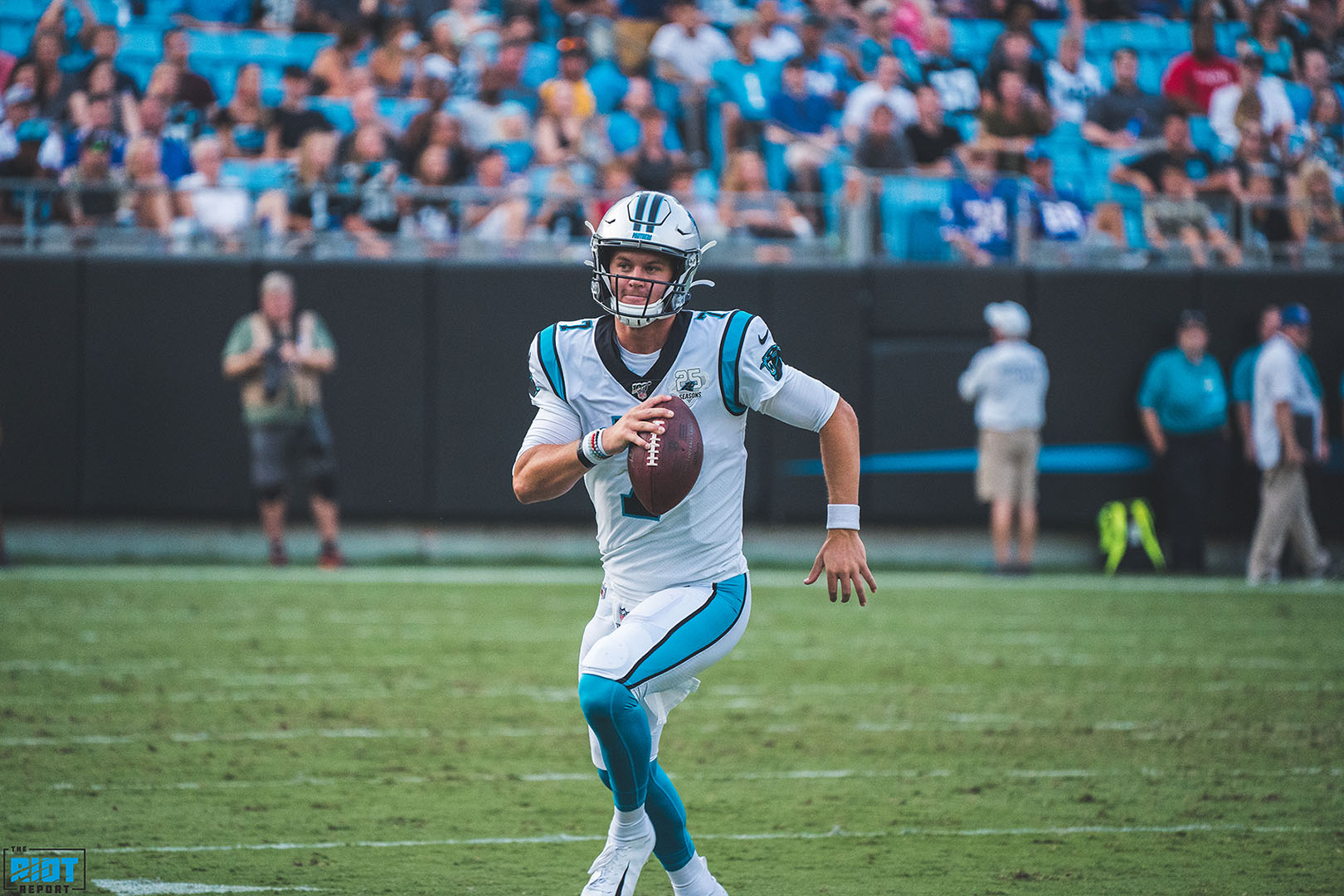 If Newton cannot play against the Cardinals, second-year quarterback Kyle Allen, who started in the Panthers regular-season finale win against the Saints last year, would likely get the start with third-round pick Will Grier backing him up.
"Well, obviously Kyle and Will are out there today [at practice]," Hurney said. "But we'll see how it goes."
Rivera said the Panthers are not considering bring in a veteran quarterback even with the inexperienced with Allen and Grier even if Newton is out for an extended period of time.
"I think the guys we have here we brought here for a specific purpose and that's to develop them, train them, have them ready to go for a situation like this – that's why they're here," Rivera said.
The 0-2 Panthers play the 0-1-1 Cardinals on Sunday at 4:05 EST.