Captain Munnerlyn, by his own admission, let his emotions get the best of him last season.
Upset with what he felt was a lack of playing time, he didn't play his best on the snaps he was given and ultimately led to the lowest tackle number of his career in a season in which he played less than 40% of the Carolina Panthers' snaps. Once thought of as a missing piece for the Panthers defense, Munnerlyn was signed before the 2017 season to play inside cornerback, but defensive coordinator Steve Wilks ultimately chose to play Shaq Thompson as the "big nickel" for long stretches instead of using the nine-year veteran who began his career in Carolina in 2009 – Munnerlyn stopped after today's mini-camp session to chat about his lack of playing time last year, turning over a new leaf in 2018 and how he can help mentor the next generation of Panthers cornerbacks. Munnerlyn spoke on a multitude of topics, including why he felt upset about not getting the playing time last year, regardless of the opponents' personnel on offense.
"That's how it was in previous years – when I was in Minnesota, check my snap count. I'll never forget, when we played Green Bay, we played 68 snaps and 66 was 11 personnel and I was in the game for all of them," said Munnerlyn. "That's how I felt like it should have been, but it wasn't. They had a 'big nickel' situation so it was a little different, something I didn't agree with, but at the same time, I didn't handle it well."
Check out the rest of the Q&A below: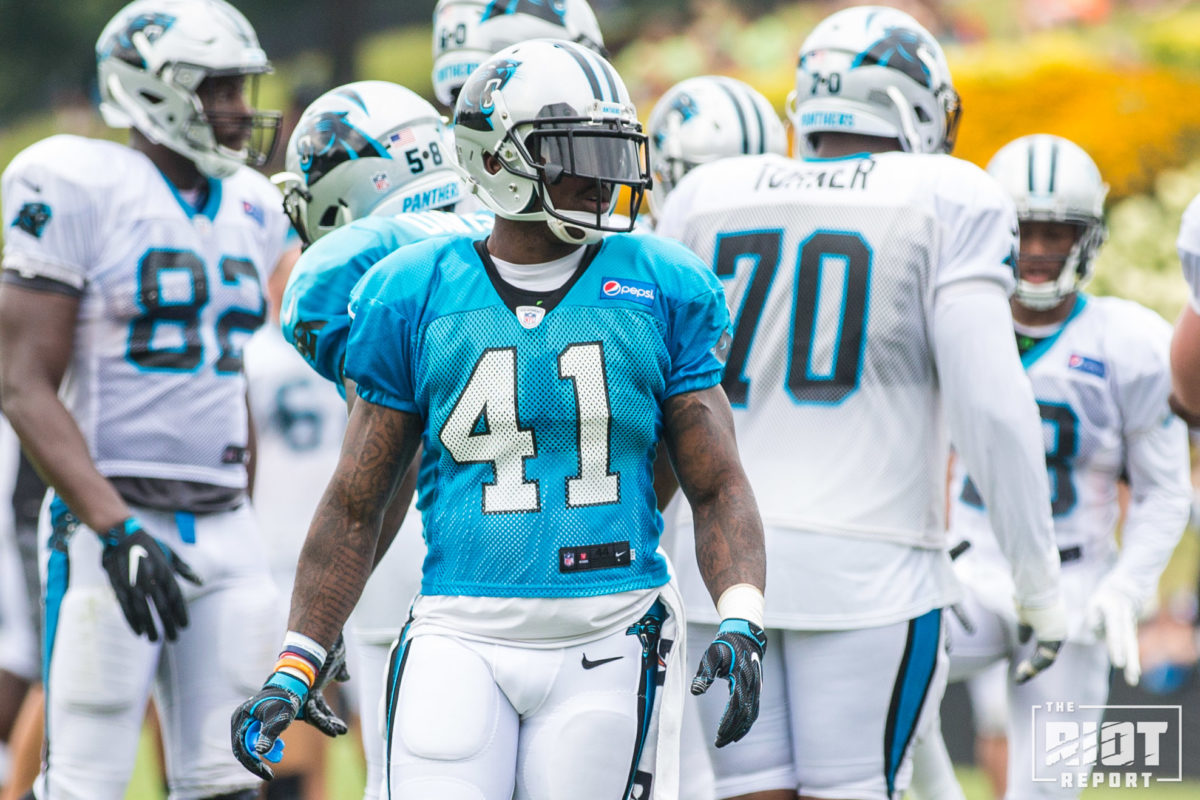 You sound like you're trying to turn over a new leaf in Year Ten.
Oh, yes. Most definitely trying to turn over a new leaf. There's always room for improvement; that's definitely something that I said, that I was going to have a great attitude this year. I wasn't going to worry about if it was 10 snaps or 12 snaps or 50 snaps, I was going to go out there and do what I'm capable of doing, that's making plays, having fun, flying around and doing things that Captain Munnerlyn loves to do.
The defensive back group that's on the team right now, is it improved from a year ago?
We've got a lot of talent, man. We're going to have a lot of competition – I think competition brings out the best of everybody; if you look at the guys we've drafted, you look at the guys we brought back, it's definitely going to be a whole lot of competition, I think it's going to make us better as a group and I feel like we'll be better – we're definitely going to be in a better situation than last year. We gave up a lot of plays towards the end of the year, we weren't strong enough at the end, we were headstrong enough to get through that wall, but I feel like a lot of guys have grown up and we're ready to roll.
You mentioned a different approach for you this season, but in terms of competition between the lines, I can't imagine that person has changed at all.
Oh, no, no. Most definitely. Even though this is year ten, I'm getting a little bit older, but I feel great – I feel like I've got a lot of football left in me. I'm still very competitive, I'm still going to come out here each and every day and work my tail off and make plays. That's what I do. I come out here and make plays and show my coaches why I should be on the field.
How much of a difference is there between new DC Eric Washington and Steve Wilks?
I think Coach Washington is just letting me be me. Coach Wilks let me be me too, but at the same time, with Coach Washington, when there's three receivers in the game, he's saying 'nickel' – go out there and you guard this guy. We don't want to be at a disadvantage, not to say that Shaq can't guard the guys, but to just put a DB on the receiver, that's something that we're doing this year. I don't know what was the problem last year, I tried to ask and get answers, but I never really got to get the answers that I wanted; but it's OK, I try to move on from that and like I said, I didn't handle it right. I didn't handle it right at all; I pouted, I got mad even though it was 10 snaps or if it was two snaps a game, I didn't go out there and play the capable football that I'm capable of playing. So I had to turn over that leaf in my life and be out here ready to roll.
How hard is it to balance mentoring the younger guys and also competing with them on the field for your spot?
It's not hard at all. Because I know what I'm capable of doing; I want everyone to be great out here, because I know competition brings out the best in me and I know competition should bring out the best in them. I'm not worried about these guys learning this fast – I want to help these guys, that's something that I want to do is help these guys; I'm getting old. This is year ten for me, so I definitely want those guys to bring out the best in me and for me to go out here and play my best in this competition.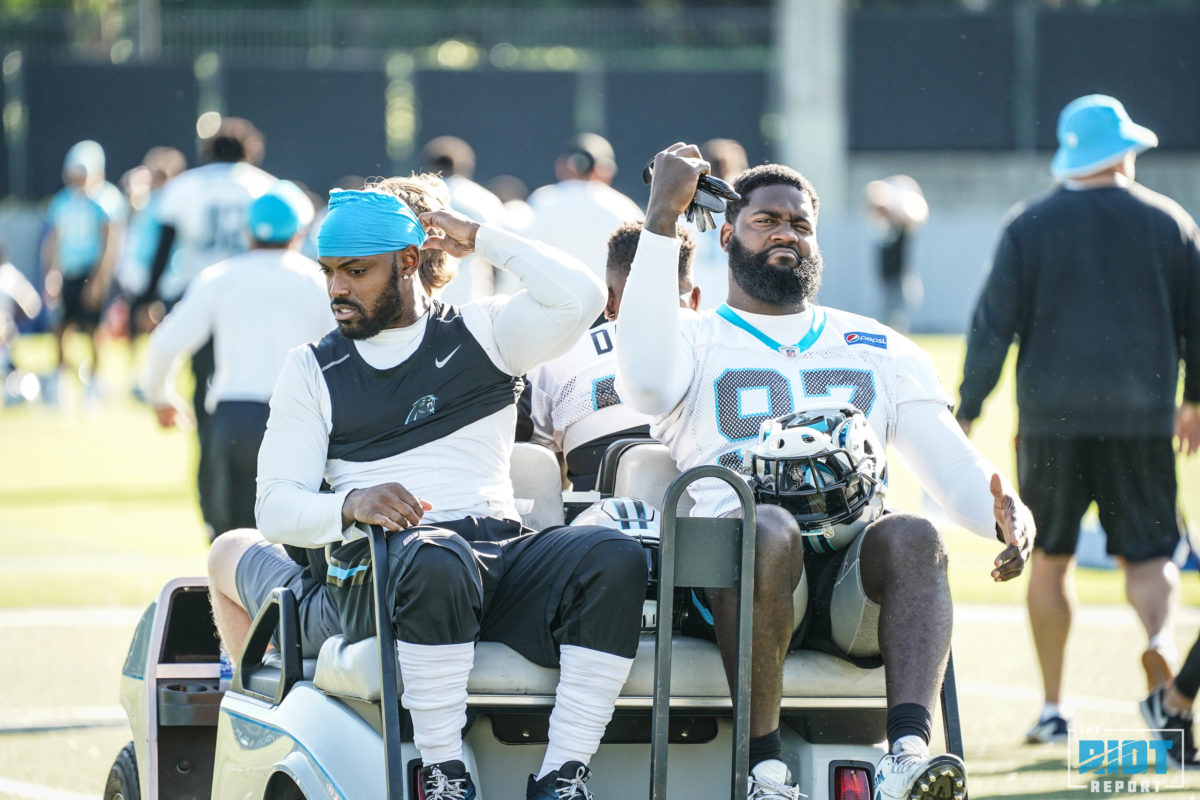 What are you seeing from Corn Elder, who had to use last year as a 'redshirt' season being out for the year?
I'm seeing a lot. I'm seeing a lot of improvement from last year, even the couple of days that he had out here; he's flying around, he's having fun, he's moving a whole lot better, I think he's getting a whole lot healthier as the year goes on – I'm excited just to see him play. Excited to see him put that #35 jersey on in the stadium and play in these preseason games and play on Sundays; I'm very excited.
What else excites you about the changes you've made on this defense for 2018?
It just feels like everyone's got a fresh start. That's what I was looking for – I was looking for a fresh start, I didn't want [anything] hanging over my head, what I did in the past, some of the stuff I said in the past, so I was just looking for a fresh start and I think that's what we've got. I think everybody knows that we're capable of going out there and making that run and having the best defense in the NFL so we're just trying to get better each and every day, keep stacking these days up and keep working.
What made you turn over that new leaf? You get to make a fresh start with a new coordinator, but you also needed to make that decision.
I just had to sit back and think about me as a football player and me as a person, what I wanted. And what I wanted was to play more, but I spoke on it too much; I spoke on it too much instead of just going out here and showing it. Actions speak louder than words, I was just pouting and I wasn't playing the level that I'm capable of playing. Going out here on Sundays, if I was in the game for three snaps or something, [they weren't] my best snaps. I was just saying, 'Well, I'm out here. I'm out here, let's just get off the field.'
No. If I'm out here, let's be a game changer. If I'm out there for three or four plays, let me be a gamechanger. I just had to reevaluate myself; I had a lot of time in the offseason to train harder, try to lose some weight, get my quickness back and be ready to roll.
After the playing time issue, did you address that with your teammates and coaching staff?
Oh, I definitely addressed a couple of the guys on the team like TD, Luke, and Pep. Because I always used to go to those guys and say my frustrations – 'Man, I'm frustrated. It's hard to come out here and 28 plays have been played in the game and you just get in on the 29th play, and they expect you to go out there and make a play, that's tough.' – I've never been used to that role a day in my life; I never knew that was going to be my role coming in, maybe I could have handled it differently if they had told me that was going to be my role, but they didn't. It's the NFL, man. They're not going to tell you everything and I had a lot of frustration about it and I used to tell those guys and they were like, "Man, you've just got to get through it, go out here and just make plays when you're in the game." I just sat back and thought about it during this offseason; you know what, it is what it is at this point, let me just go out here, if I'm out here on the 50th play of the game and they try to throw the ball to my guy, I need to make that play for my teammates, for my coaches and for this football team.