On Tuesday, a familiar face returned to Spartanberg at Panthers practice, but he was wearing a different shade of blue.
After signing with the Buffalo Bills last week, Captain Munnerlyn made his return to South Carolina in his first practice with his new team. Munnerlyn played for the Panthers in two different stints with the organization, from 2009-2013 and again in 2017-2018.
He was drafted by the Panthers in the seventh round of the 2009 NFL Draft as Munnerlyn spent his first five seasons in Carolina. Then, after playing in Minnesota for three seasons, the diminutive Munnerlyn who was never lacking for something to say returned to the Panthers in 2017 where he played his next couple of seasons in Carolina. During his seven combined years with the Panthers, Munnerlyn registered 351 tackles, eight interceptions and 52 pass breakups.
After Tuesday's practice, reporters had a number of questions to ask Munnerlyn, including his thoughts about Panthers quarterback Cam Newton and his return from shoulder surgery.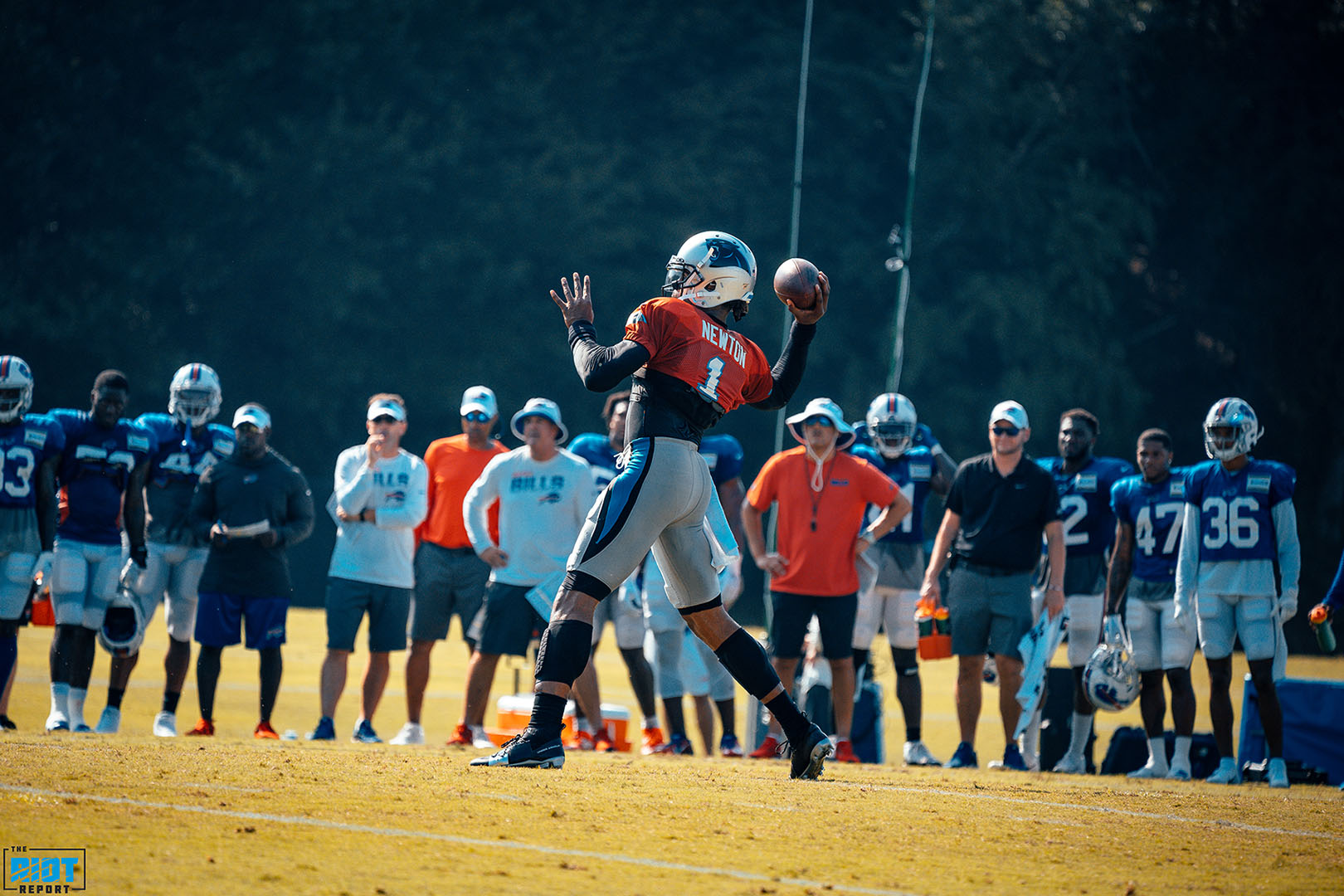 What is it like to be back here? 
"It feels good, feels great. We definitely needed the heat. It was a great feeling, it was definitely kind of odd at first, but at the same time, I'm just happy to be playing football again."
Did you give the guys a primer what it is like here in Spartanburg? 
"Oh yeah, most definitely. I told those guys [to] be careful wearing sleeves and things like that because it can get very hot. You don't want guys out here falling out and cramping. So I gave them little tips like that,"
You have been around the league a long time – you're a grinder – what is your outlook trying to stay on this team, and how does this camp compare to previous ones? 
"Well…I got a late start to it. I'm definitely a veteran guy. I missed some of the primary stuff like OTAs and minicamps and things like that. But I went to the perfect situation for me. I know the defense already, it's a defense I'm familiar with that I ran for seven years, so that hasn't been a problem. Just getting back into playing football shape. I've been working out things like that, but playing football is definitely different, so just trying gradually to get into football shape, so I can stick around. "
So what was it like seeing some of the old boys and who chirped your ear off the most? 
"It was most definitely Cam [Newton]. But still, going out there competing against those guys the competition and different things like that, it was fun."
What was the offseason like for you? 
"It was crazy, it was a crazy offseason. I know I still wanted to play, in my heart of hearts, I definitely still wanted to play football. I feel like I still have a lot in me. I just had to go back to the drawing board and train harder and get into shape and get ready to roll."
You mentioned the familiarity in the defense up in Buffalo? 
"That was the key for me. That was the key for me making my decision. Most guys go to different teams and learn new defense and a whole new scheme. I was joking with Coach McDermott I was saying, 'dang coach, y'all didn't even give me a playbook because I already knew everything.' I already knew all the calls and things like that and it was like I was [already] here. And I think that helped me out a lot. I don't have to be indecisive when I'm doing things on the field, and I can still make plays."
The funny thing is the Panthers changed their defense. I think in some games last year, you did some elements of an odd-man front (3-4)? 
"Oh yeah, we did. We always had it, we just never ran it full-time."
Do you think it is a decent fit for these guys and the personnel? 
"Oh yes, those guys are capable of doing anything, especially on defense. Up front, they probably have one of the best front sevens in the game. So they are definitely capable of doing it. So I know I'm not worried for those guys."
What are some similar attributes between Josh Allen and Cam Newton? 
"Both of them are big guys. Josh has got a very live arm. Josh, I will never forget when I saw him in the locker room, I will never forget – when we played them in the preseason last year, and I [saw] this guy throw the ball 70 yards, and I was like whoa, this kid can definitely be special. Cam is Cam. Cam is definitely a special athlete, and I'm glad to see him back on the field to get those guys going."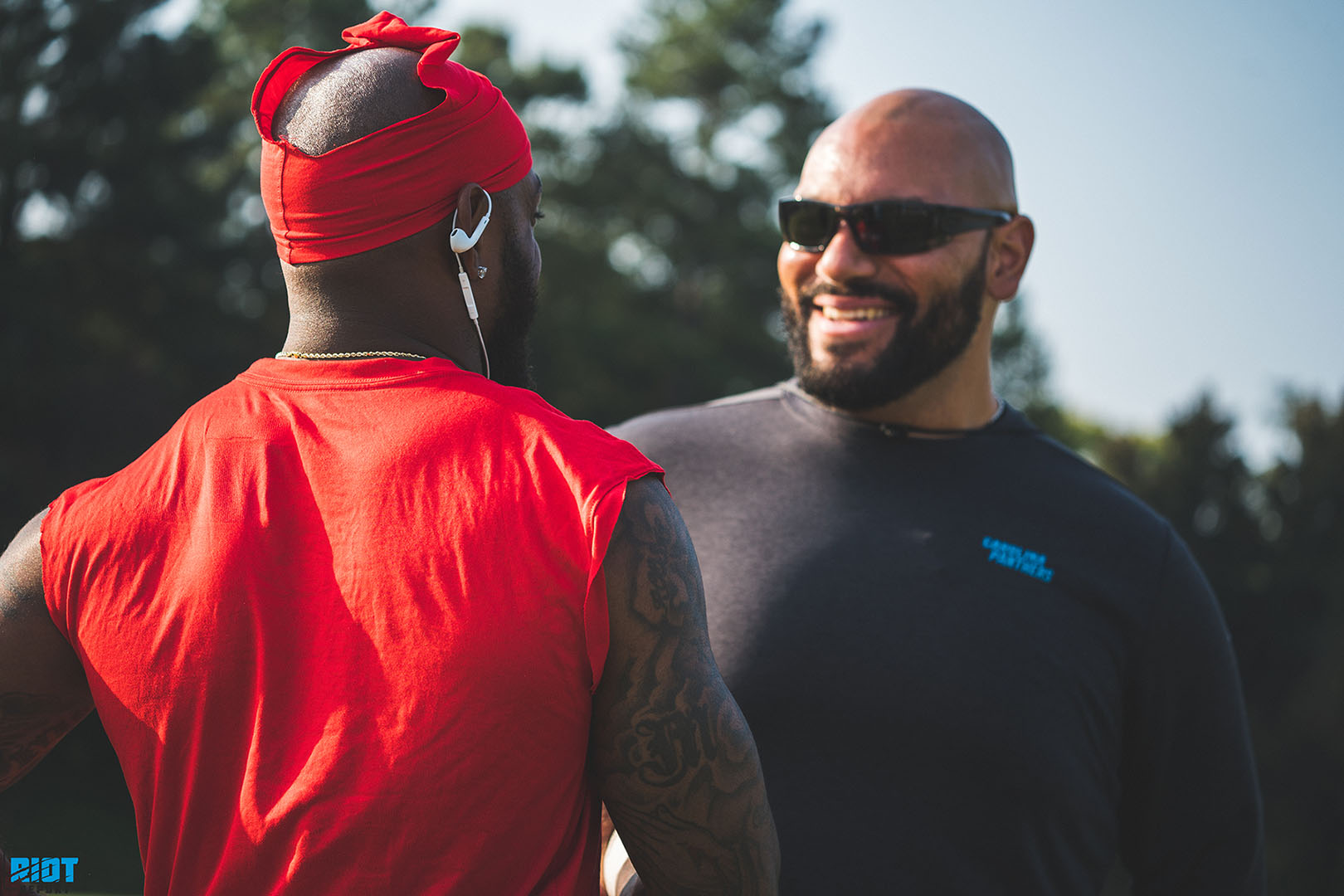 You saw Cam at the end of last year, can you compare where he is at now compared to then? 
"It's like night and day. His arm looks a whole lot better. You can tell he has been working. To see him come back from that injury, it has been tough, I know it has been tough for him, but I'm expecting big things from him."
You ever think you would be back in Spartanburg? 
"No, never thought I would be in Spartanburg. But I got the call, and I was like, this is the week they practice against the Panthers, and I was like, it's time to roll."
Isn't it crazy when you look at the Bills roster and you see all the old Panthers?
"It is crazy. Even to see Brandon Beane as a GM, to see guys like Kurt [Coleman] and coach McDermott and we even got one of the video guys. I was like 'Yo, when did you get here?' It was definitely a funny thing. I know everyone makes jokes about Buffalo being the Panthers of the North and it is definitely different, but coach and Beane are doing a great job of getting guys ready to roll."
You saw things change a little bit last year when they allowed Eric Reid to be on this roster and now Tre Boston was outspoken on social injustice stuff, what have you seen that has allowed players to be themselves? 
"I don't know. I can't say guys were scared of Mr. Richardson because me and Mr. Richardson had a great relationship. I always spoke my mind, and nothing happened to me. So I think guys are just expressing themselves my open. I don't know why, but [David] Tepper has been great for the organization, and Mr. Richardson was great for the organization, so I can't give you the answer for that one."
You and Cam had some funny trash-talking moments before practice about wearing No. 26?
"It is definitely different, but I will definitely have 41 by next week. Me and the guy [Maurice Alexander] already talked, it was just late in the game, and they had to hurry up and give me something."
You can feel all the love out here 😂 pic.twitter.com/l4XUXfgCFL

— Carolina Panthers (@Panthers) August 13, 2019

Financial? 
"I might have to do a little something. But 26 is not me. That is Donte Jackson."
Donte said that was a tribute to him?
"(Laughter) Tribute to my little brother. But, nah, I gotta go back to my roots."
Were you able to talk to Cam after things got going? 
"We talked a little bit. I told him he's gotta get the ball off a little faster. He was sacked one time when the fans went crazy when he hit Curtis [Samuel] with the deep ball. But he was sacked three or four times, so it didn't count."
On the same play? 
"Yes, but guys were going crazy. But he was sacked."
You and Cam didn't get to face each other today?
"Yeah, there are trying to get me gradually in there, which is understandable. Coach knows I'm competitive, I'm very competitive, and I wanted to go. I was like coach, let me go let me go, he was like nah, calm down, we don't want you to get hurt, which is understandable. I've been out of football since February. I haven't played football in a long time, so you have to gradually get me in there and get me moving."
Will they hold you out Friday for the same reasons? 
"I don't know, if they do, I'm fine with it. If they don't I'm fine with it. I'm a competitor, if I'm on the field, I want to compete and make plays."
What is the going rate for a jersey number these days? 
"I don't know. I never had to purchase one. I remember when I went to Minnesota, and a guy had No. 41. I offered him $41,000, I had just got paid, got a little money, but he wouldn't go for it. He didn't go for it."
So $26,000 going to be the starting rate? 
"Nah, probably a little lower. I didn't get paid like that."