In the NFL, pressure in the abstract is a constant – no matter who occupies a certain locker room. It never leaves when a player rises to the occasion under pressure, nor succumbs to it: It is simply passed along from one player to the next.
On the Carolina Panthers, the very idea of which players are under pressure entering a new season has been dramatically altered at a level not seen in a generation. Thanks to an offseason that saw sweeping change to the roster to the point of an outright purge, many veterans who normally faced the most pressure each coming season – most notably Cam Newton – are now gone.
In their place, many surviving players are now burdened with having to prove themselves on a team that has fundamentally changed. Under a new coaching staff and a new vision from ownership as to how to reach success, certain players who are carryovers from previous teams are burdened with having to prove whether or not they fit in with new ideas as to what "Panther Football" is supposed to look like in 2020.
Whether they are young players trying to prove their worth or veteran players that managed to avoid the chopping block in March, several prominent Panthers are saddled with unique sorts of pressure for the coming season. Though cases could be made for most anyone suiting up in a Carolina uniform, here are five particular Panthers – two on offense, two on defense, and one on special teams – under an exceptional level of pressure in 2020.
WR Curtis Samuel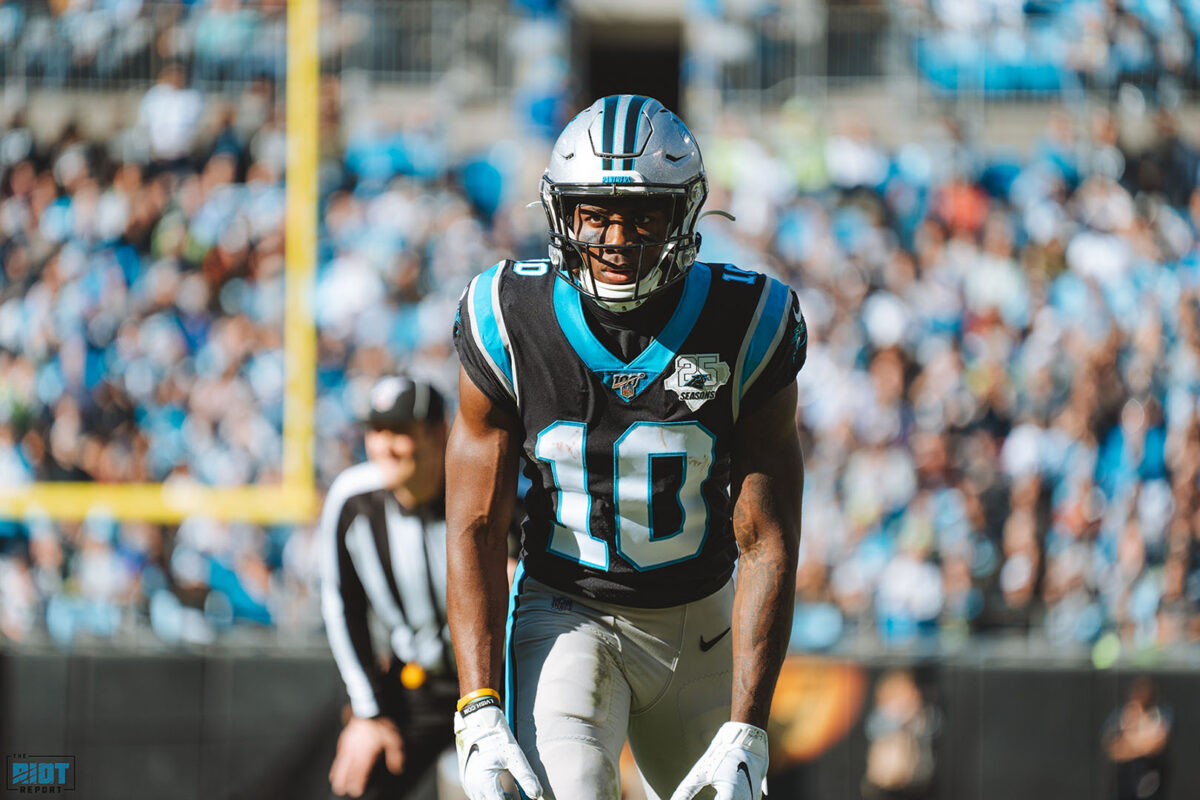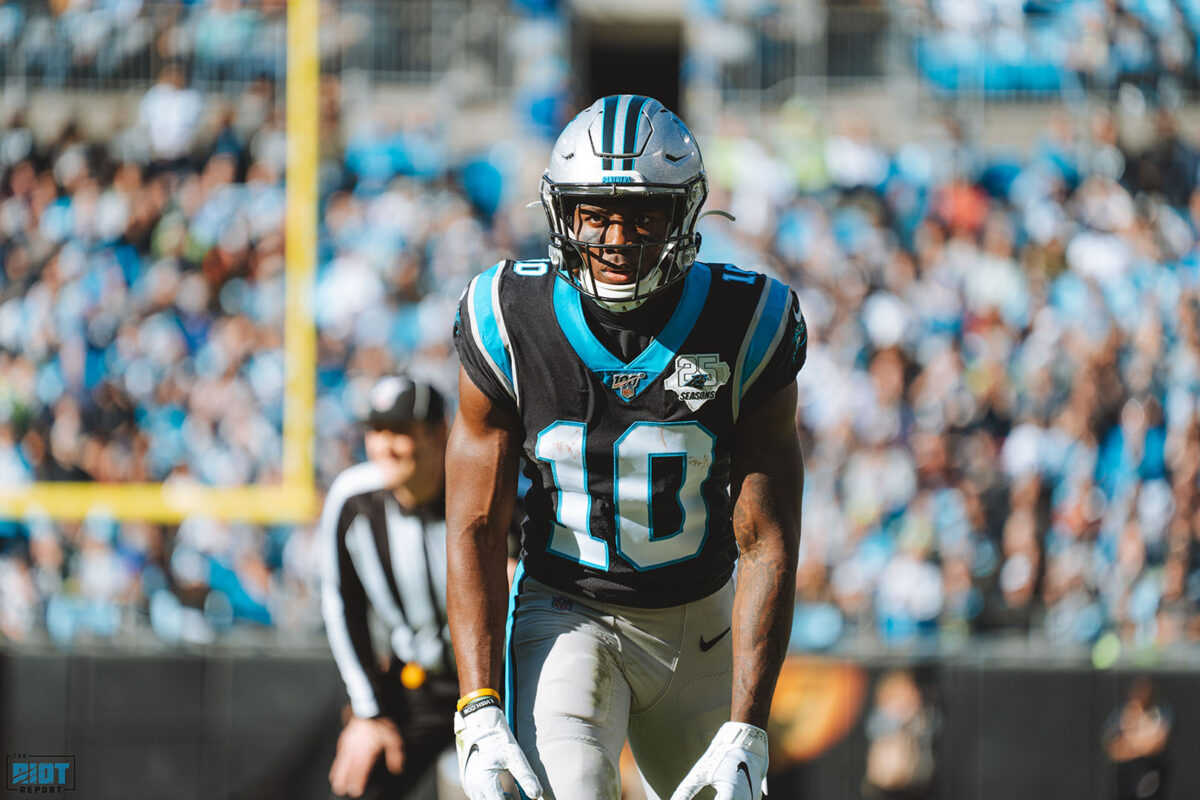 By now, you're probably sick and tired of seeing Curtis Samuel's name come up in offseason prognostications or previews. Which is understandable, given the Curtco Hype Rocket's failure to launch in 2019 – but it's a little unfair given how he hadn't asked or planned for the way his young NFL career has gone.
As a second-round pick out of Ohio State in 2017, Samuel had to transition from being a "gadget" running back/wide receiver hybrid in college to being more of a pure wide receiver in the pros. Along the way, there has always seemed to be some roadblock that has kept Samuel from realizing his potential.
Just as he was showing signs of figuring things out as a rookie, an ankle injury ended his season and limited his work the next offseason. After a stellar preseason in 2018, a heart condition forced Samuel to have surgery and set his conditioning back to the point that he couldn't last full games early in the season. By the time his conditioning was back up to par, injuries ensnared Cam Newton, and Samuel has since had to deal with subpar quarterback play – whether because of injuries or because of the more limited ceiling of others.
Although such factors can be pointed to in rationalizing why Samuel hasn't become a star, he has yet to make that step from "great talent" to "great player": The sort that can change his team's fate and instill fear in an opposing defense.

That's a problem for Samuel, as he is now entering the last year of his rookie contract and has come to be viewed by some as a potential expendable: Samuel's name came up in trade rumors in the spring and the addition of wide receiver Robby Anderson in free agency has created a crowd in the wide receivers room – one which may preclude a player like Samuel, who has never had more than 54 catches and 627 receiving yards in a single season.
For now, the company line out of Carolina is "the more the merrier at wide receiver" under new offensive coordinator and college football wunderkind Joe Brady. And assessing his skill players, Brady believes that Samuel can be a very important player to the Panthers' productivity.
"I think Curtis is a playmaker," said Brady in June. "He fits the mold of what we're looking for in this type of offense: A guy that you can utilize all around the field. You get the ball in his hands and good things happen.
"I think you saw stuff last year that shows that he can be a big-play wide receiver down the field, getting the ball in space and I'm excited for him to take the next leap. And I know that he wants that."
Still, it will become more and more difficult to justify putting major resources into the wide receiver position the closer both Samuel and teammate D.J. Moore get to their second deals. And if the Panthers land flat on their faces coming out of the gate, trade rumors concerning Samuel will likely flare up at the midseason point.
Although there's only so much that he can control, Curtis Samuel will have to prove that his level of talent and ability to stretch the field can actually win games for Carolina. After all, they've gone 6-18 with Samuel since the second half of the 2018 season – and they can just as well do the same without him.
LT Greg Little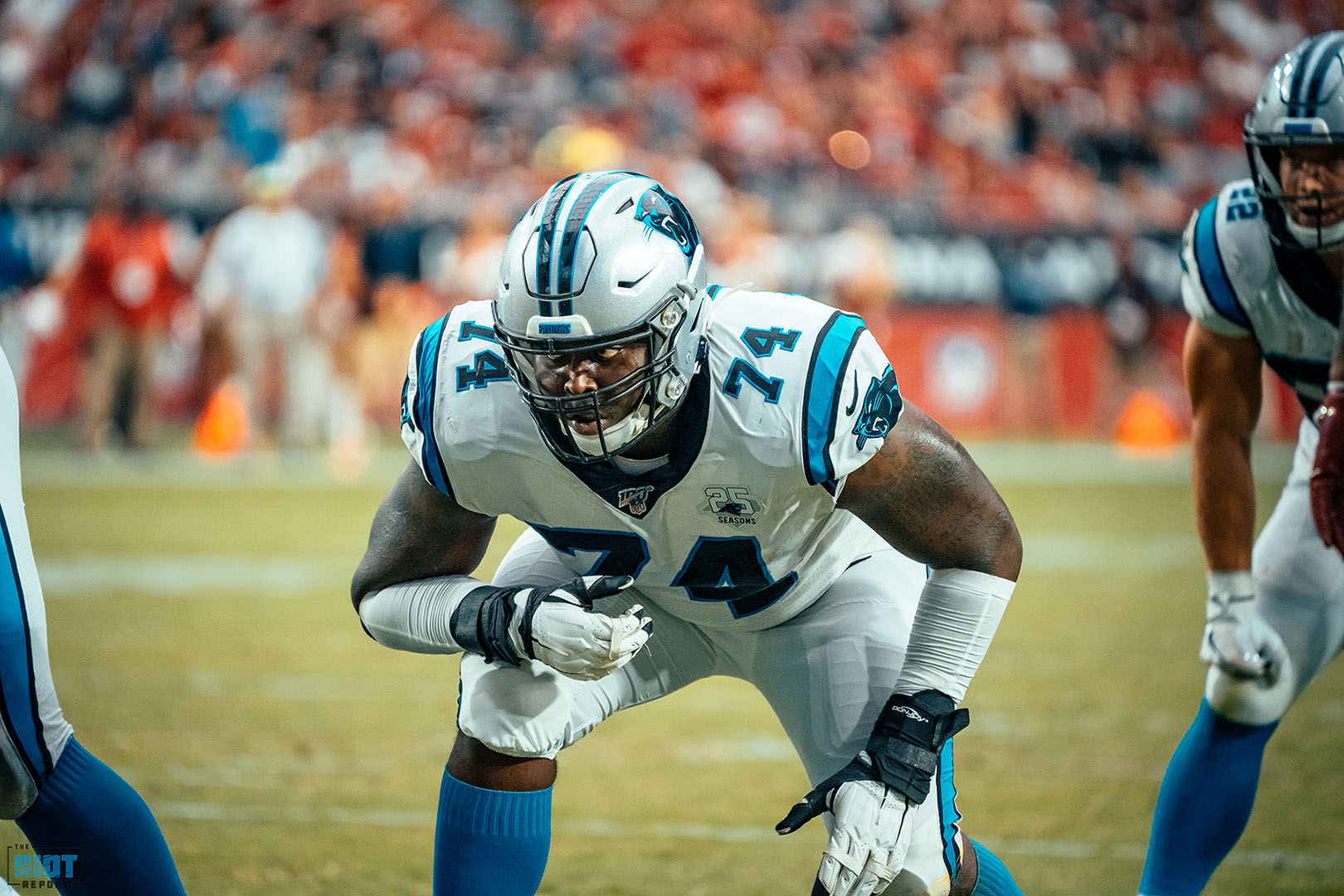 Among the most-confounding elements of the Panthers' much-scrutinized trade of Trai Turner in exchange for left tackle Russell Okung was that it directly undermined rising second-year left tackle Greg Little. Which was especially problematic given what the Panthers had invested in him.
Looking for a young player who could finally resolve their long-standing instability at left tackle, Panthers general manager Marty Hurney traded second and third-round picks in last year's draft to move up and take Little. While Little had moments where he looked like a very capable tackle, his development was severely stunted by concussion and injury issues. In all, he only played four games in his rookie year with three starts.
Suddenly, with the introduction of Okung, Little was displaced – and Hurney was left to try and explain that the move didn't signal a lack of faith in him.
"We have all the confidence in the world in Greg, and it gives him time to come in and get with a guy that's played in this league at a high level for a long time and develop and grow," said Hurney in April.
Being a second-round draft pick that his team traded up for, Little doesn't have the luxury of time to prove that he's a capable lineman – his circumstances somewhat resemble those of former Panthers offensive lineman Jeff Otah – another lineman Hurney traded up for, only for his prospects to be short-circuited by injuries. As it stands, the Panthers' offensive line is a very unsettled group, and linemen in general are far more likely to be criticized than they are to be heralded.
If the line can't create running room for Christian McCaffrey or protect Teddy Bridgewater, Little likely becomes an easy scapegoat for fan frustrations if he's playing – if he's not, the question of how he couldn't even crack the lineup on a line that isn't performing well will hang over him – there's not many paths for success for Little.
As long as Hurney is the Panthers' general manager, Little will have a place in the team's plans for 2020 and beyond. But if that changes, Little's standing with the Panthers becomes much less certain. Especially if he doesn't play like the rock-solid mauler a "franchise left tackle" is expected to be.
DT Kawann Short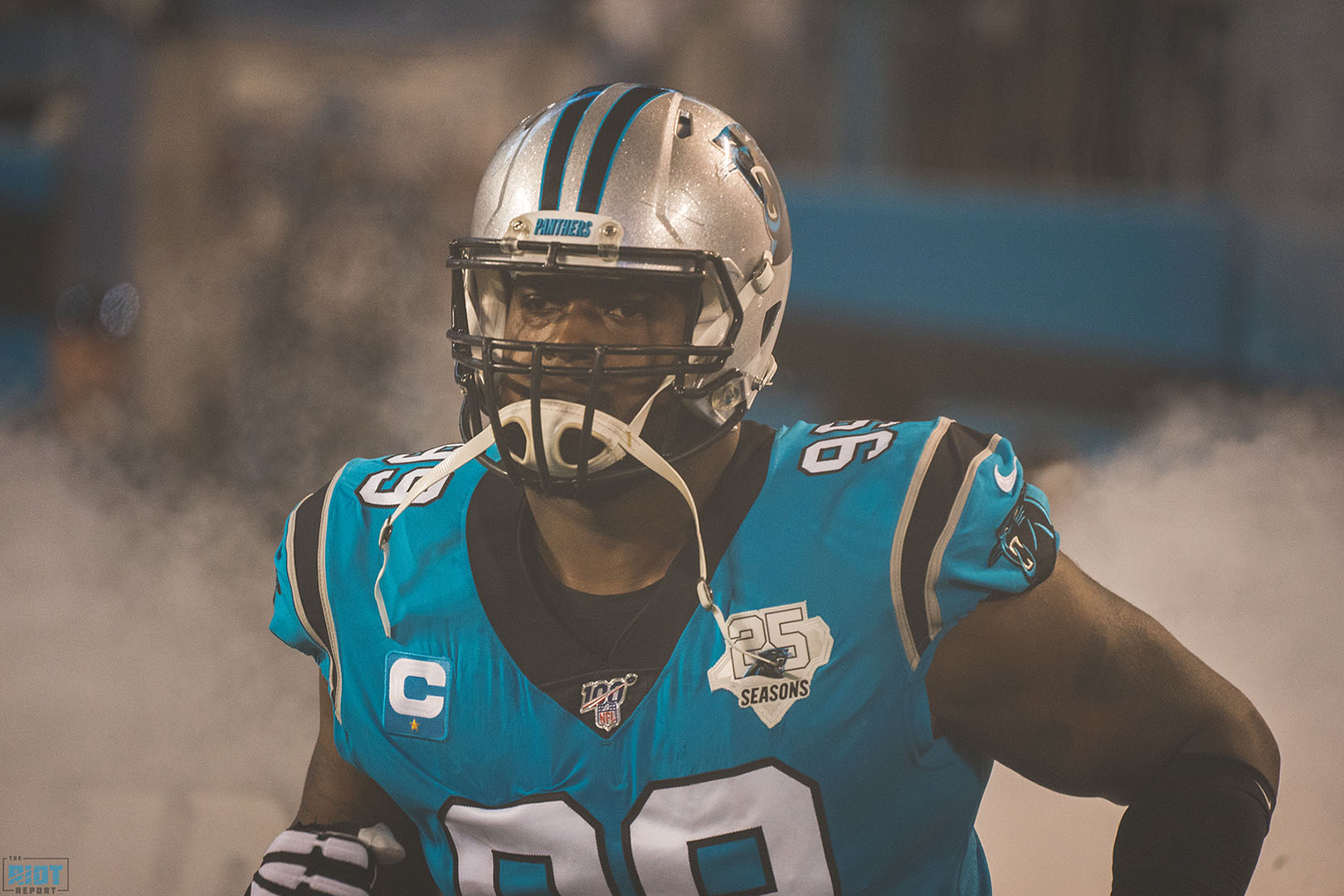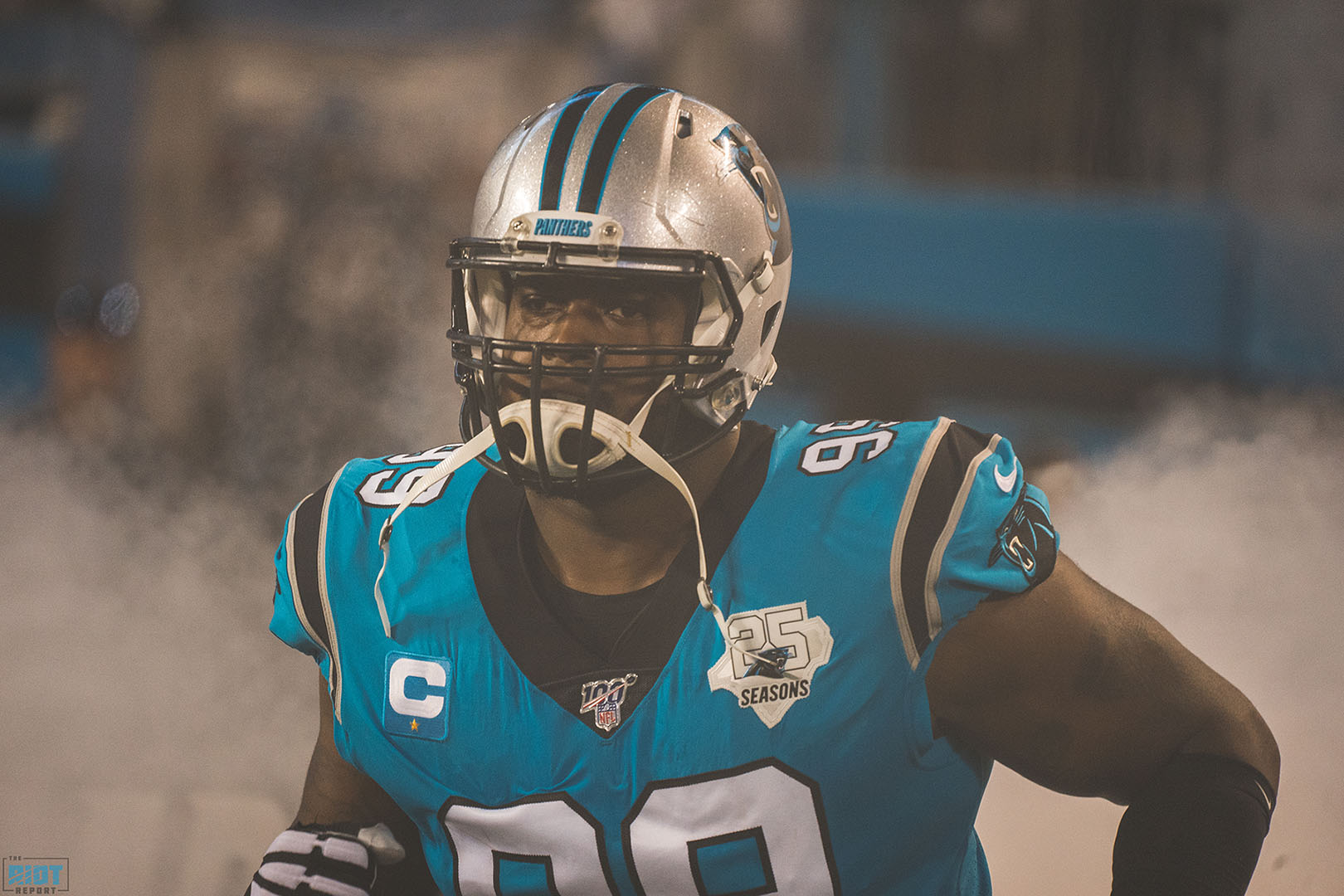 When he and many other veteran players were sent packing in the great Panthers purge of March, former Carolina guard Trai Turner jokingly tweeted a Simpsons gif of Milhouse playing frisbee with himself, likening it to the circumstances of one of his longtime teammates: defensive tackle Kawann Short.
On the surface, that post was merely a playful exchange between two longtime teammates. However, it highlights what is surely implicitly known by all of the players: For whatever reason, Kawann Short was spared in the present moment – but on a Panthers team that is sure to keep changing, his future should be assumed uncertain.
Since Short was named a Second-Team All-Pro in 2015, his name has slowly slid down the list of the NFL's "elite" defensive linemen. Though he was a Pro Bowl alternate in 2018 by virtue of 12 tackles for loss, he had a down year as a pass rusher with only three sacks to his credit – His lowest total since 3.5 in 2014. Last year, Short's season ended after just two games with a partially-torn rotator cuff.
Now, Short is both 31 years old and one of the most-expensive players on a team that is actively getting younger and cheaper. According to Spotrac, Kawann Short's $19.5 million salary cap hit is the biggest of any Panther by far, and he still has two years left on his current deal. That puts Short in a position not to be envied: For every game he doesn't have "elite" production, Short's cap hit will likely become bigger and bigger in the eyes of Carolina's front office.
For now, Short is being looked upon to be a trusted veteran for a team desperately in need of guidance. And while they have yet to share a sideline with him, new defensive coordinator Phil Snow anticipates a return to form for the man otherwise known as K.K.
"I've got big hopes for KK. He's got quickness, he understands the game, he can rush the passer for a big man," said Snow. "I think it's really important how we use him and Derrick [Brown] inside. In their roles, I think they'll create a lot of problems for people inside."
Exactly how Short performs as a result of the addition of Brown will be noteworthy. If Brown ends up being a rejuvenating force for Short, it could very well mean a return to both Pro Bowl form and a place among the NFL's elite interior defensive linemen. But anything short of that, and Kawann Short's time in a Carolina uniform may very well run short.
A Post-June 1 release of Short after next season would grant the Panthers over $14m in cap space.
CB Donte Jackson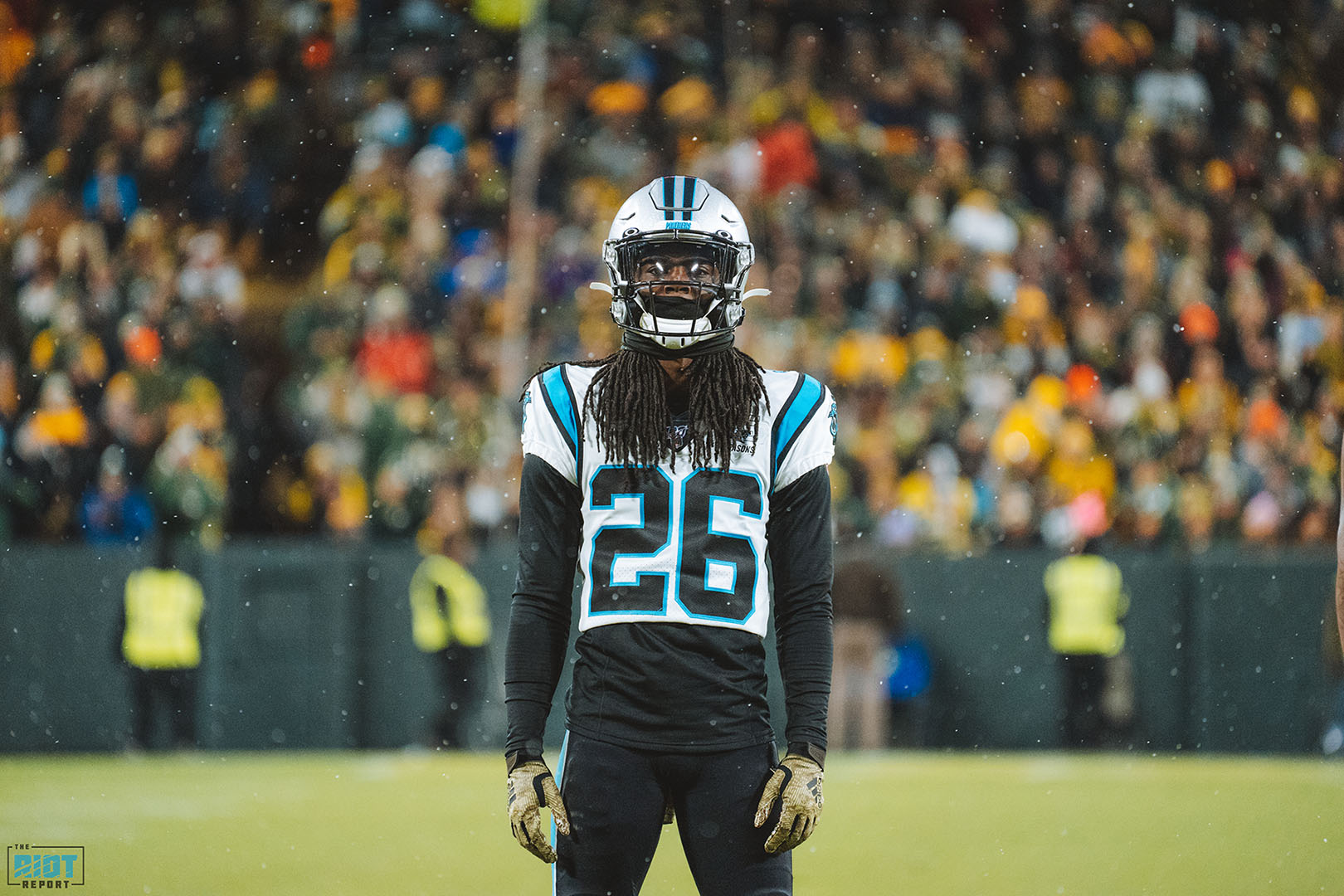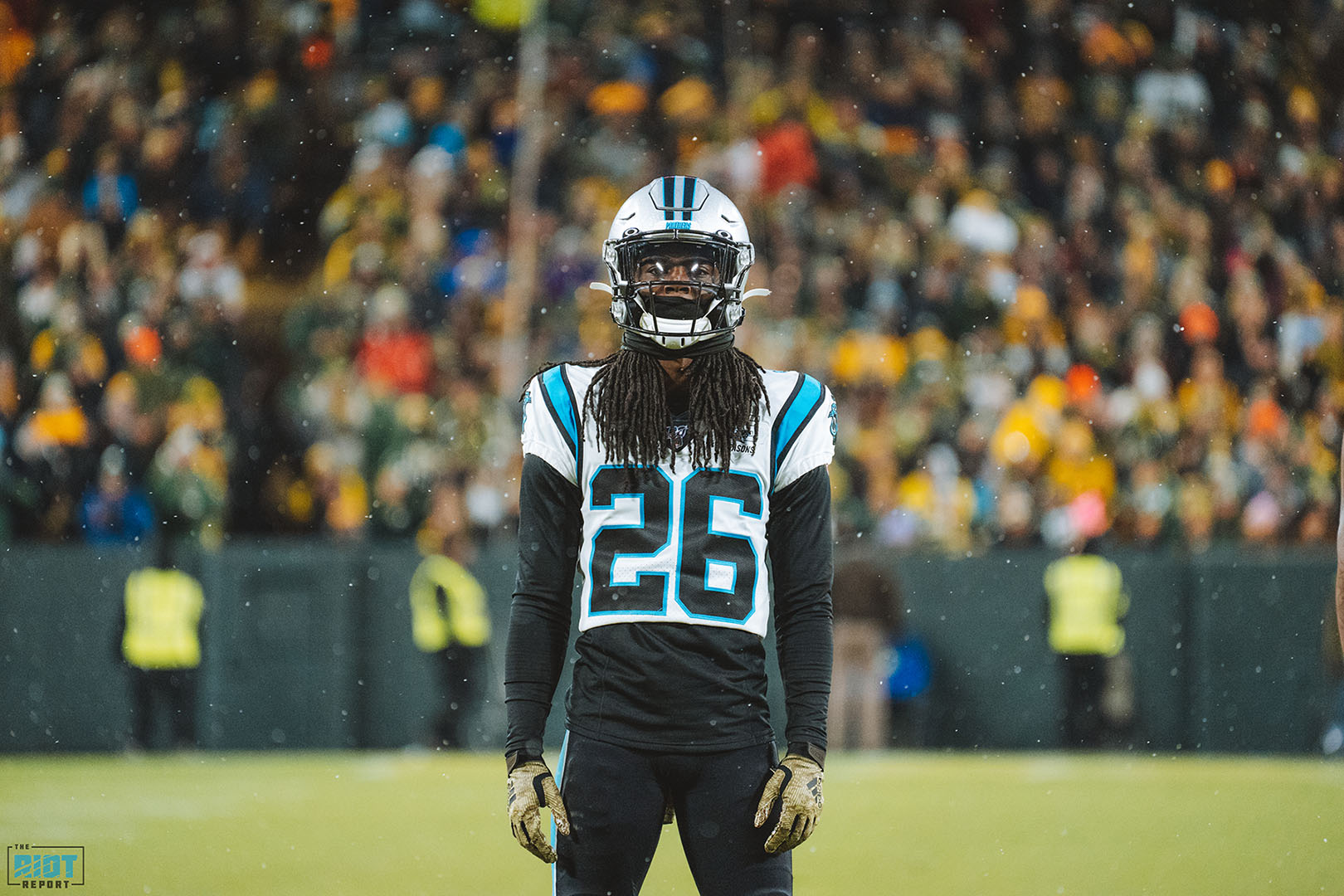 When Donte Jackson first joined the Panthers in 2018, there was a honeymoon period where Jackson was embraced by fans for his playmaking and big personality. That honeymoon is now over, and there is a clear understanding of exactly what Jackson's strengths and weaknesses are.
Donte Jackson is a gifted athlete with the natural speed and ball skills for jaw-dropping, highlight reel plays – such as his leaping high into the air for an interception against the Cardinals or running the entire length of the field for a defensive two-point conversion. But as capable as Jackson is of living up to the nickname "Action Jackson", he has also shown that he's capable of getting beat – sometimes quite badly.
Giving up a big play will happen to any cornerback. But the chief complaint surrounding Jackson seems to center around his focus, accountability, and willingness to listen. These issues have been quite public: In his rookie season, NFL Films' All or Nothing showed Jackson go from downplaying advice from coaches and teammates to throwing a tantrum after he felt offensive pass interference against him hadn't been called.
In Week 14 of last season, after he gave up a 93-yard touchdown to an undrafted rookie, Jackson landed in hot water after he openly criticized his team's defensive playcalling – comments which reflected poorly on him taking personal responsibility, and also undermined the notion that the Panthers were listening to their remaining coaching staff after the in-season firing of Ron Rivera.

At 24 years old and entering his third season, Jackson is young yet and still has room to mature. And it's extremely important that he does: because given the state of Carolina's cornerbacking corps, he has no other choice.
In his first two seasons, Jackson was Carolina's second cornerback alongside James Bradberry, whose consistent play and professionalism alike set the standard for the position group. But with Bradberry leaving in free agency, Jackson is now at the head of the table in a group that needs a good example to follow: Troy Pride is only a rookie. Free agent addition Eli Apple was a colossal draft bust with the New York Giants, in large part due to extremely immature behavior that earned him discipline from his team and censure from his own teammates.
On what is widely expected to be a very poor defense, Jackson is in a position where he needs to not be the weak link that gives up big plays. And alongside that, there will surely be the expectation for him to become a better "pro" than he has been at times – just as the old coaching staff did, Carolina's new coaching staff is trying to make a point to Jackson on being in the right headspace.
"The problem is, he needs to get a little more detailed," said Phil Snow. "We've talked to him about that, and with our DB coaches, they're working well with him, and I think he's got some real talent to him. So I'm excited to watch him grow with the people who are going to coach him."
Donte Jackson has the talent and personality to be a fan favorite, and is more than capable of growing both in terms of his play and his own maturity. Given the quality of wide receivers in the NFC South and the state of Carolina's roster, that growth for Jackson will be looked upon as a necessity – lest he once again make himself a target for criticism and his future as the Panthers' top cornerback be put into question.
K Graham Gano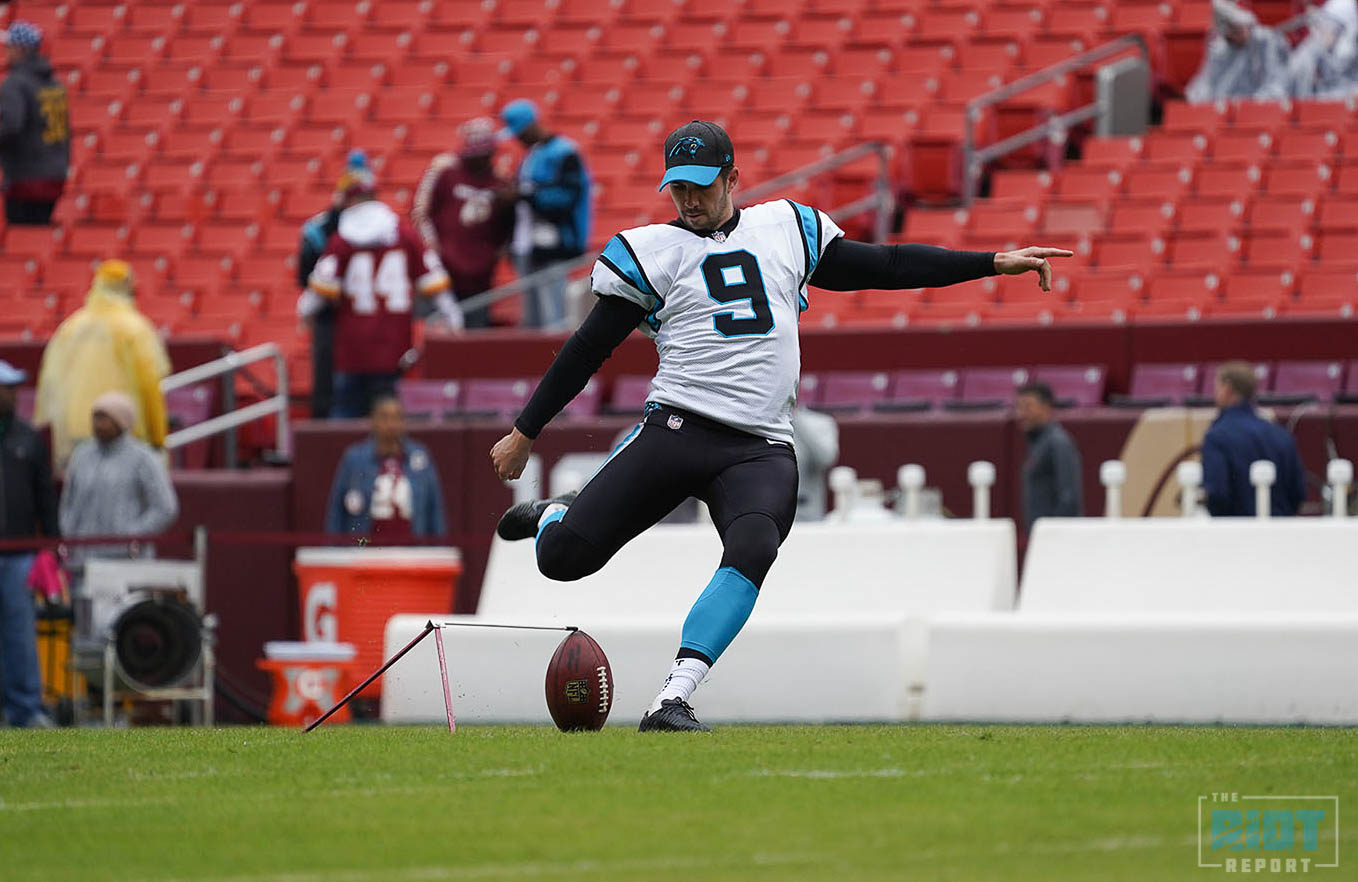 As a veteran on a rebuilding team, the pressure that Graham Gano faces is very similar to the stakes for Kawann Short. The difference is, there is a much more immediate need for Gano to prove his worth to a new regime.
Returning to the field for the first time since a leg injury cost him the late stages of 2018 and all of 2019, Gano will have to compete against Joey Slye, who filled in for Gano last season. Updating Gano's prognosis, Panthers special teams coordinator Chase Blackburn confirmed that Gano has recovered well, and anticipates an open competition between two kickers the team feels comfortable with.
"We're in a very, very plus situation because we've got two very capable kickers with really talented legs," said Blackburn. "There's plenty of teams around the NFL right now that'd be very excited to have the competition we have going."
A Panther since 2012, Gano has already secured a place in franchise history by virtue of some of Carolina's greatest kicks. But at 33 years old and coming off a major injury, it's unlikely that anything Gano has done before will save him.

Most NFL teams don't spend big on kickers, and Gano's current contract is an easy target for a Panthers team likely looking to slash costs. According to Spotrac, Gano carries a $4.3 million salary cap hit on a contract that runs through 2021. In comparison, Joey Slye's current deal ($675k base salary) barely makes a dent, and his performance in 2019 likely makes the team comfortable with him as an option moving forward.
Although this doesn't extend to the coaching staff, another problem for Gano is the way past decisions have affected his perception among the fanbase. When Slye emerged during Gano's absence in the 2019 preseason, certain fans began pounding the drum for the team to commit to Slye and forget about their veteran kicker. This was, in part, because of the results of the 2017 kicking competition and Carolina choosing Gano over rookie Harrison Butker – A decision which some fans have yet to get over, particularly as Butker has excelled with the Super Bowl champion Kansas City Chiefs.
Whether it comes from within the building or outside of it, pressure shouldn't be an overtly big deal to Graham Gano. After all, he has performed under pressure time and again and risen to the occasion under challenges to his job. This time around, however, he is having to stake a claim to his longtime job in an environment where the past means nothing, the future is everything, and a viable alternative exists.
Because of that, Gano's time in a Panthers uniform will be on the line with every last kick in training camp and the preseason. One wrong move, and Gano could be no more by the time Week 1 comes.