The first words out of Charles Johnson's mouth at his retirement press conference were that he didn't know what to say.
Turns out he did.
After speaking for more than 25 minutes to a gathered group of friends, family, teammates, coaches and media members, Johnson stood in front of a scrum of cameras and microphones for perhaps the final time after announcing his retirement from the NFL on Wednesday – the defensive end that played the most games in a Panthers uniform along the defensive line was asked what he wanted to leave as his legacy. Johnson paused, gathered his thoughts and, as he has through his entire career, knew exactly the right thing to say.
"Consistency. Loyalty. Hard Working. Funny," Johnson said before grinning. "I like to talk junk – I don't like to take crap. Not very talkative, but at the same time, if I have to talk, I can. My off the field stuff in the community that I do. Stuff like that."
That's the legacy he wants to leave – so let's talk about it.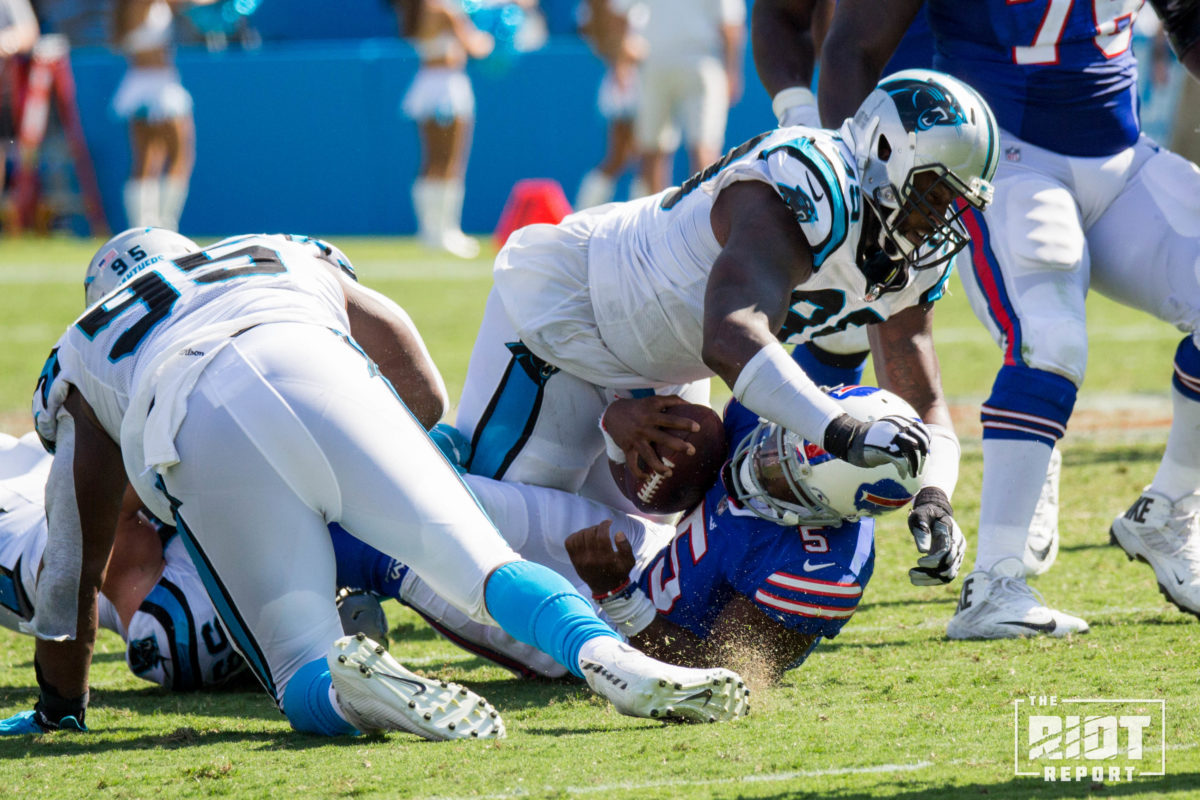 Johnson had been a full-time starter since 2010, when he said that Marty Hurney walked up to him and told him that when Julius Peppers left via free agency, it was Johnson's time – and he's taken that opportunity and run with it, starting 77 games over the next five seasons before injuries forced him to miss seven games in 2015. Even after missing time, he returned to form in the playoffs and had a sack in each of the team's postseason games, including a strip-sack in the Super Bowl.
In 2013, Johnson had 11 sacks and became the first Panthers player in franchise history with at least nine sacks in four consecutive seasons as he played alongside Julius Peppers and Mike Rucker, joining Kevin Greene and Peppers with ten or more sacks in three consecutive seasons – Johnson was part of a top-10 NFL defense in six of his 11 seasons, including a run of four consecutive top-10 finishes from 2012-15.
"If you keep working at something everyday, every single day and keep maxing out on the opportunities" Johnson said about his journey from smalltown kid to Panthers legend. "You can change the way you live, you can change the way your mindset is – all that."
"The tradition goes down, you don't think about that depth but everything you do is going to set the standard for the people that's going to be coming behind you – and you're not going to realize that until it's over. So when you get here and use the time now to max out on your opporunities, because, man, when I think about it – I was so into this team."
"I gave this team everything I had."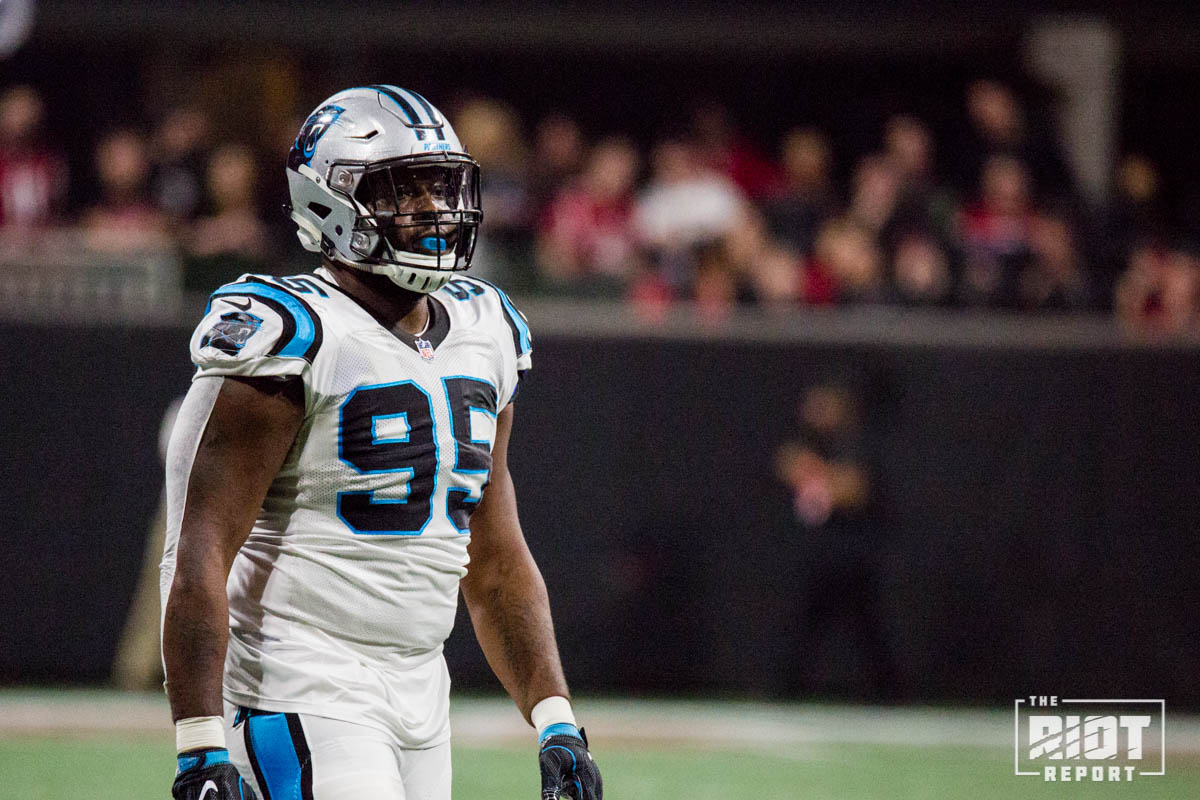 "When you give it all – when you give everything to one organization and you're just all-in, it's a lot. I sit here and think that it's crazy to go eleven years with the same organization. I've seen the ups, I've seen the downs – I've seen the highs, I've seen the lows, I've seen new coaches, new people."
"It's a blessing and I don't take it for granted. I loved it. I lived it. I loved it."
Johnson's legacy will be remembered in ways that we may not even recognize – he began coming out before stretching to do some extra pre-game work; now it's a tradition that the entire defensive line comes out to put in some extra work – he's changed the culture with his actions instead of his words.
It's no surprise that Johnson made his sense of humor one of the traits he wants people to remember – he had many moments that drew uproarious laughter throughout his presser, from a Drew Rosenhaus impression to an apology to his girlfriend for his attitude after his back surgery to giving a side eye and requesting that reporters answering who his favorite quarterback was to sack – it was Matt Ryan.
But no laugh was as big as when he recounted the trip to Miami that ended with the Panthers offering him the six-year, $76 million deal that earned him the "Big Money" moniker he carried throughout the rest of his career- Johnson said he was talking to Eric Washington and Sam Mills III when Rosenhaus told him the terms of the deal.
"I damn near fell out the chair! I damn near fell out the chair!" Johnson said with a laugh. "But you don't know, that changed my life."
"That changed my life."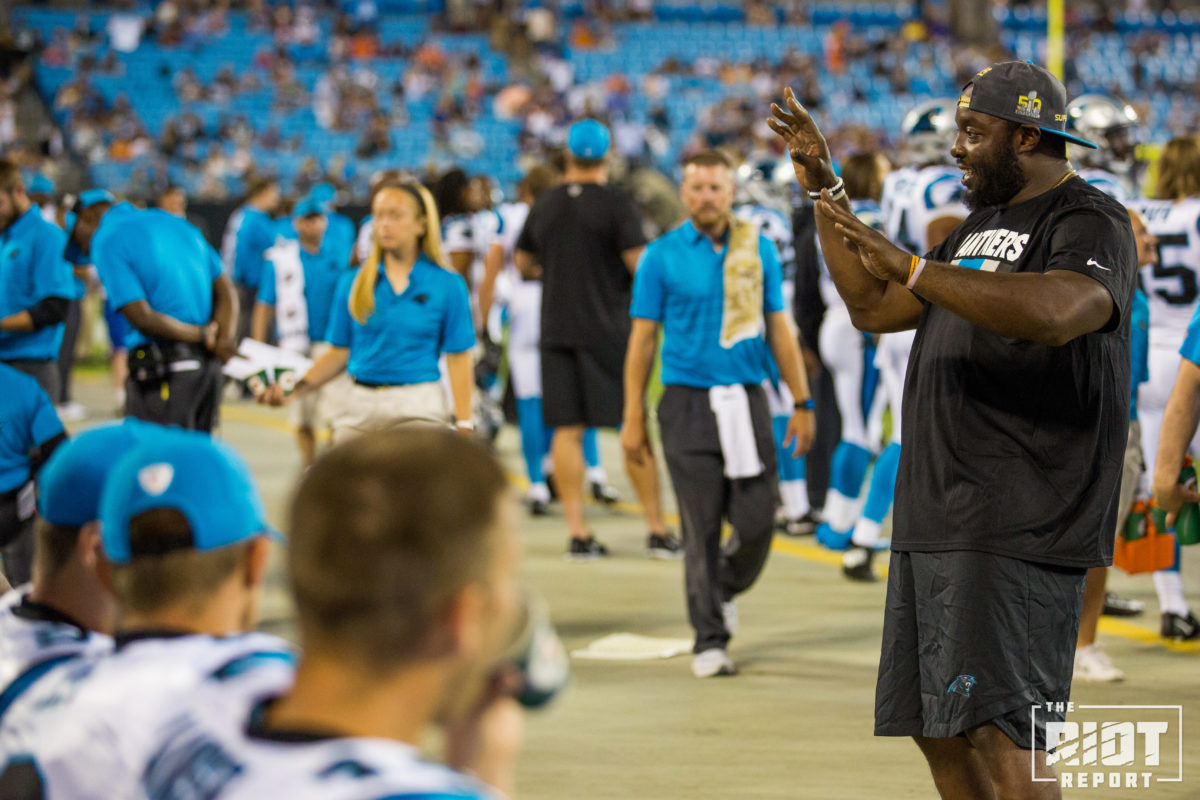 It's relationships like the ones Johnson built with Coach Washington, Marty Hurney, Julius Peppers, Mike Rucker and too many more to name here that kept him out of a rival's uniform when that six-year deal expired – he spent ninety minutes negotiating with Tampa Bay before ultimately deciding that he couldn't play for another team, eventually signing a one-year, $3m deal to stay in Carolina.
"When I think about that, I think about [how] Tampa, Florida is tax-free money," Johnson said to a huge laugh. "So it was $18 million dollars left on the table. I'm always true to myself – I'm always going to be true to myself, I'm always going to lead where my heart goes and if my heart says, 'You can't go nowhere,' you can't go nowhere."
"I love this organization. I love everything about it – I love the eleven years of my life with this organization – it's just a blessing to be a part of this organization and this community. The community showed me so much love it can make you cry."
And he's reciprocated that love tenfold, as his Charles Johnson Foundation, dedicated to helping under-serviced youth to reach their full potential through athletic, recreational, and educational programs and initiatives as well as provide support for single African American mothers, has raised hundreds of thousands of dollars since it's launch in 2012 through scholarship programs, charitable donations and partnerships.
Johnson will always be remembered for his time along the defensive line in Carolina – but what will he remember about his time in the league?
"I'm going to always remember those Atlanta games – torching Atlanta. Torching Kurt Warner. Torching Palmer. Just everybody in our league, all the Tampa quarterbacks – Drew Brees, I hit him multiple times. I'm going to remember all those – you leave a legacy without even knowing it."
We knew it, even if he didn't.