Chris Clark got the call that the Carolina Panthers were signing him on Tuesday evening – a few hours later, he was on a flight to Charlotte that landed at midnight. The 32-year old was scheduled for a physical at 10 the next morning and once he had passed and the signing became official, he strapped on his helmet and headed out to join his new team in the middle of practice at 11:15.
Four days later, he was starting at left tackle.
"I met him Wednesday – he started Sunday," said Cam Newton about his new left tackle, who kept Newton relatively clean against the Falcons, only allowing one sack to defensive end Takk McKinley. "He played his ass off and I'm excited for what he brings to this offense; he's a very low-maintenance type of guy; a hard worker from what I've seen and that's all you can ask. Of course, we know we've had a lot of injuries on the offensive line but at the end of the day it's about a team who can keep truckin' and that's what we try to do."
A lot of injuries on the offensive line feels a bit like an understatement after the Panthers lost Daryl Williams – twice – to knee injuries and Matt Kalil to an arthroscopic procedure; both starting tackles on injured reserve is a tough road to hoe, let alone an injury to backup swing tackle Jeremiah Sirles that led to him being released with an injury settlement and a torn meniscus that kept backup Amini Silatolu out of training camp and the preseason.
That's where a veteran like Clark comes in.
For each of his previous eight seasons in the NFL, Clark had his family by his side as he fought his way through the 16-game grind; from Denver to Houston, as his family grew – he now has three-year old Christian and five-year old CJ – they were always by his side. But as he transitioned to Charlotte this past week, he left his children and wife, who is five months pregnant with their third boy, back in Houston so that he could have his eyes on one thing and one thing only: football.
"Ever since I got here, it's been getting in at six in the morning," said Clark, who told us he'd stay at the facility until 7 or 8 that night preparing for Carlos Dunlap, who he calls 'relentless'. "It's long days, but I left my family back in Houston, so I have nothing to go home to – it's all football. I'm here for football; I'm sure the guys here appreciate that."
"My sole focus is football."
All of that work paid off in Atlanta where Clark was able to play the entire game, even though coaches and the lineman himself thought that he wouldn't be able to make it through the whole game from a conditioning standpoint; Ron Rivera has spent the week since complimenting Clark and the rapport he's already built with his fellow linemen – the confidence level has gone up after seeing what the eight-year vet can do.
"I shocked myself. I thought I would be in worse shape," said Clark. "I was working out, I was in a gym working out and running, but it's not football shape – you only do that by playing football. To say I was able to play the whole game, I shocked myself. As far as the way I played, it comes right back to you."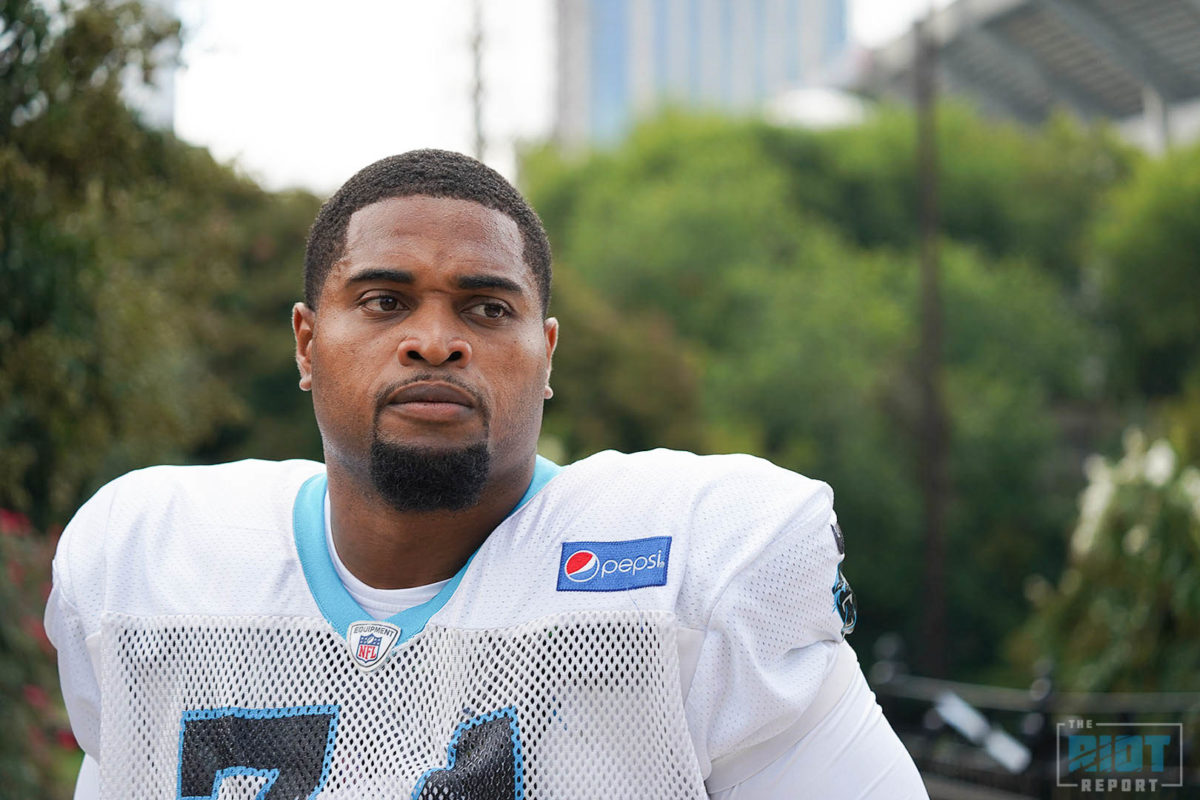 As he adjusts to life with the Carolina Panthers, he spends parts of practices working on the side with another offensive lineman and assistant offensive line coach Travelle Wharton – the Panthers actually teach a different technique than he's used to, so he works on the side – until he knows the techniques, he can't even do some of the drills the other offensive linemen participate in during practice.
So he'll continue to work on the side during portions of practice, continuing to learn and grow, even though he's been in the league for eight years.
"[John] Matsko's teaching me a lot of different things; how to use my hands, how to do a better kickset – things I need work on. I'm always trying to improve, because you're either getting better or you're getting worse. I'm a firm believer in that," said Clark about how much he loves the coaching here in Carolina, likening the relationship between the fiery Matsko and the more reserved Wharton to a 'good cop, bad cop' routine as he grows more comfortable with the Panthers' scheme. "I plan to just incline every week, learning more – when I hear Cam say it, it registers to me, so I'm looking for a quicker gameplay by me [this week against the Bengals].'
Playing left tackle on four days' notice isn't an easy task, but having a veteran player like Greg Van Roten at guard next to him certainly helped – Van Roten and Ryan Kalil are the only two offensive linemen to start for both weeks of the regular season thus far at the same position for the Panthers; the way that Van Roten, a former center himself, read the defense made it less stressful for the new addition. There were times last week in Atlanta when Newton would make the call in the huddle and Van Roten would turn and tell Clark which defender he would be responsible for – sometimes even pointing them out along the line.
"Before Ryan [Kalil] made the call, [Van Roten] already knew what it was going to be, so we were on the same page," said Clark. "Ryan did a really good job of making sure we all were on the same page, so having a guy like that and having a guy like Greg next to him, that made my job ten times easier."
Thought this was fascinating – you can see an example of the communication between GVR and Clark here, literally the first play I paid attention to them as they broke the huddle. https://t.co/F7Mi24WeRH pic.twitter.com/o2SIcfD4Ju

— Josh Klein (@joshkleinrules) September 17, 2018
We all know the NFL is a business, and with Matt Kalil expected to return after an eight-week stint on injured reserve for the November 8th game against Pittsburgh and Taylor Moton entrenched as the starter at right tackle, it would be easy for someone like Clark to think about his time with the Panthers having an expiration date – after all, signing on a Wednesday and starting on Sunday can go just as quickly the other way once contingency plans are no longer needed; that's not on Clark's mind – he's only focused on one thing: what he can do to help his team win for the next five games until Kalil can return.
He's not going to let worries about the future affect his play.
"I don't think about that – at the end of the day, you're either going to do your job well or you're going to suck at it. I'm here to do a job and do it to the best of my ability – I'm here to help the team win right now."
He'll get his chance.